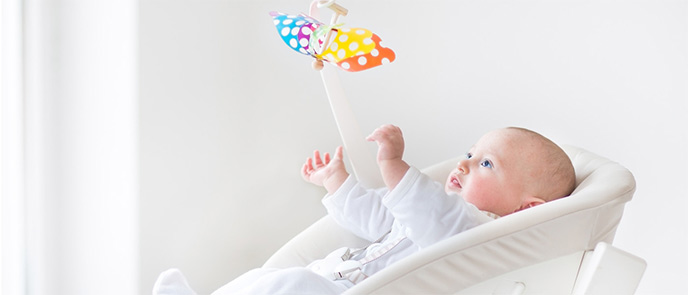 It's no secret that babies love to be held. If you find yourself pulling out your hair because your baby won't settle down, instead insisting on being constantly cradled and rocked in your arms, you're not alone. Sometimes even a great baby carrier won't do it. And let's face it, cleaning the toilet with a baby strapped to your chest is not much fun.
Although your baby would love to be at the center of your attention for every minute of every day, you're a busy parent, and things need to get done.
So, if you're trying to find a way to keep your child soothed while you have your hands free for some everyday tasks, maybe it's time to add a baby bouncer or baby swing to your baby arsenal. These products can mimic the feeling of being cradled and rocked, so your little one is soothed while you keep your household running.
But which products are the best products? Let's start at the beginning, by going over some helpful buying tips.
What to Look for in a Great Bouncer or Swing
There are plenty of bouncers and swings on the market, and choosing the best one will take some consideration. Here are some facts to get you started.
Baby Swings vs. Baby Bouncers
A baby swing is a heavier product, so you won't really want to be moving it around too much unless you have to. They often run on batteries or an electrical cord, but you will find the occasional product whose motion is generated by a wind-up feature. A significant advantage of a baby swing is their range of movement. Depending on which model you choose, they can move from side to side or back and forth. Some models will even do both, allowing you to vary the motion depending on your baby's mood or preference.
A baby bouncer, on the other hand, tends to be lighter and thus much more portable. Unless the product incorporates extra features, like music, you won't have to worry about a power source as they use your baby's own momentum to bounce. They also tend to be less expensive. But they only have one motion; bouncing. So, of course, movement options are a bit more limited.
Is one better than the other? No; it's just a matter of your personal preferences and what relaxes your baby the most. We'll be reviewing swings and bouncers in this article to help you find the perfect product to soothe your little one or to keep them entertained for more than a split second.
Weight Limits
Pay attention to the weight limit that comes with any swing or bouncer you purchase. Some can hold babies who are as heavy as 30 lbs while others have a significantly lower weight threshold. Also, when your child can roll over and hoist themselves up, it's time to bid adieu to the swing or bouncer.
Can my Baby Sleep in a Swing or Bouncer?
Can your baby sleep in these products? The short answer is yes but, as is usually the case when it comes to kids, there's much more to it than that.
When it comes to baby swings, your little one should only sleep in it for short, supervised naps. There should be nothing else in the swing except your child, and the safety straps should hold them securely in place. Bouncers are also not recommended for long periods of unsupervised sleep. These guidelines are in place because it is so easy for a baby's airway to become obstructed, especially in a sitting or reclining position. If their head falls forward, they will be unable to right themselves and can suffocate.
Truthfully, you should even be careful when it comes to short naps, but for a more practical, less life and death, reason. If your baby becomes reliant on a swing or bouncer's motion to fall asleep, you might find them resistant to sleeping in their crib. If that happens, then what was supposed to be a solution to a fussy baby has amplified the situation, and you could be in for some seriously sleepless nights.
If you are looking for a way that your baby can safely sleep in different areas of the house, you should take a look at our play yards guide.
Now that we've armed you with some basic terminology and safety tips, let's move on to our favorite products.
Best Baby Swings
While a little more pricey than their bouncer counterparts, many parents swear by these products and their ability to help settle down babies.
This Fisher-Price model is…well, pricey, but it has the extras to back it up. The swing moves in both side-to-side and back and forth motions. It features a tray with bead bars that can be removed, a motorized mobile, has six swing speeds and can play 16 songs, as well as nature sounds. Oh, and did we mention that the seat pad and head support pad are easily removed AND machine washable? And let's not forget the starlight night show that appears on the canopy of the swing.
You can power this swing using an electric cord or with batteries. Obviously, the price is going to be a drawback for some parents, but if you can afford it, this swing comes packed with fun things for your little one.
Weight Limit: 5 – 25 lbs
Product Weight: 25 lbs
Check Price on Amazon
This product features a side-to-side motion with two vibration settings and six speeds. A comfortable, 5-point harness keeps your little one safely fastened in the cozy seat. A head support is included and removable.
This swing comes with several extras, such as 15 playable songs, nature sounds, and a mobile. Some parents have found that as their babies near the weight limit, the swinging motion becomes notably slowed, so keep that in mind if your little one is on the bigger side.
All in all, however, this product has achieved a place among Amazon's Choice products and Graco is certainly a reputable and safe brand.
Weight Limits: 5.5 – 30 lbs
Product Weight: 19 lbs
Check Price on Amazon
For about half the price of the above reviewed Graco swing, this product is a bargain and an Amazon bestseller.
You can choose between two recline positions and six rocking speeds. You can also play any of six original melodies to soothe your little one or slip in the foam toy bar so they can keep themselves entertained. A 5-point harness keeps your baby safe, and the removable seat pad and head support pad are machine washable for easy cleaning.
This product is very portable, due to its light weight. However, it only operates with batteries, which some parents find to be a huge con. Still, if you're looking for an affordable product, this is certainly worth a look.
Weight Limits: 5.5 – 19 lbs
Product Weight: 7 lbs
Check Price on Amazon
Best Baby Bouncers
If swings aren't quite your baby's style, there are plenty of bouncers (sometimes called 'baby jumpers') to consider. Here are some of our favorites.
This company knows how to deliver when it comes to their baby products. Your child will be completely comfortable reclining into the cushy fabrics of this bouncer's seat and will be kept secure with an adjustable harness.
Nature sounds, along with eight songs and calming vibrations will relax your child after they've had a busy afternoon of babying. This product does not fold up, which makes it slightly less portable than it could be, but it's lightweight and easy to assemble.
Weight Limit: Up to 25 lbs
Product Weight: 7.8 lbs
This cute little bouncer is sure to amuse and soothe babies. A built-in blanket mimics the feeling of the womb and its wings, made of jersey knit, adjust to two sizes. A safety harness keeps your child secure, and the non-slip feet ensure that your baby won't go bouncing off without you. You can choose from three vibrations and ten songs. The toy bar is removable, as are the three included toys.
Weight Limit: Up to 20 lbs
Product Weight: 6 lbs
Check Price on Amazon
By inserting some batteries in this bargain baby bouncer, you can indulge your child with a gentle, calming vibrations. It comes with a toy bar that is easily removable with just one hand, and the seat pad is machine washable. A 3-point harness keeps your baby secure as they play or rest and your child will love the interactive toys and bright colors of this bouncer. Unfortunately, this bouncer doesn't fold up, but, regardless, it's certainly light enough to be portable.
Weight Limits: Up to 20 lbs
Product Weight: 5.3 lbs
Check Price on Amazon
Wrapping up
Any of these products will be perfect for soothing your child, as well as indulging their adventurous side. And while your little one is busy enjoying a relaxing bounce or plucking at a toy bar, you can hopefully get a few things done around the house. And don't forget to squeeze in a little you time. In fact, we think we hear your couch calling your right now to take some weight off those tired feet. Enjoy!