You might not think you need a glider or rocker in the same way that you need diapers or a car seat, but they are actually an excellent nursery addition.
Picture it – your baby is hungry and fussy, and you've been on your feet all day taking care of your parental duties. Doesn't a luxuriously cushioned place to calm and feed your infant sound like the perfect refuge? The best nursery gliders and rockers provide just that haven.
There are more things to take into consideration as you shop for a glider or rocking chair than you might realize. Comfort is a factor for sure, but there are countless other things to contemplate. Is it easy to clean? Will it recline to your liking during long nights spent next to the crib? Can it charge your phone while you relax (yup, we're being serious!)?
Let's go over the different available features, then I'll give you a rundown of my all-time favorite gliding and rocking furniture.
Nursery glider vs. rocker
The fundamental difference between a glider and a rocker is how they move. A rocking chair is simply a seat affixed to two curved base pieces that serve as legs. It can only move in a backward and forward arc, though it does tend to take up less space. Plus, there are generally no squeaking noises to worry about.
A glider is a moving seat attached to a base. This base piece does not move, but the seat itself can gently glide to and fro, and sometimes even swivel up to 360 degrees. Gliders tend to offer a smoother motion and often include more comfort and convenience features than a rocking chair.
Seat size
You want to make sure that the seat is wide enough to fit not only yourself and your child, but also any necessary breastfeeding equipment (such as a nursing pillow). The perfect chair will also be able to accommodate all your preferred breastfeeding positions.
When scoping out seat sizes, be sure to take the arms into consideration, as these can impede on the available amount of space in a seat. High arms might make it harder to have certain things on your lap or make for poor armrests if you are on the shorter side.
Cushioning
While it's tempting to look for a cushion you can melt into, remember that you will (alas!) have to get back up at some point. An overly soft seat can make this difficult, especially if trying not to rouse a sleeping infant or are still recovering from childbirth.
Ideally, you want something firm enough to make getting up easy and which provides plenty of ergonomic support for your back. However, you don't want to feel like you're sitting on bricks after a few hours of gliding time, so be sure there is enough give to meet your comfort level. Dense foam and spring-supported cushioning can offer you the best of both worlds.
And again, don't forget to make sure the padding on the arms is also comfy!
Upholstering
We can't talk about cushions without also talking about upholstery. Or, more specifically, about how easy that cushion material is to clean. Needless to say, anything your baby is around will ultimately be the victim of one mess or another. Choose a fabric that is easy to clean without having to resort to harsher chemical cleaners.
Of course, you'll also want to be aware of any fabrics that irritate your skin. You don't want your "perfect" glider to end up making you itch or break out in a rash!
Low back vs. high back
A low-back glider can often blend in with 'normal' furniture better than its high-backed counterpart but, let's face it, once you become a parent, you tend to opt for function over form.
A high-back chair gives you the great option of resting your head. Remember what that feels like? Yeah, pretty nice. As your infant grows into a toddler and wants to lean against your chest while being rocked, you'll find that a high back enables you to offer lots of cuddles to a bigger child without straining your neck.
Safety features
By design, gliders can create a pinching risk for fingers, toes, paws, and tails. The best way to prevent accidents is by purchasing a model with a locking mechanism. This prevents the chair from being jostled by a child or pet (or you, as you're cleaning), and reduces the risk of someone getting a painful pinch. Furthermore, locking mechanisms make standing up from a glider much safer, so you're less likely to fumble your baby or trip while exiting the sanctuary of your comfy seat.
Squeaking
While you're busy checking out cushions and their 'cleanability', squeaking is a consideration that can easily be overlooked. And, trust me, you don't want to do that! Always check to see if the glider you are interested in has a history of incessant squeaking while it moves. Not only will the noise drive you "round the bend" eventually, but will compromise that peaceful environment your baby requires to nurse or nap.
Pro Tip:

If you do end up with a glider that develops a 'soundtrack' to its movement, check to make sure any screws are tightly secured. If the noise persists, break out a silicone-based lubricant spray (e.g. WD-40) and apply it to the area generating the noise.
Ottoman empire
Some glider models come with an ottoman included for resting your feet. While this might seem like over splurging, I can assure you it's not. Not only will you experience the magical relief of having those tired feet off the ground, but an ottoman can also help improve your circulation and reduce swelling. Returning blood flow to the heart is important following pregnancy, especially if you suffer from any type of diabetes.
The result will be that, ultimately, when you do have to stand up to resume more mobile duties, you'll feel much more comfortable. In short, an ottoman is definitely a worthwhile addition to your nursery throne.
If you're feeling unsure about how any of these features will affect your comfort level, don't be afraid to take a few gliders and rockers for a test drive in a store. For some great examples of how to try before you buy, check out this video.
Our picks of the best nursery gliders and rockers
Editors Choice
Fabric: Heathered polyester
Dimensions: 31.5″ L x 25″ W x 39.25″ H (glider) 21″ L x 17″ W x 16″ H (ottoman)
Swivels?: Yes (360º)
Recline?: No
Available in multiple colors, the DaVinci Olive Upholstered Swivel Glider (check price on Amazon) checks almost every box in our cool features list. It includes an ottoman, a lumbar support pillow, a high back that provides ample head and neck support, and comfy, spring-supported cushions atop a wide seat. The low-set arms easily accommodate a nursing pillow. You won't have to concern yourself with any assembly, as this chair is ready to use right out of the box. It offers a smooth, quiet gliding experience and a 360º swivel.
What we love:
Easy to clean
Soft-to-the-touch fabric
Comfortable for both tall and short parents.
Best for tall moms
Fabric: Polyester
Dimensions: 35″ D x 29″ W x 37.5″ H
Swivels?: No
Recline?: No
The Storkcraft Tuscany Custom Glider Set (check price on Amazon) offers one of the best bangs for your buck on the market. It's quality furniture with soft, padded cushioning and a steady, gliding mechanism. It comes not only with a lumbar support pillow, but also a gliding ottoman and attached pocket on one chair arm. This set comes in multiple colors (although some are more expensive than others), and is built to last.
What we love:
Spot cleaning is easy and quick
Tall back
Low price
Best when nursing
Fabric: Polyester
Dimensions: 41.5″ H x 27.5″ W x 29.5″ D
Swivels?: No
Recline?: No
It can be hard to find a comfortable nursing position, but the Graco Sterling Semi Upholstered Glider Set (check price on Amazon) puts you ahead of the game with a nursing stool that pulls out from the ottoman. Available in an assortment of colors, you'll be able to accessorize your nursery just the way you like while enjoying the padded armrests and gentle gliding of the chair and ottoman. It's easy to assemble and even easier to spot clean.
What We Love:
Pull-out/fold-up nursing stool in ottoman
Affordable
Tall back
Best portable
Fabric: Padded leather
Dimensions: 18″ H x 17″ W x 10″ D
Swivels?: No
Recline?: No
Need to rock on the go? This cool contraption will go anywhere you do and is easy to use. Simply place it on the back of your seat, lean your weight into it, then allow yourself to be gently pushed forward. The Rocking-Inc Portable Ready Rocker Chic's (check price on Amazon) design will take the pressure off of your back while the padded leather provides you plenty of portable comfort. It's small enough to fit into a suitcase, but tough enough to keep rocking, even after a million reps.
What we love:
Can be used against almost any vertical surface
Easy to clean
Best with double rocker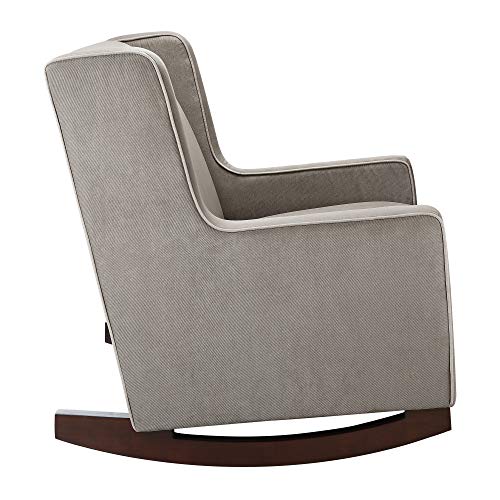 Fabric: Polyester
Dimensions: 41.25″ W x 34.75″ D x 37.25″ H
Swivels?: No
Recline?: No
With an ample 33 inches of space between the arms, the Baby Relax Double Rocker (check price on Walmart) provides a comfortable haven for you and your baby to relax and nurse. Some parents report that it can be a little more challenging to get rocking than a traditionally sized rocker, but that, overall, it is an extremely comfortable piece of furniture. Assembly isn't difficult, although, since this is a larger chair, it's best to set it up directly in the nursery.
What we love:
225 lb. weight limit
Spacious seat
Best for small nursing space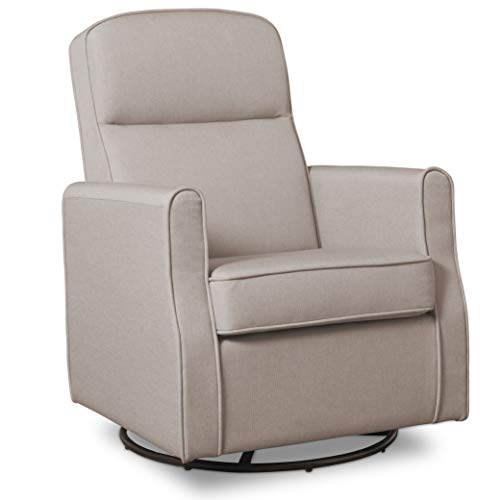 Fabric: Polyester
Dimensions: 26.5″ L x 31.5″ W x 36″ H
Swivels: Yes
Recline: No
To avoid making your nursery feel cramped, you might be on the hunt for something with a smaller footprint. The Delta Children Blair Nursery Glider (check price on Target) accomplishes that without skimping on comfort or function. It is quiet, easy to assemble, and has plushly cushioned armrests. Bonus points for the removable seat cushion that makes cleaning up easier than ever.
What we love
Space-saving design
Durable material
Watch for
Back is a bit short for tall parents
Easiest to assemble
Fabric: Linen
Dimensions: 30″ L x 37″ W x 41.75″ H
Swivels: Yes (360º)
Recline: Yes
This comfy chair reclines to varying angles, making it an excellent place to settle in for those long nights in the nursery. An encased ball bearing system provides a smooth gliding experience, and an average-sized nursing pillow can fit nicely in the seat. Assembly is incredibly straightforward; you will simply need to attach the back to the seat, and you're ready to rock!
What we love
Easy to clean.
Soft cushions.
Reclining lever easy to reach.
Simple assembly.
Watch for
Some parents report squeaking after a lot of use.
And the winner is…
The DaVinci Olive Upholstered Swivel Glider with Bonus Ottoman (check price on Amazon) is definitely my number one choice. I loved being able to choose from a wide variety of colors to ensure my nursery had just the ambiance I wanted, while the included ottoman and lumbar support pillow helped my body decompress every time I used it. Trust me, when Mama is relaxed, so is Baby! Nor is there any need to worry about having the proper tools to assemble this glider, as it comes ready to use straight out of the box. I consider it to be the best all-round nursery glider I've come across.
Even though a rocker or glider may seem like an indulgence, in my experience, it has proven to be one of the most rewarding investments I've ever made. The memories I have through bonding with my baby in our glider are precious! I hope you find your own little piece of nursing heaven on my list of favorite nursery gliders and rockers.