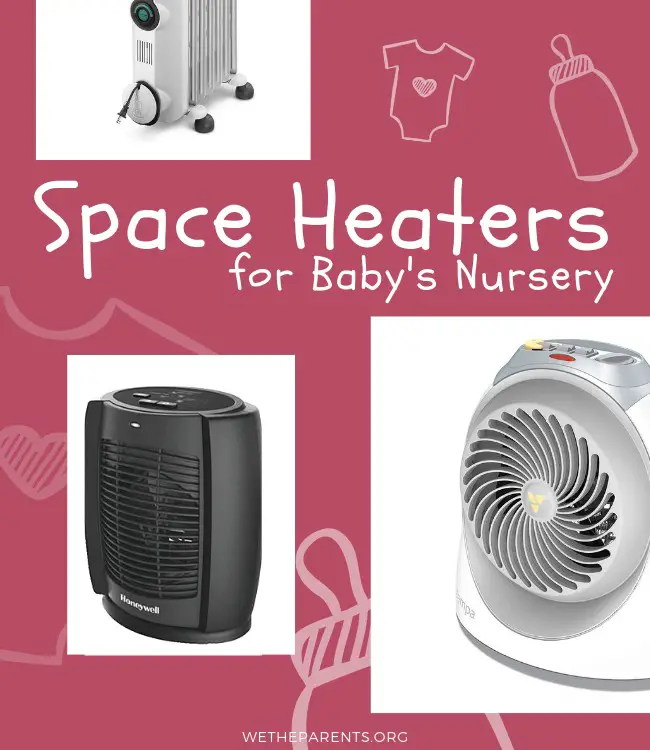 Okay, so you are considering a space heater for your baby's nursery.
Well, you've come to the right place because we'll give you honest, non-pushy advice.
First things first…
According to the National Fire Protection Association, space heaters account for 43 percent of the fires in U.S. homes. Now, it's true to say that some modern manufacturers are making them safer than ever, but you still need to exercise extreme caution
Because safety is your first concern, in this review, we will try to identify good and safe space heaters. Most important, we will try to help you find the best space heater for your baby's nursery.
Space heaters have been around for more than a half-century. Those small, metal boxes that sat on the floor plugged in at the nearest receptacle, not an easy thing. Heating coils blasted heat out, helped by the reflective shiny aluminum at the back of the box. The devices worked and kept the room warmer. There were, however, drawbacks.
Sometimes the device would be left operating too long, overheating the coils. Other times, little fingers would explore cherry-red coils and got nasty burns. Worst, the heating unit might be knocked over accidentally, land too close to a blanket or the carpet, and begin a serious house fire.
The space heaters today are far safer than those beginning efforts. They are made of better materials and are guarded against objects touching the heating element.
Types of Space Heaters
Portable Heaters — There are more small space heater designs than you'd imagine. They can run on electricity, of course, but also propane, natural gas, and kerosene. Don't forget, there are even wood and pellet stoves.
The heating capacity of most space heaters ranges from 10,000 BTU and 40,000 BTU. The heat generated by the space heater has two designs that get the heat from the unit and into the room. First is convection, the most common, which circulates on the air in the room. Radiant heaters, on the other hand, directly heat objects using infrared radiation.
Radiant Space Heaters — The convection space heater will warm the entire room, reaching everywhere there is air. This might be a good choice for rooms where people will be using the area for a long time and the room is particularly cold. This type of heater works like a whole-house forced-air furnace in a home.
If you are only going to be in the room for a short time, and you can stay in the line of the heater's area of influence, this might be a good choice. This type of heater will warm an occupant and the objects in the room within those boundaries. When the occupant leaves the room, the heater should be turned off.
Electric Heaters — Electric heaters cost more to operate than combustion varieties, but the electric models are the only unvented heaters considered safe enough to operate inside a residence. The indoor air quality may be better with electric models, but they do present fire and burn hazards. Caution is always a concern, every single day.
In the field of convection or non-radiant space heaters, there is a relatively new type that offers good heating and better safety. In the best of these, a liquid that can transfer heat easily, usually an oil, is sealed inside the heater. Most of these resemble a portable variety of the old steam radiator. The oil heats and transfers to the room around it. The fluid can store some of the heat, so it demands less cycling on to maintain an even heat.
Safety First!
The U.S. Consumer Product Safety Commission (CPSC) warns consumers to follow the following safety precautions to prevent both fires and burns. More than 25,000 fires are started by space heaters, resulting in 300 deaths and many more injuries. For more information, refer to the CPSC booklet "What You Should Know about Space Heaters" available online.
Once you've identified a few types of space heaters that might work for you, go down this checklist and see how they stack up.
Look for the Underwriter's Laboratory (UL) label on the cord or heater label.
Automatic shut-off features are key. If the heater tips over, the unit should automatically shut down.
Make certain the electric cord is sturdy and the right length for your usage.
A ground fault circuit interrupter (GFCI) plug is another valuable automatic shut-off feature.
The heater should be cool to the touch even while operating to prevent burns.
A sturdy base is essential.
A space heater can be safe for a newborn, but the heater should never operate while the baby is sleeping or not supervised. All manufacturers of space heaters caution against using them all night while everyone is asleep.
We'll look at eight of the most popular space heaters of several types. Use the listings and recommendations as a jumping-off point in your research for the best space heater for your little one. Follow the links (which go to Amazon) and take a good look at comments from other parents.
Product dimensions: 11.3 x 8.2 x 12.9 inches
Item weight: 5 pounds
Wattage: 1,500 Watts
The Honeywell HZ-7300 (check price on Amazon) is a and electric convection, non-radiant space heater. It oscillates and has a fan to push the heated air into the room for even heating. There is a programmable thermostat with two heat settings. The safety issues are taken very seriously by Honeywell. Their product exceeds the industry safety standards with a tip-over switch and overheating protection. The housing is cool to the touch.
A glance at the heater's digital LED lights, and it will tell you the current and desired temperature of the room. Energy use is maximized with Digital Energy Smart Technology that indicates energy consumption. This feature can save up to 35 percent on energy bills as opposed to conventional heaters.
What We Love:
Great safety features
Good control of heat options
Energy consumption control
Watch Out For:
There is no operation timer, only off, on, and settings
Reported by users to be loud
Does not have a grounded (3-pronged) plug
Check Price on Amazon
Product dimension: 7.5 x 10.1 x 10.9 inches
Weight: 5.4 pounds
Wattage: 900 Watts / 120V
This product by Vornado is a heater that uses vortex air circulation to warm baby's room evenly and efficiently. It has two heat and fan settings, and you can choose auto or continuous circulation. This means you can place the heater anywhere in the room and achieve the same level of effective warming.
The Vornadobaby Tempa (check price on Amazon) does have some advanced safety features. The exterior is cool to the touch, has built-in tip-over protection, and an auto safety shut-off system. There is a child-lock switch on the on/off buttons. There is not, however, any protection against a child moving the temperature controls from low to high. Uniquely, the cord is hidden in the base to prevent children from playing with it. Another helpful feature is that the edges are all rounded to prevent pinches and cuts. Vornado backs the product with a 5-year Happy Parent Guarantee.
What We Love:
Great safety features
Vortex heats the whole nursery
Hidden electric cord
Watch Out For:
No guide of thermostat for temperatures on heat switches
Safety switch too sensitive; may need adjustment
Loud clicking when cycling on and off
Check Price on Amazon
Product dimension: 13 x 11 x 16 inches
Weight: 23 pounds
Wattage: 1500W
This radiant heater by Dr Infrared (check price on Amazon) will handle a big room with no problem. This newly engineered heater has an Advanced Dual Heating System: Infrared Quartz tube + PTC. The 1500W unit allows for temperature range settings from 50 to 85 degrees using the high and low temperature settings. Best of all, the heater has a built-in ultrasonic humidifier to help when a baby has a cold or just to make dry winter air more comfortable. Use of the humidifier is optional.
This galvanized steel heater is rated at 5200 BTU, offering plenty of strength with big-time power. The infrared heating feature heats the objects in the nursery, not the air. This eliminates drafts from hot air rising to the ceiling. The controls allow setting to auto mode, high, and low settings. At the energy-saving auto setting, will cycle between high and low settings to maintain temperature control. There are no exposed heating elements.
What We Love:
Certified by Underwriters Laboratories (UL) USA and Canada
Vortex heats the whole nursery
Excellent engineering enables greater heat control and coverage
Parents report significant energy cost savings.
Watch Out For:
The 500 ml water bottle to feed the humidifier is rather small; you can substitute a 1-quart soda bottle for more than 8 hours coverage.
Watch for cord burning and melting on first use.
Check Price on Amazon
Product dimensions: 5.9 x 13.8 x 24.9 inches
Weight: 23.1 pounds
Wattage: 1500W
This is a convection electric heater (check price on Amazon) that is filled with oil in a permanently sealed radiator. The oil never needs replacing. These convection heaters are quite good at even, non-obtrusive heating. There is no noise, moving air, or dangerous elements that can be reached by little ones. The unit is on wheels and, though it's relatively heavy at more than 23 pounds, an adult can move it with ease. A child can't move it at all.
This DeLonghi heater saves energy costs by maintaining even room temperature. The ComforTemp button controls access to extra energy savings. The design allows you the most radiant heat while at the same time making sure the surface temperature is low. There is a control panel with an adjustable thermostat and three heat settings. The design is rounded and there is a thermal cut-off for additional safety. The housing is a durable metal that is resistant to rust. There is even an anti-freeze setting. If the temperature in the room drops to 44F degrees, the heater will turn itself on automatically.
What We Love:
Users reported significant energy savings.
Heater's operation is quiet
Adjustable thermostat with constant temperatures
Heats quickly
Watch Out For:
In order to push the ComforTemp button, you must steady your hand on hot housing.
The place you must put your hand to move the unit is not hollow and is difficult to grab.
Check Price on Amazon
Editor's Choice
This ceramic heater (check price on Amazon) uses oscillation to control the heat well in a medium to a large area. There is no remote control for the heater. One owner uses this unit in a large travel trailer. He was able to completely replace his propane tank heat with the Lasko, saving 70 percent of his heating costs each month. There is no odor on operation reported.
This Lasko product has an adjustable thermostat has two settings with an automatic 7-hour shut-off controlled by a timer. Safety features include a self-regulating ceramic element and automatic overheat protection. There is no automatic shut-off if the unit tips over. The heater has a 3-year limited warranty.
Product dimensions: 7.2 x 7.2 x 16.1 inches
Weight: 6.85 pounds
Wattage: 1500W
What We Love:
Significant energy savings
Housing does not get hot
Adjustable thermostat with constant temperatures
Heats quickly
Watch Out For:
Loud clicking reported when the unit heats or cools
No automatic shut-off when knocked over
Check Price on Amazon
Best budget buy
This is another ceramic space heater (check price on Amazon) with an oscillating option. You can choose three heat output options, low, high, or fan only. Temperatures are controlled by an adjustable thermostat. This heater has a carrying handle which few others do. There is a light indicating that the heater is in operation. Amazon warns against use in high-humidity rooms like bathrooms or laundries. Buyers can choose either black or silver colors.
Safety features include a tip-over switch with an automatic shut-off. There is an overheat protection with auto shut-off as well. The heater is backed by a limited 1-year warranty.
Product dimensions: 7.5 x 5.9 x 9.4 inches
Weight: 2.86 pounds
Wattage: 1500-Watt
What We Love:
Multiple heat setting options
Housing does not get hot
Overheat protection
Carrying handle
Watch Out For:
Tip-over shut-off option very sensitive and badly designed, not for use on carpeting
Doesn't move air very efficiently
Check Price on Amazon
Upgrade choice
This Dyson Hot/Cool Fan Heater (check price on Amazon) can be used all year round. There are heat settings for winter and a cool fan for the summer. Dyson uses a patented Air Multiplier technology to move cool or warm air into your room quickly and evenly. An intelligent thermostat sends heat into the room without wasted energy use.
Extra features over most space heaters include a sleep timer, and a curved and magnetized remote that stores on the machine. The settings for temperatures range from 33F to 99F degrees. There are two air generating modes. In the diffuse mode, the Hot + Cool projects air in wide and long-range. The focused option directs the air in a jet for long-range personal use.
Safety features are outstanding. There's no way a toddler can reach heating elements or spinning blades. If she knocks the machine over, it shuts off automatically.
Product dimensions: 8 x 6 x 23.4 inches
Weight: 5.91 pounds
Wattage: 2000-Watt
What We Love:
Has both heating and cooling options
Intelligent thermostat
Either focused or wide range air flow
Remote control
Higher than average power at 2000-Watts
Watch Out For:
Not designed to open and clean the filter
Three-foot cord seems too short for some uses
Check Price on Amazon
This Vornado whole-room heater (check price on Amazon) is a tall, narrow tower with casters to move it into the perfect position for your room. It doesn't have an oscillation feature as its V-flow heat circulation gets warmth to every corner of the room. The housing and handle are both cool to the touch. You simply need to set the desired temperature on the Automatic Climate Control. This Vornado has two modes. Auto Mode (A) that will automatically adjust the fan speed to maintain the set room temperature. In Continuous Mode (C), the fan operates until shut off.
Vornado recommends setting up the ATH1 in a corner or area of a room that is cooler than desired. At least 6-inches should be between a wall and the heater. The heater has an automatic shut-off feature if the unit is tipped over, as well as an automatic safety shut-off system. The heater has a five-year limited warranty.
Product dimensions: 7.9 x 5.5 x 20 inches
Weight: 5.35 pounds
Wattage: 750 watts on Low to 1500 watts on High
What We Love:
Continuous or Auto heating mode with intelligent thermostat
No need for oscillation
Able to heat larger rooms
Watch Out For:
Reports from parents that the temperature gauge can be off
Some reports of uneven heating
Check Price on Amazon
And the winner is…
The Dyson Hot + Cool Jet Focus AM09 Fan Heater (check price on Amazon) gives parents year-round climate control for their infant's room. As much as we want to keep them warm when it's snowy outside, we also desire that they not wake up drenched in sweat in July.
The Dyson model is a bit more expensive than other choices, but it ticks all the boxes. Above all, it takes the place of both a heater and an air conditioner. A safe, easy-to-operate heater and cooler with a sleek design and a good warranty. There's very little to add here.