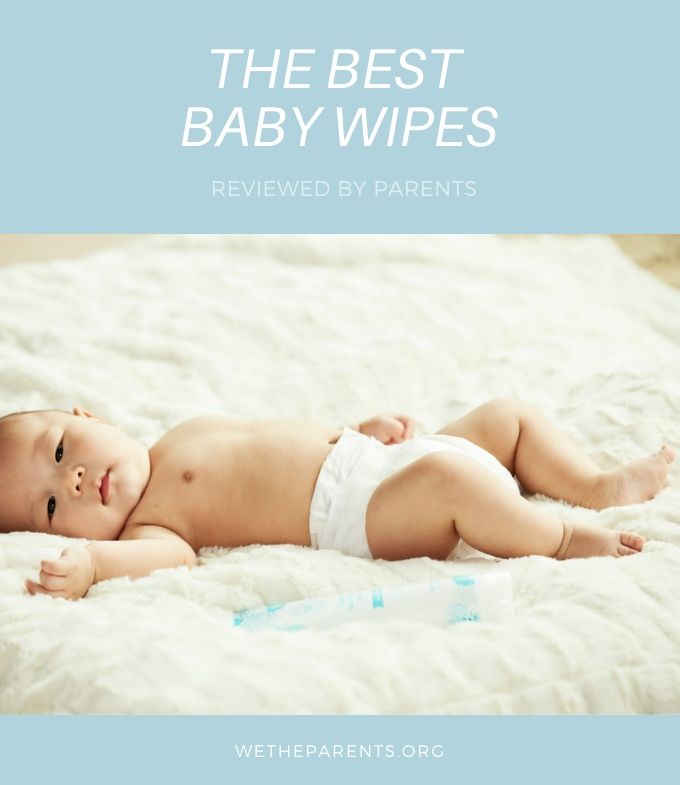 As new parents, we experience new challenges. Cleaning infant poop messes and keeping the baby's behind sanitized is of course a big job, and it requires the use of baby wipes. For those who are now preparing for the job of changing diapers and wiping the baby's bottom, learning more about the baby wipes on the market is critical. These products vary widely in terms of material, thickness, comfort, and moisture content.
Here, we offer advice about choosing the best baby wipes for keeping your little bundle of joy clean and free of infection. There are so many brands and styles on the market, but the following buyer's guide and products review will help you to make this most important decision.
Buyers' Guide
We believe that anything that must be done is best done cheerfully. We want to keep our newborn's bottom shiny clean and free of rash and infection. Many factors come into play here, the most important being the type of baby wipe used. The material, the added fragrance component, the thickness . . . the list goes on and on.
What Are Wipes Made Of?
They're nice and soft, brilliant white in color, and generally smell like heaven. However, we usually don't think much about the ingredients until after we've used sanitary wipes, and then we begin to wonder if the material is safe for contact with an infant's behind. Well, most baby wipes are made of polypropylene, a specific polyester fiber, wood pulp, cotton, or rayon fibers. In addition, the wipes may also contain special additives that act as a preservative to keep mold and bacteria from growing.
It's very easy to allow ourselves to think that because it's on the store shelf or available for purchase online, the product must have been given the thumbs-up by every consumer on the planet. There's one major problem with this, however. My baby's posterior skin is different from the skin on your little one's behind. Keep in mind that some baby wipes do contain chemicals and can cause skin irritation in your little ones. If your baby has a known allergy or sensitivity, it would be best to check the baby wipes with your pediatrician.1Rodriguez, K. J., Cunningham, C., Foxenberg, R., Hoffman, D., & Vongsa, R. (2020).The science behind wet wipes for infant skin: Ingredient review, safety, and efficacy. Pediatric Dermatology.
onlinelibrary.wiley.com
To summarize, consider:
Softness
Thickness
Absorbency
Doctor's recommendation
Medicated, Sanitized, And Hypoallergenic?
Most baby wipes that contain ingredients labeled as medicated are safe for all skin types. Wipes are manufactured in a sort of laboratory setting, a factory room where the air is constantly filtered in order to keep unwanted foreign agents from settling into the wipe material. Once the product is packaged, it's like a can of green beans. Nothing from the outside can get in until the product is opened.
Color additives can be added without FDA approval, but if the wipes contain any sort of antibacterial ingredient or something that is supposed to kill germs, they are considered to have drug status and therefore must be approved for use. We encourage you to look at all of the labeling information on the company website before ordering online, or if you're at the store, to check the facts specifics on the packaging.
We nature lovers look for plant-based ingredients whenever possible. Some of the fragrance additives are actually made from such sources as sunflower, cranberry, tomato, and even raspberry seed. We also are on the lookout for unwanted additives such as sulfates, artificial dyes, and parabens.
The important things are:
Moisture content
Antibacterial ingredients
Natural versus artificial dyes and fragrance ingredients
Special Formulas For Sensitive Skin?
Because our baby's skin is smooth, without wrinkles, and so soft it can actually make us jealous, we need to find specific cleaning products that handle the job without abrasion or the promotion of rash. Since a baby's skin isn't fully developed yet, we want to avoid products containing harsh chemicals, allergens, and non-natural cleansers. We recommend soft cotton wipes with medicated additives if the baby is prone to rash or skin discoloration. If the skin turns red easily when the baby is bathed, chances are a softer, thicker cloth wipe will work best when it comes time to change the diaper.
Wipes are put through rigorous testing before they arrive on the store shelves. To get an idea of how manufacturers test these products, give this page a quick viewing: https://www.ncbi.nlm.nih.gov/pmc/articles/PMC6381433/
How Many Will I Use?
Let's face the facts. Our newborn will poop more than once a day. He or she will poop more than twice per day. Yes, we need to be fully armed with wipes. We're going to use them in the morning, in the afternoon, in the evening, and at 3:00AM. We suggest an average of 10 wipes per day, and that's assuming we only need one wipe per changing session. Now multiply that by 30 days per month, and there you go. We may need as many as 300 wipes per month. Fortunately, most wipes come in packages containing at least five or six dozen units, and don't forget, bulk buying saves money.
One thing to consider, however, is how the wipes are packaged. Many brands have smaller packets inside the main box, and these contain as many as a dozen wipes. Wipes that are medicated or contain germ-killing additives are moist, and these will dry out very quickly. In other words, we should open only what we need for a day or two.
What If I've Never Used Baby Wipes?
If you can change a diaper or wash out a frying pan, you're qualified to use a baby wipe! It's a really simple procedure, one that you'll get the hang of in no time
Safe For The Environment?
What do you do with a baby wipe after you've completed the cheerful task of cleaning the cherub's behind? Wipes should only be flushed down the toilet if the package indicates that it is flushable. Well, we don't want to clog our sewer drains, so we might have to perform more than one flush. If the material is thick cotton, we don't want to flush it at all.
If we must package the yucky wipes after use, we do so by securing them inside a biodegradable container. When they get to the landfill, they will degrade rather quickly. The added antibacterial agents and germ-killing ingredients will go neutral as well, so there's no worry about contamination of the groundwater.
How Much Do They Cost?
Prices are all over the map. We want to weigh the benefits of our choice of brand with the unit cost. The more effective the wipe is in absorbing feces and semi-liquid goop, the fewer we will use each time we change diapers. Look for bulk-size packaging and do that monthly math once more.
This may sound like more than a boatload of information, but as parents, we understand that nothing is more valuable than information on keeping our newborn healthy. Additional baby wipe guidelines can be found at this FDA webpage: disposable wipes
Transparency rocks! When you shop through links on this page, we may earn a small commission.
#1 Pampers Baby Wipes
Editors Choice
Package Size: Up to 448 wipes
Material: Cloth fiber
Absorbency: Three-layer channeling system
For a wipe experience that's comfortable for baby, a recommended product is Pampers Baby Wipes (check price on Amazon). It comes in a large package containing a total of 448 wipes. The sides of the wipes are stretchy, and this prevents scrunching and tightening of the product as it is used to clean away those hard-to-reach areas. Wetness is absorbed via a three-layer channeling system. This prevents any dripping, something that parents will love. They're also easily disposable. The key features strong fiber construction, soft surface, water-based moisture component, overall durability.
The advantage of this type of wipe is efficiency. Just one wipe can clean away even the largest of surface messes. The strength of the fibers is a big selling point.
What We Love:
Wipe doesn't get too soggy
One wipe can clean the largest of messes
Watch out for:
Scissors required to open individual wipe packets
Check Price on Amazon
#2 WaterWipes Unscented Wipes
Upgrade Choice
Moisture: Water and fruit extract
Material: Organic fiber
Package Size: Up to 720 wipes
The key features are: Large, 720-count packaging availability, simple, two-ingredient product, vegan society accredited product, Eczema association seal of acceptance award.
For simplicity and no-nonsense formulation, a highly recommended product is the WaterWipes Unscented Wipes (check price on Amazon). These moisturized wipes contain only a water additive which itself contains just a tiny bit of fruit extract. Considered a truly vegan product, these wipes are free from sulfates and parabens. Adults often find themselves reaching for one of these to clean their face and hands. That's how trusted they are.
The soft wipe surface is ideal for newborns and especially for premature babies with extra-sensitive skin. They're hypoallergenic, and they are thin enough for easy disposal. They may be a bit unsuitable for large, messy clean-up jobs unless two or more wipes are used at one time
What We Love:
High absorbency
Clings to solid feces
Stretchy material
Hypoallergenic
Watch out for:
Multiple wipes needed for large cleanups
Check Price on Amazon
#3 GroVia Reusable Cloth Diaper Wipes
Best Budget Buy
Material: Cotton terry
Package Count: 12 wipes
Moisture: None
The key features : Reusability, money savings, durability, soft cloth material that's gentle on a baby's behind, legs, arms, and face, and absence of chemical cleaners or fragrance additives.
Reusable diaper wipes are becoming more and more popular as parents look for a budget-priced product that's machine washable. GroVia Reusable Cloth Diaper Wipes (check price on Amazon) are made of cotton terry and are extremely durable. This soft material makes for gentle cleaning of the baby's face as well as on the bottom. This is an excellent product to use if pre-heating is desired. The wipe can be placed in a diaper wipe warmer to ensure the proper temperature before use.
For maximum comfort, the manufacturer recommends washing the wipe prior to first use, and once between each subsequent use. The cloth terry can handle dozens of washings without losing material integrity. These wipes come in packs of 12, and they measure eight inches square.
The great advantage here is price. For as little as $13.00, one gets a reusable pack that should last for months. Of course, there's the task of cleaning them in the washing machine, but the challenge here is simply reorganizing the clothes cleaning schedule.
What We Love:
Reusability
Cost: Only about $13.00 for a pack of 12 wipes
Strong material holds up after many washings
Watch out for:
Not great for on-the-go use
Check Price on Amazon
#4 Caboo Tree-free Bamboo Baby Wipes
Best eco friendly
Material: Bamboo
Packaging: Travel Packs
Item Count: 72 wipes per pouch
The key features are: Environmental friendliness, ease of use when changing away from home is required, and a manufacturing process that's accredited by BRC, FSC, and the FDA.
Bamboo wipes are becoming more popular because they're much more environmentally friendly than cloth wipes and are perfect for babies with sensitive skin. Highly recommended are Caboo Tree-free Bamboo Baby Wipes (check price on Amazon). The wipe material is derived from sustainable bamboo growth, specifically a species that grows rapidly and therefore supplies a vast amount of renewable product. Overall, the product is more than 99 percent natural and contains no parabens or plastics.
The product is packaged as travel packs, and each pouch in the packs contains a total of 72 wipes. The packs are resealable, making them perfect for use on the go.
What We Love:
Ease of use
Ultra-soft wipe surface
No alcohol or formaldehyde
Watch out for:
Only three packs per box for a total of 216 wipes
Check Price on Amazon
#5 Doctor Butler's Organic Soothing Wipes
Best organic baby wipes
Material: Organic Bamboo
Moisture: Water, avena extract, chamomile, essential oils
Packaging: Varies by distributor
The key features: All-natural product with no artificial ingredients, ease of use, strength of the bamboo cloth, natural additives that act as a soothing agent on baby's skin.
Not long ago, folks had very little choice when it came to organic wipes. Today, many such products exist, and one of the most favored is Doctor Butler's Organic Soothing Wipes (check price on Amazon). This product was developed by physicians, and the moisture formula contains no chemicals or pharmaceuticals. The wipes are hypoallergenic, are large enough to use on older infants, and have great absorbency.
The only moisture ingredients are water, avena extract, chamomile, and natural essential oils. The cloth is organic bamboo, a very strong material that won't break or split during the cleaning process. They're not as thick as some of the heavy-duty wipes available, but the fibers cling and hold to semi-liquid feces and other soft material quite well. Parents love the easy-opening packets that contain individually wrapped wipes. The individual packages open up just like a candy bar, so they're easy to use in an emergency.
What We Love:
Fibers cling to solid and semi-solid feces
Wipes won't split or break
Ease of opening individual packets
Large wipe size suitable for toddlers
Check Price on Amazon
#6 Babyganics Baby Wipes
Best baby wipes for diaper rash
Material: Organic fiber
Moisture: Water
Package Size: Up to 800 wipes
The key features: Organic material including plant-derived moisture ingredients, soft yet tough material that won't get spongy when used, a soothing effect on skin that easily develops diaper rash, and package size options of up to 800 wipes.
Parents who read this review are just about now thinking "Wait! What about wipes for cleaning if diaper rash is present?" It's a great question. Some newborns are more susceptible to rash than others. If the baby has frequent reddening and rash areas near the anus after defecating, a truly soothing baby wipe is required. A highly recommended product is Babyganics Baby Wipes (check price on Amazon). This product has been pediatrician and dermatologist tested, contains no parabens, artificial dyes or fragrances, and is formulated entirely of plant-derived ingredients. They contain nothing that will worsen a skin rash. Instead they offer soothing comfort that's akin to aloe.
Parents looking for an efficient, safe baby wipe for use on skin that is frequently showing rash will love these wipes because they're ultra-soft and deliver most of the moisture content directly to the skin surface while at the same time absorbing all feces and liquid discharge. The product is non-allergenic and safe to use on all skin surfaces including the face.
What We Love:
Efficiency of the wipes
Ultra-soft material
Excellent moisture delivery to skin surface
Great for rash-prone skin
Check Price on Amazon
We encourage you to read over this section carefully. It will answer many of the questions concerning the safety and effectiveness of baby wipes. Of course, your pediatrician will also be of great assistance if you have any serious concerns about wipe material and any additives to the water content.
What does hypoallergenic mean?
Hypoallergenic means that whatever organic material the wipe comes into contact with will not be affected by the material itself. When we buy earrings, we often notice that the packaging says that the earring is hypoallergenic. This means that the surface of the ring cannot affect the ear skin. The same is true with baby wipe products that have been certified as being hypoallergenic.
Are all baby wipes FDA-approved?
No, but this is not necessarily a concern. If the baby wipe contains pharmaceutically derived ingredients, they must go through an approval process, much like a drug. However, organic compounds that are not considered drugs are regarded as safe to begin with, much like a food product. Organic baby wipes don't need to have FDA approval.
Do baby wipes kill germs?
Most of them don't because they contain no alcohol or drug ingredients. However, when we change our baby's diaper, we are quickly getting rid of germs before they affect the skin. That's why cleaning up after a poop event should be performed immediately. This doesn't mean that germ-killing agents that some wipe products contain aren't effective, but some of these additives can themselves be harmful to baby's skin. Check with your pediatrician if you have concerns about antiseptics.
Can disposable wipes be washed?
This is never a good idea to try. They are indeed intended for one-use only, and they should be disposed of in the proper manner. However, do consider washable baby wipes if you don't like the idea of packaging the disposable type in bags and then taking them out to the garbage can.
What do I do if my baby develops diaper rash?
If you're already using disposable wipes, ask the pediatrician about it and offer the information on the brand and type of wipe you're currently using. A change of brand or type of wipe may be in order.
And The Winner Is…
After all we've been through with caring for our infants, we have determined that not all disposable or reusable wipes are created equal. Our list includes products that offer superior cleaning ability, ease of use, safety, comfort for the baby, and packaging options. These products are all excellent choices, but we feel that Pampers Baby Wipes (check price on Amazon) offer the best combination of desired features. They're our choice for the best baby wipes for 2020.
They're ultra-soft, contain no artificial additives, and are pH-balanced. The wipes are made with the softest material for sensitive skin, and although they are really strong, they aren't too thick, so disposal is easy. They can be ordered in a package containing 448 individual wipes, so monthly reordering isn't necessary.