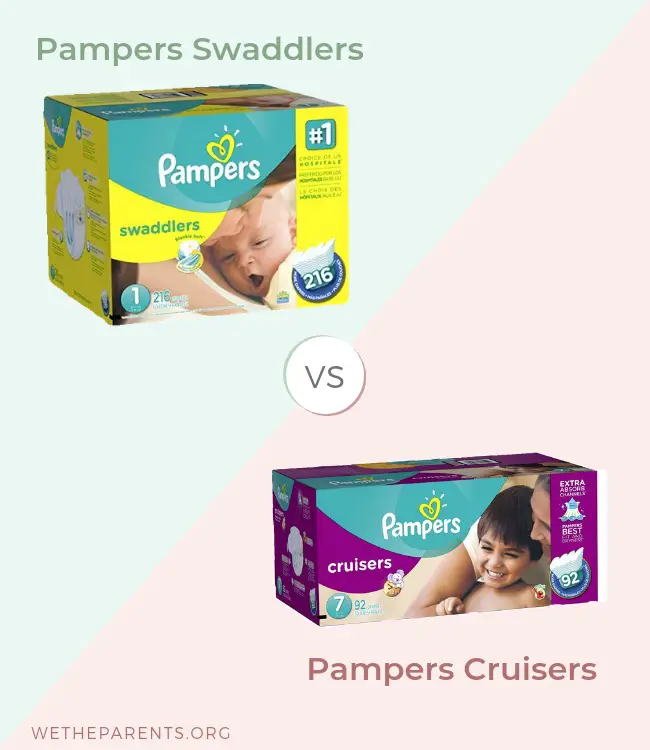 Pampers is the most popular diaper brand, but what separates Pampers Swaddlers vs Cruisers?
In this comparison, we'll answer these questions and give you the info you need to make your buying decision.
Let's dive in…
Side by Side Comparison
| | Spectra S2 | Medela Pump In Style Advanced |
| --- | --- | --- |
| Price | Check price | Check price |
| Warranty | 2 year | 1 year |
| Weight | 3.3 lbs. | 7 lbs. |
| Batteries | No | 8AA (not included) |
| AC Adaptor | Yes | Yes |
| Pump Style | Double electric | Double Electric |
| System | Closed | Open |
| Settings | Adjustable | Dial |
| Display | LCD | No |
| Plastic | BPA free | BPA free |
| Travel Ready | No | Yes (On-the-go Tote) |
| Cooler | No | Yes |
What are Pampers Swaddlers?
Swaddlers (check price on A
mazon) are a great first diaper. It's soft, has a backsheet that breathes to prevent soaking, and wrap your baby in real swaddling security. The sides stretch to accommodate any size or shape. You can adjust the fasteners as necessary. They can even overlap for a smaller baby. It comes in sizes Preemie through size 3.
The reason parents of newborns like this diaper is that the notch at the top of the front of the diaper. This gentle dip has an excellent reason for existing. Its job is to keep a new one cradled in softness and security without irritating her umbilical stump. The umbilical notch is available in sizes Preemie through 2.
This diaper is designed to have less bulk between the baby's legs. Pampers says the Swaddlers are twice as soft as any other. The Heart Quilts liner allows breathability while keeping wetness and soil away from the baby's tender skin.
There are also air channels that distribute moisture evenly throughout the diaper, rather than having a big ball of we mess in the diaper after naptime. The diaper is designed to give an infant 12 hours of protection in comfort. Are you worried about whether the diaper is we when you check your baby at night? No need to dip your fingers inside the diaper and perhaps wake baby. There is a colored wetness indicator that will tell you whether you need to change him at one glance.
Are you struggling with cleaning a dirty diaper rather than one that's just wet? Take these tips from Pampers. Are you thinking of the best way to judge your infant's weight and size before ordering? It's easy. Weigh yourself on your home scale. Next, pick up and hold the baby. The difference in weight between the two is your child's weight. Now, you're all set to get the perfect diaper size to prevent those blowouts.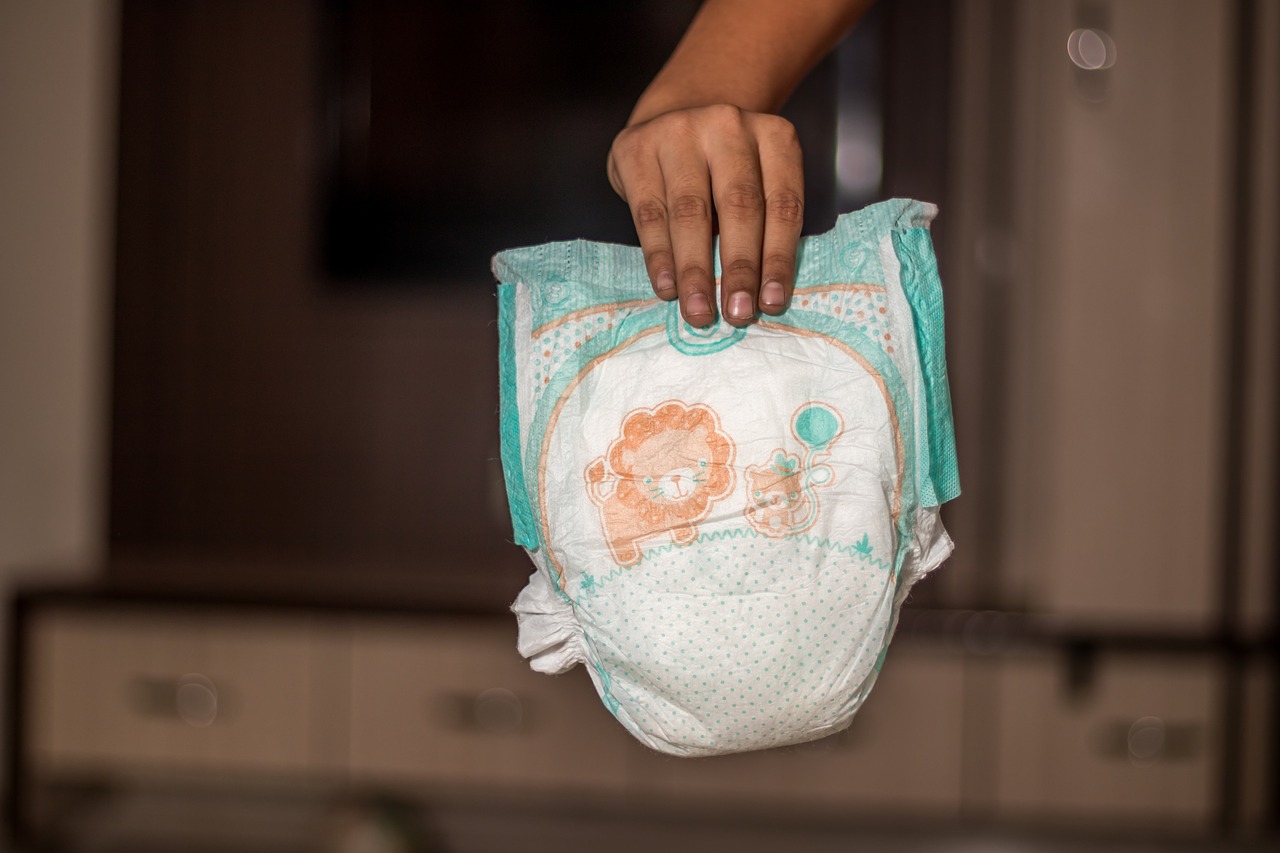 What are Pampers Cruisers?
The Pampers Cruisers (check price on Amazon) are the next step up from Pampers Swaddlers. They come in the same Newborn size, but they go all the way up to size 7. Want help deciding which size is best for your young one? Prevent leaks and blowouts by looking up Pampers recommendations for proper sizing.
The Cruisers are the first diaper and, so far, the only brand that has Extra Absorb Channels. These channels keep wetness away from the baby and distribute it evenly. These diapers are great for crawlers and walkers since they also have a narrow design between the legs. Your young one will love the Sesame Street designs along the top.
The Cruisers has the same breathable backsheet which is clothlike and has stretchy sides. If your child happens to develop diaper rash, follow the Pampers rules for fixing the problem. The iconic three-way fit that encompasses both legs and waist keep the diaper on and comfortable no matter how many miles the baby puts on his rounds around the house.
The Cruisers Extra Absorb Channels protect for up to 12 hours. Parents think so highly of the Cruisers ability to keep kids dry, that some parents even use them for much older children on long car trips.
Pampers Swaddlers
(A Quick Overview)
Swaddlers is one of North America's best-selling diaper for newborns. Now available in Preemie size through size 3, it is a popular choice for both hospitals and parents. The diaper fits smaller babies well and keeps them dry for up to 12 hours. Handy features include a wetness indicator and an umbilical stump.
What We Love:
Unique Design


Gentle front notch to provide clear space around the umbilical stump. This notch not only keeps baby comfortable, but it keeps the umbilical stump safe from rubbing and irritation.

Comfort


Breathable inner layer, narrow construction between legs, and repositionable tapes keep the Swaddlers around the baby so that it will fit his body perfectly. This perfect individual fit means fewer leaks and blow-outs.

Absorption


Two Extra Absorb channels for 12-hour coverage means that there will be fewer wake-ups. It also means fewer diaper rashes. Your baby will sleep comfortably through the night while the diaper keeps wetness away from sensitive skin.

Softness


Swaddlers offers ultimate, blanket-like softness next to the baby. When diapered with rough, paper-like substitutes, babies are often cranky and end up with rub marks, rashes, and even cuts.
Watch Out For:
Size Changes


Babies grow quickly; some grow very quickly. At the small sizes of the Swaddlers, it might be a risk to purchase a large quantity of any of these sizes. Until you get a feeling of how quickly your child will grow, keep purchase quantities small.

Disposal


While the diaper pails of yesteryear aren't a thing for parents using disposable diapers, cleanliness standards still apply. When you have solid feces in the diaper, it is best to put as much of the stool in the toilet as possible. After that, you can throw the diapers away in the diaper pail that contains only soiled and wet diapers.
Check Swaddlers Price on Amazon
Pampers Cruisers
(A Quick Overview)
Once your baby begins to roll over the width of your entire living room, walks around holding furniture, then speed-crawls right behind you, it's time for Pampers Cruisers (check price on Amazon). The Cruisers will fit your baby, in one size or another, all the way until he is ready for toilet training and Pull-Ups. Cruisers have a unique three-channel absorption system that works very well for older babies and toddlers. This system will help keep baby dry all night.
At this stage, diaper subscriptions can save you real money. You don't have to go out to shop for Cruisers. They come to your house every month just when you'll need them. For larger babies, sizes are more stable and planning is more straightforward.
What We Love:
Unique Design
Pampers Cruisers have a cheerful Sesame Street design that marches across the top front of each diaper. Older babies and toddlers will delight in watching the TV show and pointing to their diaper.
Comfort
Cruisers have the same breathable inner layer, narrow construction between legs, and repositionable tapes. This perfect individual fit means fewer leaks and blow-outs, particularly important for the older tot.
Absorption
Not two but three Extra Absorb channels are inside the Cruisers for 12-hour coverage during naps and overnight sleep. If your baby is a heavy wetter, you will have fewer pieces of clothing becoming wet. The channels are especially handy when driving, shopping, and driving some more. The feature is especially helpful on long car trips.
Softness
Cruisers are just as soft and pliable as the Swaddlers she used to wear. This softness is particularly important when a baby begins to crawl, walk, and then run.
Watch Out For:
Size Changes
Babies grow quickly. If you have him in diapers too small or too large, the waist and legs won't fit properly. This means tight waist and legs that will chafe and rub, or, if they are too loose, the diaper can fall off, and leaks are inevitable.
Time for Toilet Training
It's easy just to forget that diapering is supposed to have an endpoint. Toddlers are usually not welcome in preschool, though, if they aren't completely toilet trained.
Check Cruisers Price on Amazon
Which Is Right for You?
The progress from Preemie Swaddlers to Cruisers is usually a straight line, and the transition is quite seamless. Baby won't notice the diapering that will mark the difference between a little baby and bigger kid. You parents will notice. You will be able to see the successful growth of your child measured right there in absorption channels and the absence of an umbilical notch. Next stop, pull-ups, and baby's potty.