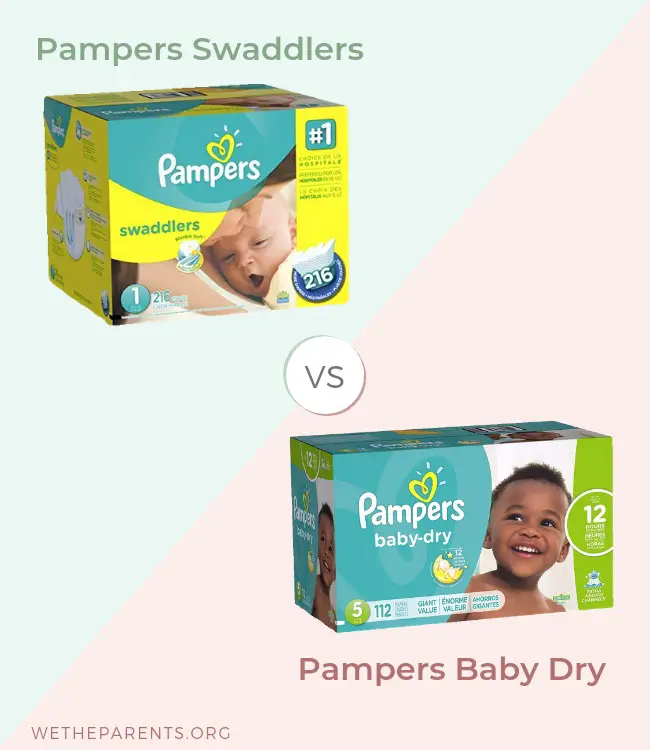 You're gonna be changing your newborn's diaper up to 10 times every day.
Eek!
Let's make sure it's the right one for you.
Pampers is a solid choice, but which is best: Pampers Swaddlers vs Pampers Baby Dry?
Side by Side Comparison
Let's see exactly what separates these two Pampers diapers…
| | Pampers Swaddlers | Pampers Baby Dry |
| --- | --- | --- |
| Price: | Check price | Check price |
| Sizes Available: | Newborn to 6 | 12 |
| Hours of Protection: | 12 | ✓ |
| Liners: | Heart Quilts | 3 |
| Absorbency Channels: | 2 | UltraAbsorb Core |
| Absorbency Layers: | χ | Newborn to 6 |
| Scented: | ✓ | ✓ |
| Flexible Sides: | ✓ | ✓ |
| Overlapping Tabs: | ✓ | ✓ |
| Allergy-free: | ✓ | ✓ |
| Latex & Paraben Free: | ✓ | ✓ |
| Wetness Indicator: | ✓ | Newborn to Size 2 |
| Umbilical Notch: | ✓ | χ |
| Ingredients: | Petrolatum, Stearyl Alcohol, Aloe Barbadensis Leaf Extract | Petrolatum, Stearyl Alcohol, Aloe Barbadensis Leaf Extract |
What are Pampers Swaddlers?
The Swaddlers (check price on Amazon) line is designed for younger and smaller babies, from newborn to about 18 pounds. (See Pampers' own size and weight chart if you need more clarity.) The diapers have a notch in the front that will allow a baby's umbilical stump to prevent rubbing against the diaper. Since this diaper is for little ones, Pampers designed the Swaddlers to have less bulk between the legs, avoiding that unfortunate frog-like look.
Even though you might think a newborn wouldn't wet that much, believe me, you're going to appreciate the ease of switching out and replacing the diaper. The Swaddlers sport a wetness indicator right down the front of the diaper. A bright yellow line lets you know when it's time for a change. Is the sleeping baby dry or very wet? Now, one glance at the diaper and you're sure. The Swaddlers air channels keep wetness contained and away from baby's delicate skin. The blanket-like softness of the outer surface keeps things cuddly.
What are Pampers Baby Dry?
Billed as three times more absorbent than other ordinary diapers, the Baby Dry (check price on Amazon) line is for the heavy wetters. It features an UltraAbsorb core and a three-channel interior construction that give extra protection against leaks. This diaper is perfect for those 12-hour overnights or when traveling. The Sesame Street characters printed on the diaper give the kids a little extra decoration that toddlers will appreciate.
Sizes Newborn through 3 has a color strip that indicates that the diaper is wet and ready for a change. One glance will allow you to avoid those two fingers inside the diaper move. The diaper's area between the legs is slimmer than many other diapers. That lack of bulk will help make it easier to learn to sit, crawl and walk. Even if you use other diapers during the day, Baby Dry can be the answer to nighttime use to keep baby comfortable and asleep all night.
Pampers Swaddlers
(A Quick Overview)
The Swaddlers (check price on Amazon) line has a great reputation among new parents, nurses, and caretakers. This diaper frequently wins the contests of competing endorsements.
The umbilical notch, snug fittings on legs and sides, and unmatched softness make it a real hit. While this diaper fits the youngest babies, the upper limit at size 6 makes it appropriate for any child. Not every child wets the same. For light-to-normal wetting, Swaddlers are a great choice for new parents.
What We Love:
Extra-soft for sensitive newborns
Very absorbent for a smaller diaper
Umbilical notch for the just born
12-hour protection
Watch Out For:
Some parents are unhappy with the redesign of Pampers Swaddlers, citing poor performance and construction.
Diapers are heavily scented.
Check Price on Amazon
Pampers Baby Dry
(A Quick Overview)
The Baby Dry diapers (check price on Amazon) are, in many ways, an extension of the Swaddlers line. Once baby wets through more often or the Swaddlers need to be changed in fewer hours, it's time to move up to the three-channel construction of Baby Dry.
This diaper can be used right up until the child is ready for the toilet training pull-ups. You can use Baby Dry at nighttime only. Baby Dry can take heavy wetness and soiling in stride with its superior dryness construction.
What We Love:
Three-channel absorbency
Able to handle all-night diaper needs
Long-term use through both baby and toddler stages
12-hour protection
Watch Out For:
Parents complain about the new design and construction of the new Baby Dry line.
Heavily scented
Check Price on Amazon
Which Is Right for You?
The decision on which diaper of these two is superior will lie with one person and one person alone, little Johnny or tiny Susie. Your baby and the way they use diapers should drive the decision on whether Swaddlers (check price on Amazon) or Baby Dry (check price on Amazon) is the one to buy.
Before your baby is born, buy the smallest packages of some of the newborn-size diapers. Try them all for one day each. You'll see which fits best, is most comfortable, and protects your baby's skin, clothing, and bedding. For long trips and overnight, you may want to move up to a product like the Baby Dry.
A Sidenote on Diaper Rash
Let's look at what good diapering means to you and your infant. If you haven't yet seen a baby with severe diaper rash, let me tell you, you won't soon forget it. Little ones can appear to have blisters all over their very red bottoms. There isn't much that will make a parent feel worse about their skills, so let's get yours up to snuff. The red inflammation of the skin that you see is called dermatitis in the doctor's office. Usually, diaper rash of any severity is due to wet diapers left on the child for too long, sensitive skin, and chafing of the diaper against the baby's skin.
There are many good home remedies to help with a rash on the bottom, but you might need to see the pediatrician for extra help if it doesn't clear in a few days. Call the doctor if any of these symptoms are present:
If the rash looks very severe or appears unusual
If the baby's skin is looking worse, despite your home treatment
Itching, bleeding, or oozing
Your infant cries in pain with each urination or bowel movement
The rash is accompanied by a fever
The most important thing is to change your baby's diaper before it's soaking wet. Never leave a baby laying or sitting in a pool of urine or worse. Diapering is easier than many first-time parents think.