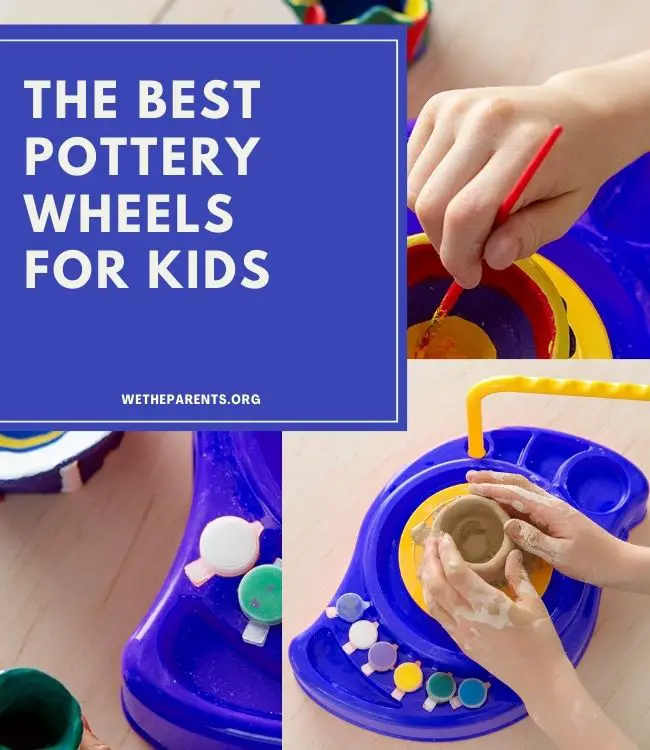 Is your child interested in art? Are they always seeking out new ways to express themself?
Pottery wheels enable children to express themselves while simultaneously honing their fine and gross motor skills.1 A comparative look at the use of the potter's wheel in Bronze Age
Greece
These funky spinning appliances even serve to strengthen little hands. Not to mention, they offer children rewarding sensory experiences.2 How Sensory Processing Issues Affect Kids in School Studies show that art plays an essential role in child development.3 The Importance of Art for Child Development Your child is sure to brim with confidence as they show off their pottery studio creations.
With so many pottery wheels to choose from, we made it our goal to narrow in on seven consumer favorites.
How to Choose the Ultimate Pottery Wheels for Kids
It's not easy buying a pottery wheel for the first time. Beginner pottery wheels do have the best reputations.
What Can My Child Make with a Pottery Wheel?
A pottery wheel is a traditional artists' tool that is used to shape clay. Clay spinning called the throwing process. Children can use pottery wheels to shape, trim, and add details to various clay creations. While pinch pots and other freestyle sculpting techniques are fun, children can make even more uniform pieces using a pottery wheel. Common pottery wheel creations include plates, cups, vases, and pots.
Types of Pottery Wheels
Choosing the right pottery wheel can seem like an impossible fear. You need to consider how awheel spins, how much power it offers, and which direction it rotates. You're also going to have to decide which kind of pottery wheel is right for your child.
Foot pedal pottery wheels:

(sometimes called kick wheels) work similarly to conventional sewing machines. Users must apply pressure to the floor-based mechanism to keep the pottery wheel spinning. These machines usually give artists a broader range of control. Plus, they enable kids to keep both of their hands on their creations. Keep in mind that manual kick wheels require constant pumping.

Switch-Operated Pottery Wheels:

may or may not have variable speed settings. Typically, kids just need to flip a switch to set an electric pottery wheel in motion. On some models, the knob also doubles as speed control. These models are often easier for young children who might struggle to apply pressure and shape their clay at the same time.
What to Consider When Purchasing a Pottery Wheel for a Child
Recommended Age
Choosing the right pottery wheel isn't all that difficult. Typically, the decision comes down to a child's age. Many toys are developed with a particular age range in mind. For example, pottery wheels for young children contain less small parts, move at slower speeds, and have minimal skill requirements. Meanwhile, more advanced pottery wheels may boast foot pedals, adjustable speed settings, and higher quality accesories.
Efficiency
Young children typically prefer pottery wheels that spin at minimal speeds. However, these models are not always the most effective at throwing clay. If your child has been sculpting for a long time, opt for a motorized pottery wheel that offers plenty of rotational power. It will enable your child to make more uniform and detailed pieces.
Clean-Up
You're not alone if you dread cleaning up after your little artist. Many parents are torn between giving their children art supplies and keeping their houses clean. Keep an eye out for pottery wheels with removable wheel heads, splash pans, and splatter guards. What's more, invest in a vinyl table cover and pint-sized apron.
Operational Direction
Keep in mind that many entry-level pottery wheels only spin in one direction. If your child is left-handed, you may need to seek out a wheel that spins to both the left and right, such as the Dan & Darci Pottery Studio.
Noise
Motorized pottery wheels tend to be noisy. If your child has sensory issues, keep an eye out for a model with limited sound output.
Budget
Generally speaking, plastic battery-powered and manual pottery wheels are going to be your most affordable options. Meanwhile, pottery wheels AC adapters and high-powered motors are going to require a bigger up-front investment. If your child is testing pottery out for the first time, your most cost-effective option is going to be a comprehensive beginner kit, such as the Cool Maker Pottery Studio.
Transparency rocks! When you shop through links on this page, we may earn a small commission.
#1 Cool Maker Clay Pottery
Best Overall
We're loving this pottery studio kid for girls 6 and up. The Cool Maker Clay Pottery (check price on Amazon) includes a bright pink switch-operated spinning wheel, a spray bottle, a tool holder, 2 pounds of clay, a paintbrush, two sculpting tools, two coring tools, two sleeves, and 10 metallic paints. Plus, kids get a construction manual with six trendy project ideas, including a mermaid jewelry dish, a bracelet holder, and more.
Kids can use their imaginations to personalize each of the projects. A built-in splash pan keeps messes to a bare minimum. Meanwhile, a built-in tool keep will help your little potter stay organized.
The kit includes two pounds of air-dry clay. Since the wheel is not foot-powered, young children can put all their concentration into their creations. Overall, this dazzle pink appliance is the best pottery wheel for beginners.
What we love:
Personalize each of the six projects with the help of 10 trendy metallic paints,
Built-in tool holders make it easy for little artists to stay organized.
Pro 3 (4th optional)
Watch out for:
The wheel does not spin when faced with resistance.
Check Price on Amazon
#2 Made By Me Pottery Wheels
Best Pottery Wheel Set
The Made by Me Pottery Wheel (check price on Amazon) is yet another comprehensive beginner set. Aspiring potters will have no trouble unleashing their creativity on this potting wheel. They can use either the switch or foot pedal to start and stop the electric pottery wheel.
This kit includes two bags of air-dry clay as well as several pottery tools. The manufacturer also includes a few illustrated sculpting tips as well as some fun project ideas. A built-in splash pan catches most of the wheel's splatter, but we still recommend that you cover your table and child's clothing.
Made by Me hooks you up with just about everything you need to get started.
What we love:
You get an electric wheel, accessories, and clay with this kit.
Beginner potters will love the illustrated sculpting tips offered by the manufacturer.
Kids can use molds to create perfect pots.
The included paint set enables kids to personalize their creations.
Watch out for:
The clay dries quickly and is prone to cracking.
Check Price on Amazon
#3 Cra-Z-Art Pottery Wheel
Best Budget Pottery Wheel
Your child will have a blast sculpting and painting their pottery. They can even use the optional foot pedal to get an authentic pottery studio experience.
The Cra-Z-Art pottery wheel (check price on Amazon) is battery-operated. According to the manufacturer, the pottery wheel is suitable for children between the ages of 5 months and 8 years.
What we love:
Kids can use the foot pedal to go completely hands-free.
Use glitter, paint, and gems to personalize your creations.
The tools are great for making patterns on clay.
Watch out for:
The battery power doesn't last long.
The provided clay is not safe for food or beverages.
Check Price on Amazon
#4 Faber-Castell Do Art
Best for Budding Artists
Faber-Castell's (check price on Amazon) battery-operated pottery wheel comes with an excellent collection of sculpting tools and accesories. Not to mention, the included 2-pound non-toxic synthetic clay block will last through countless sculpting projects.
The pottery wheel's foot pedal helps kids hone the skills they would need in a real pottery studio. While it's a beginner model, the wheel is very fast and puts up with mild resistance.
We love that this pottery wheel comes with a comprehensive instructional manual. The kit also comes with illustrated references of beginner sculpting techniques while referencing classic artists and art movements.
Keep in mind that the required batteries are not included with this pottery wheel. It requires four C batteries and is intended for children 6 and older. Due to the model's small size and limited power, we do not recommend it for teens.
What we love:
The kit includes 3 pounds of clay.
Children can use the illustrated instructions to get ideas for their projects.
This educational set meshes art history lessons with pottery basics.
The synthetic clay contains fewer bacteria than the naturally sourced alternatives.
Watch out for:
Is there no escaping batteries?
Check Price on Amazon
Pottery Wheel Tips
Many parents are hesitant to introduce new creative activities to their children. With that said, here are a few tips and tricks you can employ to ensure that your child makes the most out of their new pottery wheels.
Stock Up on Supplies
Unfortunately, pottery wheels aren't stand-alone purchases. You're going to need a few essentials before you can get started. Extra tools and art supplies will help your child to flex their imagination. Here are a few staples that you'll need to get started:
Apron
Tablecover
Sponge
Paper towels
Spray bottle
Sculpting tools (Plastic knives, rolling pins, wooden skewers work just a good as the real things)
String (or loop tool)
Scraper
Modeling clay (we prefer the air-dry variety)
Paint and paintbrushes
Hone Your Throwing Process
Sign your child up for a beginner ceramics class. Many art institutes hold intro to ceramic throwing classes for children. A professional potter will be able to introduce your child to basic sculpting and throwing techniques. Your child will be able to hone those techniques on their very own pottery wheel.
Don't have any ceramic institutions near you? Visit a local art museum and check out their ceramics collection. Or check out the Smithsonian's online pottery collection. Your child will likely discover new sculpting techniques while building a solid art history foundation for themself.
Show Off Your Child's Homemade Pottery Pieces
Boost your child's self-confidence by showing off their artwork. Children can benefit from positive praise and recognition. Regular encouragement is going to inspire them to keep on creating. Ask your child to make you a vessel for your keys, loose change, or pencils, or consider putting on a children's art show.
Start Slow
Not sure how to get started? There are plenty of pottery wheel tutorials (like this one) for children on YouTube. Have your child attempt with a simple project, such as a bowl or a saucer. Remind them that there are no mistakes in pottery, as clay can be reworked over and over again! Keep a spray bottle or bowl of warm water on hand. The water will help your child keep the clay soft and moist as they work on their creation.
Have your child start with small pieces of clay. Only introduce large chunks as they become comfortable with the medium. Finally, teach them the correct way to remove a creation from a pottery wheel. Hint: it involves a paint scraper! Be sure to set their finished clay creations far, far away from curious little siblings and pets!
Contain That Mess
There's no getting around the fact that art is messy. Try to set up a designated spot for your child's pottery wheel. Line your child's workspace with old new papers or a cheap table cloth. What's more, have your child wear old clothes, an apron, or a smock while they're throwing. Clay (especially the red sort) has a way of staining everything!
Wrapping up
Children can learn so much just by playing with clay. Little artists love showing off their creations and maybe even look forward to getting messy in the process. We hope that this guide made your pottery wheel shopping experience a little less stressful.
Do you have little potters in your house? If so, let us know if a pottery wheel was a good investment for your family.