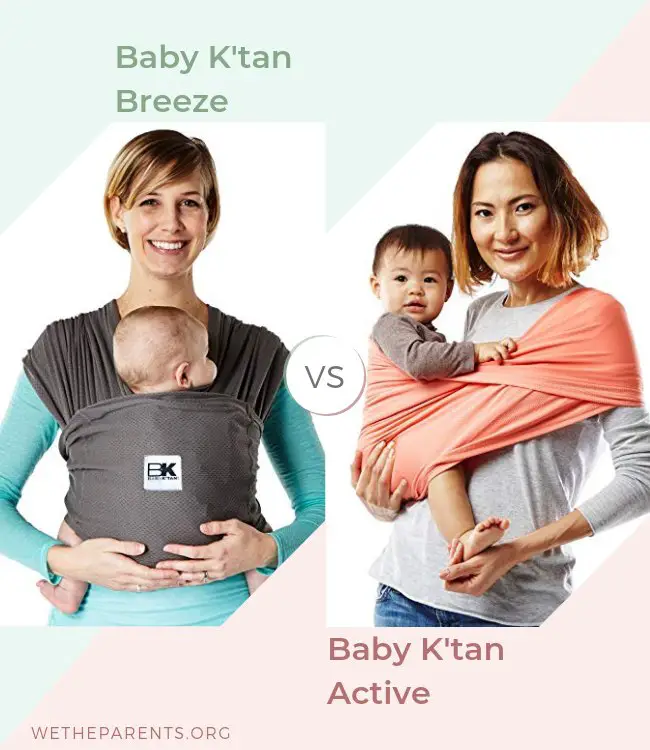 Baby K'tan makes some of the most popular wrap carriers on the market, and many moms are left deciding between the Active and Breeze models.
Figuring out their differences is a matter of looking at the details – while the carriers are similar, there are definitely some variations to keep an eye out for.
I've taken a closer look at these two popular carriers to help you decide which one is right for your family.
Side by Side Comparison
| | Baby K'tan Breeze Wrap | Baby K'tan Active Wrap |
| --- | --- | --- |
| Price: | Check price | Check price |
| Our Rating: | 4.25 | 5 |
| Weight Limit: | Birth to 35 lbs | Birth to 35 lbs |
| Color Options: | 3 | 4 |
| Carrying Positions: | Kangaroo(infant), Hug(front inward facing), Explore(front side facing), Adventure(front outward facing), Hip | Kangaroo(infant), Hug(front inward facing), Explore(front side facing), Adventure(front outward facing), Hip |
| Material: | 100% Cotton | 100% Polyester performance sports mesh |
| All Natural Fabric: | ✓ | χ |
| Feel | Soft | Silky |
| UVA Protection: | ✓ | ✓ |
| Moisture Wicking: | χ | ✓ |
| Machine Washable: | ✓ | ✓ |
| Manufactured In: | China and Guatemala | China and Guatemala |
| Size Options: | 6 sizes - XXS, XS, S, M, L, XL | 6 sizes - XXS, XS, S, M, L, XL |
Baby K'tan Breeze
(A Quick Overview)
Key Features
Made of all natural cotton
Fits on easily like a t-shirt, no complicated wrapping
Great for newborns
Allows discreet nursing and comfortable sleeping
Convertible carry bag is a support sash that stores the carrier when not in use
Taking a Closer Look
Made of All Natural Cotton


Many babies have sensitive skin, which leaves parents in search of fabrics like cotton that don't cause irritation when kept clean and dry. The soft jersey knit of the Baby K'tan Breeze is a great pick for babies with eczema and other sensitive skin conditions, and it's also stretchy and comfortable for the wearer.

No Complicated Wrapping


Most wrap carriers on the market today are basically one long piece of fabric, and it's up to parents to keep trying until they learn to get the wraps just right. Baby K'tan carriers are really easy to put on – they're essentially two big loops of fabric joined securely in the middle, like a figure 8. The loops slip over your shoulders, and a few simple twists have you ready to carry baby. Tutorial videos make learning the process for all five positions really simple.

Great for Newborns


A lot of wearable carriers require an insert for infants, but the Baby K'tan carriers can be used for Kangaroo position, the position recommended for newborn babies and babies between 7-12 lbs. Parents should remember to observe the TICKS check, making sure that baby's is secured tightly to you, in view at all times, that they're close enough to kiss, their back is supported and their chin is kept off their chest, keeping baby's airways clear. This position can offer skin to skin contact that's beneficial to your baby's early development.

Allows Discreet Nursing and Comfortable Sleeping


Although they're not bulky, Baby K'tan carriers have enough fabric that when baby is in front forward facing position, they can nurse or sleep easily tucked under the wrap. This is particularly handy when you're wearing baby all day at an event or outing. They'll still be able to breathe easily and you and your baby will both be more comfortable with the experience.

Convertible Carry Bag Doubles as Support Sash


Storing wrap carriers when they're not being used can be annoying, especially in a purse – they get tangled up in your other belongings and can get wrinkled or stained by an errant lipstick, a leaky pen or the peanut butter and jelly sandwich you didn't know your toddler shoved in there. The Breeze comes with a convertible carry bag which turns inside out and becomes a sash which offers additional support in certain wearing positions.
Baby K'tan Active
(A Quick Overview)
Key Features
Convertible carry bag, use with newborns, easy wear, discreet nursing and sleeping features
Polyester performance sports mesh with moisture wicking
90% UVA and UVB protection
Taking a Closer Look
The Baby K'tan Active and Breeze models are similar, but the Active's fabric is what sets it apart. The model comes standard with the convertible carry bag and is used in the same way, but the fabric used to make the Active model offers unique benefits to you and your child.
Polyester Performance Sports Mesh with Moisture Wicking


Keeping baby cool and comfortable on a hot day is essential, which means their carrier needs to be made of material that breathes. Even better is materiel that keeps sweat and moisture away from baby's(and mom's) delicate skin, preventing rashes and irritation.

90% UVA and UVB Protection


Protecting baby from the Summer sun can be hard, because the FDA advises that it's not usually a good idea to put sunscreen on babies. Neither you nor your little one wants to stay inside all season, which means grabbing gear that offers your baby protection from the sun's harmful UVA and UVB rays. Just as the wrap offers discreet nursing and sleeping, it can easily function as a sun hood for baby, keeping them safe while they enjoy the sunshine.
Which Carrier is Right For You?
This isn't the first time you've heard me say these two wraps have a lot in common, but the definitive difference is in the fabric. My pick is the Baby K'tan Active (check price on Amazon) because I love to get in the sun with the kids – that means sun and sweat protection are essential for me. The right wrap carrier for you is the one that works for you and your little one, and now that you have the rundown, you're equipped to make a great pick.