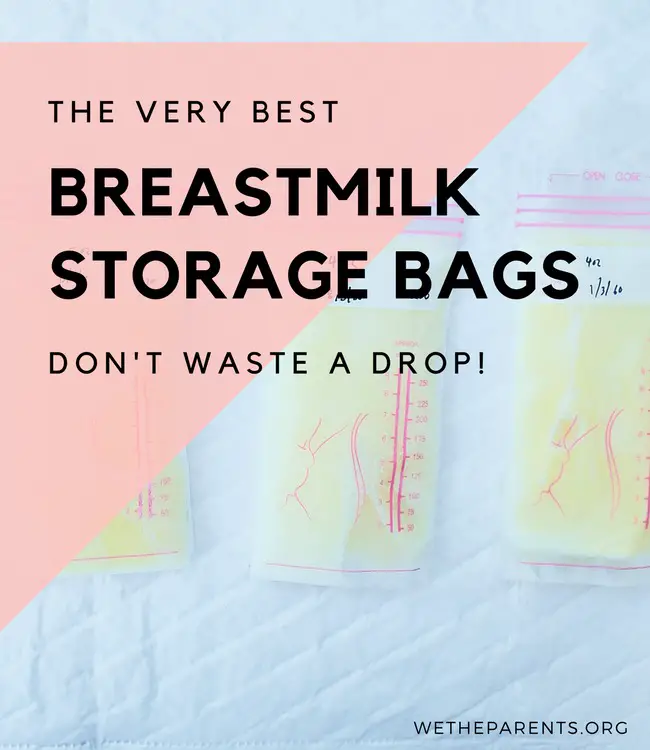 Today's mom enjoys freedom and independence her ancestors didn't dare dream about. Nursery monitoring systems. Carriers that ergonomically support baby's body. Breastfeeding covers permitting women to breastfeed in public without fear of embarrassment. But it's the ability to leave baby home, knowing a fresh supply of breast milk is perpetually available, that moms appreciate most of all. Are breast milk storage bags the best products to come along since diaper bags? We think they're the best answer to feeding baby since wet nursing became a full-time profession as long ago as 1745 B.C., say editors at "Newsweek" magazine.
Editor's Choice
Lansinoh Breastmilk Storage Bags
These popular breastmilk storage bags are reliable, leak-free, and reasonably priced. A winner with pumping mommas.
View on Amazon
What are breast milk storage bags?
They're soft, malleable, disposable plastic containers designed to attach to breast pumps, so milk aspirated from mom's breast is expressed into a disposable or reusable bag (likely pre-sterilized and BPA free). These vessels are designed to be tightly sealed for storage in freezers, refrigerators or immediate use when mom and baby are on the go
Milk Storage… Disposable or reusable? You decide!
If eco-friendliness comes top of your priority list, then the thought of a one-use throw-away bags may be enough to make you break out in a rash. If this is you, then a bag isn't your milk storage solution. Instead, you are after glass, or hard recyclable plastic, containers.
Breastmilk storage bags, on the other hand, aren't as eco-friendly, but they are very hygienic and highly convenient. As a busy mom, the reality is that these factors often come first.
According to Dr. William Sears, both options are viable. Disposable bags are made of soft plastic while hard (recyclable) vessels are made of glass or plastic that can be sterilized over and over again. The choice comes down to personal choice, caregiver convenience, the tedious task of filling and washing bottles or whether freezer storage is a factor, in which case disposables reign.
The jury is still out on how breast milk fares in either type of vessel because studies contradict each other. Scientists working on the question of how human milk is impacted by containers can't agree whether it's best to store milk in hard or soft containers. In Dr. Sears' opinion, plastic bags are sturdier and do a better job of protecting milk, while hard containers excel at protecting nutrient and immunity properties.
How to get the most out of breast milk storage bags
Buy the sturdiest bags you can find with self-closures that can be labeled with collection dates, so you always retrieve the freshest milk from the freezer. You won't have to allocate as much room in the freezer as you would if you use hard containers. Some women hang the equivalent of "used by sell date" charts on the 'fridge for insurance. When you get started, freeze about 2-ounces to see how the milk fares.
10 things you should know about storing breast milk in storage bags
No microwaved breast milk warm-ups, please!
Freezing will always destroy some immune-granting properties found in breast milk. Make sure that baby also gets fresh breastmilk.
Bags filled with breast milk freeze "flatter" than solid containers and thaw faster.
Reserve an inch of unfilled space at the top of either container to allow for expansion.
Some doctors recommend placing milk-filled bags into a second container for storage.
If milk separates after thawing, swish the receptacle to restore consistency.
Store in the fridge up to 8 days and the milk will have lower bacterial levels than freshly pumped milk!
It's safe to keep breast milk at room temperature for 6 hours, but don't make a habit of it.
Defrost breast milk bags by putting them in a bowl of warm water or running warm faucet water over them.
You can add more pumped milk to a container of frozen milk as long as it's cooled first.
Our top pick
Lansinoh breastmilk storage bag sare the most widely used by moms and, while we don't normally like to follow the crowd, in this case, they are our Top Pick. They feature a patented Click 'n' Secure zipper seal with double seaming. This is excellent at preventing leaks. They are also pre-sterilized and are BPA- and BPS-free. You'll appreciate the pour spout – especially at 3 a.m.
What we love:
Fit directly onto breast pumps
Good value for money
Lay flat in the freezer or upright in the 'fridge
Pour spout makes milk transfers a breeze
Strong enough to freeze and thaw without breaking.
Watch out for:
You must purchase an adapter if you don't use a Lansinoh pump.
Some moms report some leaking, but this happens rarely
View on Amazon
Best budget buy
Baby won't notice those adorable little giraffes marking the number of ounces that fit into a Mommy's Precious storage bag, but you will. Each pre-sterilized freezer storage bag holds up to 8-ounces of breast milk and the bag is BPA- and Phthalate-free. Advertised as the product that comes with 10-percent more bags than competitors, this could be the brand that wins your heart and your dollars.
-Leak-proof, self-standing design has a gusseted bottom.
-The material used to fabricate these bags is latex-free.
-Lines indicating fill levels are 95-percent accurate.
-Front-facing panels have space to mark fill and freeze dates.
-A perforated line gets you into your bag fast with no spills.
What we love:
Designed by moms.
That 10-percent increase in the number of bags adds up over time!
Bags are pre-sterilized for baby's safety and well-being.
Those measuring lines can be a life-saver in the wee small hours.
The importance of writing space on bags can't be underestimated.
Watch out for:
May not provide enough room for milk expansion when frozen.
Seam leakage and holes have been reported by moms.
You may find bag edges to be sharp and unyielding.
View on Amazon
These storage bags not only look quite different from others on the market, but the folks at Kiinde want moms to know that they function differently, too. These disposable twist pouches are uniquely shaped to double up on leak-proof security and eliminate the downside of leaving messes or contaminating milk during the transference process.
Features
-Tough pouch construction offers leak-proof assurances.
-Twist and lock pouch adapts to all pumps on the market via a compatible adapter.
-Is designed with a secure threaded cap to secure contents once filled.
-Pouches and caps are recyclable once they've been used and washed.
-Pre-sterilized bags come with fill indicators so you know exactly how much milk you're storing.
What we love:
Feed baby directly from the pouch using Active Latch nipples, clean and recycle!
Twist-locking caps keep breast milk safer during freeze, ultra-fast freeze or thawing.
Buy lots of 20, 40, 80 or 160 6-ounce pouches or a 40-pack of 8-ounce bags.
Kiinde was launched by nerdy parents at MIT dissatisfied with poor quality bags.
BPA-, PVC- and Phthalate-free materials.
Watch out for:
Several moms complained to Kiinde about finding bugs in pouches.
These cost more to buy-especially if you need the 8-ounce size.
There have also been reports of leaking-before and after freezing.
View on Amazon
We're not sure if there ever was a Dr. Brown but we do know that he's making his disposable breast milk storage bags in China these days. Does it matter? It does if you're a "Buy American" mom who prides herself on supporting domestic industries. That stated, you'll find plenty to like about this brand if it's your top choice.
Features:
-Extra-durable, double zip seams keep breast milk safe and secure.
-Stand the bag up when filling; the gusseted bottom won't tip over.
-The top of the bag is perforated so it's easy to open, even one-handed.
-BPA-free and pre-sterilized, these bags are ready to use out of the box.
-Record storage date information on the bag front.
What we love:
These bags don't come from the factory smelling awful!
Moms swear they won't leak, even after freezing and thawing.
Double zip-lock seams make this bag a thick, sturdy choice.
Handy measuring guide on the bag lets you see how much you're storing.
Highly rated by daycare workers who know a thing or two about storage!
Watch out for:
Fill these bags with more than 5-ounces of breast milk and plastic could crack.
Only comes in quantities of 25 or 50.
May cost more than competitor products.
View on Amazon
Buy boxes of 50 or 100 so you always have Nurture Right storage bags on hand, no matter the time of day or night. These 6-ounce bags are pre-sterilized, so no worries that baby is exposed to dangerous chemicals and toxins. The constant recipient of 5-star reviews by moms who aren't shy about expressing their opinions, the Nurture Right brand has lots going for it.
Features
-Leak-proof and durable featuring premium double zip seal strength.
-Constructed of Latex-, BPA- and Phthalates-free plastic.
-Every milk storage bag is topped by a safety seal.
-Bags are thick, odorless and leak-proof.
-Easy pour and store design expressly for faster thawing.
What we love:
Once filled and sealed, breast milk resists freezer burn and thaws easily.
Bags can be stored on their sides to save freezer space.
Nurture Right is happy to refund your money or replace product if their bags disappoint or fail you.
Completely transparent; no graphics to obscure contents.
Easier to get the air out of these bags before they're filled than competitor products.
Watch out for:
Parents may encounter quality control issues causing bag tears.
Perpetually difficult to open for non-dexterous moms.
Holes in these bags could leak breast milk if you don't inspect each one before use.
View on Amazon
FAQs
How long will breast milk last in the freezer?
While doctors at the Mayo Clinic report that, "Freshly-expressed breast milk can be stored in the back of a deep freezer for up to 12 months," they recommend thawing and using it within 6 months of the storage date.
Can I store my breast milk in the 'fridge instead?
The answer is yes. It can remain there for up to five days as long as conditions are hygienic, though freezer storage is always the best method. In an emergency, you can also store freshly-expressed breast milk in an insulated cooler packed with ice for up to six hours.
What's the best way to I thaw breast milk?
First, check the date! Grab the oldest milk first and put the bag into the 'fridge on the night before you intend to feed it to baby. A faster method is to gently bring it back to strength by either placing it into a bowl of warm water or running it under a facet dispensing warm water.
Can't I thaw it in the microwave like other frozen drinks?
A quick defrost is never a good idea because some doctors believe that fast thaws can affect the antibodies in milk. Ditto quick thaws in boiling water. Besides, you don't want to stress out the plastic, do you?
How long will breast milk last after defrosting?
Doctors recommend discarding thawed breast milk if it hasn't been used within 24 hours.
How can I tell if breast milk has gone bad?
Folks at The Bump urge moms not to panic if they find their milk has "separated." Swirl the bag to return it to its former consistency. If bag contents remain separated, it's likely spoiled or curdled. It will probably smell funky, too!
Can I reuse my breast milk storage bags?
Yes and no. The bags we feature in this review are made for one-time use only. If you choose reusable bags and your kitchen preparation area is as sterile as an operating room, you can take the chance if you are fastidious about keeping glass bottles or jars sterile to avoid bacteria contamination.
How many ounces of breast milk should I store in each freezer bag?
Dr. Elana Ben-Joseph recommends storing smaller amounts of milk per bag rather than huge amounts because moms will waste less milk and the bags themselves take up less storage room. Her advice is to "store breast milk in 2- to 4-ounce portions." She also suggests pouring breast milk into sterilized ice cube trays for fast thawing, so you defrost only the amount baby needs at the moment.
How many breast milk storage bags do I need?
Talk about a loaded question! Are you feeding just one baby? Are you pumping for twins or multiples? Perhaps you're part of the "milk exchange" movement that's been growing since 2005 and you're pumping for other moms (e.g., http://www.onlythebreast.com; http://milkshare.birthingforlife.com).
A website devoted to exchanges between moms posed the question, "How many bags would you say you go through on a daily (or weekly) basis?" Responses ranged from 2 bags a day to a total of only 50 a year. We love being know-it-alls, but this is one question that you alone can answer for yourself after some trial and error!
Editor's Choice
Lansinoh Breastmilk Storage Bags
These popular breastmilk storage bags are reliable, leak-free, and reasonably priced. A winner with pumping mommas.
View on Amazon
Our top pick is…
Our top pick for convenience, price, and reputation are Lansinoh Breastmilk Storage Bags. Patented double-zipper design, gusseted bottoms, a variety of package sizes that mean you don't have to keep returning to the store as often to buy more, are just the tip of this beneficial iceberg.
After perusing a long list of popular rating sites that attract moms eager to learn all they can about breastfeeding, we found Lansinoh to be the most-often mentioned because they can be used with a variety of pumps, the plastic content has no harmful chemical agents and even the pour spout seems to get rave reviews.
How important is it to moms that these bags are manufactured by a company that's been attending to baby needs for three decades? Very. And while there is the occasional complaint about a bag, they're few and far between. There's a reason this brand of breast milk storage bag gets knocked off by counterfeiters. It's the best of the best; just what you and your baby deserve at this important time in both of your lives.