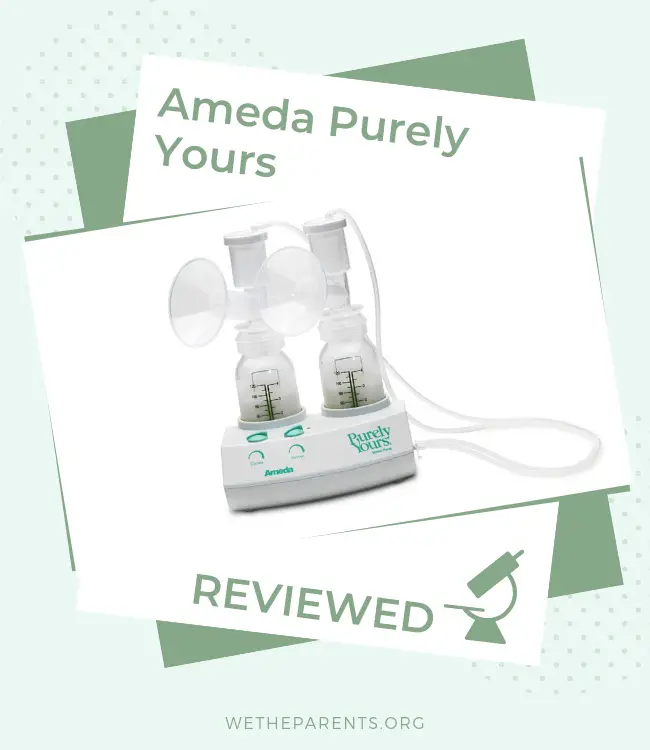 The Ameda Purely Yours Breast pump is popular, no doubt.
But does it live up to the hype?
In this 5-min review, we'll take a look at it's key features and see how it stacks up against other top breast pumps on the market.
Let's dive straight in.
Product Summary
The Ameda Purely Yours Breast Pump (check price on Amazon) is an electric pump that is not only a lightweight unit but portable as well, making it a convenient addition for times when you have to be away from your little one.
It has a Proven Airlock Protection closed system to prevent bacteria from contaminating breast milk, and includes a dual Hygienikit milk collection system.
The system has adjustable suction and speed for maximum milk flow while making the pumping experience as comfortable as possible for new moms.
Included in kit:
Electric pump system
Dual hygiene-kit milk collection system
AC adaptor
Battery pack
Shoulder carrying bag
Cool'n'Carry milk tote bag
3 ice packs
4 collection bottles with lids
Pros
The adjustable speed and suction enable mom to pump breast milk more comfortably and naturally for her body.
Mom's can pump either one breast or both. This is a convenient option for mom's who are on a time constraint.
This unit is easier to clean than some of the other models.
Cons
The suctioning of the system could use some improvement.
The pumping system is a bit louder then some mom's may desire.
Key Features:
Closed Pump System
The Ameda Purely Yours Breast Pump uses a closed system pump. This model has Proven Airlock Protection, which helps keep breast milk safe from possible bacteria, mold, and virus contamination.
Portable & Lightweight
This light unit can be easily taken wherever mom needs to go. It comes with both a shoulder bag and a tote bag cooler, extra ice packs, and 2 built-in bottle holders. It can also be used on the go with the included battery pack.
Versatile Pumping
The unit can be used as either a single pumping unit or double. It also has controls for adjusting the pumping phases, speed, and suction to ensure that you get the most comfortable pumping experience for your body.
BPA and DEHP free
The plastics in this system do not contain BPA or DEHP, which are harmful chemicals that are found in some plastics.
Easy to Operate
The Ameda Purely Yours Breast Pump comes with easy to understand instructions and is simple to operate. This can be a relief if you already have enough 'stuff' running around inside your head with a new baby in the home.
Easy to Clean
Another relief will come when you discover that it is easy to clean. The pump is a closed pumping system, which is much easier to clean than an open one. The system keeps the breast milk separated from outside air and prevents it from flowing into the tubing. This results in less cleanup during routine maintenance.
Comparing the competition
How does the Ameda Purely Yours breast pump compare to other leading brands?
A) Spectra S2
Both brands can be used as either a single pump or double pump and have a closed system. While the Ameda Purely Yours Breast Pump is designed to be portable with its carrying bag, cooler, ice packs, and battery pack, the Spectra S2 (check price on Amazon) does not. Taking this into consideration, if you plan on using a breast pumping system away from home on a regular basis you may be better off using the Ameda unit.

B) Medela Pump In Style Advanced
The two pumps are fairly similar in what they have to offer. They both are easily portable and come with everything you would need for travel. There is one major difference between them. The Medela Pump (check price on Amazon) is an open system, while the Ameda pump is a closed system. If bacteria contamination is a concern for you, then the Ameda may be a better option.

C) Freemie Freedom
The Freemie Freedom (check price on Amazon) is a good alternative to the Ameda if you need to do a lot of breast pumping while hands-free or in a workplace where you may feel uncomfortable. It has concealable breast milk containers that fit inside a bra so you can easily pump while remaining completely covered.

Who Should Buy an Ameda Purely Yours Breast Pump?
The Ameda Purely Yours Breast pump (check price on Amazon) is ideal if you are in need of a system that can easily be taken with you when you are on the go. The travel bag, cooler, ice packs, and extra bottles make it as easy to carry along as a diaper bag. While you will have to purchase a car adaptor separately, it does come equipped with a battery pack.
This unit is also an excellent buy if you are searching for a closed system. Keeping bacteria and other harmful substances away from those little ones can be a chore within itself. Using this system may give you one less thing to worry about when it comes to your child.
This system is also ideal if you are searching for a double breast pump that can get the job done without spending too much money. While it may not be as powerful as some of the more expensive models, its reasonable price and phase pumping, speed, and suction adjusting abilities make it a worthwhile investment if your searching for a middle-of-the-road pumping system.