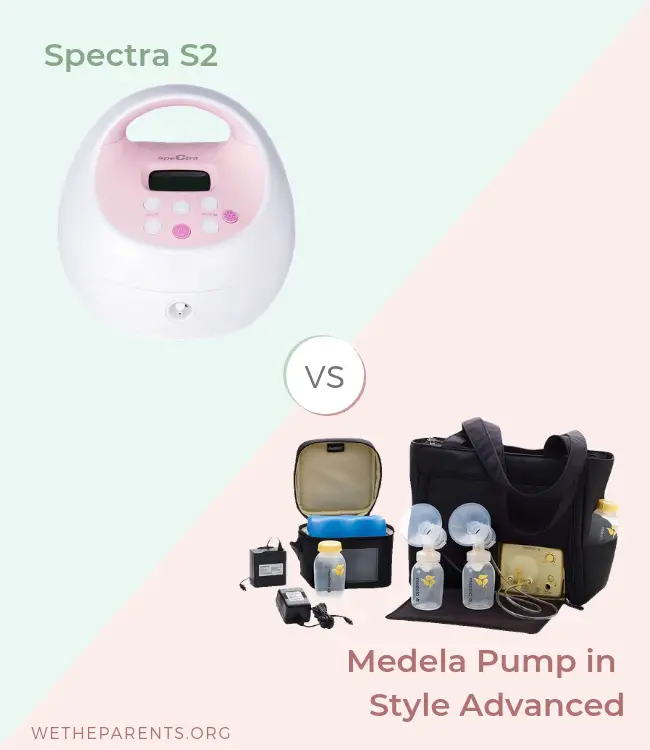 While in most situations during breastfeeding, there is no need for a breast pump. There are certain times, however, when one becomes necessary. One of the most common times when a pump becomes essential is when mom and baby will be apart for certain periods during each day.
We have matched up two top models of breast pumps to help moms make an educated decision on which breast pump may be best for her.
Side by Side Comparison
| | Spectra S2 | Medela Pump In Style Advanced |
| --- | --- | --- |
| Price | Check price | Check price |
| Warranty | 2 year | 1 year |
| Weight | 3.3 lbs. | 7 lbs. |
| Batteries | No | 8AA (not included) |
| AC Adaptor | Yes | Yes |
| Pump Style | Double electric | Double Electric |
| System | Closed | Open |
| Settings | Adjustable | Dial |
| Display | LCD | No |
| Plastic | BPA free | BPA free |
| Travel Ready | No | Yes (On-the-go Tote) |
| Cooler | No | Yes |
What is the Spectra S2?
The Spectra S2 (check price on Amazon) is a hospital grade breast pump created by Spectra Baby USA, a company owned and run by registered nurses and Board Certified Lactation Consultants.
This model has a single and double pump with a closed system, which is great because it creates a barrier between the pump and the milk. This prevents air flow between the milk and tubing to ensure that the breast milk will not be contaminated by bacteria and viruses during the pumping process.
The unit has customizable settings which enable mom to set it precisely to her body's personal response and flow. It has adjustable suction and 2-phase cycling in both expression and let-down modes.
All parts that come in contact with mothers milk are BPA/DEHP free. The system includes everything necessary for mom to safely and easily begin breast pumping. It also includes a timer and nightlight for extra convenience.
What is the Medela Pump In Style Advanced (P.I.S.)?
The Medela Pump (check price on Amazon) is a double electric breast pump that received recognition as the #1 physician recommended breast pump product in the USA. It has been ideally designed for moms who pump several times a day on a daily basis.
This pump system was created to mimic a nursing baby for a comfortable feel and optimal flow. It is designed with the 2-phase Expression technology for efficient milk flow in less time. The customizable settings allow mom to choose the speed and vacuum that works best with her body for a most comfortable and efficient pumping experience.
The unit comes with an on-the-go tote for portable convenience. It includes a battery pack for discreet pumping whenever needed. This system also comes equipped with a built-in cooler bag and ice pack that can hold up to four bottles, which is ideal for safely keep breast milk cooled.
Spectra S2 vs Medela Pump In Style Advanced
Both breast pumping systems are electric double pumping units and are designed using BPA free plastic. The Spectra has a closed system for added safety from harmful bacteria, while the Medela pump is an open system. The Spectra S2 has adjustable settings with an LCD display. The Medela pump has dial settings and comes with a tote that is equipped with a battery pack and cooler, which makes it ideal for traveling.
Spectra S2
(A Quick Overview)
The Spectra S2 (check price on Amazon) is an ideal unit for moms with its lightweight build and affordable price. Its closed system provides backflow protection against harmful bacteria and mold.
It has a quiet pump, with built-in timer and nightlight, which is great for those night-time uses. It has an LCD screen and push buttons for ease of use. The system has adjustable suction for both expression and letdown modes.
Pros
Closed System
Timer with nightlight
LCD screen
Quiet pump
Cons
Not battery operated
Not travel ready
Key Features
Closed System
The Spectra S2 is a closed system which protects against backflow, reassuring moms that their infant will not be receiving any harmful bacteria and germs during feeding.
Quiet Pump
With its quieter pump, moms can feel more comfortable using this unit while in the presence of others. It can also be ideal for use during the night-time hours if needed knowing that it will not disturb others.
Customizable Settings
The settings on this unit allow for suction adjustments in both expression and letdown modes, making it a more comfortable experience for mom.
What Makes the Spectra S2 Better than the Medela P.I.S.?
The Spectra S2 is an ideal breast pumping unit with its closed system. Knowing that her baby will not be inadvertently receiving harmful germs, bacteria, mold, and viruses will give mom one less thing to worry about. Its lightweight size and customizable settings are also a definite plus with this unit. Anything that makes life easier for mom during the early months of parenthood is a huge benefit!
Medela Pump In Style Advanced
(A Quick Overview)
The Medela Pump In Style advance (check price on Amazon) is a breast pumping unit that will definitely make life a little easier. It has an on-the-go travel tote and cooler that can also hold up to 4 bottles, making it easier for mom to travel or take along to work. It is a double pumping electric unit that can also operate off a battery pack. It has a 2-phase expression with a one-touch let-down button.
Pros
Fast Pumping for Moms on the Go
Includes On-the-go Tote with Cooler
Can be Battery Operated
Key Features
2-Phase expression with one-touch letdown
Through the use of the Maximum Comfort Vacuum in the expression phase, mom can pump more milk at a faster rate. Busy moms will appreciate cutting down on the time normally needed for this process.
On-the-go Tote
The unit comes with a microfiber bag that easily holds all the necessary equipment needed for travel. It also has a cooler that can fit an ice pack and four additional bottles.
What Makes the Medela P.I.S. Better than the Spectra S2?
These days many moms decide to go back to work after their baby is born, either out of necessity or their own personal choice. While this may be the case, those same moms also want to continue providing their baby with the nourishment that they have been getting since birth. This Medela Pump In Style Advanced unit is an ideal choice for those moms on the go with its convenient travel tote, battery pack, cooler, and quick pumping ability.
Which is Right For You?
One one hand, the Medela Pump comes with convenient on-the-go tote and cooler, making it an excellent choice for travel or taking to work. On the other hand, Spectra's closed system can eliminate harmful bacteria from getting into the breast milk. Being able to travel easily with a pumping system would definitely be ideal and make life a little easier.
While this may be so, as a mom, I would feel a lot better knowing that my little one can safely get the nourishment she needs without worrying that she may also be getting some nasty bacteria on the side. With this in mind, we feel that the Spectra S2 (check price on Amazon) gets a slightly higher rating than the Medela Pump In Style Advanced.