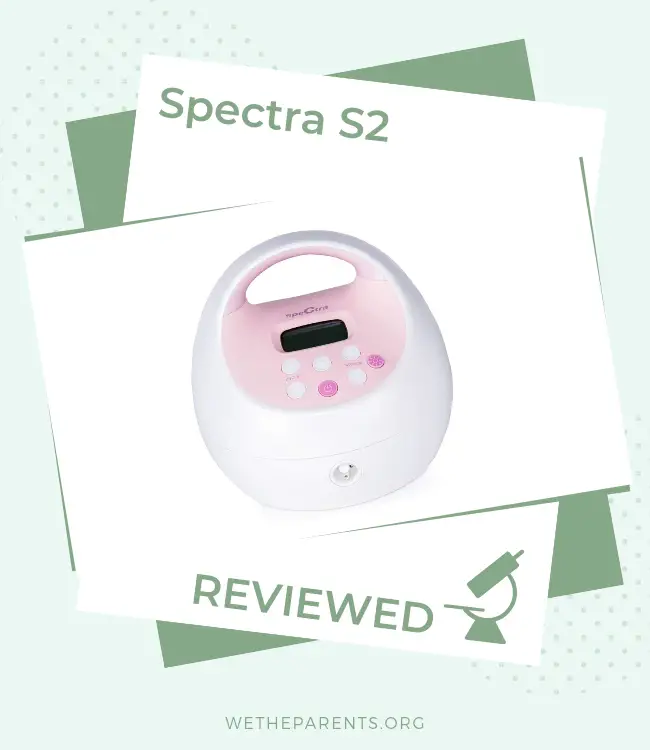 The Spectra S2 electric breast pump is one of the most popular on the market. You've heard of it (well, duh! that's why you're here), but should you buy it? That is the question we're going to answer.
We'll take a thorough but speedy look at what makes the Spectra S2 tick. Hopefully, after 5-minutes, you'll know whether this electric breast pump is the right choice for you and your baby.
Product Summary
The Spectra S2 (check price on Amazon) is a hospital strength electric breast pump that can be used as a single or double pump. This lightweight model also has a closed system with a letdown mode which prevents bacteria from coming into contact with the breast milk.
Included in Kit:
Hospital grade single/double breast pump
12volt AC adaptor
2 backflow protectors, duckbill valves, and tubing
4 flanges
2 wide neck bottles
2 breast shields
Pros
A lightweight model at only 3 lbs.
Quiet performance
Closed system which lowers a risk of bacteria
Affordable price
Cons
Not as feasible for heavy duty use
Does not have a battery pack
Features & Benefits:
The Unit Has a Closed Pumping System
This system keeps the tubing dry by preventing air flow between the breast milk and pump tubing, therefore preventing harmful molds and bacteria from accumulating during the pumping process. You have many other things to worry yourself about when it comes to your baby. A closed breast pumping system means that you can check this one off of the list.
BPA and DEHP Free
While many other plastics may contain these harmful substances, Spectra parts and storage containers are all BPA and DEHP free. You can rest at ease knowing that your little one will not be subjected to harmful plastic while feeding.
Quiet Pumping
Even though we feel that we should be living in an era when breastfeeding and pumping are a perfectly natural and normal habit, it is unfortunate that this is not always the case. The quiet motor of this system may help you feel a little more relaxed and comfortable when having to pump while in a public setting such as work.
Single and Double
This model comes with a few extras to make a new moms life a little easier. It has the option of pumping either one breast or both at the same time. This can be handy in a time crunch!
Night-time Pumping
It also comes equipped with a nightlight. I know exactly how it feels to stumble about in the night while the rest of the world sleeps. Having a nightlight on the pumping system means that you can take care of those middle of the night sessions without disturbing anyone else.
Adjustable Modes
Gentle breast massage before pumping signals the brain that it's time to begin breastfeeding. The system has a letdown mode that takes care of this for you, which enables an easier and quicker breast pumping experience. You can also adjust the speed and suction to help attain the perfect, most comfortable breast pumping experience. Suction can be adjusted in both the expression and letdown modes.
Comparing the competition
How does the Spectra S2 compare to other leading brands?

Ameda Purely Yours
The Ameda Purely Yours (check price on Amazon) is portable and comes with a shoulder carrying bag, milk tote, cooler, and ice pack. If you are a mom on the go, then you may want to consider this pump as an option over the Spectra S2. Both models have a closed system to prevent bacteria from coming in contact with breast milk.
Medela Pump In Style Advanced
The system has a convenient travel tote, along with cooler and ice pack. The Medela pump (check price on Amazon) is ideal for moms that are not only on the go but also in need of fast, double pumping to save time. The one thing to keep in mind is that the Spectra S2 has a closed system, while the Medela pump has an open system.
The First Years Quiet Expressions
The Quiet Expressions Pump (check price on Amazon) may be a good alternative if you are living on a tight budget. This affordable double electric breast pump has everything a new mom needs to begin breast pumping without breaking the pocketbook. It even comes with a carrying tote, adaptor, and bottles.
Who Should Buy a Spectra S2?
I understand that there are several things moms take into consideration when making choices that have to do with their lives and their children. These include safety, time management, efficiency, and affordability. The Spectra S2 (check price on Amazon) fits the bill where all of these are concerned.
If you are concerned about your baby and harmful bacteria, are looking for an affordable breast pump, have the desire to feel comfortable and at ease while pumping in your workplace, and want to save time by double pumping, then the Spectra S2 may be the pump you're looking for.
Things to Know Before Buying a Baby Sling
There are a few things to take into consideration before making your electric breast pump purchase. One of the first things to think about is comfort. As a mom, I can personally attest to this. During the period of breastfeeding and pumping, a mother's breast go through a lot. The last thing that you want to have to deal with is more pain and tenderness. It's important that you get the right size breast shields to avoid damaged and sore nipples.
Another very important thing to keep in mind is that you should never buy a used breast pump or share with others. Breast milk can carry viruses and bacteria and may cause contamination to pumps. While it may be tempting to buy a hand-me-down or borrow a used pump from a friend, it is highly advised that you purchase a new pump.