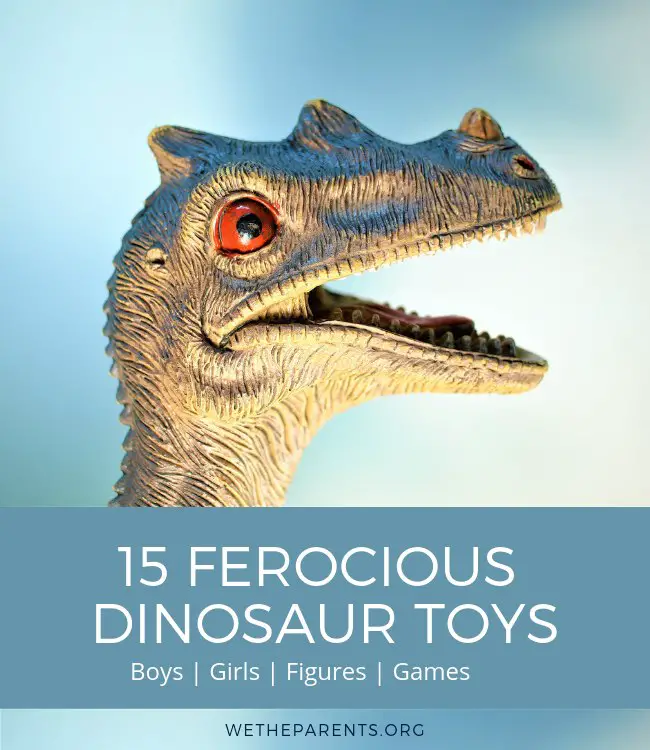 One thing's for sure, kids love dinosaur toys! And, playing with them is an ideal way for children to explore their imaginations, learn about history, and have some good, old-fashioned fun.
So, here's our newest roundup of the fifteen best dinosaur toys for your kids this year, along with our pick of the best overall dinosaur toy.
Best dinosaur gifts for kids
This great little set teaches kids paleontology skills by digging up a dinosaur bone, a Mosasaur tooth, and even some dinosaur poo. It would make a perfect party gift, or to keep for yourself exploring the prehistoric land before time with your own children.
What we love:
It's backed by National Geographic's 100% satisfaction guarantee.
The learning guide teaches your little ones about history in a fun and interactive way.
Watch for:
The small parts could pose a choking hazard for children younger than 3-years old.
There aren't many pieces, but you can buy other sets to compliment it.
Check Price on Amazon
Best LEGO dinosaur toy
Ah, the timeless appeal of LEGO just keeps going. And, now they have these amazing kits with specialized pieces to create almost anything, even dinosaurs. This little set will keep both you and your little ones busy for hours. It has all of the parts to construct a T. Rex, a Triceratops, and a Pterodactyl.
What we love:
These little pieces will last forever.
The creative possibilities are limitless.
It's a great addition to your LEGO collection.
Watch for:
It does take a little time and patience to put each different dinosaur together.
Those little pieces will pose a choking hazard for toddlers under three.
Check Price on Amazon
Best dinosaur toy for toddlers
Here's a fun, little backpack suitable for even the youngest walkers. The soft, water-resistant material makes it great for cuddling, playing, or using it as a backpack. And, it's fun! It has zippers made for little fingers, soft spikes on its back, and even a little dino-tail.
What we love:
The colors are vibrant.
Toddlers love wearing it and pretending. Hear me roar!
Watch for:
It's a little on the small side, maybe good for a snack or a small toy.
Check Price on Amazon
Best Jurassic World dinosaur toys
Here's a great play set that will let your little one create their own Jurassic world. And, when they're done playing, it folds itself up into a tidy, little toy box covered with dinosaur pictures.
What we love:
The colorful graphics create a realistic dinosaur setting.
They can introduce their other dino-friends to this fantasy land.
Watch for:
The box is a little on the small side, but it can still start a great cleaning habit with your youngster.
Check Price on Amazon
Upgrade Choice
Best dinosaur toy for 5 year old
If your kindergartner is getting bored with the plastic dinosaurs, this guy does everything. Remote control operated, it shakes its head, wags its tail, walks, roars, and even launches plastic bullets as well as playing music and dancing.
What we love:
It's almost like having their own pet.
This dinosaur is great for little boys or girls.
Watch for:
While it doesn't look very authentic, it still offers plenty of fun.
Check Price on Amazon
Best Vtech dinosaur toy
Best remote control dinosaur toy
Introducing Silver, the remote control T-Rex dinosaur that plays and teaches. An LCD screen shows videos and pictures. And, to top it off, it's a transformer! With a couple of clicks, It turns into a sports car.
What we love:
The volume can be controlled. We like that, a lot!
There are other dino buddies, so they can have a collection.
Watch for:
It does have an angry dinosaur voice, which might catch them off guard at first, but they'll soon be mimicking it.
Check Price on Amazon
Best dinosaur train toy
Your little one will spend countless hours creating a virtual dinosaur world with this train set. The centerpiece volcano doubles as the lid for a sturdy plastic storage case. They even get a brontosaurus crane that loads leaves, veggies, and rocks onto the train cars along with their own little runway and an airplane.
What we love:
It's the perfect first train set for little fingers.
We love having the storage tote!
Watch for:
It's recommended for 3 years and older.
Check Price on Amazon
Best realistic dinosaur toy
Oh my! This T-Rex really looks like the real thing. It's historically scaled to size, hand-painted, and individually crafted. It even has a movable lower jaw.
What we love:
The realism of the features is awesome!
Schleich also makes other dinosaurs just as realistic.
Watch for:
It's not suitable for children under 3 because of small parts.
Check Price on Amazon
Best dinosaur toy for 4-year-olds
They can build their own world with roads, bridges, and explore their Jurassic creation in their own military vehicle. It comes with three different dinosaurs, trees, and other fun accessories.
What we love:
The track can be arranged in a variety of ways making it great for practicing hand-eye coordination skills.
It's made of eco-friendly ABS plastic.
Watch for:
The military car does require batteries.
Check Price on Amazon
Best interactive dinosaur toy
His name's Tracker, and he's just a baby. Your little ones can wrap him around their finger and activate him with sound, motion, or touch. He's so playful with his little roars and chomping. Kids can teach him to be rough, and then calm down by petting him. And, since he's a baby, he might pass a little gas every now and then.
What we love:
He's absolutely adorable!
Tracker also has friends that you can get so he won't get lonely.
Watch for:
They do make a little noise, but it's really not that bad.
Check Price on Amazon
Best Dinosaur King toy
If your kids are big Dinosaur King fans, they'll love these trading cards. They can pretend that the dinosaur cards are fighting each other. They'll be off to a great start with this card collection.
What we love:
The cards are great ways to learn about different kinds of dinosaurs.
They can trade the cards with their friends.
Watch for:
Be careful, you might just become addicted to this game as well.
Check Price on Amazon
Best transformer dinosaur toy
This bright red T-Rex transforms into two different blaster variations with cool sound effects and flashing lights. You can interact with your kids by helping them build different transformers with the included tools.
What we love:
It's great for both their imagination and their dexterity skills.
Watch for:
It's not the most realistic looking dinosaur.
The transformation tools might be tricky for little fingers.
Check Price on Amazon
Best dinosaur toy for girls
There's nothing scary about this adorable, little, pink dinosaur. With multi-colored spots, purple feet, and a great big smile, it's sure to be her favorite cuddle-toy. Its neck is also the perfect size for her to wrap her sweet, little arms around for nap time.
What we love:
It's a friendly dinosaur for a little girl.
This cute dinosaur is small enough to take anywhere.
Watch for:
It's made of fabric, so it will get dirty.
Check Price on Amazon
Dinosaurs have been fascinating children, and adults alike, since, well, forever, it seems. There's something about the not-knowing and having to guess about what it was really like way back then. It can be simply flabbergasting to think about an era of dinosaurs roaming the very same land that we live on today.
And, what if they should suddenly come back? While we know that they won't, it's all a part of the fun of imagining a time so different than it is today and trying to figure out how it all worked.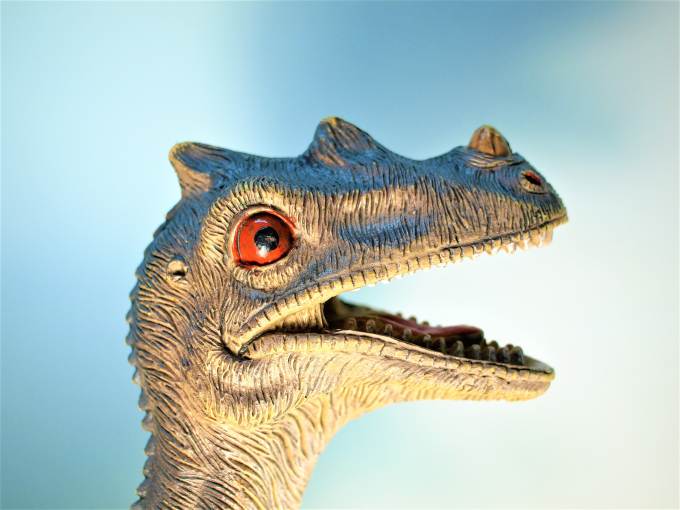 There are so many different toys to choose from on the market today. It can be difficult to know which makers you can trust. That's why we take the time to research and evaluate these toys. Depending on which particular toys we are looking at, we rate them on different qualities.
While the toy's safety is always first and foremost in our evaluations, we are also very concerned with how well the toys are made. And, even though toys have to be fun, they should still have some educational value to them. It's a delicate balance of qualities that will put a toy at the top of our list. Let's expand on exactly we're looking at when it comes to the safety, educational value, and quality of these dinosaur toys.

Safety
Type of plastic
BPA, Bisphenol, has been used for years as a hardener for plastics. Up until just a few years, it was a common ingredient in plastics used to make toys, sippy cups, and other children's products. Studies concerning animals and their exposure to BPA have yielded some terrifying results. Exposure to BPA's in animals has resulted in negative effects on the brain, prostate issues, and behavioral issues. We are very concerned about the use of BPA's in the plastic of any of the toys that we evaluate.
Choking Parts
If toys are meant for certain ages, it should be clearly noted on the box. Unfortunately, that's not always the case even though the Consumer Product Safety Commission has strict guidelines in place. And, all too often, negligent toy manufacturers will put your child's safety at risk by not properly labeling their toys when they have small parts that babies and toddlers could choke on. We always make sure that the recommended ages are available and accurate.
Other Safety Features
We basically want to make sure that the toys are sturdy enough for the wear and tear that the kids will put them through without causing them any harm. We are looking at things like sharp edges, non-toxic materials, and loose parts that fall off and cause hazards, just to name a few.
Educational Value
We also are looking at the realism of the dinosaur toys. Of course, we want them to have fun with the toys. If they aren't fun, they won't get played with. And, then, what's the point of buying them in the first place? But, there should be some educational value included with the toys. Do they look like real dinosaurs? Not that they have to have slimy, green skin and bad breath. But, they should be realistic enough that your child's imagination will enable them to really think about the different historical aspects of the dinosaur's life.
For children, the exploration of dinosaurs can also be beneficial to them by helping them to realize the limits and definitions of time. Time is one of the things that they are trying to get a good grasp on when they're young. And, learning about dinosaurs and the vast differences that time can make helps them relate to real-time. And, dinosaurs are fun. Except for the big, scary ones, unless the kids are pretending to be a menacing T-Rex. Then, it's cute.
Quality
And, the dinosaur toys have to be constructed with high-quality materials. Kids are tough on their toys. They can get banged on the floor, walked on, tossed around, or even turned into projectiles. Toys that are made with low quality materials can break easily, causing way too many accidents with kids of all ages. We make sure that all of the toys on our lists are thoroughly tested and only made with the strongest and most durable materials.
And the winner is…
Hands down, LEGO Creator Mighty Dinosaurs wins this one. They're known for only using the highest quality materials. Some of us even still have the sets from when we were kids. There's no end to things that can be made with these tough, durable building blocks.
And, this Mighty Dinosaur collection looks like the real thing, whether its the T. Rex, the Triceratops, or the Pterodactyl. The sharp, white teeth and pointy claws really set these little guys off. The kit even includes a rib cage that the kids can pretend is prey. The bright, orange eyes, posable joints, and chomping mouth make it really easy to pretend that they're the real thing.
This ferocious little guy does have small parts, and LEGO is faultless about placing their choking hazards clearly on the box. For children over three years old, these blocks really don't have any safety hazards. The plastic is BPA-free, and quite honestly, you can't break a LEGO. They're just that strong.