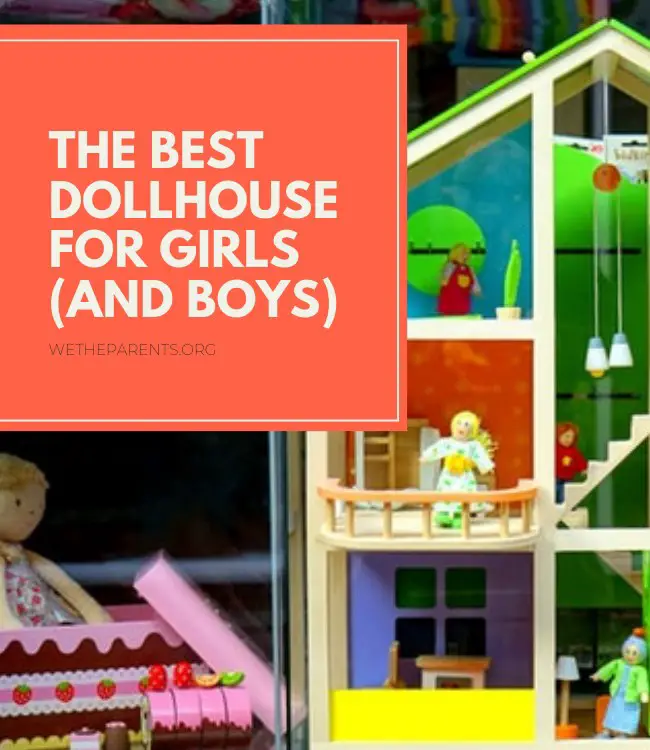 All children love to play pretend. Especially when they can pretend to be grown-up. Little do they know that it is way more fun being a child! One of the best ways a child can pretend-play is through a dollhouse. They can use their imaginations to enact life through this type of fun and creative model.
These days there are many types, sizes, and styles of dollhouses to choose from. Parents searching for the best dollhouse for their child need to look no further. We have compiled and reviewed a list of the best dollhouses for your child.
Editors choice
Best wooden dollhouse
Features:
Size – 23.6 X 11.8 X 28.9 inches
Weight – 14 lbs.
Material – Wood
Recommended for ages 3 to five years
All necessary accessories are included
The wood used to create Wooden Dollhouse by Hape (check price on Amazon) is from environmentally sustainable forests. With its solid wood construction, this dollhouse is built to last. Its open face style has 3 levels and can be played from all sides.
The home features furniture sets for all six rooms. This home is well deserving of the Editors choice & Best wooden dollhouse award. Its environmentally friendly construction, and sturdy build are a definite plus!
What we love
The fact that this house comes with all the necessary furnishing for each room of the house is a big thumbs up. Between that and its sturdy, long-lasting construction, this is an ideal dollhouse.
Watch out for
Parents may want to keep in mind that there are a few sharp edges on this one. I would not recommend any rough play around this dollhouse.
Check Price on Amazon
Best Barbie dollhouse
Features:
Size – 8 X 30 X 34 inches
Weight – 1 lb.
Material – Plastic
Recommended for ages 3 to 10 years
Comes with 70 plus accessories
This is a child's dream home (check price on Amazon) with its 3 floors and 6 rooms. It comes with everything needed to move in, including furniture pieces, place settings, and more.
A child can let their imagination run wild with the homes realistic features such as a working elevator. It even has a flat screen TV area where a smartphone can be inserted for Barbie to enjoy a good movie. It has interactive 'smart' accessories to enhance the experience with lights, sound, and motion. These extra features have earned it the Best Barbie dollhouse award!
What we love
We loved how they have integrated modern features in this home. The use of a smartphone as a flat-screen TV and the 'smart' accessories bring this home up to date and adds some extra fun.
Watch out for
Thinking back to the days when my kids had toys with many small accessories, I can say four words. Plastic containers with lids.
Check Price on Amazon
Best travel dollhouse
Features:
Size – 12.5 X 7.5 X 10 inches
Weight – Approximately 4 lbs.
Material – Wood
Recommended for ages 3 to 6 years
All necessary accessories for instant play are included
This fully assembled, two-story wooden dollhouse (check price on Amazon) can be easily folded open for play-time. It can then be closed and carried with its built-in handle. It is equipped with working doors throughout.
This portable house comes with 2 flexible wooden play figures and 11 pieces of wooden furniture. With its sturdy and chunky handles and easy fold away capabilities, this house earns the award for Best travel dollhouse.
What we love
We love the fact that this house can be folded and carried so kids can easily take one of their favorites toys to grandmas for the weekend or to a friends house for an overnight stay.
Watch out for
While it is very cool that a child can carry this with them when traveling, the first image I had upon viewing was a child banging the edges of the dollhouse on their little shins.
Check Price on Amazon
Best large dollhouse
Features:
Size – 52 X 14 X 53.5 inches
Weight – 51 lbs.
Material – MDF, wood, fabric
Recommended for ages 3 and up
Includes 34 pieces of furniture and accessories
This four and a half foot tall dollhouse (check price on Amazon) is perfect for imaginative play with those larger dolls. It has 8 rooms and comes with 34 pieces of furniture. It is sure to delight a child's imagination and creativity.
The house comes with many extras such as an elevator which glides between the 2nd and 3rd floor, and garage doors that swing open and closed. We chose this one for the Best large dollhouse award. Its immense size and 4 floors have the look of real-world life.
What we love
We love the fact they have created this home to resemble a real-life, full-scale home.
Watch out for
This house is definitely not like any other toy. Don't expect to be moving this one around with its weight and size.
Check Price on Amazon
Best dollhouse for a 4-year-old
Features:
Size – 24.1 X 16.5 X 45.4 inches
Weight – 20 lbs.
Material – Composite wood and Plastic
Recommended for ages 3 to 15 years
Includes 11 detailed furniture piece
This extra large Frozen-themed castle (check price on Amazon) is perfect for more than one princess to enjoy! It's also large enough to accommodate Barbie sized dolls. It has four open spaced rooms, a balcony, and a molded staircase.
The castle also comes with an assortment of accessories such as detailed furniture pieces, chandelier, and icy throne. It is deserving of the Best dollhouse for a 4-year-old award with its enchanting Frozen princess theme and size that is perfect for that age.
What we love
Little girls have been obsessed with Frozen since it was released. I can't tell you how many times I have heard those songs sung over, and over, and over! This castle brings the movie experience to life.
Watch out for
This castle is rather large, so make sure to have a good corner spot all set up for its placement.
Check Price on Amazon
Best dollhouse for boys
Features:
Size – 38.2 X 10.5 X 26.5 inches
Weight – 22 lbs.
Material – Plastic and Wood
Recommended for ages 3 to 12 years
Some accessories are included
This KidKraft Playset (check price on Amazon) opens up into four sections resembling the many areas where police and fire rescue heroes begin their day. It has 3 floors and 12 rooms of creative play.
The playset comes equipped with everything to set a boy's imagination on fire. It has bendable firefighters and dogs, helicopter, firetruck, and a police motorcycle. This one is definitely worthy of the Best dollhouse for boys award!
What we love
This playset folds up for easy storage or for travel. Once opened, we found it quite astonishing at how many rooms and details there are.
Watch out for
While it is easy to fold up, its weight is definitely too much for a child. Be prepared for some lifting.
Check Price on Amazon
Best build-your-own dollhouse
Features:
Size – 23.6 X 21.6 X 10.6 inches
Weight – 9 lbs.
Material – Plastic
Recommended for ages 4 to 10 years
Includes play figures and some accessories
Batteries not included
This multilevel PLAYMOBIL Deluxe Dollhouse (check price on Amazon) will feed a child's imagination with its six rooms, and balcony. It comes equipped with windows that open, and a functioning doorbell. The dollhouse also includes bendable figures, flower box, mailbox, and other accessories.
There is a vast selection of PLAYMOBIL add-ons and accessories available so that a child can completely customize this home to their own personality. This one has earned the Best build-your-own dollhouse award.
What we love
We love the fact that there are so many possibilities available with the add-ons and accessories. A child can put extra creativity into their home.
Watch out for
Children may initially be disappointed with the lack of accessories. Parents may want to consider purchasing one of the add-ons right away for their child.
Check Price on Amazon
Best Lego dollhouse
Features:
Weight – 2.6 lbs.
Size – 13.9 X 14.9 X 2.8 inches
Material – Plastic
Recommended for ages 6 to 12 years
Comes with all necessary beginner accessories
That little princess can enjoy two favorite toys in one with this Lego styled dream castle (check price on Amazon). It features a bedroom, dining area, kitchen, and balcony. This model can also be mix and matched with other Lego Disney sets.
The castle comes with some extras for even more fun. It has secrets such as the compartment hidden beneath the princess's bed, a balcony with a revolving dance floor, and a revolving fireplace with a hiding space. The castle comes included with Disney's Cinderella, Prince Charming, a foal, and two mice mini figures. This castle has received the Best Lego dollhouse award for its cleverly hidden secrets and interchangeable capabilities.
What we love
What's not to love with this Lego dollhouse! Between the hidden compartments and all the quaint accessories, we cannot see boredom in its future play-time.
Watch out for
The accessories are very small. We would have some concerns with any small children in the house. Even if there aren't small children, we would recommend watching out for the bottoms of your feet!
Check Price on Amazon
Best dollhouse for 3-year-old
Best budget buy
Features:
Size – 25.6 X 9 X 16 inches
Weight – 15.25 lbs.
Material – Plastic
Recommended for ages 3 to 7 years
Only a few accessories are included
Batteries not included
Fisher-Price family dollhouse (check price on Amazon) opens wide for easier access and imaginative play. It has 4 floors containing 6 rooms. There is a balcony and a patio, and even a doggy door in the side entrance.
For extra fun, this house comes equipped with a flip-out swing set and a working doorbell. The home comes with a mom, dad, baby, baby seat, and sofa. Between the fun sounds and extra surprises, this dollhouse gets the Best dollhouse for 3-year-old & Best budget buy awards.
What we love
We love how the whole house is able to be closed up and easily stored. Between that and its lightweight, it will definitely make a parents job a little easier.
Watch out for
This set comes with very little besides the family figures, so be prepared to purchase some add-ons and accessories.
Check Price on Amazon
What to look for when buying a dollhouse
Age suitability
Plastic houses would be most suitable for those small toddlers who have a tendency to be a little on the topsy-turvy side. We've all seen it. That two-year-old that can go from strutting along confidently one moment to a sudden memory loss on how those legs and arms work! With the rounded and softer edges on a plastic house, there will be less worry about that little one getting hurt during these moments. Wooden houses tend to have sharper edges. They also do not have quite the same durability that plastic houses do. These type of houses are recommended for older children.
What type of accessories the house has should also play a very important part in the age of the child. Some houses come with accessories that are too small for young children. There is always a potential for choking and other injuries when it comes to toys and children under the age of 3. Little ones always feel the need to taste all those bright and colorful objects in their environment. It's part of their learning process. Some even like to hide those tiny objects in their nose. Even to this day I haven't been able to figure that one out!
Style and theme
There are many different styles available when it comes to dollhouses. Classic wooden houses may come in themes that include certain periods of architecture. Many of the modern style houses can come in princess, Barbie, fairy tale, and hero themes. Some are even some with boys (or tom-boys) in mind.
Materials
I remember making my own dollhouse as a child out of cardboard boxes, and cutouts from magazines that served as either wallpaper, carpets, or decorative wall hangings. I even passed this creative trick on to my daughter when she was little. While this may be a fun way to pass the afternoon, those homemade cardboard dollhouses don't last very long.
These days you can find a wide selection of dollhouses made out of various materials. They generally come in plastic and wood. They even have Lego dollhouses! There are houses that come ready-to-go, and then there are those that a child can build themselves to add an extra touch of creativity.
The wooden dollhouses are one of the most popular. They are usually made of 9 mm thick plywood or MDF. These ones have stood the test of time for many years with their durability and sturdiness.
Houses made of plastic have their own appeal with their bright colors and designs. These ones can be easily cleaned and are quite durable. These type of houses also come at a lower price than the wooden ones.
Size
Children's dollhouses come in various sizes and are broken down into ratios. They are generally 1:12, 1:24, and 1:48 in size. What this means is that the house is 1 twelfth, 1 twenty-fourth, or 1 forty-eighth the size of a life-size house. The larger, playscale dollhouses can accommodate Barbie sized dolls and are a perfect size for multiple children to play with together.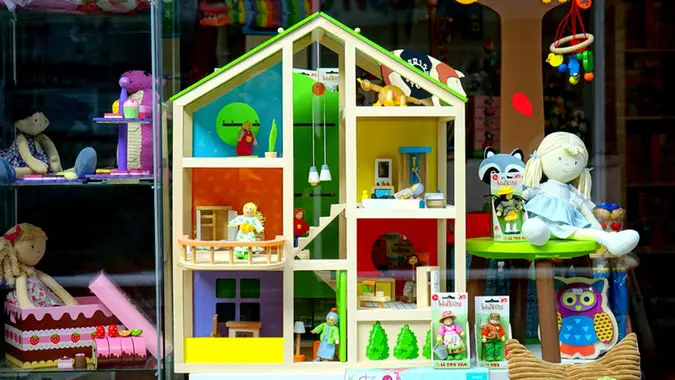 Accessories
Now comes the fun part! How to accessorize the house. Many dollhouses come with a certain amount of accessories, while others are available to buy separately. Most houses do not come equipped with the dolls. In either case, this is a fun opportunity for a child to express their creativity and decorate their new house in their own personal style. No matter which type of dollhouse chosen, there is a vast selection of furnishings and decorations for a child's play home.
Budget
The price range of dollhouses can be quite extensive. It basically comes down the size and material it is made of. A small, plastic house can be in the $50 to $100 range, while larger, wooden houses can range from $100 to $200.
Play Therapy
To a child, a dollhouse is a fantasy world of realistic possibilities. While playing with their inside world, they feel a sort of separation from the outside world. It gives them a safe and secure space to act out feelings, dramas, and conflicts. There are times they may even re-enact real-life situations within this world to try and understand the world at large.
There are times when a child can feel troubled or confused by things happening in their life. Young children may have difficulty expressing their feelings verbally. Having a small version of the world enables them to express certain thoughts and feelings by means of interactive play that they may not be able to express through words. It is most common for child therapists to utilize dollhouses in their office space.
And the winner is…
After much thought, we have decided that the KidKraft Majestic Mansion Dollhouse (check price on Amazon) is our winner of the roundups. Not only does this one fit the bill for what a dollhouse can provide a child, but it can also work wonders when utilized for play therapy. With its large size, and real-world feel it will not only feed a child's imagination but assist them in working out whatever may be on their minds in a friendly and safe place.