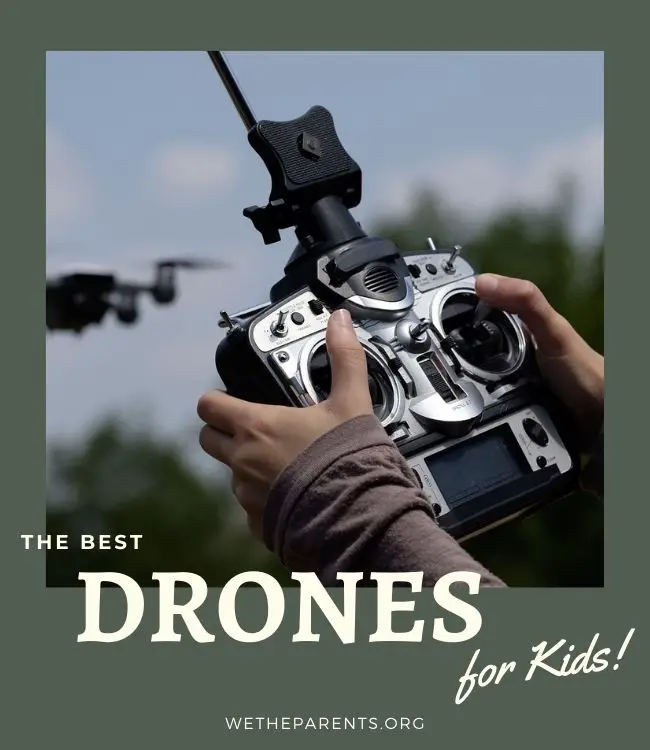 Does your child constantly point out unmanned aerial objects? Are they a budding hobbyist that's looking to pilot their one flying gadget? The following 10 drones are perfect for little ones with eyes for the skies.
How to Select the Best Drones for Kids
Drones are some of the fastest-growing technologies in the world. As a result, it comes as no surprise that drones and quadcopters have captured the attention of children of all ages. If your child is obsessed with the idea of manning a flying object, they are not alone. Still, how can you be sure that the drone you purchase is going to provide them with a satisfying experience?
Below, we've included a list of the features you should look for when choosing a drone for your aspiring pilot.
Child's Age
Consider your child's age when determining which type of drone is right for them. Toy drones with motion-activated sensors are ideal for children under the age of 8 and those that are just getting a feel for aircraft navigation. Keep an eye out for devices with propeller guards and durable plastic frames, both of which are designed to lessen the blow of accidental impacts. One-touch takeoff/landing buttons and other navigation aids will help your youngster master the basics of air navigation.
Navigation
Check out the options on a drone's remote control. Some boast joysticks, while others feature arrow buttons. One-button takeoff and landing functions make it easy for young pilots to enter and exit their airspaces with ease. Meanwhile, hover mode makes it easier for little kids to maneuver their drones or capture steady aerial photos. Headless mode means a drone does not have an established front. This add-on enables kids to steer without having to constantly recalibrate their drones to match their focus. Meanwhile, drones with return-to-home features have built-in GPS systems that enable them to automatically fly home. The best drones combine all of the aforementioned features to create a confidence-building interface that is perfect for young kids and beginners.
Battery System
On average, children's drones only offer six to eight minutes of flight time per charge. With that said, many manufacturers provide consumers with backup batteries that extend the given life of their devices. Consider a drone's estimated battery charging and flight times. What's more, look for a system with a low-battery alert system. This will remind your kiddo when to initiate a landing. Keep in mind that most drones boast charging times that are well over an hour long.
Camera
A high-quality drone camera can help your little pilot capture impressive aerial images and videos. Some drones even come with remote controls that offer pilots FPV (first-person views). If you are focused on finding a kids' drone that can capture images, be sure to choose one with an HD camera that has a high pixel ratio. Otherwise, you can expect the images you capture to be grainy and out of focus.
Size
You should also consider the overall size and portability of a drone. When it comes to unmanned flying objects, foldable and compact designs are easier to tote. While compact drones are ideal for travel, they are also more likely to go rogue in windy conditions.
Technology
Many toy drones are designed to be paired with smartphones. Oftentimes, you can click your phone directly into these devices. This gives users the ability to track flights in real-time or even get first-person vantage points of their drones' movements. It's up to you to make sure you have the appropriate technologies and to decide whether you are comfortable with your child using them.
Entertainment
Onboard lights are excellent entertainment features, but they also help drone pilots to keep track of their devices in low-light conditions. The best drones for kids are also the ones that can pull off amazing mid-air stunts, like flips, rolls, and figure-eights. Of course, drones that offer users first-person points of view are great for exploring otherwise unaccessible outdoor destinations.
Transparency rocks! When you shop through links on this page, we may earn a small commission.
#1 SNAPTAIN H823H Mini Drone
Editors Choice
Range: 30 meters
Flight Time: 21 minutes
Charge Time: 90 minutes
You can put on quite a show with the Mini black and blue SNAPTAIN H823H Mini Drone (check price on Amazon). The device's altitude hold feature helps the drone maintain its height as users toggle the controls to pull off dazzling mid-air flips and rolls. The one-touch return feature makes for stress-free takeoff and landing sessions. With three speed modes to choose from, you little pilot can easily fly at their own pace.
Meanwhile, the quadcopter's onboard LED lights make for a spectacular nighttime display. With over 20 minutes of flight time per charge, this flying object has definitely earned its position as our best drone for kids. The propellers on this mini drone for kids are completely caged in. As a result, you never have to worry about your little one injuring their fingers.
What We Love
The one-touch takeoff and landing feature helps little pilots develop confidence in their flying skills
The protective cages around the propellers keep little fingers out of harm's way.
The black and blue colorway and LED lights make it easy for pilots to spot this drone in the night sky.
Your child can select a speed that's fitting for their skill level.
Watch Out For:
While the manufacturer goes out of its way to say this drone is pocket-sized, some customers are still caught off-guard by its small size.
Check Price on Amazon
#2 Holy Stone HS170 Predator
Best for Training
Range: 30-50 meters
Flight Time: 6-8 minutes
Charge Time: 45-60 minutes
Those who are new to the world of quadcopters will appreciate how easy it is to fly the Holy Stone HS170 Predator (check price on Amazon). The headless navigation and six-axis stabilization systems keep the drone balanced as it hovers effortlessly above your child. You get approximately 50 meters of range and 8 minutes of flight time per charge, which is just enough time for newbie pilots to freshen up their flight tactics.
The quadcopter's wind-resistant design makes it a perfect choice for areas with unpredictable weather systems. This device is also small enough that we'd be comfortable flying it indoors. Of course, the Predator's hyper-responsive joystick makes for some erratic in-air movements. So, be sure to give little pilots plenty of room when they are first starting out.
What We Love
Its 2.4GHz technology prevents interference from other remote controls.
The headless flight system automatically orients the device, preventing needless confusion.
The six-axis stabilization system enables quick recoveries after in-air stunts.
Watch Out For:
The wires in the battery compartment are soldered poorly.\\
It requires frequent recalibration.
Check Price on Amazon
#3 Potensic A20 Mini Drone
Best for Beginners
Range: 100 feet
Flight Time: 10-13 minutes with the two included batteries
Charge Time: 15-35 minutes per battery
While the upgraded A20 Mini Drone (check price on Amazon) may look a lot like a professional quadcopter, it happens to have one of the most simplified remote control navigation systems on the market. The automatic hovering and headless navigation systems eliminate troublesome takeoff and landing moments. If the drone does hit another object, its four protection guards are likely to lessen the blow of the impact.
Young pilots can choose between three-speed modes as they become more comfortable handling this little quadcopter. Kids will adore the green and black colorway. When you consider the fact that it comes with an extra battery, there's no arguing with the fact that this is one of the best drones for kids.
What We Love
Pilots don't need to worry about their drones' positions thanks to headless mode, which syncs the drone's position with that of the pilot's.
The altitude hold function enables a pilot to stabilize their drone at an altitude of their liking.
This set includes two batteries, which means users get even longer flights!
A low power alarm beeps and flashes to let kids know when it is time to recharge their drones!
Watch Out For:
It's only available in red/black and green/black colorways.
Check Price on Amazon
#4 Force1 UFO Mini Drone
Best for Small Kids
Range: 100 feet
Flight Time: 10-13 minutes with the two included batteries
Charge Time: 15-35 minutes per battery
While the upgraded A20 Mini Drone
The Force1 UFO Mini Drone (check price on Amazon) is one of the best drones for young kids who've set their eyes on the night sky. First off, the LED lights dazzle after sunset. What's more, this drone is programmed with all sorts of kid-friendly flying functions, including automatic hover, headless navigation, and one-key takeoff/landing.
The white and blue colorway is easy to see during daylight hours. Meanwhile, the device's 90-minute charging time is much lower than that of the comptetition's.
What We Love
These kids' drones are perfect for beginner quadcopter pilots.
LED lights look marvelous in the night sky.
The navigation system is super easy to use.
Watch Out For:
Little ones might find it hard to wait the estimated 90-minute charging time.
These drones are not resistant to water.
Check Price on Amazon
#5 Spacekey FPV Wi-Fi Drone
Best Wide Range View
Range: 80-100 meters
Flight Time: 7-8 minutes
Charge Time: 60 minutes
The Spacekey FPV Wi-Fi Drone (check price on Amazon) is equipped with all sorts of flight enhancers, including an altitude hold function, an APP control, and a low-battery alarm system. The system is also encased in a PA plastic frame that's fit to handle regular abuse.
Meanwhile, the device's foldable blades make it one of the most portable kids drones on the market. It's even equipped with an advanced barometer, which enables young pilots to hover at any height they choose, so long as it is within the drone's 300-meter range. Overall, the Spacekey's design is very similar to that of high-end camera drones. With that said, it has a more user-friendly and affordable interface.
What We Love
The fold-in propellers make this one of the best drones for kids to travel with.
A fully charged battery offers up to 8 minutes of flight time.
This is one of the easiest kids drones to calibrate, maneuver takeoff, and land.
The device's high-definition lens makes it a top camera drone for kids.
Watch Out For:
You must connect the controller to your phone and install an app to capture pictures with the drone's onboard camera.
Check Price on Amazon
#6 JRC H68 Drone With Camera
Best for Older Kids
Range: 165-328 feet
Flight Time: 40 minutes
Charge Time: 160 minutes
The JRC H68 Drone With Camera (check price on Amazon) is one of the best drones for kids with passions for flight and photography. The onboard HD camera enables newbie pilots to capture epic aerial photographs and videos in real-time. Meanwhile, the drone's remote control turns a pilot's smartphone into a portable monitor with a FPV (first-person view).
The device's altitude-hold and headless modes make it one of the easiest to navigate drones for kids. While the charge time on this device is pretty lengthy, the set of included batteries offers a combined 4o minutes of flight time.
What We Love
You can accomplish all of your flying goals thanks to this drone's 40-minute flight time.
The onboard HD camera captures high-def images in real-time.
It features an anti-shake table with a 45-degree adjustable angle.
Luminous LED lights give users a way to track this device after the sun goes down.
Watch Out For:
The parts can wear out if the drone is not allowed to cool down between flights.
Check Price on Amazon
#7 Holy Stone HS210 Mini Drone
Best for Budget
Range: 164 feet
Flight Time: 7 minutes
Charge Time: 40-60 minutes
Here we have yet another adorable and affordable drone for kids. With three batteries included in the set, you can expect to get over 20 minutes of combined flight time from this inexpensive children's toy, Holy Stone HS210 Mini Drone (check price on Amazon) . One push of the throttle stick sends the drone flying. While your device is airborne, you can attempt 360-flips and other impressive maneuvers. The altitude hold function enables kids to master turns and flips without losing their balance. Meanwhile, headless mode eliminates any confusion related to the drone's direction. The device's low-battery alert system ensures that it won't go down in a remote location. At just 3.15 inches in diameter, the Holy Stone is one of the best kids drones to take on the road. We only wish that all drones were this easy to fly!
What We Love
It comes with three rechargeable batteries and offers up to 21 minutes of flight time.
The automatic hovering function enables pilots to focus on their midair maneuvers.
The low battery alarm system lets users know when it is time to make an abrupt landing.
Watch Out For:
The plastic frame does not handle crashes well.
Check Price on Amazon
#8 Hubsan H501S X4 Pro Version
Best Drone for Teens
Range: 1,300 feet
Flight Time: 20 minutes
Charge Time: 150 minutes
This incredible kid-friendly gadget falls somewhere in the middle of toy drones and professional quadcopters. Young pilots can customize their flight paths with the help of an onboard GPS and the drone's automatic return-to-home function. The Hubsan H501S X4 Pro Version (check price on Amazon) device's built-in high-definition camera enables users to capture high-quality pictures and videos from a unique aerial perspective.
Runtime on the device is also decent, with one charge equating to approximately 20 minutes of air time. However, the drone's 150-minute charging time leaves something to be desired. It comes as no surprise that Hubsan is one of the leading manufacturers of unmanned aerial objects. Of course, most teens will adore the drone's sharp black and gold colorway.
What We Love
A built-in GPS device enables the drone to its takeoff point if the signal is interrupted or the battery is running low.
The 1,080-pixel camera lets users capture high-definition images from above.
The drone's altitude position hold function enables it to hover at preprogrammed height.
Watch Out For:
Given the length of the charge times, we recommend that you purchase at least one backup battery.
Check Price on Amazon
#9 Asani Hands-Free Drone
Best Hand-Operated Drone
Range: 10 feet
Flight Time: 5-10 minutes
Charge Time: 40 minutes
This easy to use gadget utilizes five sensors to scan its surroundings for troublesome obstacles. What's more, it lets you use your hands as makeshift remote controls. If you fail to engage with it, it will hover briefly before making a slow descent and shutting off. You can also snatch it in midair and flip it over to initiate a smooth landing.
The device's propellers are caged inside a durable plastic body, making it one of the few drones we'd recommend for indoor use. Overall, Asani Hands-Free Drone (check price on Amazon) is an excellent drone for kids who have yet to master the basics of piloting. It is compact enough that we'd consider taking it anywhere.
What We Love
Since the propellers are built into the body of this drone, you can safely fly it indoors.
Five magical sensors make it easy for untrained pilots to fly this drone.
Kids can use their hands to make this motion-triggered drone spin, flip, and hover.
Watch Out For:
The drone's limited flight time may frustrate little ones who've waited around
Check Price on Amazon
Below, you'll find answers to some of the most frequently asked questions about drones.
What are some ways that I can enrich my child's drone flying experiencing?
Drones and other unmanned aerial vehicles (UAVs) can be incorporated into all sorts of lessons and recreational activities. You may use your drone to capture aerial photography, race friends, explore remote areas, or even participate in S.T.E.M. lessons.
Are there restrictions on flying drones?
Most drones for kids are not subject to the Federal Aviation Administration's (FAA) restrictions for unmanned aircraft systems. However, you can always download the FAA's B4UFLY app to determine if there are any restrictions or requirements in your area. Drones must be registered with the FAA if they weigh more than 0.55 pounds. However, very few toy drones fit into this category.
How can I avoid crashing my drone?
A firm understanding of aerial navigation will help you avoid crashing or going out of range. Be sure to read your drone manual before hitting the sky. What's more, make sure to charge your battery and land before your battery's estimated runtime is up. Of course, you should also always stay within your drone's estimated flight range. What's more, always check the weather to avoid wind, rain, and other hazardous conditions.
What's the right age for a drone?
Basic remote-controlled toy drones are suitable for children 8 and older. Meanwhile, more advanced camera drones are best suited for children over the age of 12. With all that said, motion-activated drones, such as the Jasonwell Hands-Free Drone, are excellent options for young children and first-time flyers. As long as you are shopping smart, you should have no trouble finding a drone for a child of any age! Of course, the Spacekey FP is a wonderful upgrade option for older children. It lets you capture stunning aerial photos with the help of an onboard HD camera.
Wrapping up
Despite their generally short runtimes, drones are incredibly engaging and entertaining. There is certainly no shortage of easy to fly toy drones. However, the best drone on our list has to be SNAPTAIN H823H Mini. This remote-controlled aircraft is an excellent learning tool, though it still has enough features to entertain advanced pilots. Of course, the Holy Stone HS210 Mini Drone gives kids a similar experience at a discounted price. Finally, the camera-equipped Hubsan H501S X4 is an excellent upgrade option for teens.