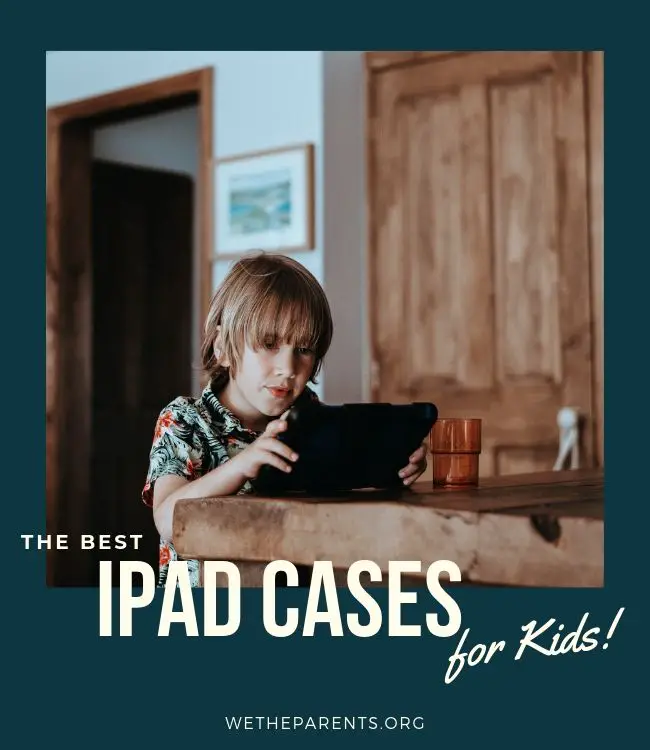 Children love iPads. Nevertheless, our stomachs churn at the thought of our mini wrecking balls running around with expensive, unclothed electronics.
We're talking about the highly likely occurrence of shattered glass, busted buttons, and soggy circuits. Trust us; we witnessed the untimely death of an iPad once – not pretty.
Before you make the mistake of letting your little one wanders out of the house with a $1,000 computer in the raw, consider robing their device in a bulletproof vest, impermeable bubble, or, at the very least, one of the tablet cases listed below.
Transparency rocks! When you shop through links on this page, we may earn a small commission.
What to Look for in an iPad Case for Kids
iPad cases make screen time majorly enjoyable for children while simultaneously improving the survival odds for their pricey devices. Read along to find out what you need to look for when purchasing an iPad case for kids.
Protection
Kids are magnets for messes. Whether its dirt, dust, debris or a mysterious sticky substance, they're always getting into something. While there are many weak spots on iPads, their screens are the soft underbellies that make them so vulnerable to the hands of merciless children. As such, we recommend opting for a case with a built-in screen protector or raised bezels.It's also wise to opt for a case made out of soft, shock-resistant materials. Silicone, EVA, and other pliable synthetics are the first line of defense against both malicious and accidental destruction. These materials are also soft, light, and malleable. As such, they make it easier for little ones to grasp otherwise boxy electronics.
You may also want to consider purchasing a case with port and control covers. These elements are like the belly buttons of tablets. As such, they're prone to collecting sand, dust, lint, and other small particles. Hinged flaps ensure that these tiny gateways are well-protected at all times. For small children, the option to block the volume and home buttons will save you for an exceptional amount of stress.
Compatibility
Since the 2010 debut of the iPad, Apple has released five more iPad generations, an iPad Mini series, and an iPad Pro. In total, there are 18 different iPad models on the market. Each of these models has a different size or configuration. As such, it's very important that you opt for an iPad case that's compatible with the exact model that you own.
Aesthetics
Children respond well to bright, cheerful designs. With that said, decorative elements are also a great way to keep track of or personalize your little one's iPad. Do your best to find a case that fits your kid's personality. Opt for a fun pattern, bright color, or unique shape.
Stand
Whether your children use their iPads to freshen up their foreign language skills or binge watch their favorite Disney shows, they'll want to go hands-free at one time or another. As such, we recommend finding a case with a built-in stand. Remember, a freestanding iPad is a happy iPad.
Handle
The original iPad weighed 1.5 pounds. Even the iPad Minis weigh over 0.5 pounds. These hefty devices can be rather heavy for small children. Handles make them less tedious to tote. Not to mention, handles minimize an iPad's likelihood of being dropped.
Transparency rocks! When you shop through links on this page, we may earn a small commission.
Best Overall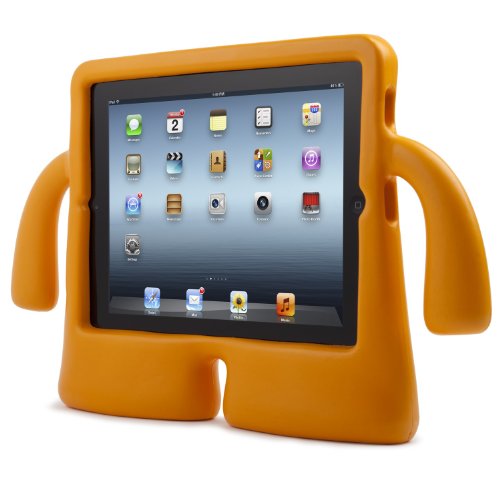 Your kiddo's iPad will be in good hands with the Speck Freestanding iGuy (check price on Amazon) case. This impermeable foam vessel sports a Gumby-like body. It has stubby legs that serve as a solid foundation and spindly foam arms that double as the world's most adorable handles.
There's no need to fuss about finding the right size, this accommodating case fits every generation of iPad on the market, including OGs, hand-me-downs, and sparkly new iPad 4s. It also comes in three unique color options, including mango orange, grape purple, and chili pepper red. Young children will appreciate the life-like design and freestanding foundation. Meanwhile, mom and dad will be able to savor the affordable accident insurance!
What They'll Love:
Fits all generations of the iPad
Comes in three colors
Has squishy foam handles
Freestanding with a subtle screen angle
Check Price on Amazon
Best Budget Buy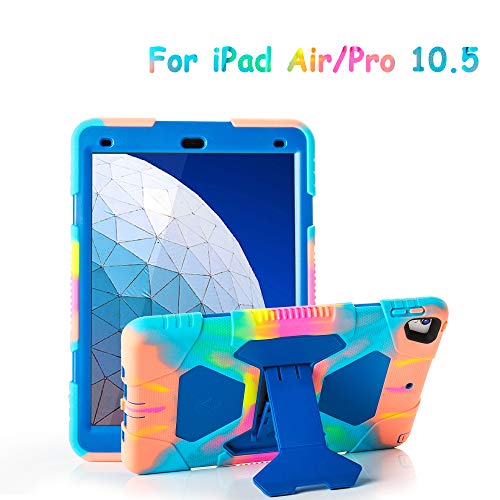 The Aceguarder Rugged Case (check price on Amazon) is capable of surviving repeated drops on a concrete schoolyard. Not that we recommend trying that at home! The Aceguarder boasts two layers of seemingly impermeable foam.
While it manages to fend off everything from dust to shock, it still provides kids with full access of their cameras, speakers, ports, and controls. There's even a pop-out kickstand that comes in handy when your little one wants to get studious or, ahem, catch up on their Netflix queue. You won't find better device protection for a lower price. However, it is worth noting that the Aceguarder case is only compatible with the 10.5-inch iPad Air and Pro.
What They'll Love:
Comes in 10 unique colorways including a multicolored design known as "Icecream"
Comes in three colors
6-month warranty
Protection against dust, air bubbles, and shock
Manufacturer offers excellent email-based customer service
Check Price on Amazon
Best With Easy Handles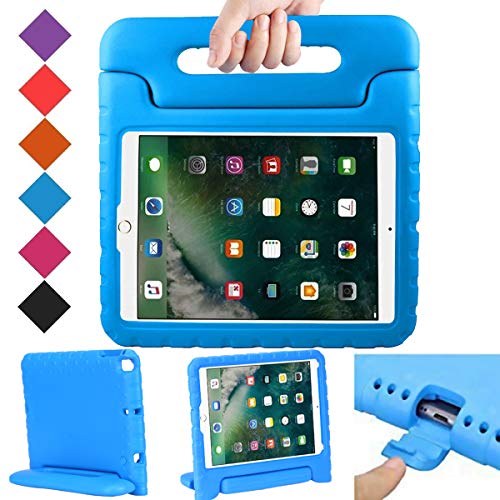 Is your child a dealer of destruction? Not many accidents can trump the combination of impact-resistant polycarbonate and reinforced silicone. This Bmou Case (check price on Amazon) is soft yet protective case and is even backed by a 5-year manufacturer's warranty. The Bmouo's raised bezel gives your iPad screen shelter from the prepubescent storm you call your child. Somehow, this case manages to fend off damage sudden drops, bumps and blows.
The even boasts precision cut-outs for easy access to all of the most essential iPad appendages, including ports and cameras. Still, the soft, rounded edges manage to keep these exterior elements out of harm's way. The addition of a bendable handle (this doubles as a kickstand) puts us over the edge for this foamy iPad case. Just keep in mind that tho Bmouo is only compatible with fifth and sixth generation iPads as well as second-generation iPad Airs.
What They'll Love:
Polycarbonate case with inner sleeve made from reinforced silicone
5-year extended warranty
Excellent customer service
Seven solid color options
Compatible with three different iPad models
Check Price on Amazon
Best for Girls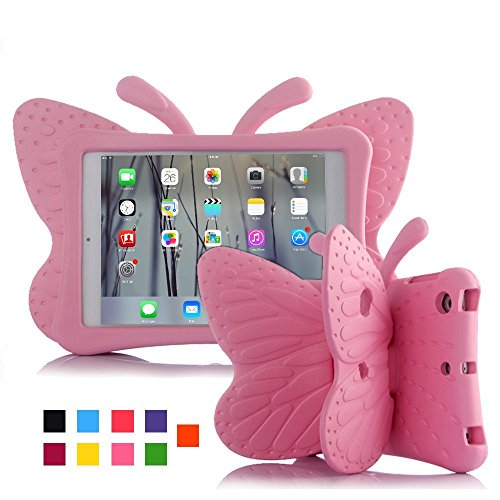 This Feitenn Shockproof Kickstand (check price on Amazon) case is perfect for budding female entomologists and fashionistas. Feitenn has molded their lightweight yet shock-resistant EVA foam into a majestic pastel pink butterfly with three-dimensional anatomical wings.
The decorative extremities double as a multi-angled kickstand. As such, this case offers hand-free screen time. The case also boasts a pair of adorable antennae. These bug-inspired features make perfect handles. The case is compatible with several different iPad models.
What They'll Love:
Compatible with multiple iPad generations
Comes in nine colors
Wings double as adjustable kickstand
Unique and youthful design
Constructed from non-toxic EVA foam
Watch For: Fits a little loose
Check Price on Amazon
Best for Babies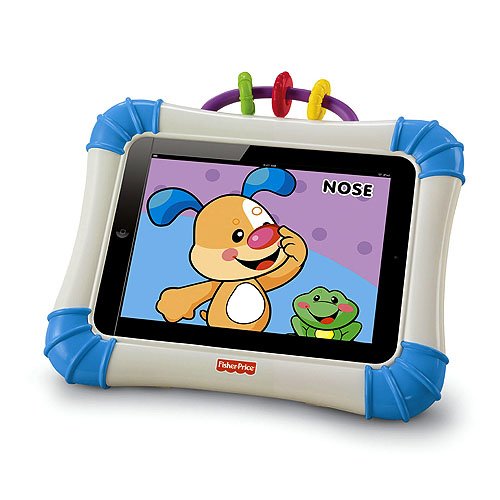 Babies aren't exempt from modern technology. Our kid could navigate YouTube before he even spoke his first words. In truth, iPads were more soothing to him than teethers and rattles combined. Still, we feared that our baby's ceaseless desire to throw, chew, and spit on everything would inevitably be the death of our trusty electronic babysitter. At least, that was the case until we discovered the Fisher-Price Apptivity Case.
This durable Fisher-Price case (check price on Amazon) features a transparent plastic screen protector. As such, you can simply wipe away accumulations of spit up and drool. The case features flip-out legs that can be adjusted to suit nearly any viewing angle. A built-in rattle and ribbed grips to make your little one's screen time a sensory experience. Keep in mind that this screen is only compatible with the iPad 2, iPad 3, and iPad Air.
What They'll Love:
Built-in rattle to distract little ones
Textured side handles
Three viewing positions thanks to pop-out legs
Option to block the home button
Clear screen protector
Watch For: Discontinued after the release of the iPad 3
Check Price on Amazon
Best for Tweens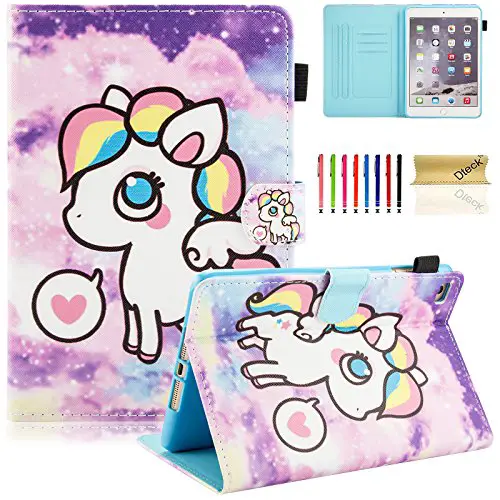 We love that the adorable Dteck iPad Mini Case (check price on Amazon) is capable of converting an iPad mini into a personalized notebook of sorts. With 45 unique prints to choose from, you' 're kiddo will never mix their iPad up with a friend's. The Dteck case boasts a sturdy PU leather exterior with a soft silicone liner. It's low-profile, lightweight design is perfect for preteens looking for a discreet yet unquestionably protective iPad case. Do we need to remind you that even mature minors can be tactless at times?
A magnetic closure, stylus, and cleaning cloth are just a few of the fun bonuses that make this a favorite with older kids. In fact, we can totally see this case in the hands of a soon-to-be entrepreneur. With spaces for business cards, cash, and notes, this case even doubles as a personal organizer. It's compatible with iPad Mini 1, 2, 3, 4, and 7.9.
What They'll Love:
Magnetic screen cover
Constructed of PU leather with a silicone liner
Spaces to store business cards and mone
Includes a stylus and screen cleaning cloth
Budget-friendly
Multiple viewing angles thanks to fold around kickstand
Compatible with most iPad Minis
Check Price on Amazon
Best for Younger Kids
Apple iPads may cost more than conventional toys. Still, that doesn't mean children are going to treat them any better. Products like the HDE case (check price on Amazon) make it possible for little ones to handle expensive electronics. What's more, they protect iPads from all of the most common hazards, including abrasions, shocks, and falls.
This double-layered case is perfect for parents who want to avoid an unnecessary blow to the old moneybag. It has a built-in screen protector and an EVA foam frame with a rotating handle. What's more, it's available in an assortment of bright colors. It doesn't matter if your rugrat is suffering from a scatterbrain, butterfingers, or rage blackout. The HDE is the iPad case that will keep you from losing your own mind over yet another busted electronic.
What They'll Love:
Made from soft yet shock-resistant EVA foam
Features a built-in handle that doubles as a stand
Budget-friendly
Lightweight and portable
Check Price on Amazon
Our top pick
What would we do without the Speck Freestanding iGuy ? (check price on Amazon) While we're sure this foamy iPad case was designed with little ones in mind, its squishy, indestructible body has us yearning for one of our own. After all, they just don't make the grownup cases that are this resilient. Still, the thought of broadcasting GOT out of this faux Gumby's belly provides us with a reasonable amount of restraint. Despite this cases unassuming cuteness, it's basically a suit of armor for expensive electronics.