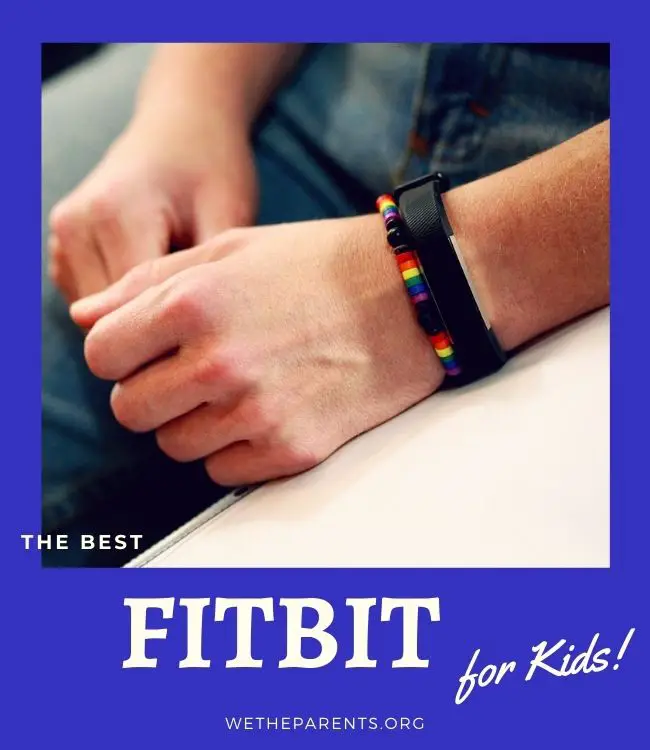 Are you looking to get your kiddos up and moving? Wrist-based wireless activity trackers help you keep track of all kinds of essential health metrics, including your child's fitness milestones, sleep rate, heart rate, and blood pressure. They also serve to remind and motivate children to get moving throughout the day. Many devices even feature a unique buffet of high-tech extras, including call and text notifications, GPS tracking, and alarms, and digital rewards.
Whether you're looking for a way to get your child moving or just need an exciting gift idea for an upcoming milestone or holiday, these wearable pieces of technology are always a great option. We've gathered five picks that can be appreciated by children and adults alike!
How to Choose the Best Kids Fitbit
Many parents argue that children's fitness trackers offer their kids the incentive they need to stay active despite their busy lifestyles.1 Running to reset in a fast paced world with smart solutions to track progress You're probably curious to know specs most beneficial to growing children and teens?
Can Kids Use Fitbits?
Fitbits and other watch-style fitness trackers make it easy for children to monitor their physical activities and other important health metrics. With such a wide range of options out there, it's easy for parents to find a model that meets the need of a particular child or teen. Here are just a few of the specs that you should look out for when you're selecting an option for your kiddo.
Age
Pay close attention to a fitness tracker's recommended age limit. Children between the ages of 8 and 13 tend to prefer super simple, accessible designs. Children this young may only be interested in tracking a few fitness metrics, such as steps or distances traveled. Alarm clocks, sleep trackers, and simple challenges also tend to keep youngsters engaged and may even prove helpful to parents. Fitness trackers that are geared toward children between the ages of 8 and 13 are also less likely to collect and share data with third-party companies.
Teens 13 and older tend to appreciate more high-tech elements, such as Bluetooth compatibility, call/text alerts, and music players. Older children are also more likely contemporary and solid-colored designs. Teen athletes may benefit from a fitness tracker that collects and stores information over a long period. They may be looking to learn more about their cardiovascular health, distances, and sleep patterns.
With all that said, fitness trackers aren't the best investment for children under the age of 8. After all, it quantifies play, turning something voluntary into a strict regiment.2 Mercer, K., Giangregorio, L., Schneider, E., Chilana, P., Li, M., & Grindrod, K. (2016). Acceptance of commercially available wearable activity trackers among adults aged over 50 and with chronic illness: a mixed-methods evaluation. JMIR mHealth and uHealth, 4(1), e7.
Parental Controls
Many parents like having the option to track their child's metrics and personal connections. If this is the case, a Fitbit that shares information with a phone-based app is probably your best option.
Keep in mind that parental apps may enable you to set boundaries for your child or even engage them. Some apps even let parents set chore and homework reminders while providing children with digital incentives. Features such as these make it easier for parents to stay connected in an increasingly busy and digital-based environment.
Fitness Trackers
Fitness and health trackers tend to be the meat and bread of these products. Typical features include step trackers, sleep trackers, pedometers, heart rate monitors, and blood pressure monitors.
Some Fitbits even come with built-in fitness challenge and reward systems. For example, children may be able to collect digital badges when they complete a physical milestone, a household chore, or other tasks. They may also be able to compare their metrics with friends and family members.
Call Features
Many Fitbits enable children to receive hands-free call and text alerts via a nearby phone. Call features can make it easier for parents and caregivers to stay in touch with their children at all times.
Durability
There's no question that a wearable fitness tracking device needs to be durable. Your child's watch needs to be able to withstand constant movement and exposure to sweat, water, and heat. Flexible silicone can withstand plenty of wear and tear. Aside from boasting a provenly durable construction, a sports watch should also come with a waterproof rating and a durability guarantee.
Battery Life
Your child should be able to track their fitness metrics without interruption. A long-lasting, fast-charging battery is a must-have for any fitness tracker. Since most of the models offer anywhere from five days to one year of power per charge, we don't think you'll have much trouble meeting this requirement. Since chargers are easily broken and misplaced, universal options (think USB) are going to be your best bet.
Transparency rocks! When you shop through links on this page, we may earn a small commission.
If you're looking for a way to make fitness fun for your kiddos, a Fitbit or other fitness tracker might be the answer. Here are five of the best-seeling options for kids!
#1 Fitbit Ace 2
Best Overall
The Fitbit Ace 2 (check price on Amazon) is sure to motivate your kiddo to stay active. This smartwatch features sleep, heart rate, and fitness trackers. It boasts several kid-friendly fitness challenges as well as digital rewards. The sleek, bendable wristband expands to accommodate growing children.
The watch's flexible silicone band comes in three bold colors, including Night Sky/Neon Yellow, Watermelon/Teal, and Grape. Kids can also customize the interface by building a personalized avatar or by installing custom aftermarket clasps.
Kids can even pair this Fitbit with a nearby smartphone to receive call and text notifications. However, since the watch does not have a built-in GPS, you won't be able to use it to locate your child.
This product is durable enough to be worn during physically intensive activity sessions, including swimming, showering diving. Moreover, it boasts a remarkably long battery life. In fact, one charge translates to as many as five days of power.
What we love:
It is water-resistant at depths of up to 50 feet.
It features fun challenges that inspire healthy habits.
It is available in three funky color combinations.
It boasts a customizable clock face, avatar, cover photo, and accessory band.
Watch out for:
It does not have a GPS tracker.
Check Price on Amazon
#2 Fitbit Ace 2
Upgrade Choice
The Versa 2 (check price on Amazon) is a smartwatch with premium sleep, health, and fitness tracking capabilities. It boasts an expansive collection of tools that will bolster your tween or teen's physical activity levels. Plus, it's available in a variety of sleek, classic colors, including black, aluminum, copper rose, and Bourdeaux.
While we're recommending this as a Fitbit for kids, its streamlined design is sophisticated enough for adults. You can use Bluetooth to pair the device with Amazon Alexa, Spotify, and more. The high-resolution color touchscreen is super easy to navigate. Teens can even customize their Fitbit Versa by using custom clock faces and accessories.
One of the Fitbit Versa 2's coolest features is its sleep tracker. Kids can wear the watch 24/7 to determine the time they spent in light, deep, and REM sleep stages. Other cool elements include guided breathing sessions, 27/7 heart rate tracking, menstrual health tracking, and cardio fitness scores. Since the device is water-resistant up to 50 meters, teens can wear it in the shower, pool, and beyond.
Each charge offers up to six days of battery life. Users even have the option to connect your headphones to listen to music and podcasts while they exercise. If your teen is super athletic or goal-driven, they'll relish the long list of on-wrist stats offered by the Fitbit Versa. On-screen workouts, goal-based exercise modes, and other personalized features will make it even easier for individuals to quantify and achieve fitness goals.
What we love:
It keeps track of heart rate, sleep rate, and swim metrics.
It comes with both small and large bands ( aka one-size-fits-all).
It boasts a mature aesthetic and is available in a variety of classic and trendy colorways.
It can be paired with Amazon's Alexa and Spotify
Watch out for:
It disconnects from Bluetooth on occasion.
Check Price on Amazon
#3 BIGGERFIVE Fitness Tracker
Best Budget Buy
As an off-brand version of the Fitbit, the Biggerfive Fitness Tracker (check price on Amazon) still has plenty offer. First off, a mere 1- to 2-hour charging session produces up to seven days of battery life. It boasts an activity tracker, a pedometer, a heart rate monitor, and sleep tracker.
Your child can use this device to count their steps, count the calories they consume, and even set alarms for scheduled events. Since the BIGGERFIVE fitness tracker is waterproof, it's perfect for the pool and beyond.
Parents can download a free app (VeryFitPro) to track their child's progress. This smartwatch boasts 14 unique sports modes, including everything from walking to dance. The strap is adjustable from 5 to 7.3 inches in length. Moreover, it's available in several color options, including black, blue, rose, and purple. Most kids find it comfortable enough to wear around the clock.
What we love:
It features a sleep monitor, vibrating alarm clock, calorie counter, pedometer, and activity tracker.
It has a waterproof rating of IP67 means its safe for the pool and beyond.
It has a USB-based charging station and long battery life.
It boasts a slim, comfortable, and adjustable silicone band that's perfect fora growing child.
Watch out for:
It disconnects from Bluetooth on occasion.
Check Price on Amazon
#4 Mgaolo Slim Fitness Tracker
Best Waterproof Fitness Tracker
Mgaolo (check price on Amazon) is a super slim fitness tracker that is perfect for small wrists. It boasts 11 unique activity tracking modes, enabling your kid or teenager to quantify all of their physical movements. The smartwatch's IP68 waterproof exterior makes it one of the best options for swimmers and divers. However, you can also use it to keep track of all sorts of other indoor and outdoor exercise activities.
The Mgaolo's built-in USB charging port makes it easy to recharge. A 1-hour charging session generates roughly five to seven days of power. Since this Fitbit is Bluetooth-compatible, your child can also pair it with their smartphone.
Another one of the watch's coolest features is its dynamic alarm system. Kids can set medication, wake-up, and study reminders. They can even schedule their fitness tracker to remind them when they become too desk-bound.
What we love:
It boasts 11 different sports modes.
It enables you to track everything from steps to calories.
It is perfectly suitable for swimming and diving sessions.
Each 1-hour charge offers five to seven days of continuous power.
Watch out for:
Suitable for children over the age of 13
Check Price on Amazon
#5 Garmin Vívofit Jr.
Best for Girls
The Garmin Vívofit Jr.'s (check price on Amazon) pink and turquoise flower design makes fitness fashionable. This fitness tracker's unmatched battery life helps it stand out from the competition. Consumers are promised one year of uninterrupted power with absolutely no recharging requirements.
Your little athlete will have no trouble reaching their steps, sleep, and daily activity goals with the help of this adorable fitness tracker. Parents, you can track your child's movements will the help of a free mobile app.
Kids can use the app to check off completed tasks and chores or invite their fellow Vívofit Jr. owners to participate in weekly step challenges. Parents can also use the app to establish custom awards for their kids, such as extra screentime, bonus arts & crafts projects, and friend sleepovers.
What we love:
The battery lasts for one year without being recharged.
It boasts a swim-friendly water-resistant polymer and silicon design.
It is suitable for kids ages 4 to 9.
This gorgeous flower design will appeal to young girls.
Watch out for:
The flowery aesthetic isn't for everyone, but different skins are available.
Check Price on Amazon
#6 WAFA Fitness Tracker
Best for Teenagers
The WAFA fitness tracker (check price on Amazon) is an attractive wristwatch that's perfect for older kids and teenagers. The all-day monitoring will help your budding athlete stay on top of their training goals.
Teens can continuously track their heart rate, blood pressure, and sleep time/quality. All this makes it easier for them to analyze their overall health and progress.
What we love:
It features accurate heart rate and blood pressure monitoring.
It has a durable, waterproof design that reminds us of much pricier name-brand alternatives.
It is great for kids, teens, women, and men.
It boasts a GPS activity tracker and a pedometer.
Watch out for:
Some customers found the charging port to be tricky.
Check Price on Amazon
#7 Garmin Vivofit Jr. 2
Best for Star Wars Fanatics
The Vívofit Jr. 2 (check price on Amazon) is a one-of-kind Star Wars-themed fitness experience. Each model comes with a replaceable battery that's proven to last up to one year.
Jedi council members (aka mom and dad) can use the Fitbit app to keep track of their child's chores and activities. When children stay active on planet Earth, they can unlock otherwordly adventures, games, and icons. Of course, the watch's dynamic reminder and alert system can also help young children to complete a wide variety of non-fitness of tasks.
One of Garmin's most desirable features is its proprietary Move Bar, which prompts kids to squeeze in brief walks during otherwise sedentary activities. If your child isn't an aspiring member of the Rebel Legion, they might be interested in one of Garmin's other smartwatch skins.

What we love:
It comes with a replaceable battery that lasts for up to one year.
Its Move Bar helps stop your child from becoming completely sedentary.
It boasts super cool Star Wars-themed activities and rewards (perfect for super fans).
Parents can remind their kids to complete chores and other activities through a free app.
Watch out for:
Only appeals toward young Star Wars fans
Check Price on Amazon
Wrapping up
Well, that does it for our roundup of the top Fitbits for kids. The Fitbit Ace 2 stood out to us in terms of aesthetics, usability, and entertainment. Kids will have a blast earning digital rewards for all their exercise. Of course, the BIGGERFIVE Fitness Tracker is yet another excellent option for anyone on a tight budget. While the Fitbit Versa 2 might be pricey, it's well worth it.