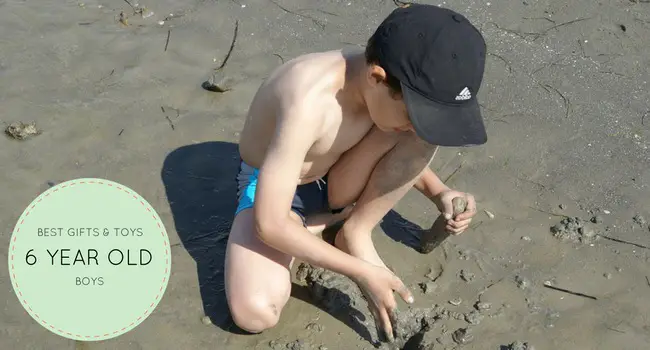 First graders come in all shapes and sizes, though they do have a few things in common: their play is now complex and highly social. It often involves friends and intricate role play.
As parents and nerds who love to research, we've rounded up a list of the best toys, games and puzzles for 6 year old boys. Each one will stretch and engage your child in ways that are super fun and educational at the same time.
"Make a computer, learn to code"
Awesome!
Kano has created an ingenious self-build computer for young children (check price on Amazon). It features a storybook that is simple and fun to follow whilst building the computer from scratch using real components.
Once complete, there are playful projects which teach kids to code art, music, and games. The finished computer can also be used to play games, write stories, browse the web, and watch YouTube. All you need is a TV or computer monitor with an HDMI input.
Why He'll Love It: He'll build his own computer and then code his own games. This will develop his problem-solving capabilities and set him up for the tech-driven world of the future.
Check Price on Amazon
Add to Amazon cart and decide later »
The Hauck Batmobile Go Kart (check price on Amazon) will turn your six-year-old into Batman and your street into Gotham City. The front has a super-cool design while the seat can be adjusted to comfortably seat your little man as he grows. This go kart requires pedal power, but surely this is a good thing as it will keep him well exercised. It has a realistic steering wheel and an eight-ball grip brake for stopping and pulling epic skids.
Why He'll Love It: While riding on a paved surface, this go kart can pick up quite a bit of speed which will make racing with friends a blast.
Check Price on Amazon
Add to Amazon cart and decide later »
Every child loves a good set of LEGO. It is a classic toy that promotes imagination and early STEM learning. This epic set comes with nearly 800 different pieces that can be used to create nearly anything. It includes wheels so that your child can make moving vehicles, and also windows and doors for constructing houses and castles.
Why He'll Love It: This LEGO set is big enough that you won't need to buy any other sets for quite some time. He has everything he needs to become a master builder.
Check Price on Amazon
Add to Amazon cart and decide later »
If your 6-year-old boy has been watching all the YouTube scooter vlogs or has a friendship group that rides pro scooters, then he's probably been hassling you for one already! (Btw, if you don't know anything about kids scooters, then you may want to take a quick look at our scooter guide first.)
The Fuzion Z300 pro scooter (check price on Amazon) is an excellent choice for beginners. It is relatively lightweight yet both rugged and durable. It has been engineered to be effective and reliable even when punished on the toughest street or park ride. The Z300 should last a long time and keep pace as your child gets more experienced.
Why He'll Love It: It's a well recognized, quality scooter that will allow him to ride straight into the skate park feeling proud of it.
Check Price on Amazon
Add to Amazon cart and decide later »
Ozobot (check price on Amazon) is a tiny programmable robot that kids fall in love with. This brilliant STEM toy is designed to teach coding skills by artistically creating the code by drawing lines for the robot to follow and using markers and stickers to give additional instructions. They can use an application called OzoBlocky to further programme using their tablet or a laptop.
Why He'll Love It: Ozobot combines creativity with code. Your boy will soon have a new friend with thousands of possibilities for interacting through coding.
Check Price on Amazon
Add to Amazon cart and decide later »
These blocks are brightly colored in non-toxic stains and they match the colors of the four elements – earth, fire, water and air.
Grimm's Building Sets (check price on Amazon) are perfect for working on those fine-motor skills while your son enjoys either stacking them up or making the puzzle in the box.
A beautifully crafted item, we expect these blocks will remain a staple in the family for generations to come.
Why He'll Love Them: This toy will really spark his imagination. Your kiddo will love working with all the possibilities from this simple design.
Check Price on Amazon
Add to Amazon cart and decide later »
This DBPOWER drone (check price on Amazon) has no "head" which means it's much easier to fly than a model where you have to constantly know which way the "nose" is pointing in order to go forward.
Your son can look at 3D images through his VR headset or check out live video and images through a smartphone. The photo quality is nothing to call home about, but this is a fun beginner drone for you and your boy to use.
Why He'll Love It: While he might be a bit young to man the helm by himself, he'll get a kick out of seeing a bird's eye view of the world as you fly the drone around.
Watch out for: This drone is actually pretty tricky to handle and requires practice. You'll need to be there with your child the first few times, until he has mastered it.
Check Price on Amazon
Add to Amazon cart and decide later »
This game is sure to delight your little hockey fan. It comes with four hockey players, each one with a movable arm that can shoot a puck with the pull of a lever. They can also be clipped in front of the goal and maneuvered with a joystick to block another player's shots.
This is a great multi-player game (check price on Amazon), but beware; the little pucks are small and prone to go missing.
Why He'll Love It: He'll have a blast decorating his rink with the included NHL decals and playing against his friends. May the best little man win!
Check Price on Amazon
Add to Amazon cart and decide later »
Remote control cars are great for developing spatial awareness and hand-eye coordination. This Ferrari model (check price on Amazon) can go forward, backward, left, and right and be operated from up to 30 feet away.
Unfortunately, no batteries come included, so you will have to purchase 5 AA Batteries and a 9V Battery.
Why He'll Love It: The head and rear lights really work, and the car gets up to a pretty good speed, so he's sure to have fun zipping around.
Check Price on Amazon
Add to Amazon cart and decide later »
With eight different spy abilities, your little guy won't get bored of this watch quickly. He can decode messages, see world times, and turn on the motion detector to find those evil villains trying to sneak up on him.
While enjoying his new job as a resident spy, he can also work on his time telling and reading skills. After all, James Bond always needed to be smart to stay sharp.
Why He'll Love It: Your little guy will love playing spy games, either by himself or with friends, with this feature-filled gadget.
Check Price on Amazon
Add to Amazon cart and decide later »
Although this game says it's for ages 7+, it has a variation that is perfectly suitable for anyone over five.
You must reach the Pharoh's sarcophagus to vanquish the curse that plagues the mummy who, by the way, is out to catch the players and send them back to the beginning of the board.
Pharaoh's Gulo Gulo (check price on Amazon) game is great for strategy building and color recognition, and the perfect segway into a history lesson.
Why He'll Love It: It's a fun group activity that can grow with your child from the time he's five until he's an adult. Plus, that whole mummy thing sure has an appeal for kids.
Check Price on Amazon
Add to Amazon cart and decide later »
These gadgets claim to help with focus and stress relief, yup, even in youngsters (even school can pile on the pressure these days!)
While the scientific data as to whether or not these toys have a substantial neurological benefit isn't yet available, many parents swear by these little fidget spinner toys (check price on Amazon). Those moms and dads insist fidget spinners have helped their kids who are dealing with conditions such as ADHD or anxiety.
If nothing else, your boy will get to work on his motor skills as he plays.
Why He'll Love It: This particular model has a cool glow-in-the-dark feature that will fascinate your kiddo.
Check Price on Amazon
What to Expect From Your 6 Year Old Boy
6 year olds are sensitive and can be easily embarrassed. So, dad, don't be silly in front of his friends! His cognitive abilities are really burgeoning and you'll notice that he can think in complex and abstract ways.
Here are a few developmental milestones you can look out for (Source):
Body, Hand and Finger Skills
Won't stop moving. Is a dynamo of energy;
Highly coordinated with great balance;
Can tie shoelaces;
Drawing skills are improving rapidly;
Enjoys pushing and learning new physical skill such as bicycling, skating and skipping
Emotional Development
Better control of feelings;
Sensitive and easily embarrassed;
Begins to understand cause and effect in terms of people's feelings;
Can have difficulty making decisions;
Gets very frustrated;
Puts self to sleep;
Loves to be silly;
Can be highly competitive and jealous;
Gets super excited easily
Cognitive Development
May know right from left;
Loves to reread books;
Can match words;
Writes name;
Very basic addition and subtraction;
Can discuss similarity between objects;
Finds it fun to use long words
Wrapping up
At 6 years old, he is becoming more aware of himself. Sometimes he revels in his newfound abilities, eg, a new word or skateboarding trick. However, his increased self-awareness means that he is sensitive and can be easily embarrassed.
Whilst he may be growing up quickly, one thing hasn't changed – he loves to play. Only now, it's mainly with friends.
Our list of toys for 6 year old boys has been carefully chosen to match his abilities. They are all super fun and will help him to learn in a gentle way.