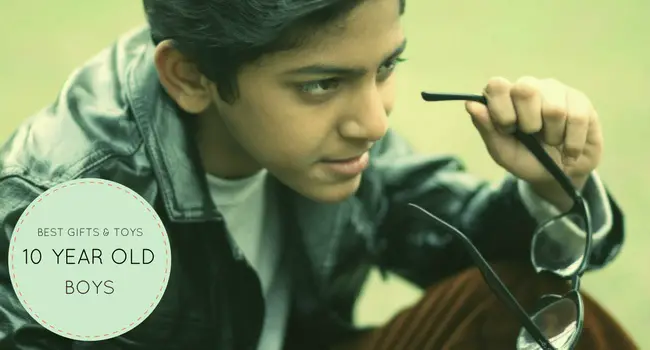 On the hunt for the ideal gift or toy for a 10 year old boy? We've got it covered. As parents and nerds, we've compiled the ultimate list.
The following gadgets, gear and games will either challenge him physically in a way that is fun, or they'll quench his thirst for learning facts and solving mysteries.
The Force1 U49C Drone (check price on Amazon) comes with a 720p HD wide-angle camera and is an excellent choice for a first drone. It is easy to use but also has high-spec and build quality. It's certainly not one of the cheap "throw away" drones that are flooding the market.
The U49C ships with a spare motor and extra propellor – essential for kids who may give it a few knocks as they learn to control it. It also features a highly intuitive controller which makes flying easy. The altitude hold, one-touch land and takeoff, and low battery alarm are two additional features which make this a safer bet for the young pilot.
Why He'll Love It: It has a super long 30 min extended flying time and it's camera is great quality.
Check Price on Amazon
Add to Amazon cart and decide later »
This little device folds up for easy storage and travel, so wherever your boy goes, he can hunt for treasure.
The National Geographic Metal Detector (check price on Amazon) has four sensitivity levels, three modes of detection, and can find items up to 10 feet underground. Sure, you might find a hole or two out in the yard, but that seems a small price to pay to get your son active and excited about the world. Just watch where you step!
Why He'll Love It: Your kiddo can take this detector anywhere he goes. Plus, the handle adjusts so that it's comfortable for him to use.
Check Price on Amazon
Add to Amazon cart and decide later »
The Tecboss 3D Pen (check price on Amazon) is a professional grade 3D pen which looks cool and has several safety features – a good choice for a 10-year-old boy for whom crayons are things of the past.
Three-dimensional doodling is mesmerizing at any age and he'll soon become a pro at creating pieces of art in thin air. It is real and the Tecboss 3D pen is a great introduction to the field. It has eight levels of speed controls, so he can level-up as he progresses. This pen has an adjustable temperature design to ensure safety. Finger protectors are included to prevent burning on his thumb and index finger.
Why He'll Love it: He can be entertained and creative during those boring adult conversations at restaurants.
Check Price on Amazon
Add to Amazon cart and decide later »
Your son is probably quite a few years off from putting the Walking Dead in his Netflix queue, but that doesn't mean he can't get in on the zombie fighting craze.
The included clip allows a quick reload as your boy fires off the 12 included darts, and the stock is adjustable. The scope is more of a decoration than a functional part, and some parents report it falling off occasionally. Nevertheless, this toy is fun for creative play and can improve hand-eye coordination.
Why He'll Love It: It's perfect for group play or solo target practice.
Check Price on Amazon
Add to Amazon cart and decide later »
The ultimate wow-factor Star Wars gift for young enthusiasts. This official Death Star Bluetooth speaker by Plok (check price on Amazon) quite literally levitates an inch above the base using maglev technology. And not only does it look mesmerizing, but it is also a functional speaker.
Okay, the speaker quality isn't fantastic, but if you want the coolest looking Star Wars gadget he's ever seen, then this could be the one for your 10-year-old boy.
Why He'll Love It: It levitates! Come on, how cool is that?
Check Price on Amazon
Add to Amazon cart and decide later »
Escape the Room (check price on Amazon) is something of a trending hit within the board game world. This exciting and original version is a great way to encourage critical thinking in your 10-year-old. It is full of devilishly crafty puzzles and escape missions that need to be unraveled.
Guests are locked in the mansion, and it is up to your child and his friends to solve the mystery and find an astronomer who has gone missing. This can be a truly immersive evening of fun, so be prepared for the next time your boy has some friends over.
Why He'll Love It: The game suggests music to enjoy during the mystery as well as costumes that can be worn, so your son will be able to feel like he and his friends are truly solving the mystery set before them.
Check Price on Amazon
Add to Amazon cart and decide later »
The TKx400i (check price on Amazon) may be easy for young people to use, but it's also a serious piece of kit. With up to 400-times magnification and two powerful LEDs to light the slides, your child will be able to dive head-first into the incredible microscopic world.
This microscope comes with 27 pieces including slides, tweezers, bug jars, and more. It also has an accompanying full-color 48-page microscopy book which will give him tons of ideas for objects to look at and will teach your child how to get the best results.
Why He'll Love It: This is no gimmicky toy but a serious microscope that will transport him into the fantastic and sometimes alien world of the tiny.
Check Price on Amazon
Add to Amazon cart and decide later »
This toy car is a stylish little replica of the real thing. It can move in all directions and is quite agile. It drives best on a smooth surface, so stay away from carpets and rough terrain.
Parents report that this Lamborghini RC (check price on Amazon) has a decent range and is easy to maneuver. As a nice extra touch, the headlights work when the car moves forward, and the brake lights come on when it's put in reverse.
Why He'll Love It: He'll enjoy the realistic detailing; maybe he'll even want to keep this as a model on his bureau. If he does want to race it, he'll certainly get a kick out of its zippy speed.
Check Price on Amazon
Add to Amazon cart and decide later »
This is a great toy for encouraging outdoor activity, and one that your boy can use for years.
It supports up to 220 pounds and helps with coordination, balance, and spatial awareness.
The Ripstick Caster Board (check price on Amazon) is lined with traction spikes to give your son a secure foothold, and the polyurethane wheels provide a smooth ride. Better still, they are replaceable when they begin to show signs of wear.
Why He'll Love It: From learning beginner to advanced riding skills, this toy can provide years of entertainment for your child.
Check Price on Amazon
Add to Amazon cart and decide later »
For some, this game is already a classic. If you or your kiddo are new to the concept, however, it's easy to learn. The goal of the game is to create a settlement on the Isle of Catan through a little luck and a lot of strategic planning.
An award-winning product, each game of Catan (check price on Amazon) will be unique, engaging, and perfect for a group activity.
Why He'll Love It: If your son enjoys using his wits to overcome a challenge, then this is an ideal gift.
Check Price on Amazon
Add to Amazon cart and decide later »
If you have a burgeoning craftsman or designer in the family, this is a great gift to consider giving him. This Rylai project (check price on Amazon) teaches patience as your boy carefully fits the pieces together and decorates the little beach house.
You'll want to have a few things handy, like glue, sandpaper, and tweezers, as these don't come included with the purchase.
Why He'll Love It: It's a great solo project if he's up to the challenge, but it also makes for a fun family endeavor.
Check Price on Amazon
Add to Amazon cart and decide later »
The Piper Computer Kit (check price on Amazon) has everything for the future tech genius in your life. An award-winning STEM toy, the Piper Computer Kit engages both his critical thinking and creative flair. It comes in a handcrafted wooden computer case and the first challenge is to construct a fully functioning computer running on 16 Gb RAM! Once he's followed the instructions and reached this goal, then it's time to code his own games.
The Piper Computer has Wi-Fi capabilities allowing it to connect to the internet. This gift is sure to delight any young man looking to build his engineering and electronic skills.
Why He'll Love It: There is no tech knowledge needed. He will play the part of a damaged robot that needs to be fixed and he will level-up as the game progresses.
Check Price on Amazon
Add to Amazon cart and decide later »
Now that your little guy is out there riding bikes, scooters, and ripstiks, you want to be sure he has got the best possible protection for his head.
This Krash Vector Victor Helmet (check price on Amazon) is both CPSC and ASTM certified. It has an inner shell crafted from EPS foam to absorb shock from an impact and ventilation to keep your boy's head from getting too hot.
Why He'll Love It: This helmet comes in several colors, all of which sport a cool mohawk along the top. How could he not love it?
Check Price on Amazon
What to Expect From Your 10 Year Old Boy
10 year olds are on the cusp of adolescence. This means your boy may start acting like he is pretty grown up. Looking cool in front of friends has become a top priority. It's an important time to nurture his self-esteem. It will be important to him as his peers may try to influence him into doing different things he doesn't feel are right.
Physically, his motor skills are getting very refined. He may be excelling at sports and other activities; however, other boys at this age need lots of encouraging to stay active and healthy.
Here are some milestones you can watch out for (source):
Body, Hand and Finger Skills
Either loves or hates outdoor activities and sports. Those who don't like it may be into using their finer motor skills to draw or do gaming;
Doesn't notice fatigue;
Often hates taking a bath;
May be fidgety
Emotional Development
Forms strong friendships, especially with one or two best friends;
Demonstrates affection physically by play fighting or wrestling;
Much better control over emotions. Gets angry less often and calms down more quickly;
Listens and follows friends more than parents;
Gets embarrassed when praised or told off in front of friends
Cognitive Development
Thinks in a sophisticated way and can have conversations with parents about social and global issues;
Sense of humor is well developed;
Relishes memory challenges;
Excellent reading ability but may prefer to talk than read books;
Short attention span. Prefers activities to be changed up frequently
Wrapping up
Your 10 year old boy may be more interested in friends rather than family. Still, despite his cool demeanor, he's very sensitive and needs encouragement.
The best toys and games for 10 year old boys will push his gross and fine motor skills in fun ways. They will also allow him to be social and play with friends. Each of the items we've chosen should be a sure-fire hit.
Let us know how he gets along with them.