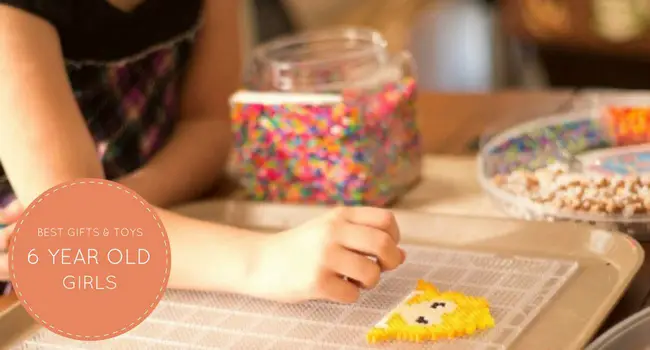 As parents and nerds when it comes to research, we've carefully compiled a list of the best toys, games and puzzles for 6 year old girls. They will challenge and engage her in ways that are both super-fun and educational.
We know that although 6 year olds come in all shapes and sizes, they do have a few things in common; play is now very social and sophisticated. It often involves friends and intricate role play.
Top 10 Best Toys for 6 Year Old Girls
If you have or know a six year old girl who loves Harry Potter, you should get this kit for her. It comes with a wand for her to build and will teach her coding magic. This kit will teach her all kinds of tricks and spells. It gives her the chance to pretend she's a real wizard. Any six year old would be entertained getting to practice the magic they've seen in the movies while learning to code.
Why She'll Love It: She'll stay entertained for hours learning to code magic spells. She'll be like the little wizard she's dreamed about being.
Check Price on Amazon
Add to Amazon cart and decide later »
Looking to encourage your daughter's creativity, but not in the mood to break out the messy finger paints? This kid-sized Wooden Weaving Loom (check price on Amazon) comes with 91 yards of rainbow colored yarn and an illustrated booklet to get your daughter started.
The included needle is quite large, so it's easy for small hands to maneuver, and working on this loom will encourage creativity and fine motor skill development.
Why She'll Love It: She can take pride in her work by wearing her creations or displaying them as decorations.
Check Price on Amazon
Add to Amazon cart and decide later »
Every girl needs her secrets, right? With this Ever After High Spellbinding Secret Chest (check price on Amazon), she can set a voice-activated password for extra privacy and store little keepsakes away from the world. She can also record special memories up to sixty seconds long on the keys, which can be played back when inserted into the lock.
Using the voice password can be tricky; be sure she uses the same tone when unlocking the box that she used to set the password.
Why She'll Love It: She can safely stash her valuable trinkets away from prying eyes. She'll also love being able to relive the memories she has logged, and can always record new ones over previous recordings.
Check Price on Amazon
Add to Amazon cart and decide later »
These wooden blocks, colored with non-toxic stains, are so well crafted that they could last for generations.
The hues signify the natural elements of earth, fire, water, and air and they are perfect for working on those fine-motor skills.
Your daughter can also use them as puzzle blocks by piecing them together in the tray to form a lovely design.
Why She'll Love Them: Painted in vivid colors that are sure to tickle her imagination, your daughter will have plenty of fun creating unique designs.
Check Price on Amazon
Add to Amazon cart and decide later »
Since it magnifies objects up to 30 times, this is an ideal toy to bring on those outdoor excursions. With the Terra Kids Children's Spyglass Telescope (check price on Amazon), she'll be able to observe the world of animals and plants and begin to take a keener interest in the natural world. This is an affordable gadget that's great for encouraging curiosity and exploration.
Why She'll Love It: It's compact and colorful, so she'll enjoy taking it around with no extra hassle.
Check Price on Amazon
Add to Amazon cart and decide later »
What six year old isn't a fan of legos? This lego set comes with a variety of different colors and lets her build whatever structure comes to mind. Having so many different colors means she can design as colorfully as she pleases. Being a larger set, she will have plenty of lego pieces to build with. This lego set is good on its own or paired up with another lego set. This set also comes with architecture pieces such as windows and doors.
Why She'll Love It: She'll have fun with all the different colored pieces. She can build anything her imagination comes up with.
Check Price on Amazon
Add to Amazon cart and decide later »
If your daughter is up for a challenge, she can play this game as is or, for easier gameplay, your family can use the variation designed for kids five and up.
To end the curse placed on the mummy, players must reach the Pharoh's sarcophagus without getting caught by said cursed mummy.
Playing Pharaoh's Gulo Gulo (check price on Amazon) improves your child's ability to strategize and recognize colors, and is the perfect time for a fun history lesson.
Why She'll Love It: This game is a great group activity that your daughter can one day pass on to her own kids.
Check Price on Amazon
Add to Amazon cart and decide later »
This award-winning game is ideal for your daughter's growing mind. Compatible with most iPads, it features games designed to enhance skills in areas such as math, reading, spelling, creativity, and more.
This particular purchase includes five games along with the actual Osmo Genius system (check price on Amazon). You can continually expand your daughter's game library, as Osmo makes programs for kids ages five to twelve.
Why She'll Love It: This is the perfect marriage between technology, learning, and fun. Plus, she won't get bored easily, considering the vast array of available games.
Check Price on Amazon
Add to Amazon cart and decide later »
Whether you are on a road trip or a quiet night in with your girl, this is a super fun and colorful card game (check price on Amazon) that takes the best elements of snap up to a whole new level.
She'll love the high-level thrill of this game – just don't play it immediately before bedtime as kids will need to unwind after the excitement. To win she'll need sharp eyes and fast hands. Two players must try to match the shape, count, or color on each player's cards to either one of two discard piles. It really is exciting!
Why She'll Love It: It is colorfully designed cards, moons to triangles to stars.
Check Price on Amazon
Add to Amazon cart and decide later »
JuniorScope Microscope (check price on Amazon) lets your six year old girl pretend she's a scientist. It's easy to use and comes with a full kit. This way, your six year old will have the accessories she needs to feel like a real scientist. She'll be able to view samples such as plants, DNA and insects. JuniorScope is composed of a low and high powered microscope to be able to view different samples. This microscope might be for kids, but functions just as an actual microscope.
Why She'll Love It: Using this microscope can make her feel like the scientist she's always dreamed about becoming. It'll let her conduct fun little experiments.
Check Price on Amazon
Add to Amazon cart and decide later »
Finding indoor activities can be a challenge, especially if you're not in the mood to clean up a huge mess after your kiddo is done playing. With puzzles, you don't have to worry about any of that. You can also rest assured that your daughter is working on her motor skills, improving her ability to focus, and will get a real sense of accomplishment from being able to see the results of her work. No Dogs on The Beach (check price on Amazon) is a charming and adorable scene that any 6-year-old should love.
Why She'll Love It: She'll have fun assembling the puzzle and watching the image of the dogs come to fruition. Once she has finished, you can even frame it for a nice wall decoration in her room.
Check Price on Amazon
Add to Amazon cart and decide later »
If your girl is a fidgeter, this might be a worthwhile purchase. It has a mesmerizing mechanism which keeps rolling and opening forever! This toys meets ASTM international toy safety standard which will assure you that your young fidgeter can pass on to siblings and friends (check price on Amazon).
Why She'll Love It: Whether she's feeling stressed, anxious, or even just bored, these toys will give her something with which to occupy her mind.
Check Price on Amazon
Add to Amazon cart and decide later »
What to Expect From Your 6 Year Old Girl
Right, dad, quit being silly in front of her friends! At this age she is easily embarrassed and places huge value on what she believes her friends think of her.
The biggest changes are now seen in her social and cognitive ability. She will start spending more time with friends and thinking and reasoning in complex ways.
Watch out for these milestones this year (Source):
Body, Hand and Finger Skills
Becoming accomplished at drawing;
Loves to concentrate and master new physical skill such as skating and skipping;
Constantly moving. She's a pocket rocket!
Ties shoelaces
Emotional Development
Gets excited very easily;
Easily embarrassed;
Loves to fool around;
Can struggle to make decisions;
Puts self to sleep;
Better able to manage feelings;
Sometimes highly competitive and jealous;
Gets very frustrated
Cognitive Development
Loves to read favorite books over and over;
Matches words;
Can write name;
Does basic arithmetic;
Can discuss sameness and difference between objects;
Love to use long words
Wrapping up
6 year olds revel in their new found abilities. They will enjoy showing off their latest big word or skateboarding trick. With heightened self-awareness, though, comes sensitivity; she can be easily embarrassed.
She may be growing up fast but she still loves to play. The main difference now is that she prefers to play with friends than by herself.
Our list of toys for 6 year old girls has been carefully chosen to match her abilities. They are all super fun and will help her to learn in an enjoyable gentle way.