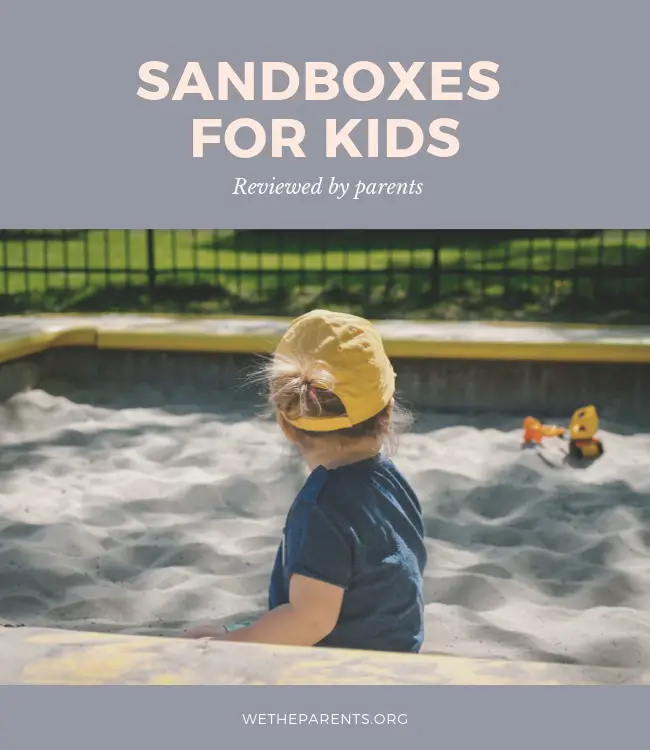 Do you remember how much fun sandboxes were when you were a kid? Well, they still are! Over the years, toy makers have found some pretty creative ways to make them even more fun. And, of course, we're going to dig in deep and find out which ones are the best. We just can't help ourselves! So, without further adieu, here's our list of the seven best sandboxes for the new year, as well as our pick for the best one overall.
Best Budget Buy
If it's made my Little Tikes, you know it's gonna be great. Little Tikes Big Digger Sandbox (check price on Amazon) hits the ball out of the park. Bright colors, durable heavy-duty plastic, and plenty of accessories will keep your preschool-aged children busy for hours.
They get to operate an excavating crane to dump sand into a maneuverable toy dump truck. When the sandbox is open, the lid can be connected to the side adding an extended play area. The kids also get to play with two small scoops, a rake, and a shovel. They even get two little construction workers to guide all of the action.
What we like:
It's an ideal, and affordable option, for a starter sandbox.
The parts are safe enough for babies as young as 36 months.
Watch out for:
The kids can't actually get into the sandbox.
It's not recommended for kids over five.
Check Price on Amazon
Best plastic sandbox with cover
Little Tikes does it again (check price on Amazon)! This one's a little bigger, so the kids can actually sit in the sand if they want to. It's made of durable, heavy-duty plastic and shaped like a happy turtle, with a big smile on its bright-eyed face.
The lid is shaped like its shell and can be removed and used a different play toy for whatever their imagination can come up with. The feet double as seats where your little ones can sit and play in the sand with their feet. The bottom of the sandbox is even molded to give them targets to dig for.
What we like:
What's not to like about Little Tykes!
The cover is great for keeping roaming kitties away.
Ideal for a summer outdoor toy, it helps teach children social skills with their friends.
Watch for:
Accessories like shovels and buckets aren't included.
Strong winds can blow the lid off.
Check Price on Amazon
Best mini sandbox
It's small enough, at ten inches square, to be used either on a table-top, on the floor, or outside. My Little Sandbox (check price on Amazon) is made of solid wood, has a larger play mat to help with the mess, and the sand is included. Children can stretch the limits of their imaginations pretending to work in a construction zone with a dump truck, boulders, safety cones, gravel, builder blocks, along with a rake and a shovel for the manual labor. They can even take charge of the operation with their own construction crew!
What we like:
It's a Dr. Toy Top Toy Winner!
It's perfect when there isn't a lot of play space available.
Great for rainy-day fun inside!
Watch out for:
It's recommended for kids aged from four to seven.
Be careful where you let them play with it indoors. Sand will probably fly off of the mat.
Check Price on Amazon
Upgrade Choice
This looks like too much fun! KidKraft Pirate Sandboat (check price on Amazon) made out of solid wood, it's shaped like a pirate ship, complete with a canopy, flag, and a steering wheel. Several benches, as well as the sand area will accommodate a few children at once as they sail their private sandy oasis to imaginary far-away places. Its exterior even has waves and pirate stuff painted on adding to the realism.
What we like:
The wooden bench seats are removable, allowing for storage inside.
The canopy is great for sunny days.
It has a lot of different areas for kids to explore.
A cover in included to keep the sand dry and safe from curious critters.
It's recommended for kids up to 15, making it a great upgrade option from a smaller sandbox.
Watch out for:
Treating the wood with a good sealer will make it last longer.
The floor of the sandbox area can be reinforced with a wood base.
It does take a few hours for assembly, but it's time well spent!
Check Price on Amazon
Best sandbox toys
Now, CoolSand 3D Sandbox (check price on Amazon) is different. Wet, mold-able, colored sand that won't stick to their clothes or hands. But, it's not wet! It will slide through their fingers just like real sand. And, the packaging turns into a small sandbox, brilliantly decorated with nautical themes. Kids get to choose from ten different safari-themed molds to create their masterpieces. Then, they can add in all of the other sea creatures for some great, imaginative fun.
What we like:
It's so easy to keep clean!
The sand makes stronger molds than regular sand, and it doesn't dry out.
It's non-toxic and anti-bacterial.
Kids love creating their own, unique underwater habitat.
You will have some fun, quality time playing with this set alongside them.
Watch out for:
The sand is a little addictive to play with. You might be tempted to snag a little for yourself.
It's not recommended for children younger than three.
Check Price on Amazon
Best indoor sandbox
We can always count on the quality of Step2. This durable, high-quality sandbox (check price on Amazon) could work outside or inside. Made of durable plastic, with a snap on lid etched like a smiling sun, it will hold 200 pounds of sand. Shaped like stacked, sandstone-colored boulders, the sandbox has plenty of seats on the corners and edges for your children and a few of their friends.
What we like:
It's fully assembled!
The lid makes it an ideal place to store all of their other play-sand accessories, as well as keeping it safe from pets and the weather.
You can use it as an outdoor planter after the kids outgrow it.
Watch out for:
It's recommended for children aged one to six.
High winds can blow the lid off.
There are small holes on the lid for ventilation, which is great. But, the'll let rainwater get inside.
Check Price on Amazon
Best plastic sandbox with cover
Another sturdy, durable, high-quality plastic sandbox from Step2 (check price on Amazon), this one is made for both sand and water. Kids can pretend that they're at the beach mixing the sand and water to make their individually personalized creations. The sandbox is on legs, so your child can stand around it while playing and interacting with their friends, building their social skills. It even comes with a snap-on lid and a beach umbrella to help set the mood and give them a little shade.
What we like:
The water side has a drain plug for easy cleaning.
It comes with its own high-quality Step2 accessories.
The lid has a molded play area on top for other imaginative games.
With elastic tie-downs, the lid won't blow off on windy days.
Watch out for:
It does require a little assembly.
It's recommended for ages two to eight.
Check Price on Amazon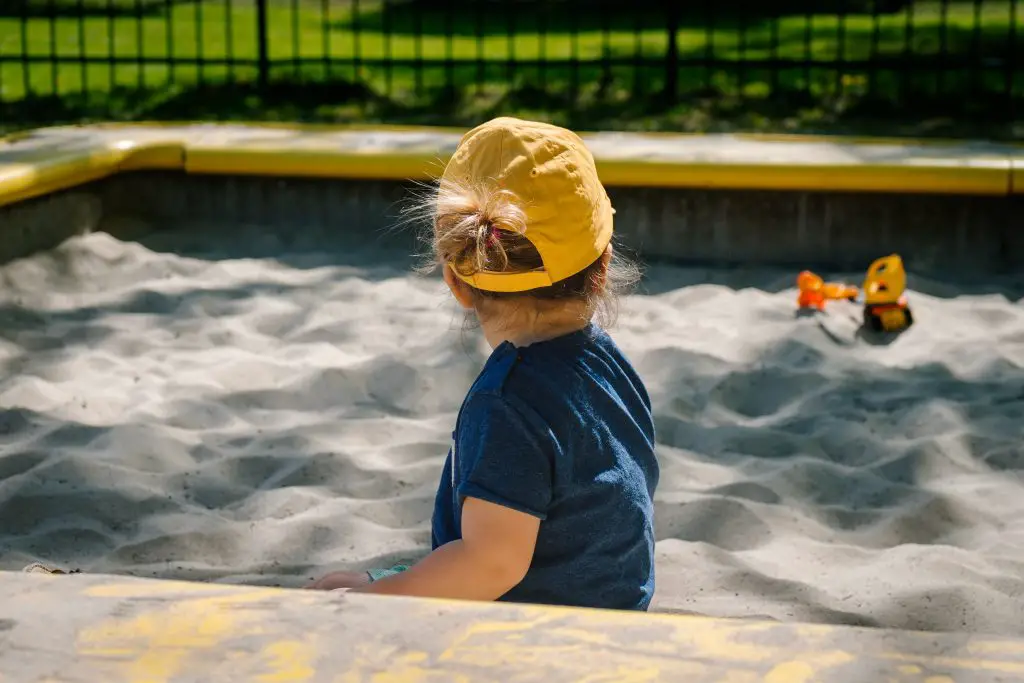 Children play for many of the same reasons that we do as adults. They're just better at it! As adults, our play time takes us to a place free of worries and stress for a moment. For kids, playing takes them to a magic world where almost anything can happen. And, for both kids and adults, playing is a great way to learn about life.
It's hard to say who invented the sandbox. They first appeared in the US in the late 1800's. But, the sand wasn't in boxes. It was dumped in huge piles on vacant city lots so poor, immigrant children would have somewhere to play. It would be years before the earliest actual sandboxes would be used.
And now, just look at what those piles of sand have evolved into. You can find simple ones with no bells or whistles. Some have lids, and some don't. They can be used either inside or outside. You can add water with some of them. Some you can sit it, and some you can stand beside. There are even different kinds of sand for today's kids to play with. The options almost seem endless.
That's why we take the time to fully evaluate all of these different toys, and give you the true low-down on each one. Depending on exactly what you're looking for, they all have their own strengths and weaknesses. Today, we are looking at both why you would want to buy a sandbox for your child, as well as informing you of the different characteristics of each one. We'll even throw in some care and maintenance tips.
The Benefits of Playing in a Sandbox
You may not realize all of the benefits that your kids get from playing with sandboxes. We thought we did, until we started researching them. Here are just a few of the things we've learned.
Social skills: It can be tough for children to learn to interact with each other, especially if they don't have siblings. Sandboxes create sort of a social hour where the kids learn how to play together with their friends, hopefully without fighting.
Resolving conflicts: If problems arise while they're playing with each other, as long as we don't intervene, they'll start to learn how to fix them on their own. This is a hard one for us. We are the protectors, right! But, sometimes we need to stand back and let those precious little minds figure out things for themselves.
Hand-eye coordination: Especially for babies, toddlers, or even younger elementary-aged children, the scoops, shovels, buckets, and other accessories will teach them how to make their hands do what they want them to do.
Creativity: The sandbox becomes their own little world where they can make anything happen. And, if they are playing with other children, they get to see the differences in everyone else's creative sand creations.
Imagination: It teaches them to stretch the bounds of their imagination and create whatever they need for their particular whimsical journey.
Cause and Effect: Sandboxes help them to learn how they impact the environment around them. What happens when they sit too close to the edge of the sandbox? What if there are too many kids playing at once? If they choose to walk around on top of the edge of the sandbox, what can happen? What are the consequences when they throw sand in someone's eye? These are just a few examples.
Measurements: So, just how much sand will that bucket hold? What happens when they add water? How deep can they dig? How many scoops will it take to fill up the bucket? All of this practice just gets them ready for bigger projects in life.
What to Look for when Buying a Sandbox for your Kids
Material: For the most part, you can choose a sandbox made from either wood or plastic. The toy manufacturers that we review only use quality products, so either would be suitable materials, depending on where you plan to use the sandbox.
Size: You're also probably looking for a certain size, both for how many kids can play in it as well as how much sand it will hold.
Age suitability: As you've already noticed, different sandboxes are best for certain ages. You want to make sure that the one that you choose will be safe for your little one, as well as being age appropriate so they will be able to use for as long as they want to. They won't get tired of their sandbox. Trust us on this one!
Cover: Some have covers, and some don't. Lids are great for keeping animals out of the sand, as well as providing protection from the elements if the sandbox is going to be outside.
Tips for Keeping your Sandbox Safe and Clean
The sand will get dirty. It's a great time to practice hygiene with your kids by making them wash their hands and feet after they play in the sand.
Keep the sandbox covered when it's not being used.
If you choose wood, it's a good idea to give it a clear-coat sealer to make the wood last longer.
If the sand gets wet, let the sun dry it out. It will also kill bacteria that can accumulate with normal use.
You could even get some little kitty litter scoops, and make a game of cleaning the sand after the kids are done playing.
It's also a good idea to replace the sand every year to make sure it's clean and safe.
And the winner is…
KidKraft Pirate Sandboat (check price on Amazon). It just hits all the key points! And, think about how much fun you would have had in something like this when you were a kid! You could even have a seat with them now and they could take you on the imaginary sand-boat journey of a lifetime!
Okay, maybe we're getting a little excited, but it's just that cool. It's a sandbox and a boat, all in one. Talk about sparking the imagination! Your kids will spend countless hours playing in the sand and interacting with their friends or taking their imaginary pirate ship to far-away places. The canopy even gives them some shade from the sun.
There's a snap-on cover to keep the sand safe. And, it even has a storage area under the seats. But, the beauty of this particular sandbox is that it's made to last a lifetime. It's recommended for ages 36 months and all the way up to 15-years. Wow!
This is the kind of sandbox that will create long-lasting memories again and again for many years.