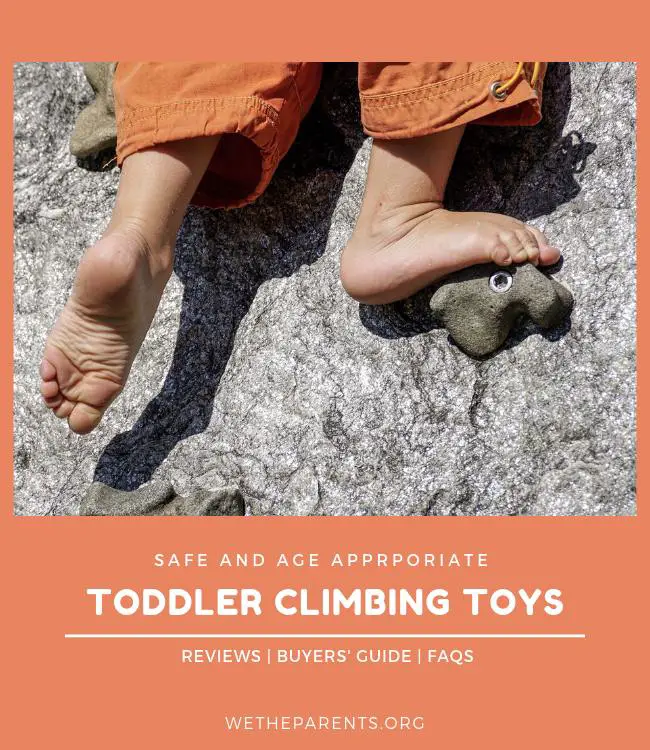 Does your toddler enjoy scaling large furniture? Are you constantly padding the floor in hopes of avoiding a painful fall? Climbing is a quintessential part of development, but it's not always easy to watch. Check out our reviews of the best toddler climbing toys for some thrilling yet safe alternatives to the sofa!
Editor's Choice
ECT4Kid's rainbow-colored caterpillar (check price on Amazon) is like something out of Lewis Carroll's Wonderland. Gus is the perfect size for teetering toddlers to climb over or crawl through. It even has rounded windows that transform the caterpillar into a makeshift fort. The tunnel is constructed from heavy-duty fade- and weather-resistant plastic, making it perfect for your playroom or backyard. The pieces, including 10 adorable rainbow-colored feet, are easy to put together and break down.
What We Love:
Gus sparks the imagination.
Watch Out For:
Pricey
Check Price on Amazon
Best Climbing Toy for Toddlers
Introduce your little bambino to the wonders of the schoolyard with Eezy Peezy's easy-to-assemble monkey bar climbing tower (check price on Amazon). High-quality plastic tubes connect to double self-locking spring-loaded connectors to create this lightweight yet durable play station. Kids can swing, climb, and hang from the bars or toss a blanket over it to create a makeshift fort. This playset offers some serious nap-inducing climbing sessions, but you can thank us for that later.
What We Love:
Lightweight
Watch Out For:
Difficult to assemble
Check Price on Amazon
Best Climbing Toy for 1-Year-Olds
Want to jumpstart your toddler's gross motor development? The SoftZone foam play set (check price on Amazon) features five soft foam shapes that can be rearranged into a number of engaging configurations. Thanks to the soft texture of the blocks, tots can flex their adventurous side without succumbing to bumps and bruises. The sets come in three different color schemes, including rainbow, earth tone, and contemporary. If you're not keen on adding more clutter to your kid's playroom, just know that, in my house, these nap-makers passed four intensive rounds of KonMari. "Sparks joy" is an understatement!
What We Love:
Safe stage for gross motor development
Watch Out For:
Slippery
Check Price on Amazon
Best climbing toys for 2-year-olds
The Step2 three-in-one sports center (check price on Amazon) features a basketball hoop, basketball, soccer goal, tethered baseball, and bat connected by a miniature slide. Foster your little one's sporty side with this inclusive indoor/outdoor activity center. All the detachable accessories have set-in storage spaces (yay!) for easy access. While my little ones spent most of their time slithering up and down the slide, the extra accessories were great with a little parental guidance. Like all Step2 products, this was super easy to assemble and light enough that it could be moved inside and out with ease.
What We Love:
Develops gross motor skills and coordination
Watch Out For:
Slides easily
Check Price on Amazon
Upgrade Choice
The Clubhouse Climber (check price on Amazon) is an elaborate elevated playscape with a lookout tower, clubhouse, and bridge. The clubhouse has a rotating ship wheel, skylight, porthole windows, and dual slides. There are even hideaway spots and secret passageways on the lower level. Mom and dad can appreciate the non-slip stairs and easy-grip handles, while the kids will savor the endless potential of their new playground. Keep in mind that the assembly is best done with more than one person. But if you are up for the task, this oversized backyard clubhouse will have your kids screaming with joy.
What We Love:
Lots of cool details
Watch Out For:
Difficult-to-follow instructions
Check Price on Amazon
Best foam climbing toy
The Foamnasium (check price on Amazon) is a quintessential nap-maker. It features a wide assortment of multi-color foam blocks, including a slide, mailbox, tunnel, steps, and two rounded corner mats. The set is made from mom-approved easy-to-clean vinyl fabric. It can be rearranged into countless different configurations. We'd recommend this set for crawlers and young toddlers, though older siblings will probably want to join in the fun. My oldest son refers to it as the baby Ninja Warrior course. Go figure!
What We Love:
Easy to clean
Watch Out For:
No Velcro to keep it from sliding
Check Price on Amazon
Best Budget Buy
Looking for affordable rainy day entertainment? The Sunba Youth tent (check price on Amazon), tunnel, and ball pit set is perfect for babies and toddlers. For one, we approve of any tot toy that's actually portable. The Sunba even comes with its own zippered carry case for when you don't want it to look like a rainbow threw up in your living room. On top of that, the three pieces can be used separately. Keep in mind that you'll need to purchase plastic balls for the ball pit. Still, the look on your child's face when they see their new playset is going to be priceless.
What We Love:
Portable
Watch Out For:
Balls sold separately
Check Price on Amazon
Best climbing toy with slide
If you already promised your little one the moon, why not give them something to practice their astronaut strut? The Little Tikes bounce house (check price on Amazon) offers endless jumping and sliding sessions for hyperactive tots. The mesh protective panels and shoe storage compartments give mom and dad something to smile about too. The house even comes with a surprisingly heavy-duty blower for rapid-fire inflation, because asking a toddler to wait is out of the question. The best part is, the 9-foot by 12-foot pit can accommodate multiple friends or siblings.
What We Love:
Takes less than 5 minutes to setup
Watch Out For:
Not completely puncture-resistant
Check Price on Amazon
Best climbing toys for 3-year-olds
The Lil' Monkey Olympus slide and climber (check price on Amazon) is something you and your 'threenanger' might actually agree on. The polypropylene piping is lightweight, foldable, and tantrum-resistant. If you're looking for an indoor playscape that won't take up too much space and will harness your 3-year-olds quarterback-like gusto, check it out. There's a reason we call it the 'early bedtime!' As an added bonus, the slide doubles as a great race car ramp (but we didn't tell you that).
What We Love:
Folds up in a matter of minutes
Watch Out For:
Cumbersome assembly
Check Price on Amazon
The Importance of Physical Play
Physical play helps children explore their environment while problem-solving, socializing, and staying fit. It can even help young ones develop motor skills, build muscle mass, and improve their coordination. When kids climb, they develop confidence and personal competence. While screens offer constant distractions, the best thing for your little ones is to get up, get out, and play.
Toddler Climbing Toys: Things To Consider
Read along to discover a few helpful pointers for picking out a toddler climbing toy.
Climbing Toy Materials
Wooden Playsets:

Wood is a durable, natural, and renewable resource that makes for perfect climbing toys. But wooden ladders and hard platforms are not suitable for clumsy toddlers. While most wood is safe, it's important to avoid harmful chemicals and paints. If you're looking to place a wood playset outside, make sure it is on a shock-absorbing surface, such as wood chip, sand, or a rubber mat (Healthy Children). Untreated wood is more vulnerable to rot and decay, but it is far safer for children.

Foam Climbing Blocks:

Soft blocks promote motor development while optimizing children's safety. That's a win-win situation, moms! Blocks should be soft enough to buffer a fall but solid and firm enough that they don't sag under your child's weight. We like sets with vinyl exteriors because toddlers are messy and everything should wipe clean. Velcro strips are yet another game-changer, as they keep block configurations from acting like rogue icebergs. While some of these sets can be a bit pricey, their an amazing outlet for spirited toddlers.

Plastic Playsets for Indoors and Out:

High-density plastics makes a great foundation for small indoor/outdoor playsets. They're easy to clean and even easier to assemble. Not to mention, plastic is often far cheaper than wood and metal alternatives. On top of that, plastic tends to have soft, rounded corners that offer parents and caregivers peace of mind.
Climbing Toy Safety
Has your little whippersnapper made a habit of scaling every vertical structure they pass? Budding alpinists are often oblivious to the dangers involved in reaching new heights, at least until they plunge to the floor or land themselves on a lofty pedestal with no exit. Before you wrap your little one in bubble wrap and donate your favorite antique armoire, consider investing in an age-appropriate playset and crash mat.
How to Make Your Own D.I.Y Toddler Climbing Toys
Are you a Pinterest warrior? Take a stab at building your very own bedroom climbing wall (see video below). Or, gather all the pillows and couch cushions in your home and set forth building an epic pillow or blanket fort. If that doesn't work, let your guard down and embrace the fact that you probably have a young Sir Edmund Hillary or Tenzing Norgay on your hands.
And thge winner is…
When my 1-year-old son went from sluggishly crawling around the living room to mounting my kitchen counters, I thought I found my Achilles heel. I diverted, distracted, and climb-proofed my house, but every sofa, dresser, and table was turning into El Captain before my eyes. When my girlfriend suggested the ECT4Kid's rainbow-colored caterpillar (check price on Amazon), I was doubtful there was an end in sight. However, GUS the Caterpillar was the savior I'd been dreaming of. My little one crawled through, rode on, and jumped off this tunnel countless times before I passed it on to yet another desperate mom. If you're sick of prepping for a fall, consider this or one of the other amazing climbing toys on our list.