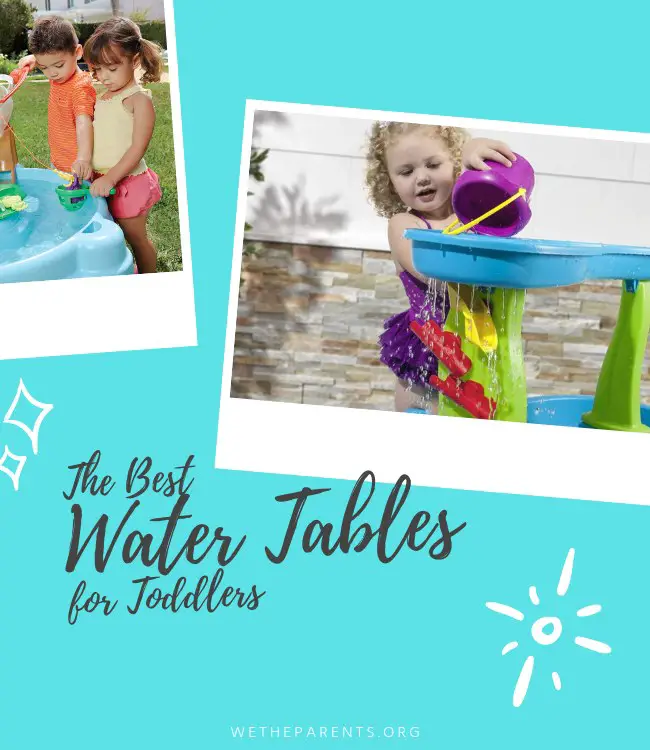 If you want a home activity that will develop your toddler's growing brain, introduce the most basic math concepts, and keep them endlessly occupied, a water table is one of your best bets.
Here are what we consider are the ten best water tables for toddlers. We'll evaluate which of the products are most straightforward to set up and clean, are sturdy enough for years of play and are a reasonable price for offered features. Best of all, we'll look for pure fun potential.
Our Top Pick
Best High Chair
More than just a water table, the Little Tikes Fish 'n Splash Water Table (check price on Amazon) includes self-contained games and five floating sea animals.
The activities include flipping animals to the spinning lily pad in the center of the table, filling the fishbowl until the container overflows and tips into an ocean-like wave. A great table for little ones who want to go fishing just like dad and grandpa. Let's hope they'll take the opportunity to teach the little ones the basics of casting and reeling in!
This table takes adult assembly requiring ten steps. No tools are needed. The table holds 7 gallons of water or 50 pounds of playground sand. The product shipping dimensions are 31.5 x 29 x 29 inches, and the table weighs 9.06 pounds. Recommended for ages two and older.
What We Love:
The Little Tikes table has games that appeal to older children rather than just toddlers.
There are three other water tables in this product line that will beautifully complement the Fish 'n Splash table.
Watch Out For:
The snap-in legs are not adjustable. Although older and taller children may still want to play the games with their younger siblings, they may need to kneel on the soft lawn to do so.
There is no cover for the table.
This product has no umbrella.
Check Price on Amazon
The Spiralin' Seas Waterpark table (check price on Amazon) offers young children their own miniature aquatic theme park. The spiral part of the toy is a large center tube that kids fill with water to start the whole shebang.
Water provides energy for turning wheels, powering a twin water wheel, and even a Ferris wheel that scoops up and drops off the balls. Set includes one water cup and five round character toys that squirt water.
Little Tikes recommends the table for kids from 2 to 6 years. There is a drain, but you will have to tilt it to empty the toy. Product dimensions are 29 x 29.5 x 31.5 inches. Item weight 11.9 pounds.
What We Love:
The Tikes Spiralin' Seas table offers preschoolers as well as toddlers appropriate sensory and neuromotor training.
This is one of the four Little Tikes water tables that can be bought together and used for backyard extravaganzas.
Watch Out For:
Some buyers were unimpressed by the included toys. They substituted common household items like measuring cups, spoons and other plastic receptacles that are sturdier and, in the end, more fun.
The 29-inch height, while great for 4-year-olds, is a bit high for their younger siblings.
Check Price on Amazon
Best Water Table Toys
CHOKING HAZARD: There is a serious risk warning for this product. Make sure that children under 3-yrs are supervised.
The SCS Direct Ocean Sea Creature (check price on Amazon) is not a water table, but a 30-piece toy set for use in any water table. Although the animals are BPA-free and colored with non-toxic paint, the sizes represent an extreme choking hazard for little kids less than three years old. The toys are from one to three inches. Buy this product only for older children. If a baby from three to 36 months is ever in your home, throw out the smaller pieces.
You can use the animals can in other ways, such as decorations, for projects, outdoor play or even for party favors. The set includes six ocean plants, 22 sea creatures, and a mountain. The item weight is one pound in a box 8 x 6 x 8 inches.
What We Love:
The toys have many possible uses, from decorating a school project to use in an aquarium.
The toy set is lightweight, easy to store, and BPA and toxin-free.
Watch Out For:
The toys represent an extreme choking hazard. Do not buy if you have children less than three years old in your home.
Some of the toys will fit on a cupcake for a birthday party. Others are too large. If you plan on using these toys for a project, research whether the sizes are appropriate.
Check Price on Amazon
Another product from Step2, the Rain Showers Splash Pond Water Table (check price on Amazon) is an oval design that would fit three children comfortably with each controlling one area for themselves.
The design is a two-decker. The top tray captures poured water that spills with a splash onto the main deck below. This table would fascinate a young one with a continuous round of scoop, pour, and watch the spills. The resulting waterfall activates the motion of ramps and spinners creating a cascade of water. The table even sounds just right with a rainfall sound effect. There are flippers and maze pieces that will interest older children when they reconfigure the table.
The table comes with a 13-piece playset. This toy is recommended for 18 months and older.
What We Love:
Reconfiguration by children themselves recreates the play space at any time.
There are lots of ways to play with this table that suit ages from toddler to kindergarten ages.
The two heights make spilling water a lot more fun.
Watch Out For:
The 13-piece playset is rather large for this market. It might be difficult to keep them all clean and stored to prevent losses.
If younger ones are around, test the play pieces for safety. They should be too large for a child to swallow.
Check Price on Amazon
Best Sand & Water Table
Best Budget Buy
Step2 has produced a sectioned play table (check price on Amazon) that you can use in a bunch of different ways. One side can be for sand play and the other for water. If you have two kids who fight over toys a lot, each can have their separate segment. The table comes with a cover, but it is meant for the sand compartment and only covers one side. There is a plug in the water segment. The seven included accessories are more fun than most tables offer.
The table is for children from two through five years old. The water side can hold about three gallons of water, or from two to four inches deep. Product dimensions are 31 x 28.2 x 29.5 inches. Item weighs 11.46 pounds.
What We Love:
A working plug is at the bottom of the table for easy emptying.
This configuration will allow two children to have their own space that should keep the peace.
Watch Out For:
The sand and water sides are close together. It is inevitable that they will get mixed during play.
There is no umbrella included, but, if you can find one to fit the pre-drilled hole, you can set one up.
Check Price on Amazon
Best Water Activity Table for Toddlers
If your little ones are bundles of energy, always on the go and into everything, here's a great water table (check price on Amazon) with all the features they'll be able to handle. Every part of this set of outdoor toys is pirate themed.
They'll get to aim a water cannon at loads of spinning items. The mast acts as a water fountain with constant flow. The anchor raises and lowers just like on a real pirate ship. This table would be excellent for several children to play with at once, a play date dream come true.
Recommended for ages two through six years. Product dimensions are 40 x 29 x 38 inches. Item weight is 19.52 pounds.
Lots of water activity. Be sure that the kids are in their swimming togs while they play.
The toy set is lightweight, easy to store, and BPA and toxin-free.
Watch Out For:
There have been some issues reported involving product quality and missing parts. Inspect carefully before assembling.
Look over the parts for holes, mismatches, and warping.
Check Price on Amazon
Best Water Table for 4 and 5-year-olds
This is a real activity center (check price on Amazon) using water and sand. However, it is an all-inclusive product that you can set up and forget about the usual problems.
This product is a two-part table with a higher ridge between the side which should help guard against too much sand and water mixing. The look of the table is upscale and would fit very well in a well-landscaped backyard. The finish is a faux wood plastic. The lid fastens on the table with elastic tie-downs. Once the plastic cover is in place, the table becomes a play area for blocks, clay, or other play.
Playset includes bridges, cups, boats, and ramps. It is recommended for children from two to eight years old. Item weight is 25.8 pounds.
What We Love:
Parents report using this product for years with little degradation.
Everything you'll need is included in this playset.
Watch Out For:
Will need a permanent place since it's not as portable as other tables. This might cause a problem with underlying grass in a backyard.
At nearly 26 pounds, you will need two adults to flip and empty the side without the drain.
Check Price on Amazon
This Simplay 3 Water Table (check price on Amazon) is an easily configurable play station not only for water play but children can use it for arts & crafts projects, building with blocks and even for picnics. Accessories include four snack-time cup holders. The table has four different patterns to fit the day's activity. It collapses for easy storage. The top is recessed and placed in the middle of two bins that hold blocks, picnics, paints or toys.
This table won the Parent's Choice Award, the Parent and Teaching Choice Award and the 2017 National Parenting Product Award. Parents who purchased this product gave it uniformly excellent reviews.
The table is for children two years and older. Product dimensions are 27.9 x 20.9 x 18.9 inches. Item weight is 19 pounds.
What We Love:
Parents and educational organizations have endorsed the table.
This Simplay product is more than just a water table. It is a fully configurable table for indoors and out, home or classroom.
Because it is collapsible, it won't take up valuable real estate in the playroom or the garage.
Watch Out For:
There is no drain, and the unit is heavy at about 20 pounds. It might take two people to flip it over for drainage.
Check Price on Amazon
Best Water Table for 1 Through 3-year-olds
The manufacturer recommends this table (check price on Amazon) for children from two through eight years. The water table features twin water slides, diving boards, and dump buckets. There are two separate areas for both water and sand play.
If you have a preschooler and an older primary school child, they will both be able to have fun while playing together. It's a great chance for a big brother or sister to help your younger child develop physical and imagination skills.
There is a drain plug in the bottom. The table holds 50 pounds of playground sand and four gallons of water. Product dimensions are 26.5 x 26.5 x 34.5 inches. Item weighs 14.7 pounds.
What We Love:
The Sandy Lagoon Waterpark is fun for a wide range of children.
The two sections can be used as intended with one side water and the other sand, or they can be refigured to fill both with either product.
Watch Out For:
If you only have a toddler at home, this table could be above their current abilities. It might be better to buy one for younger children instead.
There is not much room for free play because of all the equipment in the table.
Check Price on Amazon
Upgrade Choice
Best Wooden Water Table
This Childcraft product (check price on Amazon) is high-end and would be right at home in the most exclusive preschool. It features a natural wood frame on lockable casters tucked within the frame. The removable acrylic bin is ideal for either water or sand, indoors or out. Teachers helped design this table for longevity even with rugged use. You can easily clean and disinfect the sturdy plastic insert bin.
The frame features dado construction and four-coat UV acrylic finish. Product dimensions are 23-1/4 x 23-1/4 x 24 inches. The item weight is 23 pounds. The wheels are non-marring hard PVC and completely hidden. The Childcraft table is a great long-term purchase for facilities, churches, or large families.
What We Love:
This is the water/sand table for daycare, preschool, and upscale families.
The two sections can be used as intended with one side water and the other sand, or they can be refigured to fill both with either product.
The sturdy construction is well thought out.
Watch Out For:
The price is, as you would expect, relatively high. You'll want to be certain you need this kind of adaptability and quality before investing in this table.
Check Price on Amazon
Warning!
Most of these tables come with playsets and toys. When considering purchasing one of these water tables for your toddler, why not spend an extra $10 and make sure your toddlers are safe. Amazon offers a Small Object Tester. This clear plastic tube will let you know right away if a toy should find a home in the water table or a place in the trash bin. You can also use an empty toilet paper roll. If the toy fits through the cardboard roll, then it's too small for toddlers and needs to be thrown away.
Remember that not only your children should be protected, but their younger cousins, neighbors, and siblings of friends. If babies and toddlers visit your home, you need to eliminate the small objects in your home.
What to look for in a water table
Safety is always first. Reading the reviews of a water table will give you the opinions of parents and grandparents. Pay attention to these. When the water table comes to your door, you will want to carefully inspect your purchase. Count the pieces and make sure they match the bill of lading. Look for sharp edges, pinholes, or cracked pieces. If you find an inconsistency, call the manufacturer's customer service line immediately. You can find their number on the enclosed directions.
Be sure that the height is right for your child now and for the next couple of years. If you have a fast-growing toddler, buy for the future. For now, you can always leave the legs off and let the child play in the container right on the lawn.
Whether you chose three legs or four, consider the table's stability. Toddlers fall a lot. They will probably grab onto the table to stop their fall. A lightweight or out-of-whack ratio of product dimensions will cause a greater problem when that happens. Now, think of three toddlers playing together with the water table. They'll not only knock each other over, but umpteen toys and gallons of water or pounds of sand will cascade over them. Just because it is inevitable that a spill like this will happen, put the table on the lawn for the little kids. At least they'll land on a softer surface.
How easy is the water table and its accessories to clean and occasionally disinfect?
How will you store the set? Can it be easily disassembled or stored in a box? Can you safely store the table over the winter?
How about those included toys? Some are better than others. Mostly toddlers want to splash in the water. The toddlers will probably throw the toys aside. It might be smarter to store the toys until the tot is a few years older. Just give them a plastic cup or two and let them go to it.
Umbrellas and covers are something to be desired. For protection from the sun, a covered patio is ideal. The newest outdoor invention is the Sun Sail. This reasonably priced UV blocking device can be set up anywhere outside in your yard, the park, or at grandma's house in minutes. Bonus: it's great for picnics.
Covers for the table itself are challenging to find. You'll either need to empty the table when not in use or cover it well. We're worried about mosquito larvae and cats here. One mother had the perfect solution. She bought a fire pit cover and stretched it over the entire table. For about $10, it's the bargain of the summer.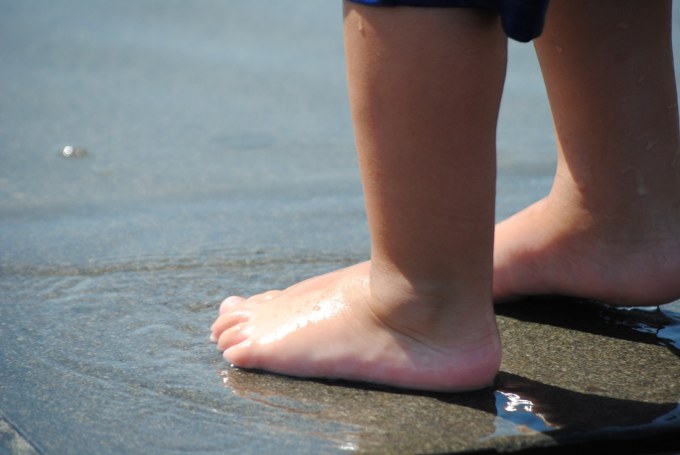 The Most Fun You Can Have with Kids and Water!
Crazy Showers! When my daughter turned four, many years ago, we had lots of little friends and not much money. Hey, it was the 70s; no one had money. Since it was August, we had an outdoor possibility. We told the little girls to wear their swimsuits. When they arrived, we gave each one a can of cheap shaving cream and turned on the sprinkler. It was the best party ever! You can do the same in your yard. Use the water table for calmer play when they tire of running around, screaming, and squirting foam.
Big Backyard Super Extravaganza! For about the price of renting a bouncy house, you could purchase four water table sets. Little Tykes has a line of four different water/sand tables, for instance. For the next toddler and small kid's birthday party, at the next family reunion, or daycare or preschool field day, you can quickly put together a veritable waterpark wonderland.
Four water and sand tables at different stations around the perimeter can surround the coolest lawn sprinkler you can find. We like the kinetic art sprinkler from Art-Artifact. It's a wee expensive, but totally cool year-round. It works great in flower beds. The advantage of the greater height is that the water doesn't come from the ground level, so no toddler is going to insist on sitting on it all afternoon. Second, the spray of water is gentle enough for fun but not too much fun. The best part is that you can create the entire circus again in an hour and with no more expense.
And the winner is…
The Naturally Playful Sand & Water Activity Center (check price on Amazon) checks every box and is our clear winner. The cost of the center isn't very much more expensive than competing water tables, particularly when you amortize the cost of the much longer product life. Your kids can play with it happily from toddlerhood to school age.
The center is attractive, blending in with any backyard. The center has a protective cover that is well-secured and an umbrella that works. A real plus is that the kids can use the cover as another playing surface for building blocks, clay play, and other activities. Think of this as an investment rather than a table you'll need to replace next year.