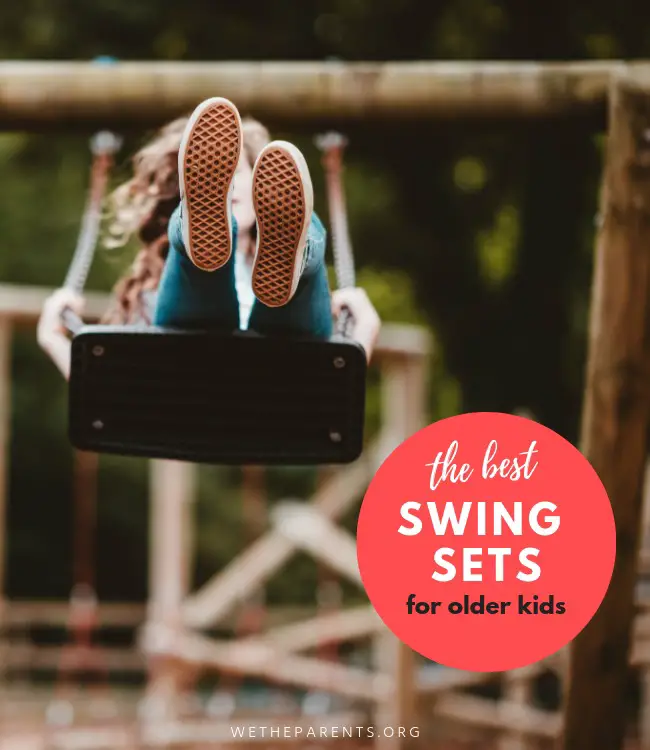 As parents considering purchasing a new swing set for older children, there are a lot of things to think about;
How big should it be? What should it be made of? What kind of features are you looking for? What is your budget? And, of course, how long will it last?
We've put together a comprehensive list of the fifteen best swing sets for older kids. Let's take a look at each of their qualities, and then we'll give you our top pick.
Kids aged five and up can sit, spin, or swing on this disc-shaped platform swing (check price on Amazon). The spider-web designed seat is made of a tough woven material, and it's big enough to hold several children at once.
What We Love:
It's strong and sturdy and will hold up to 600 pounds.
It can be attached to a tree or a swing set.
Watch out for:
It might not be as weather resistant as some other swing set accessories and may need to be brought indoors when it rains.
Check Price on Amazon
Upgrade Choice
Now here's a mack-daddy swing set (check price on Amazon) if your kids have tired of their smaller one. It's built around a cedar, wood-framed tree house with a wave slide, a rock climbing wall, swings, and even a sandbox area.
What We Love:
It's great for several children at the same time.
It's constructed with strong cedar.
Watch out for:
Taller kids might not be able to stand up inside the playhouse/tree house.
Check Price on Amazon
Best Budget Buy
A great swing set (check price on Amazon) with adjustable height making it the right size for a toddler or kids up to eight years old. Made of durable, BPA-free plastic, it has a dual-level playhouse, swings, and a small ladder.
It's perfect for elementary school-aged children to practice their motor skills and balance.
What We Love:
The sturdy construction will last for years.
It's a good value for a starter swing set.
Watch out for:
The assembly instructions might challenge your imagination.
It's more suitable for younger children.
Check Price on Amazon
Now, Lifetime Adventure Tower (check price on Amazon) is an impressive swing set. There's a centerpiece clubhouse tower accessible by rock climbing walls or a ladder surrounded by a wavy slide and a swing set addition with two swings and a trapeze bar.
What We Love:
It's made of all-weather resistant materials, so it won't chip, crack, or decompose over time.
The materials are easy to keep clean, and it's very aesthetically pleasing to the eye. Great curves!
Watch out for:
It will take a few hours to put it together.
Check Price on Amazon
This platform rope swing (check price on Amazon) has plenty of room for children to swing and play. It's even big enough for them to lay on.
What We Love:
It can be used indoors or outdoors.
It's a nice addition to a swing set that you may already have, or it can be hung from a tree or porch.
Watch out for:
The mesh fabric used for the platform will wear over time.
Check Price on Amazon
The Backyard Swing Playset (check price on Amazon) will actually highlight your backyard. It's crafted with stained cedar hardwood, has a two-story playhouse with a balcony accessible by a rock wall or a ladder and a picnic area on the lower level. And they get a wavy slide, two swings, and a dual glider.
What We Love:
It's gorgeous! The cedar is beautifully carved and decorated.
It does have a lot of bells and whistles!
Watch out for:
It's recommended for kids younger than ten.
Unfortunately, the beauty of cedar won't last forever.
Check Price on Amazon
Best metal swing sets for older kids
Now, this is the kind of swing set (check price on Amazon) that we grew up with. It has two swings, a trapeze bar, and is made of alloy steel.
What We Love:
It's simple, cost-effective, and functional.
It reminds us of our own childhoods.
Watch out for:
It's only fun for two or three kids at a time.
Check Price on Amazon
Best outdoor swing set
Wow! This may be the best of both worlds. A combination of alloy steel and high-density polyethylene are used to create this ultimate swing set (check price on Amazon).
Your children will have a two-story playhouse accessible by a molded rock climbing wall, a ladder, and a cargo net. It's all surrounded by a wavy slide, two swings, and a trapeze bar. There's even a propeller swing under the playhouse.
What We Love:
It has everything!
The quality of the materials will make it last.
Watch out for:
You'll find better assembly instructions on the Lifetime website. Amazon's instructions are little outdated.
Check Price on Amazon
Another Lifetime beauty, reminiscent of times gone by. The traditional A-frame blends into monkey bars with a fireman's pole on one side and a wavy slide on the other (check price on Amazon).
What We Love:
Made of both high-density polyethylene and powder-coated galvanized steel, it requires no maintenance and will last for years.
Watch out for:
You can't attach other manufacturer's swings or accessories without voiding the warranty.
Check Price on Amazon
Best outdoor swing set
An updated version of the traditional swing set with two swings (check price on Amazon). It's constructed using strong steel and UV-protected polyethylene plastic seats, making it very durable.
What We Love:
Ah, the simplicity of the old two-swinger!
It's a nice, little set for small spaces.
Watch out for:
It's not designed to hold more than 100 pounds.
Check Price on Amazon
Best wooden swing set
Sometimes, a simple wooden swing is just what your kids need (check price on Amazon). Hang it on a tree outside or indoors on a strong support.
What We Love:
It simple and convenient if you don't have a lot of space.
Watch out for:
If you're using it indoors, make sure it's attached to a support solid enough to support its weight.
Check Price on Amazon
It's a beauty! Made with renewable domestic Southern Yellow Pine lumber and sealed with a premium stain, it's complete with a two-story clubhouse, climbing timbers, a rock ramp, monkey bars, a wavy slide, a trapeze, and two swings (check price on Amazon).
What We Love:
The wood is warrantied for ten years.
Pine is much stronger than cedar.
Watch out for:
The other parts are only warrantied for one year.
Check Price on Amazon
This glider swing-for-two (check price on Amazon) will give you a little more peace of mind with its steel chains for support instead of rope.
What We Love:
Installation is a breeze.
Watch out for:
The seats will get hot in direct sunlight.
Check Price on Amazon
Swing sets are the epitome of the perfect back yard for any kid. We remember well the times when we were young and played on our backyard swing sets. They've come a long way since then. What used to be a series of metal poles that held swings, and maybe a teeter-totter if you were lucky, has evolved into backyard playlands complete with ladders, tunnels, and sometimes even playhouses.
Even though they may only be actively playing on it with their friends and siblings for a few more years, you'll still find them hanging around their swing set when they're older. Swing sets create memories that will last a lifetime, and it's nice to be able to revisit those memories from time to time.
As we are narrowing down all of the options that are on the market for swing sets for older kids and presenting you with our top picks, here are some of the different things to think about as you are comparing the different swing sets.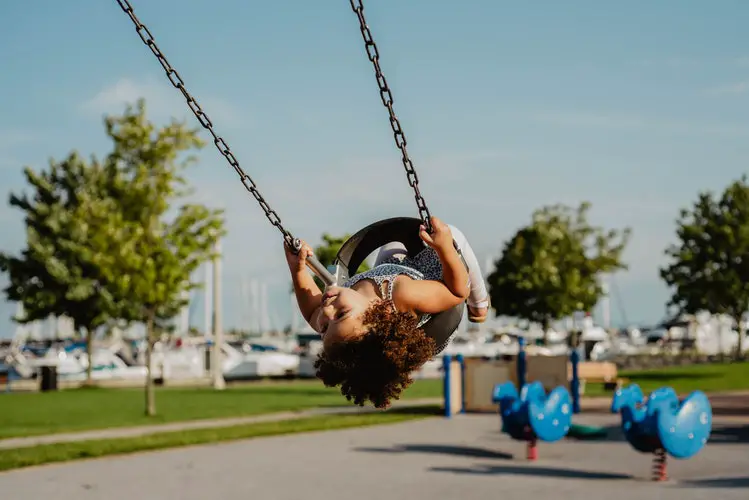 How do you pick the perfect swing set if you have older kids?
That's a very good question. When we think of older kids, we're referring to the ages of maybe the middle elementary years into their early teens. Swing sets for younger children will be more designed towards early learning and motor skills. An older child's swing set will be more specific to activities that are a little more adept.
Swing sets for older children will also need to be extra durable to handle the added weight and sometimes constant use. When we are choosing our favorites, we are always looking at how well the construction of each different item is, as well as how well it will hold up for its intended use.
Things to consider when buying a swing set
We've shown you several different options for swing sets. As you can tell, you will be able to find whichever style your budget will allow. Swing sets are basically divided into three different types.
Wood: You've seen a variety of beautiful hardwood constructed swing sets. They've been popular for years, and they usually have all of the bells and whistles. Quality wood like pine and cedar will last for many years if it's sealed and treated. But, the elements of time will eventually catch up with it and cause some decay.
Metal: As you have seen, galvanized steel is another material used in the construction of swing sets. The rust-resistant coatings that are being used today make these sets last much longer than the ones that we grew up with.
Plastic: Honestly, the grades of polyethylene plastic that are used today to make swing sets may make these things last longer than we will. Good quality plastic won't chip, fade, peel, or suffer any of the effects that Mother Nature can dish out.
You also want to think about how much space you have to put a swing set. Not only will you need room for the set itself, but there can be a lot of play activity spilling over into the area around it.
Are my kids too old for a swing set?
We don't think that anyone is too old for a swing set. Just take a look around at your favorite park. You'll see people of all ages on the swings, and maybe wandering through the clubhouse mazes.
As we mentioned, it's important to choose a swing set that's appropriate for your child's age. If you have a swing set, and your children seem bored with it, it's very possible that they just need a more age-appropriate set. A big part of the fun is having a little bit of a challenge. Swing sets made for younger children might not be challenging your youngster's creativity or more finely tuned motor skills.
What about swing set safety considerations?
That's the first thing we look at when we are evaluating any of our products, especially swing sets. Accidents can happen anywhere, and hurling your body through the air or balancing on top of monkey bars are both high-risk activities for accidents. While we can't control all accidents, we can do as much as possible to prevent them. The best way is to make sure that the swing sets are tested and compliant with all federal regulations concerning your child's safety.
And the winner is…
Lifetime Big Stuff Adventure Play Set! (check price on Amazon) This one just hits all the marks for the perfect swing set for older kids. Older children will thoroughly enjoy everything that this set has to offer. Whether they're relaxing in a swing, trying to master the cargo net, or maneuvering the intricacies of the rock wall, this will be the swing set to both teach them the limits and realms of their physical abilities as well as keeping them entertained for years.
The Big Stuff Adventure Play Set is also more age-appropriate for older kids. While kids of all ages will enjoy the swinging and sliding, the physical abilities required to master the propeller swing and trapeze bar are more appropriate for older children.
And, the strength of the alloy steel and polyethylene will not only make this swing set last longer than its competitors, there also won't be broken parts or chipping paint or wood splinters that can cause hazards for children.
It's also a very compact model when compared to others, taking up less overall space, yet still having all of the different, fun interactive components.
While the cost of the Big Stuff Adventure Play Set is a little higher than some of the other choices, in our humble opinion, it is reflective of the quality, safety, educational benefits, and overall construction of this swing set, giving you more peace of mind when your children are playing with it. And, how do you put a price on that?