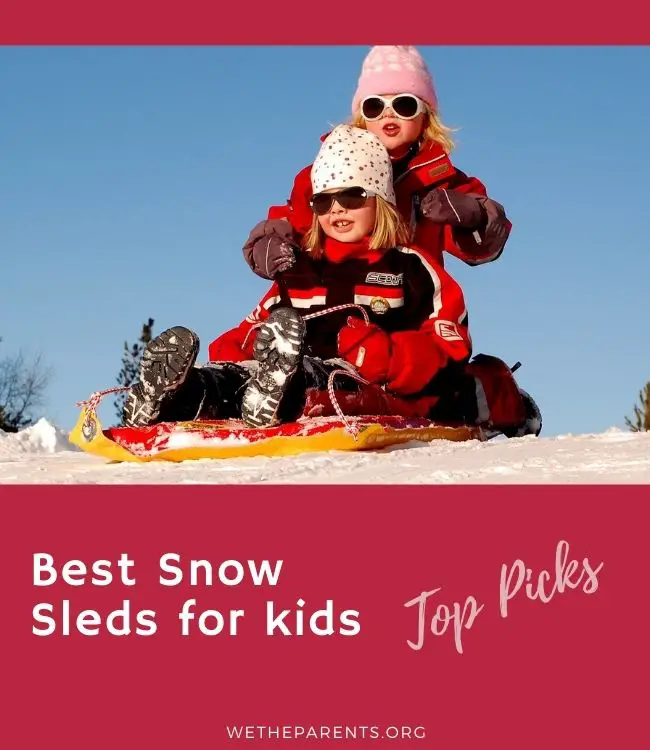 Gone are the days of choosing between a cheap saucer and a flimsy plastic sled with a rope. It should come as no surprise that the sled game has been re-imagined since we were kids, and there are countless new options out there for you and your family to enjoy this winter.
Sledding is a family activity for all ages that can be just as thrilling for adults as it is for kids. Whether you need a foolproof Christmas present or you just want to get your kids outside this winter, we narrowed down the best of each category so your family can make the most of every snow day.
Transparency rocks! When you shop through links on this page, we may earn a small commission.
Ready for some winter fun? Here are the best sleds to buy this holiday season.
#1 Slippery Racer Saucer Disc
Best Saucer for Sledding
If you're looking for a simple saucer that will have your kids flying down their favorite hill, the Slippery Racer Saucer Disc (check price on Amazon) is an excellent and affordable choice. It comes in red, green, and blue, and you can even buy a three pack for the price of two, making it a perfect Christmas present. This 26-inch saucer comes with a one-year warranty and is lightweight for carrying up and down any hill.
This company is a family business run by outdoor enthusiasts who couldn't find the right sled, so they created it. You can rest assured that they put a lot of thought into making a sled that is both flexible and durable. The saucer has two handles for easy gripping and the flex plastic is coated in a unique IceVex cold-resistant treatment, so it won't crack no matter how low the temperatures drop.
What We Love
It's hard to beat that price.
The plastic is both firm and flexible, perfect for sledding.
It has two handles and is even coated with cold-resistant treatment.
It lives up to the name- slippery!
Watch Out For:
Some reviewers did have the handles break.
Check Price on Amazon
#2 Flexible Flyer Snow Slider
Best Wooden Snow Sleds
The Flexible Flyer Snow Slider (check price on Amazon) is a beautiful birch wood sled that may look like a Christmas decoration, but certainly passes the test as a high-speed sled. This product was bought by several nostalgic grandparents and even as a photo shoot prop, but all were impressed with its functionality.
It has a steering bar at the front of the sled that maneuvers very well around tight corners and allows the rider to be in control. The sled picks up speed quickly while sledding, thanks to powder coated steel runners. Its sturdy, solid construction can hold up to 250 pounds and is suitable for children and adults.
This sled is on the expensive side but will undoubtedly last longer than some of the cheaper options out there, and it comes fully assembled. An added bonus? It will look like décor when your kids leave it out in the yard.
What We Love
This is a beautiful, classic wooden sled.
It picks up speed quickly.
It turns well even around sharp corners.
Watch Out For:
There is no rope included to pull your sled, although you could easily add one.
Check Price on Amazon
#3 Sportsstuff Snopedo
Best Inflatable Sleds
This is an affordable inflatable snow sled for kids and adults that can be ridden seated or lying down, while you hold on to both heavy duty handles. While you may be nervous to go the inflatable route (because kids), the Sportsstuff Snopedo tube (check price on Amazon) is made from molded PVC with cold crack additive and even has heat sealed seams.
Many reviewers were impressed with the durability, and found that it withstood horsing around, gravel, and adult use. The tarpaulin bottom is both slick and puncture resistant, and the Snopedo even comes with a repair kit if any holes do occur. It features a safety valve for quick inflation and deflation so you can get out there quickly and store it easily.
What We Love
This inflatable sled has a very durable construction.
Easy to carry up and down hills.
It has a quick inflate and deflate so you're not using up garage space.
Watch Out For:
Some found that this was a little smaller than expected, at 42 inches by 19 inches.
Check Price on Amazon
#4 Sled Legs Snow Sleds
Best Wearable Sleds
You read that right. Wearable snow sleds. No more dragging sleds up and down the hill, just strap on Sled Legs (check price on Amazon), slide down, and run up. We love these for kids that are ready for a step up from sledding, but not yet ready for skiing or snowboarding.
They are made in two sizes, one for adults, and one for kids between four and five feet. The wearable sled is made with a strong plastic exterior and a thick foam interior that is easy on your knees, and the shape of the foam prevents your feet from dragging. Just dig your toes into the snow to stop and control your ride down the hill with your knees. The Velcro on the straps is strong, and riders had a ton of fun with this new way to sled.
What We Love
Kids AND adults had a blast with these.
They are easy on the knees.
These make it easy to control where you're going and to stop yourself.
Watch Out For:
Some people did not like walking uphill in them.
Check Price on Amazon
#5 Slippery Racer Downhill
Best Plastic Sled
This is another stellar product from Slippery Racer (check price on Amazon) made with flexible plastic coated in IceVex cold-resistant treatment. It comes in four different colors and has a rope for easy pulling, as well as lightweight construction.
This kids' snow sled is 48 inches long and has room for two riders. You can ride with your child or they can ride with a sibling or friend, making it even more fun. There are four handles and the flexible body prevents cracking.
This is a straightforward, simple sled updated with plastic that is much more resilient and pliable than your typical plastic sled. The slick plastic will fly down any sledding hill, and many found that they held up to being pulled by a four-wheeler.
What We Love
There's plenty of room for two kids.
It comes with an attached rope for pulling.
Gotta love that flexible plastic.
Watch Out For:
While it is more expensive than some other plastic sleds, the quality speaks for itself.
Check Price on Amazon
#6 Flexible Flyer Baby Pull Sled
Best Sled for Babies
Don't want to wait for your baby to grow up to enjoy your favorite winter activities?
Many moms know the struggle of being left behind with the baby while dad and the kids go enjoy the snowy day. Luckily, the Flexible Flyer Pull Sled (check price on Amazon) will keep your baby or toddler safe and secure as you tow them through a winter wonderland.
This red plastic sled is designed for children up to three years old and 40 pounds and comes with a long pull rope. The high back, adjustable straps with buckle, and wide base make this one of the best sleds for babies. The plastic is crack-resistant, and the seat is padded for comfort.
What We Love
The high back prevents your child from falling over backwards.
The straps and buckle keep your baby safe.
A fun way to enjoy the snow with a baby or toddler.
Watch Out For:
Some parents found it hard to pull in snow that was not packed down.
Check Price on Amazon
#7 Goplus Snow Racer Sled
Best Heavy Duty Sled
Take sledding up a notch (or two) with this iron racing sled that looks like a go kart, complete with a steering wheel and double brakes. The 55-inch Goplus Snow Racer Sled (check price on Amazon) is suitable for adults, teenagers, and children four years and older, with a 225-pound weight capacity.
The iron frame rests on two plastic skis, and the steering wheel is attached to an additional ski at the front for easy steering. The wide seat is comfortable for easy riding, and there is even a pull rope with a carabineer attachment for pulling up hills or mountains.
This sled is durable and built to last in freezing conditions but lightweight enough to pull easily. This exciting racing sled will have you flying down the hill with the security of being able to brake at any time.
What We Love
There is a sturdy iron frame.
This one will be fun for adults and kids.
Brakes!
Watch Out For:
If you're looking for a traditional sled, you'll want to pass on this.
Check Price on Amazon
#8 A-DUDU Snow Tube
Best Inflatable Snow Tube
A-DUDU (check price on Amazon) has updated their heavy-duty inflatable tube to include a two-layer thick bottom that slides faster and lasts longer. This extra layer made from quality PVC has a small hole so that air does not get trapped between the layers.
The tube is 47 inches wide, which is large enough for kids and adults, and has two double enforced handles for pulling and holding on. It can hold up to 500 pounds and is leak-proof and tear resistant.
Basically, this one may just be a kid-proof inflatable tube. The tube has a large inflatable valve with a double locking system that can be inflated in one minute with an air pump. It deflates quickly and has a carry bag for storage after a day tubing with the family. Users agreed that these snow tubes stay fully inflated, are extremely fast, and hold up to heavy use from adults and kids.
What We Love
This snow tube will have you flying downhill.
Quick and easy inflation and deflation.
It's durable enough for a lot of use from kids and adults.
Watch Out For:
There is no clip to pull the tube.
Check Price on Amazon
#9 Zipfy Snow Sled
Best Classic Luge
A luge is a small sled that you can ride lying down or sitting up with your legs outstretched. While you may not make it to the Olympics, this downhill sport is an entertaining way to spend time in the snow. The Zipfy Luge (check price on Amazon) comes in multiple colors and is made for children older than five and comfortable for adults up to 250 pounds.
The lightweight plastic luge has a lever in the center that goes between your legs. Not only does this provide something to hold on to, you can use it to steer very easily while sledding. Riding feet first lets you stop and slow yourself down. This is by far one of the best snow sleds for a wide range of ages, and is comfortable, durable, and a whole lot of fun.
What We Love
The lever allows for easy steering.
The whole family can try out luge sledding.
Does not break or crack.
Watch Out For:
It can sink in deep snow.
Check Price on Amazon
#10 Flexible Flyer Flying Carpet
Best Lightweight Sled
The Flexible Flyer Flying Carpet (check price on Amazon) is one of the best snow sleds for kids for less than $10. This unique roll up design is easy to carry and store, and the flexible material can withstand whatever your kids put it through.
It won't crack or break like typical sleds, and it features two cut out handles for riding and pulling. These kids' sleds are smooth, fast, and a great option for daycares and schools looking for inexpensive sleds for snowy recesses. If you're tired of your child coming in with a cracked plastic sled after a day, but still don't want to spend a lot, check this one out. This snow sled measures 36 inches by 18 inches.
What We Love
Easy roll up design is lightweight and portable.
Perfect for schools, daycares, and backyard fun.
Flexible material won't tear or crack.
Watch Out For:
They may be a little small for adults.
Check Price on Amazon
#12 Toboggan Four Rider Sled
Best for the Whole Family
This 66-inch Toboggan (check price on Amazon) holds four people so that the whole family can ride together. Available in three different colors, this large sled has molded tracking rails to help create the perfect sledding path.
This sled is also marketed as a utility sled for carrying tools and equipment through the snow, so you know it's durable and made to last. It has a rope for easy pulling and a raised edge to help keep you and your kids dry. Its diamond-polished bottom is slick and fast, and it has been tested for both impact and freezing conditions. The sled is surprisingly lightweight despite its huge size.
What We Love
Best snow sleds for hauling, pulling, and sledding.
The molded tracks make great paths.
It's huge!
Watch Out For:
It can be a little hard to turn.
Check Price on Amazon
#13 Derby Kids Steerable
Best With Steering Wheel
The Derby Kids Steerable (check price on Amazon) snow sled is perfect for young kids and toddlers because it lets them feel like they are in control of the ride. There are hand brakes to control the speed and a steering wheel attached to a center track ski so they can turn easily.
There is a rope attached for pulling the sled, with or without your child in it. This sled features a wide seat, space for both feet, and handles to hold on.
The durable, slick plastic with cold-resistant treatment provides a fun and safe sledding experience for your kids. If your child is terrified at the thought of flying headfirst down a hill, this one may be more their speed.
What We Love
There are hand brakes.
This is great for young kids.
It's a comfortable and safe ride.
Check Price on Amazon
The Bottom Line
Our top pick has to be the Slippery Racer Saucer for being a simple, inexpensive sled with flexible plastic that will last you through many snowstorms. Sometimes you just can't beat the basics, especially when they've been redesigned and improved by a great company. It's a reasonably priced and durable sled that the whole family can enjoy this winter, and next! While some winter activities may look a little different this year, sledding is one form of entertainment we can safely count on.