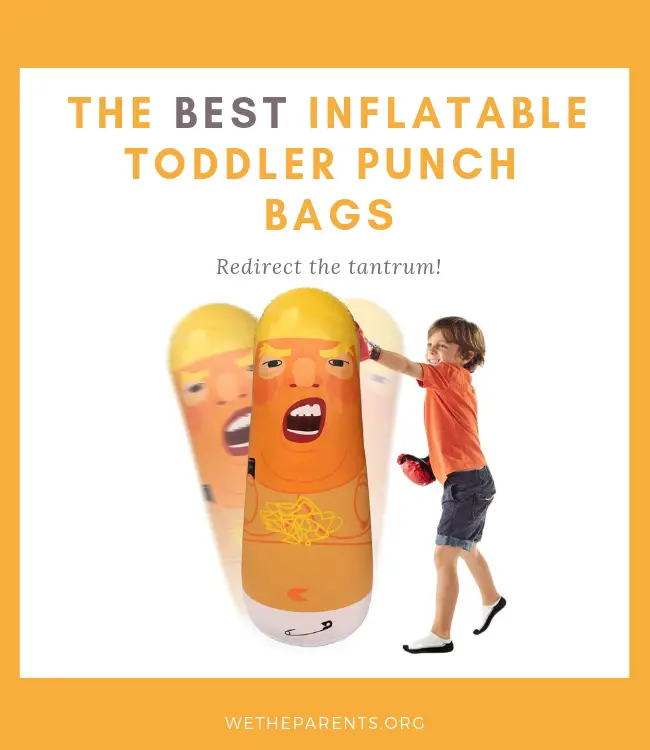 Punching bags for toddlers?
It's a darn good idea! Not only are they a fun way for them to get some exercise, but they can be to let off steam before your toddler reaches tantrum.
So, we got busy and found the five best inflatable punching bags for toddlers. We'll also give you our top pick for the best one.
Best Budget Buy
If you are thinking about testing the waters, no pun intended, with your toddler and an inflatable punching bag, check out this budget-friendly, happy, aqua-blue dolphin with a playful white belly (check price on Amazon). Standing just over three feet tall, it's filled with water on the bottom and air on top. Intex also offers the same design shaped like a fun-loving tiger.
What we like:
We can see out little ones hugging it as much as rough-housing with it.
The price!
Check Price on Amazon
The ToyVelt looks like the real thing (check price on Amazon). They'll love the challenge of a boxing ball on top of a flexible pole with a sturdy base. It even comes with two boxing gloves. So, whether they're perfecting their hand-eye coordination as a toddler, or practicing for a competition as an older child, this set will give them years of playtime.
What we like:
It's recommended for ages three to twelve.
A pump for the ball is included.
Watch out for:
The gloves might not hold tight on small hands.
The assembly instructions can be a little tricky.
Check Price on Amazon
Upgrade Choice
This one can be used for punching or kicking. Standing just over four feet tall, the Wavemaster Kid Kick (check price on Amazon) it's an ideal height for younger children to practice their targeting skills. The base fills with water or sand, allowing about 170 pounds of support.
What we like:
As your child gets older, it's still the right height for kicks.
It's pretty tough. They love to punch and kick it to see if they can get it to move. They can't!
Watch out for:
You might find yourself on your knees giving this one a whack or two.
Check Price on Amazon
Okay, we had to put this one on the list! It's made of durable plastic, can withstand a good beating, and will bounce back for more. And, it looks like Donald Trump (check price on Amazon), down to the golden locks. He might even be wearing a diaper. Even the most staunch Republican can come up with at least one reason to take a swing. It's all good fun, of course.
What we like:
You gotta admit. It's funny!
Watch out for:
Make sure it's all in fun. We don't want to promote bashing.
Check Price on Amazon
This one's pretty cool! It stands about five feet tall, so they'll be able to use it for years, and almost the entire punching bag is a target for them to play with. This Franklin Sports Boxing Bag (check price on Amazon) is inflatable, made out of durable plastic with a soft base that can be filled with water.
Toddlers will love holding onto it, trying to climb it, or just knocking it around. And, it has an electronic target with different skill levels programmed for the kids to aim at. They'll be rewarded with lights and sounds when they hit their goal. It even keeps score!
What we like:
It's soft all over making it good for all ages.
It bounces back every time.
Check Price on Amazon
When we're looking at inflatable punching bags for toddlers, our main focus is on how well they'll interact with it. They're still in the baby stage of development in some ways. They love to cuddle and play with their toys, and bang them around a bit. So, of course, quality is important. Lastly, we want to know how each bag will benefit their development.
Here's what we are thinking about when we look at the various punching bags for toddlers. So, as you are evaluating each one, you can apply your own toddler's specific needs to the individual benefits of each punching bag.
Why Punching Bags are Great for Toddlers
Health Benefits
Playing with punching bags is a great way to burn off some of that excess energy to keep them from bouncing off of the walls. And, as an added bonus, it's great exercise. Their entire body gets in on the action.
Coordination and Physical Conditioning
Physical strength: They're building muscle tone as they are playing.
Balance: They learn balancing and agility skills. It keeps them on their toes!
Stamina: When they set goals with targets and duration, they'll begin to understand stamina and endurance.
Hand-eye coordination: Still in the midst of mastering this concept, aiming for targets on the bag will help.
Redirecting Meltdowns
It happens. Their little minds get overwhelmed, and they sometimes release all of that energy via a tantrum. A punching bag gives them somewhere to direct that energy, providing a more productive outlet to help them relax.
Loads of Fun
The bottom line is, they have to be fun! And, they are! Toddlers are still in their discovery phase and want to interact with everything around them. They especially love it when they get a reaction out of something. An inflatable punching bag will do just that, again and again!
And the Winner Is…
The Franklin Sports Inflatable Electronic Boxing Bag one just hit all the criteria that we were looking for. We can just see a toddler throwing their entire bodies at it. It's the perfect size for them, with soft edges all over, and it will bounce back every time! And, at over five feet tall, they'll be able to play with it for years.
The electronic target that comes with it is just an added bonus. Honestly, we would have picked this bag even without the target. It's more about its size and hitting all of the marks for a toddler's development.
Toddlers will love playing with it. You'll love what it teaches them. They can hug it or bash it around. It's even tough enough for a good kick. And, it will come bouncing back for more every time.