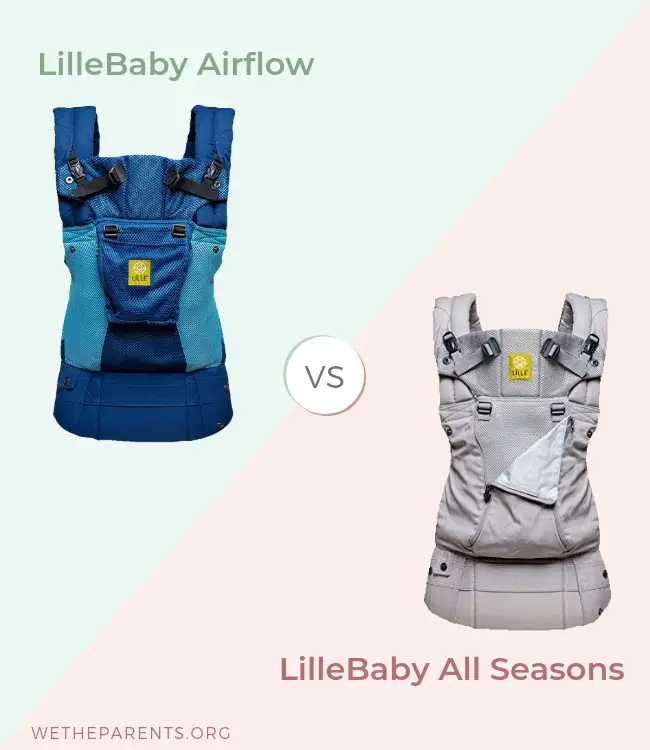 Finding the right baby carrier is a quest to balance features, safety and value. Since I'm a huge gear nerd, I love the chance to dig deep and really compare products to find out who comes out on top.
Wearable carriers are one of our favorite modern parenting trends, but wearing babies has been a part of just about every culture throughout ancient history. There's a good reason for that – it's a comfortable, natural, safe way for you and baby to explore the world together. I took a look at two LILLEbaby carriers, the All Seasons and the Airflow 360, to see how they stack up against each other.
Side by Side Comparison
So what exactly separates these two flagship Lillebaby carriers? Let's take a closer look…
| | Lillebaby All Seasons | Lillebaby Airflow |
| --- | --- | --- |
| Price: | Check price | Check price |
| Our Rating: | 4.75 | 4.5 |
| Weight: | 2.5 lbs | 2.25 lbs |
| Dimensions: | 18.5 x 52 x 4 inches | 18.5 x 52 x 4 inches |
| 360 Positioning: | ✓ | ✓ |
| Color Options: | 22 | 18 |
| Weight Limit: | 7 to 45 lbs | 7 to 45 lbs |
| Material: | Polyester, Cotton | Polyester, Cotton |
| Warranty: | 1 year | 1 year |
| Exterior Fabric: | 100% Cotton | 3D Mesh |
| Lining Fabric: | 3D Mesh | 3D Mesh |
| Machine Washable: | ✓ | ✓ |
Lillebaby All Seasons
(A Quick Overview)
When I had my second child, my life changed completely – duh, right? Somehow, even bracing for it, it was more than I expected. It wasn't just the sleepless nights, it was the hectic days. With a toddler on the loose and a newborn to care for, I was exhausted and overwhelmed. Wearing my baby freed up my hands to care for my toddler, and I didn't feel like we were sacrificing any of that important mommy/baby bonding time.
As long as you're wearing baby safely, a wearable carrier is a game changer. This goes double for carriers like the All Seasons (check price on Amazon), which have zip up temperature control panels to help little ones stay warm or cool off.
Pros
It's ergonomic and offers great lumbar support, which is indispensable during long baby wearing sessions.
It offers six carrying positions – front inward with fetal, infant and toddler settings, front outward, hip and backpack.
It was voted most comfortable baby carrier from newborn to toddler.
It features a headrest, adjustable hood, a zippered pocket plus two other pockets(I love pockets).
It has temperature regulation panels which can easily be zipped up or tucked down to warm up or cool off, because an uncomfortable kid is an unhappy kid.
It was recognized as a Hip Healthy Carrier by the International Hip Dysplasia Institute(improper carriers can lead to hip development problems, so always do your research).
Cons
It's not easy to access the pocket when baby is facing outward.
You might need help snapping the back buckle, not ideal if there's not another adult around.
All the padding to make the carrier extra cozy for baby can make it feel a little bulky for you.
Selected Features
Temperature Regulation Panels
I was really drawn to these as I was looking over this carrier, because my daughter is and always has been very temperature sensitive. From the moment she SCREAMED when we lowered her into an apparently-too-cold first bath, she's liked to be warm, but not too warm. These panels are super convenient, because in a lot of climates, Spring and Fall days can switch between hot and cold pretty quickly. Kids, especially little ones, don't like to be uncomfortable, and being able to get them acclimated with a quick zip is a blessing.
Lumbar Support
Carrying kids around all day is exhausting, and yoga can only do so much if your baby gear isn't designed to support you ergonomically. This can be particularly true when your body is recovering from pregnancy, which can take a few months to a year. It's hard to argue with the lumbar support that got this carrier named the most comfortable. In all 6 positions, wearing baby feels genuinely good – none of the awkward shoulder and lower back strain of ill-fitting carriers that can feel like an overburdened high school backpack.
Versatile Positioning
When you're babywearing, you'll find that being able to switch positions is pretty much essential. Inward facing can be great when baby wants to snuggle, needs to nurse or you're in motion, but outward facing is a lot more convenient during idle times when baby needs something other to focus on than your hair and earrings. Backpack carrying is a great vantage point for baby to take in sights and sounds while giving you a wider range of motion. This carrier offers all 3 positions, plus hip carrying and adjustments for babies as they grow.
What Makes It Better Than the Airflow?
Temperature regulation panels
More color options
LILLEbaby Airflow
(A Quick Overview)
Since we're comparing two carriers made by the same brand, a lot of the features line up in a pretty similar way. The major difference that I've found between these two is the way they regulate baby's temperature. The Airflow (check price on Amazon) is fully constructed of 3D Mesh, a breathable material that's known for being comfortable when it's hot outside but can actually be great during any weather.
During Winter, kids are dressed for the weather and carriers that are TOO warm can be uncomfortable. During hot Summer months, mesh is breathable and perfect for keeping them cool and comfortable. Also, parent fun fact – kids that are too hot are basically little space heaters. When you've got one strapped to your chest or back, chances are you're gonna get a little sweaty too. If you like babywearing during any kind of athletic activity, a mesh carrier like the Airflow might be more your speed.
Pros
It has breathable mesh, which is great for temperature regulation and prevents overheating, especially if you love baby wearing during your workouts(try it, it's fun)
Like other LILLEbaby products, has an ergonomic design and exceptional lumbar support.
It has an extendable soft waist belt that makes the carrier comfortable for wearers of all sizes.
It offers six safe carrying positions for baby while still being a fairly lightweight/not bulky carrier.
Cons
Very small adults may find this carrier difficult to wear securely.
Adjusting between seat sizes can take getting used to.
Selected Features
3D Mesh Construction


This isn't the first time I'm telling you that I love a good babywearing workout, and this carrier is perfect for it. The fact that you can throw it in the washing machine for a quick cleaning is a major bonus, of course. It's both soft and sturdy while providing temperature regulation that can prevent cranky kid meltdowns.

Straps Adjust For Easy Breastfeeding


One of my favorite thing about babywearing is how easy it makes breastfeeding, but the wrong carrier can make it a nightmare. Luckily that isn't the case with either of the LILLEbaby carriers, as both feature adjustable straps to make breastfeeding comfortable and easy for both mom and baby. It's the most natural thing in the world, and it should feel like it – this carrier makes sure you're not readjusting every five seconds to keep baby comfortable.
Great For Larger Adults
Anything that grows with your baby saves you money, a fact new parents discover quickly. I really like that the All Season's carrier doesn't require an insert for infants – the seat can be easily converted as your baby grows, until they reach the upper weight limit of 45 lbs. The seat is ergonomic and is a Hip Healthy Product, letting you feel confident that your baby is being carried safely as well as comfortably.
What Makes It Better Than the All Seasons?
Fits a larger range of wearers
Ideal for athletic babywearing
Which Is Right For You?
I'm the last one in the world to judge – I can only offer my informed opinion. I firmly believe that we should all pick the product that works for us and for our kids. That's what's important, right? In my case, I'd choose the All Seasons (check price on Amazon), which is why I rated it just slightly higher than the Airflow. The temperature regulation panels are really handy during our frigid Winters, and the comfort features set it apart. That said, if you live in a warmer climate, you might prefer the Airflow for its breathable mesh. Now that you're geared up to make an informed decision, you can decide which carrier is the right one for you.