The Micro Maxi Deluxe is a quality, near-legendary, scooter that dominates two different niches in the scooter market.
Firstly, for younger children who are late starters (eg., 5 or 6 years old), the Micro Maxi is a seriously 'deluxe' first scooter. For these lucky kiddos, it's a safe, sturdy, and luxurious way to begin scooting!
Then there's that smaller niche of tweens who, while experienced on scooters, simply love the stability and security of 3-wheels.
Instead of moving up to the arguably faster and more maneuverable 2-wheel scooters, they prefer to stick with 3-wheelers as they grow.
For them, and more tentative riders in general, the Maxi is the perfect companion scooter and could remain their familiar riding experience until they're at least 12.
We hit the local skate park to put the Micro Maxi through its paces and also interviewed a family who has owned and ridden this scooter extensively for over a year.
Read on for an honest, down-to-earth review of the Micro Maxi Deluxe.
At a glance
Our rating: 4.85 out of 5
Best suited for: First-timers aged 5 or 6. Tentative riders who dislike 2 wheel scooters. Or simply elementary-age kids who know and love the 3-wheel riding experience
Scooter type: 3-wheel (extendable) kick scooter
Max rider weight: 110 lbs
Handlebar height: 24″ to 34″ (above deck)
Recommended age: 5 to 12 years
Durability: Strong, lightweight, and engineered for durability (when responsibly ridden)
Price: $$$
What we love:
Riding experience continues seamlessly from smaller 3-wheel scooters, like the Micro Mini Deluxe
Wide footboard (deck) and brake make it safe and easy to balance and stop
The stem is beautifully designed; extending mechanism is smooth and quick
Watch out for:
Costs more than other scooters
Slower and less maneuverable than 2-wheel scooters
Can hold back more confident riders who prefer to ride fast and furious!
Related: The 10 Best Scooters for Kids (2021 Guide & Reviews)
Meet the Battens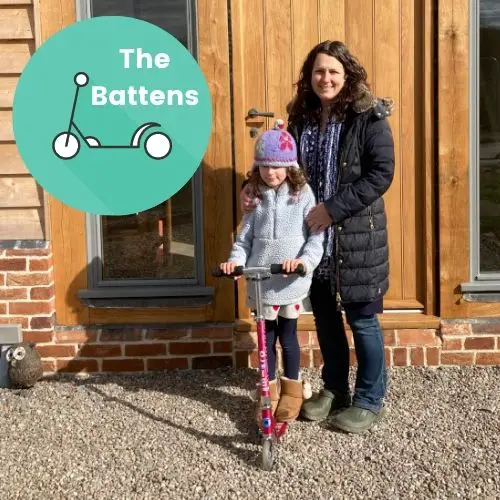 Family: Mama, Papa, and one scoot-crazy 8-year-old girl
Scooter: "Little" Batten is eight. She's been using the Maxi since she was six and loves to ride for long distances while sticking to casual sidewalk jaunts.
Environment: The Battens live in a rural village where riding surfaces are, mainly, sidewalks.
Philosophy: Love the outdoors and dogs. "Why walk when you can scoot – and that includes dog walking!"
Performance & handling (how does it really ride?)
The Micro Maxi handles extremely well. It rides smoothly and the lean-to-steer mechanism is responsive while offering a reassuring amount of resistance.
With two front wheels and a 'wide double' back wheel, the Maxi is a stable scooter that's simple to balance on while either stationary or in motion.
This scooter is perfect for general sidewalk surfing. It handles safely with no sudden surprises.
The Maxi's downside is its wide turning circle and inability to change direction quickly. This is not a fault but, rather, the inherent character of 3-wheel kick scooters.
If your child wants a speedy, fast-turning, ride for a race around the local skate park, then they'll be better off with a 2-wheel scooter such as the Micro Sprite.
Our 8-year-old tester prefers 2-wheel scooters. While testing, she went from a 2-wheel scooter to the 3-wheel Maxi and actually fell off while attempting the tight turns the Maxi is incapable of. Here's what she had to say:
"I didn't like it because is doesn't steer as well as those with two wheels. It would be okay for the path in the park, but not uphill and downhill [the skate park]." (8-year-old tester)
But wait:
"Little" Batten who owns both a 3-wheel Maxi and the 2-wheel Sprite, much prefers the stable and easily balanced Maxi and chooses it every time.
"The Maxi is BRILLIANT! It's easy to maneuver and super-smooth to ride. It folds easily, you can change the handlebar height in seconds; we love the accessories such as the water bottle that we pop up front, etc. There's nothing we don't like about it." – Mama Batten
Because two 8-year-olds can have totally different preferences, you need to know (or guess) what your kid's riding style will be.
Related: Fuzion X-3 Pro Stunt Scooter Review (1 year later)
Compared: Micro Maxi vs Micro Mini

Okay, so officially the Mini is for 2 – 5-year-olds, and the Maxi for 5 – 12s. Arguably, the two shouldn't be compared but, rather, considered as a natural 'first', then 'follow-on' option.
In essence, they both share the same impeccable engineering standards and the ride is similar on both. If your child is the right size to ride both (like our 4-year old tester above), then there's very little difference.
What are the main differences?
Spec
MINI Deluxe
MAXI Delux
Handlebar height
17″ to 25″
24″ to 34″
Scooter weight
4.2 lbs
5.5 lbs
Recommended age
2 to 5 years
5 to 12 years
Foldability
Folding components: None (T-bar removable)
Ease of fold: n/a
Folding components: T-bar folds
Ease of fold: 4/5
Price
$$
$$$
Simply put, if your child is 2 to 4 years, then definitely go for the Mini. If 5 or older, then definitely go for the Maxi (but only if they want a 3-wheel scooter).
There is a gray area though…
If your child is a tall 4-year-old, he'll be comfortable with either. In this case we'd recommend the Maxi, which will grow with them for years to come, rather than the Mini, which they'll soon outgrow.
Durability (does it survive real life?)
After 18-months of owning the Micro Maxi, the Batten family is extremely happy with how it has stood up to heavy riding. It looks in near perfect condition while there have been no faults or breakages.
Here's what Mama Batten had to say:
"It's incredibly durable. We take it everywhere: simply put it in the back of the car, take it here, there, and everywhere. It's lasted really well. I often recommend it to friends." — Mama Batten
A glowing report from a family who bought and used the scooter in a real-life setting.
Sizing (will it fit your kiddo?)
Micro recommends 5 to 12 years. Our family's opinion is that this scooter is fine for most 4-year-olds, while confident riders of 8 and over may feel they've outgrown it as they seek more speed and sharper turning, especially if riding the local skate park. 

Handlebar height: Adjustable up to 24″ to 34″ (measured from the deck). This is a good range that will last many years of growth.
Scooter weight: The scooter weighs 5.5 lbs. compared to the Micro Mini's 4.2 lbs. It's a little heavier, though the extra weight isn't noticed once riding. If anything, it contributes to a more balanced and safe riding experience.
Maximum rider weight: Micro safety tested this scooter up to 110 lbs. We wouldn't recommend anything heavier, though this scooter is very well built and doesn't struggle with 110lbs.
Recommended age: Officially 5 to 12 years, but a tall 4-year-old will be fine. Keen scooting kids may feel they've outgrown it before they reach 12. This depends on your kiddo.
Parts & build
Like all Micro-built scooters, this one is beautifully engineered. Let's take a closer look.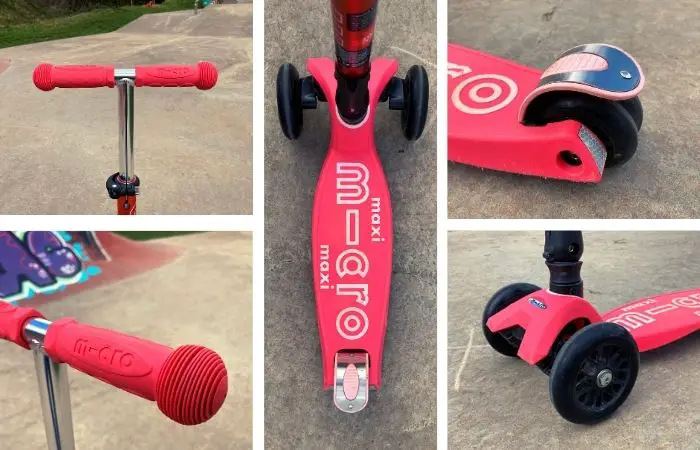 Handlebars + grips: Two rubber handlebar grips give riders a secure grip in any weather. If you need to replace them, there's a choice of five colors: rose, plum, aqua, green, or black.
T-Bar + stem: The one-piece height-adjustable carbon fiber T-bar assembly includes an anodized stem and handlebars — beautiful to behold! The mechanism for raising and lowering is quick and easy for children to operate.
Deck (scooter base): The 13″ x 5.5″ deck is generously large — easy for riders to stand on. Made from silicone, and reinforced by fiberglass for stability and strength, the deck is also flexible and absorbs some vibrations while scooting along. The anti-slip Micro logo gives riders extra traction.
Wheels: Two front wheels and a 'double' back wheel makes the Maxi stable and easy to balance on. The thick polyurethane wheels have bearings for a smooth ride and are non-marking and anti-slip.
Brakes: The rear brake is a nice feature. It is double-width, partially metal-plated, and works with spring and pin assembly. The extra width makes it very easy for inexperienced feet to quickly and safely locate and operate the brake while riding.
Colors: The Micro Maxi Deluxe comes in blue, green, pink, purple, red, yellow, Caribbean blue, petrol green, indigo, black, mint, gray, navy, or volcano gray.
Available accessories:
ScootaSeatz – straps onto the handlebars so that a child's best plush animal or doll will have the thrill of riding along with its owner.
Micro Scooter bell – attaches with an easy-to-use strap to ensure everyone knows the scooter is headed their way.
Micro Scooter light – with a flexible silicone body wraps around the stem or the T-bar. It's water-resistant with LED lights that work in constant, flash, or rapid-flash modes.
Mini bag –

is a tote that goes with your child. Stap it on the T-bar, then carry it with the handles after dismounting.

Scooter heads –

snap on the handle for bringing a fun little animal along for the ride.
Everyday use (from setup to storage)
Assembly takes just a few minutes and no extra tools. Any teen or adult can put this kickboard together safely and quickly.
Folding frame: This happens in three easy steps.

Open the latch at the top of the stem
Press the black button
Raise the 'cuff' at the base of the stem. Now you can fold the stem and T-bar down.
Ease of transport: Once folded, the scooter is light and easily carried by a child or stowed away in your car trunk.
Our verdict
The Micro Maxi Deluxe scooter is a top-line choice for kids in elementary school. It's perfect for children who are still gaining confidence in their scooting but have outgrown their first scooter.
Beautifully engineered, the Maxi is durable, looks great, and rides smoothly and safely. This is an exceptional scooter that we would highly recommend. As a first scooter or follow-on scooter for casual riders, the Maxi is ideal.
Be aware, however, that 3-wheel scooters are inherently less maneuverable than 2 wheelers. Many older kids like to ride 'fast and furious', especially if there's a local skate park.
For the more 'daredevil' riders, the Maxi may not be right — they may feel they've outgrown the "kiddie" 3-wheel riding experience and not want to ride it after they reach 8 or 9-years.
Only you will know your child and make this call. If considering a 2-wheel scooter, then we strongly recommend the Micro Sprite (reviewed here).
(For further options, see our round-up of the best kids' scooters.)