The Fuzion X-3 stunt scooter is one of the most popular entry-level pro scooters, and for good reason: few other scooters pack the quality of build, handling, and performance for the price. The X3 rides beautifully and is robust enough to take some serious damage at the skatepark.
If your tween or teen wants to try their hand at stunt scooting for the first time, then this is a very option. Many other 'budget' stunt scooters are simply unfit for real stunt riding. The X-3 on the other hand can genuinely be used to learn and progress in pro scooting. It isn't a gimmick, but a genuine stunt scooter that will last your child until they are a very serious stunt rider, at which point they'll know exactly what and how to upgrade.
Our family tests all the scooters we review. What's more, to uncover real honest feedback we interview families that have owned each scooter for longer than a year. This way we get honest feedback and can learn whether the scooter survives real-life abuse from children tearing up the sidewalk and skate ramps every day.
Let's dive in and see whether the Fuzion X-3 is the right option for your pro-scooting child.
At a glance
Our rating: 4 out of 5
Best suited to: Entry-level stunt riders who may want to turn their hobby into something more serious
Scooter type: Pro/Stunt scooter
Max rider weight: 220 lbs
Handlebar height: 21.5″ H x 18″ W
Recommended age: 7 years and older
Durability: Very durable. Upgraded materials and construction methods
Price: $
What we love:
Amazing value (best quality for price)
Top-quality, durable aluminum alloy deck
Lightweight 'hollow' deck design
Looks "sick" (according to our teen-tester)
Assembly out of the box takes 2 minutes to tighten 3 bolts
Watch out for:
Grips can be a little small making some tricks difficult
You may want to upgrade the clamp
Paint chips easily
Performance & Handling (How does it truly ride?)

The Fuzion X-3 is smooth to ride and both lightweight and sturdy. Taken together, these qualities mean that a beginner can comfortably learn tricks and progress a long way towards pro-level before they'd need to consider an upgrade from the X-3.
Durability (Does it survive real life?)
"Teen" Smith has been riding the X-3 hard now for 18-months. While the frame is certainly scuffed and scratched, the core components are still in excellent condition and the ride is nearly as good as new.
The grips are one slightly disappointing feature and began to disintegrate fairly quickly. Still perfectly usable, just looked a bit shabby.
Sizing (Will it fit your kiddo?)
Fuzion recommends 7-years and older.

Handlebar height: 21.5″ x 18″
Scooter weight: 6.9 lbs; this is pretty light as pro scooters go – certainly at the price
Maximum rider weight: 220 lbs; enough for almost all teens and even good-sized adults
Recommended age: 7+ years with sufficient height to use handlebar at the lowest level
Parts & Build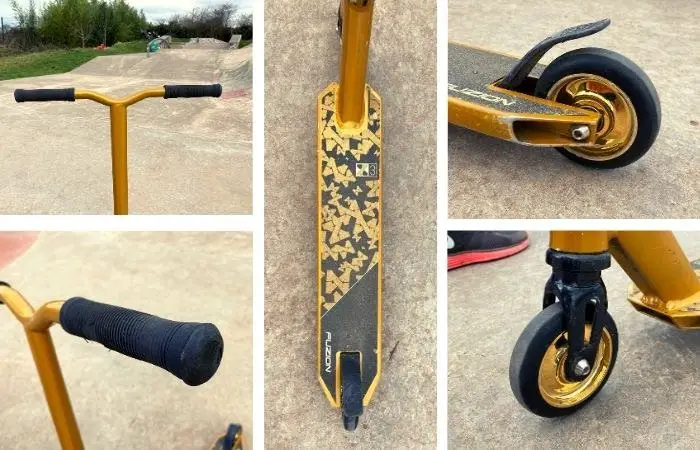 Handlebars + Grips: The steel 18.5″ wide handlebar is a fixed height. This will feel tall for riders younger than 9-years-old.
Replaceable soft composite grips are standard size to fit aluminum handlebars. These aren't the best quality and began to look shabby quite wuickly. The ends of the handlebars feature a plastic cap which helps to protect.
Stem + T-bar: The 'pro-rise' bars are made with high-strength steel. The handlebars sit at 32.5″ tall. All in all, the design feels solid and sturdy.
Deck (foot platform): The deck is 4″ wide for extra stability. It's made of 6061 aluminum in a box-shape concave deck. Equipped with a heavy-duty IHC Compression System, threadless headset, sealed bearings, and Fuzion's 3D Stamped Steel FAZE™ Fork that now fits both 100mm and 110mm wheels.
In short, it's lightweight and strong. Ready to be abused by your child.
Wheels: 100mm thick with a solid core, the wheels are rugged and fast. They are quiet to ride and won't break.
Brake: Noise-free nylon and steel brakes are quick and effective. It is relatively small though and so beginners may find it tricky to locate the brake fast at first.
Colors: The Fuzion X-3 comes in black, blue-green, red, gold, teal, white, and neo-chrome
Accessories: You can accessorize with…
Scooter Stand to park the X-3 safely.
Hex Grips to replace the originals
110 in replacement wheels
Assembly: Unbox the Fuzion X-3 Pro, tighten 3 bolts, then ride.
Our verdict
The Fuzion X-3 Pro Stunt Scooter is a great value entry-level stunt scooter. Unlike some other stunt scooters at this price, it isn't a gimmick – nope, it's the real deal – a genuine pro scooter that will allow real street and skatepark use and will allow a beginner rider to learn and improve their stunt riding to a serious level before the need to upgrade.
The size is manageable for most kids in the stated age range, though it will feel big until kids reach around 9-years-old.