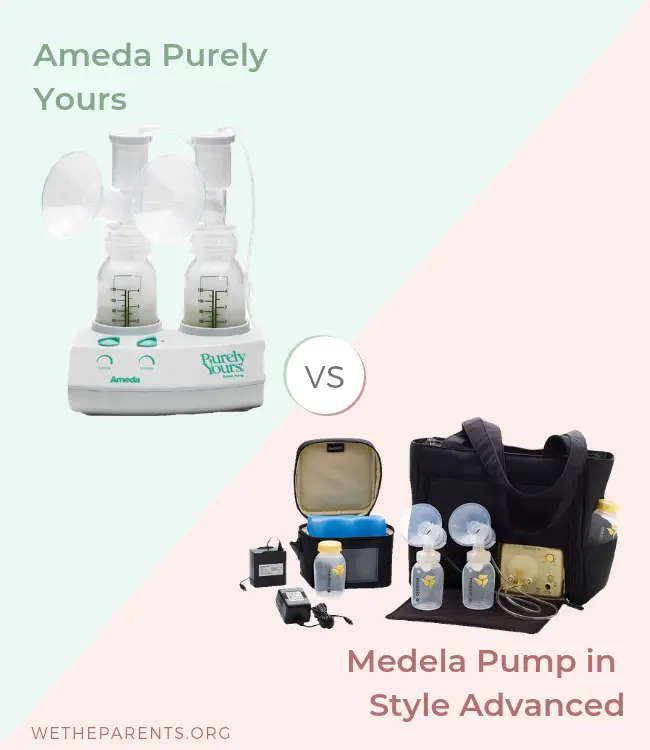 Okay, so you've heard about these two popular pumps, but how does the Ameda's breast pump stack up against the industry-leading Medela Pump In Style?
Can you get away with saving some money? Or will you be sacrificing too much?
In 5-mins you'll know the answer and be informed to make the right buying decision.
Side by Side Comparison
There is a lot that separates these two breast pumps. Let's put them side by side so the difference is clear.
| | Ameda Purely Yours | Medela Pump In Style Advanced |
| --- | --- | --- |
| Price | Check price | Check price |
| Pump Type | Electric single/dual pump | Electric single/dual pump |
| Warranty | 1 year | 1 year |
| Weight | 5.9 lbs. | 7 lbs. |
| Closed System: | Yes | No |
| Breast Shields | No | 24 mm |
| Travel Options | Microfiber shoulder bag | Microfiber On-the-Go tote bag |
| Cooler | Removable cooler bag | Cool'N Carry Milk tote |
| Ice Packs | 3 | 1 |
| Bottles | 4 | 4 |
| Plastic | BPA free | BPA free |
| Battery Pack | 6AA batteries not included | 8AA batteries not included |
| Adaptor | Yes | Yes |
Ameda Purely Yours
(A Quick Overview)
The Ameda Purely Yours (check price on Amazon) is an electric breast pump designed for either single or double pumping. The unit is both portable and lightweight, making it a convenient pump for travel. It also comes with a Cool & Carry tote and ice packs so you can safely store expressed milk.
The system is designed so you can easily adjust the suction and speed. You will be able to make the right adjustments for you, whether you want to be able to express milk quickly or avoid any unnecessary soreness.
The Ameda pump has a Proven Airlock Protection closed system. With this design, breast milk will not come into contact with bacteria, mold, and viruses that can be harmful to your baby. It also includes a Hygiene-kit milk collection system.
Pros
Closed system
Lightweight
Dual Hygiene-kit collection system
Adjustable suction and speed
Cons
Motor is louder then desired
Doesn't include breast shields
Selected Features
A System Built For Better Hygiene
The Ameda Purely Yours is designed with a closed system. It uses the Proven Airlock Protection system and Hygiene-kit milk collection system to further protect your baby from mold, viruses, and other harmful bacteria.
Convenience and Portability
This system conveniently comes with everything necessary for you to pump on the go. It has a travel tote, battery pack, cooler, ice packs, and extra bottles so you can easily pump and store your milk while you're away from your baby.
A Quiet Motor for More Discretion
This model has a quiet motor and pump so you can express breast milk while at work or in the company of others more discreetly. This also comes in handy for those night-time pumping sessions while others are sleeping.
Customizable Options
The Ameda has 32 different customizable options to help make your breast pumping experience as efficient and comfortable as possible. This is convenient for times when your breasts may need a break from becoming sore, or when you are in a time crunch and need to speed things up a little.
What Makes Ameda Purely Yours Better Then Medela Pump In Style Advanced?
The Ameda Purely Yours may be a better choice for you if you are concerned about your little one coming into contact with bacteria, viruses, mold, and other harmful germs. The Ameda has a closed system which creates a barrier and keeps the tubing dry. This means that your breast milk stays pure.
Medela Pump In Style Advanced
(A Quick Overview)
The Medela Pump in Style Advanced (check price on Amazon) is a portable electric breastfeeding system that can be used for either single or double pumping. It has speed and suction adjustments, as well as a Two-Phase Express technology and one-touch let-down, so you can quickly pump when your time is short.
The system has fully customizable settings and accessories so you can adjust your pumping experience to fit your needs. With the single knob vacuum and speed adjustments and PersonalFit Breast Shield sizes, you can make breast pumping time more comfortable to your body.
The removable pump is built into the microfiber bag for easy travel. It also comes equipped with all of your travel needs including a cooler and ice pack, battery pack, and extra bottles that are all tucked conveniently inside the bag.
Pros
Two-phase express technology for fast pumping
Built-in pump can be removed from the bag
Designed for heavy use
Selected Features
Always Ready To Go
The Medela Pump In Style Advanced comes with everything you may need to head out the door, from the microfiber bag with the built-in and removable pump to the bottles and lids. The extra cooler and ice pack will ensure that the precious milk you worked so hard to express will stay cooled until you can safely store it in a refrigerator.
Fast Pumping For Busy Moms
This pump was designed with busy moms in mind. Not only does it allow you to pump both breasts at once, but it also has a Two-Phase Expression with one-touch let-down mode so that you will be able to pump faster than a standard breast pump.
More Milk Expression
The Medela pump is a heavy-duty system that can handle many sessions throughout the day. This may be a relief to you if you are concerned about having enough milk stored away. Breastfeeding and pumping can take its toll on any mom. This system is designed to mimic a baby breastfeeding to ensure that all of your efforts will result in plenty of stored milk.
Plastics Safe From BPA
All parts that come into contact with your breast milk are made of BPA free plastic. BPA plastics have been linked to various health issues and may be harmful to babies.
What Makes Medela Pump In Style Advanced Better Then Ameda Purely Yours?
If you are looking for a pump that can do double duty while also being able to handle heavy duty, then you may want to consider the Medela Pump In Style Advanced over the Ameda Purely Yours. The Medela has special expression and let-down features, as well as speed and suction adjustment options that will enable you to pump several times every day without loss of suction.
Which is Right For You?
The Medela Pump In Style Advanced (check price on Amazon) is by far the better breast pump. Naturally, you pay a premium for this. However, this system was built to handle repeated breast pumping sessions on a daily basis. With its heavy-duty build, portability, and quick milk pumping capabilities, the system makes it difficult to not chose over the Ameda pump. While being able to pump quickly and repeatedly every day is very appealing, I do have some reservations on the fact that it is an open system.
The Ameda Purely Yours (check price on Amazon) may not be able to stand up to the same heavy duty work that the Medela pump can, but it does offer some important assurances with its closed system. If budget is an issue, or you are particularly hygiene conscious, then this is when you might opt for the overall inferior yet closed system Ameda pump.