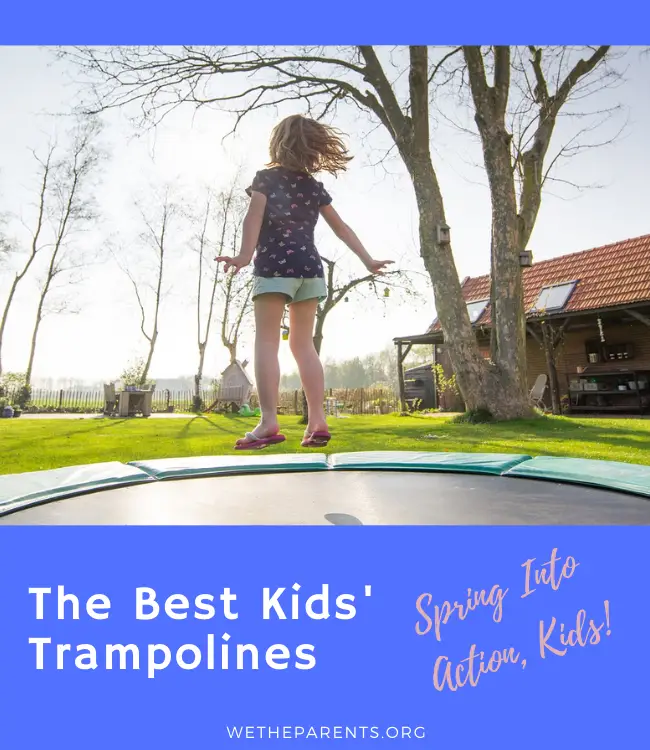 Are your kids stuck in an endless cycle of screentime? If there's any piece of outdoor equipment that's guaranteed to get kids moving, the trampoline is it. These bouncy surfaces are proven to boost kids' core strength, bone density, metabolism, balance coordination, and muscle strength.
According to a recent study by the American Council of Exercise (ACE), regular bouncing sessions also enhance people's levels of endorphins and adrenaline.1Putting Mini-trampolines to the Test
ace-sponsored-research-putting-mini-trampolines-to-the-test/
Plus, they're fun! Without further ado, here are 10 of the safest, bounciest rebounders.
How to Choose the Best Trampoline for Your Kids
With so many trampoline options to choose from, shopping for one can be stressful. Here are helpful factors to consider when you're shopping for a trampoline for kids.
Child's Age
According to the American College of Orthopedic Surgeons, children under the age of 6 should not be allowed on trampolines. With that being said, there are some excellent mini trampolines that are geared toward children between the ages of 3 and 6. If you're committed to providing your children with meaningful guidance and supervision, you should be able to find a safe trampoline that they can grow into.
Size
First, determine how many people you can expect to use your trampoline at once. Then, consider how much space you're willing to devote to your new piece of outdoor equipment. The average outdoor trampoline is 8 to 12 feet in diameter. These sorts of trampolines can accommodate two to three children at one time.
On the other end of the spectrum, exercise trampolines, which are intended for one child, are usually no more than 4 feet in diameter. These trampolines also tend to have low weight limits.
Solo trampolines are excellent for children under the age of 5. Due to their small size and limited risk, they are sometimes even used as classroom learning aids for children with sensory processing and behavioral issues.2Treating Sensory Processing Issues
treating-sensory-processing-issues/
Capacity
The weight capacity of a trampoline will help you determine how many people can jump at the same time. The load limit of a standard outdoor trampoline typically ranges between 250 and 400 pounds. Meanwhile, a single exercise trampoline can usually hold no more than 75 pounds.
Shape
Another feature to take into consideration is the shape of the jumping surface. Round recreational trampolines are easily the most popular. However, square, rectangular, and even hexagonal models are not uncommon. Judging by the laws of physics, rectangular trampolines are bouncier. Of course, these trampolines are usually geared toward professional gymnasts and athletes.
Durability
Are you planning on placing your trampoline outdoors? Make sure to select a jumping device that can withstand constant exposure to the elements. Look for UV-resistant fabrics and rust-resistant galvanized steel. You're going to want your equipment to last years.
Safety Features
While trampolines are lots of fun, they pose a high risk of injury for children. You should be looking out for essential safety features, such as enclosure nets, padded spring covers, pole covers, and handrails. Elements like these prevent children from flying over the edge, pinching their fingers, losing their balance, and having other avoidable accidents.
Springs
Most recreational trampolines get their bounce from metal springs. While these elements are a fundamental part of the trampoline, many manufacturers have made the switch to springless tension systems. These soft fabric bands provide little jumpers with softer landings. Models with springs should boast some sort of shock-absorbing spring cover. Padding such as this can help prevent accidental injuries.
Ease of Assembly
Look for a trampoline that can be assembled with just a few tools, most of which are not power tools. Make sure you have enough adults to complete the project. It usually takes at least two adults to assemble a full-sized trampoline. The process can be time-consuming and complex, though usually well worth it!
Smaller trampolines tend to be less work. Some, like the smarTrike Indoor Activity Center, even come fully assembled.
Transparency rocks! When you shop through links on this page, we may earn a small commission.
Here are 10 of the best trampolines for kids!
#1 Skywalker 40-inch Mini Trampoline
Best Overall
Topping off our list is the Skywalker mini space-themed trampoline (check price on Amazon). The tightly woven polyethylene enclosure net helps put parents' minds at ease. Meanwhile, the 40-inch round bouncing surface will keep your kiddo active come rain or shine. The moon and star emblems and fun space sounds will help little one's imaginations soar as they burn off excess energy.
The trampoline's metal frame is protected by a generous 3-year warranty. Meanwhile, the company stands by its 1-year warranty for all other materials. When winter arrives, you'll be happy to have this durable piece of indoor exercise equipment.
What we love:
This miniature trampoline is perfect for solo exercise sessions.
There are no gaps in the enclosure, as the netting is sewn directly to the trampoline skirt.
The stretch bands suspending this jumping mat are much safer than galvanized metal springs.
Watch out for:
The netting and foam poles are susceptible to wear.
Check Price on Amazon
#2 Sportspower 84-inch trampoline
Best Trampoline for Small Kids
This 84-inch jumping surface is the perfect piece of entry-level jumping equipment for young children. The tightly woven mesh enclosure, zippered door, protection pad, and foam bar pads all help to keep bounce sessions safe. Since this trampoline is just a few inches off the ground, you never have to worry about your little one falling over the edge.
While the Sportspower's 84-inch kiddie trampoline (check price on Amazon) is designed for outdoor use, that's hasn't stopped parents from assembling it inside. The equipment is light and easy to move. Given the fact that this device has a 200-pound load limit, you may be able to fit more than one child on the jumping surface.
What we love:
This heavy-duty trampoline is suitable for outdoor use.
The low-to-the-ground design and padded edges will put your mind at ease.
It's perfect for children between the ages of 3 and 10 years.
It features patent-pending "no-scratch" safety springs.
Watch out for:
Assembly isn't very easy.
Check Price on Amazon
#3 Little Tikes 3-Foot Trampoline
Best Budget Buy
Little Tyke's 3-foot trampoline (check price on Amazon) offers endless fun for children between the ages of 3 and 6. It consists of a super springy jumping pad and a curved handrail. Children can grip the bar to steady themselves as they leap into the air with gusto!
The plastic and metal components are considerably durable. However, we recommend that you keep this piece of equipment inside. The mini trampoline has a 55-pound load limit. While the handlebar does not collapse, it's still easy to relocate this equipment.
What we love:
This miniature jumping surface will help your little one burn off energy when they're stuck indoors.
The verticle support bar offers jumpers an extra sense of stability.
The blue spring keeps little fingers from coming in contact with the springs.
Watch out for:
Some users reported that their spring pads peeled off or shredded after a few jumping sessions.
Check Price on Amazon
#4 Galt Nursery Trampoline
Best Trampoline for Toddlers
Your toddler will get a kick out of this mini tortoise-themed trampoline (check price on Amazon). The bright colors and smiling reptile face make this an irresistible piece of exercise equipment. Meanwhile, the jumping pad offers just enough bounce to enable little kids to work on their coordination and balance.
Safety features include a super grippy handle, non-slip rubber feet, and a padded spring cover. Since the legs and handle are detachable, you'll have no trouble storing nor transporting this pint-sized piece of exercise equipment. The device has a maximum weight capacity of 40 pounds. It can be used both indoors and outdoors.
What we love:
What's not to love about a smiling green tortoise?
The vertical handlebar offers toddlers the extra support they need.
Slip-resistant rubber feet keep this trampoline from slipping and sliding.
Watch out for:
Since there is no safety net, you'll have to keep a close eye on your little one as they bounce about.
Check Price on Amazon
#5 Jump2It Kids Trampoline
Best Mini Trampoline for Kids
The Jump2It mini kids trampoline (check price on Amazon) offers double the fun. The unique oval-shaped jumping surface is divided by a verticle handlebar, enabling two children to jump simultaneously. The handlebar is adjustable. You can lift it as your child grows.
A durable foam handle pad gives children a safe, comfortable place to rest their hands as they bounce. Meanwhile, a protective cover prevents little toes from coming in contact with the trampoline's steel frame and springs.
If you're looking for a toy that encourages your kids to get active, be sure to check out this indoor kids' trampoline.
What we love:
We love that this little trampoline can accommodate a set of siblings or friends.
The blue and green colorway looks marvelous!
The trampoline's unique shape provides each child with a generous jumping surface.
The high-quality steel handlebar grows with your little ones.
Watch out for:
The assembly process takes a bit of mental preparation!
Check Price on Amazon
#6 Skywalker Trampoline
Best Outdoor Trampoline
This 12-foot recreational trampoline from Skywalker (check price on Amazon) is perfect for the whole family. First off, the manufacturer has worked hard to eliminate otherwise common safety issues. For instance, the steel springs are located outside the enclosure net. Moreover, they're springs and poles are covered in padded materials. Meanwhile, the door of the enclosure is reinforced with a dual zipper system and clips.
While parents jump for joy over the over-the-top safety features, kids will celebrate the bonus play features. First off, the jumping pad's sweet spot is super springy. Secondly, the built-in basketball hoop adds an extra layer of excitement.
What we love:
It's a lot of fun to dunk the foam basketball hoop!
Skywalker Trampolines is one of the most trusted trampoline manufacturers in the country.
The 12-foot jumping surface will keep the whole family entertained.
The frame is covered by a generous 3-year warranty.
Watch out for:
Make sure to ask for help when assembling this trampoline. The last few springs tend to give people the most trouble.
Check Price on Amazon
#7 Rectangular Jump Power Trampoline
Best Bouncer and Swing Combo
This intriguing kids' trampoline will satisfy kids' cravings for fun and exercise while simultaneously making them the envy of the neighborhood. This piece of equipment boasts a 72-by-52-inch rectangular jumping surface and a removable swing. Given the over-the-top safety features, which include a towering safety net, foam tubing covers, spring cover, and skirt, we think it's safe to say that this is the ideal perfect trampoline for worrisome caregivers.
We're happy to confirm that the Jump Power Trampoline (check price on Amazon) was easy to assemble, though the instructions could use a bit more clarity. The PE netting and rust-resistant poles can handle extended exposure to the elements, including intense UV rays, rain, and snow. We're happy to recommend this trampoline for indoor AND outdoor use.
We also love the trampoline's unique aesthetic, which consists of bright orange trim and sky-blue dinosaur print. Due to the trampoline's limited size and weight limit, we'd recommend this piece for children between the ages of 3 and 7.
What we love:
We love the cool blue dinosaur print on the trampoline's skirt.
The wear-resistant galvanized steel frame can easily support up to 100 pounds.
The removable swing makes this one of the most versatile and entertaining trampolines for kids.
The trampoline's padded poles offer yet another level of protection.
Watch out for:
Some consumers said the instructions lacked clarity.
Check Price on Amazon
#8 Pure Fun Jumper
Best Bouncer and Swing Combo
The Pure Fun Jumper (check price on Amazon) offers hours of safe, exhilarating indoor bouncing. The miniature trampoline's curved handrail helps the littlest of kids to find their balance. Meanwhile, the cushioned mesh spring pad (which happens to feature the ABCs) keeps little fingers from coming in contact with the trampoline's steel springs.
The square jumping surface on this bouncer is capable of supporting up to 75 pounds. As such, we're happy to recommend this for children ages 3 to 7. If you reside in a place with lengthy winters, you'll be grateful that your child has a safe surface where they can release some of their pent-up energy.
The bright colors and whimsical designs will impress your little one. Go ahead and put this right in your living room. We promise it won't take up too much space.
What we love:
Children can read the ABCs as they jump up and down on the springy jumping pad.
The durable nylon pad and steel springs stay taunt after multiple jumping sessions.
The ergonomically inclined handrail helps kids maintain their balance while burning off extra calories.
Watch out for:
Unfortunately, quite a few parents complained about the assembly process. Gather your best tools and some helping hands before you set to work on this one!
Check Price on Amazon
#9 smarTrike Indoor Activity Center
Best Indoor Trampoline
The smarTrike Indoor Activity Center (check price on Amazon) is a mini two-stage trampoline with a built-in ball pit. Babies as young as 10 months can enjoy this trio of exhilarating activities. Parents will appreciate the fact that this play center is good to go right out of the box. That's right, no assembly required! Moreover, it takes just seconds to convert the ball pit into a trampoline. Plus, it comes with a hundred colorful balls!
These orbs are great tools for teaching little ones their colors and numbers. The removable handlebar makes this a toy that grows with kids. Its generous weight limit makes it an excellent fit for children as old as 5 years.
We love that the mini trampoline comes with a removable handlebar. Rubber grips and slip-resistant leg covers give kids a confidence-building level of stability. The ball pit walls collapse into a handy drawstring storage bag. Therefore, parents have to option to store the pit palls on the underside of the trampoline.
The piece is super compact and foldable! This makes it an excellent contraption to take to grandma's house! Plus, you easily squeeze it in a closet or under the bed when you don't want it obstructing your living space.
What we love:
This collapsible play center offers plenty of fun without eating into your storage space.
The covert ball pit and included balls make this a surprisingly versatile play center.
This is a perfect piece of indoor exercise equipment for children that are 10 months to 5 years old. You can even remove the handlebar once children build up enough confidence to jump without assistance!
Watch out for:
There are numerous reports of the rubber leg booties falling off during transportation.
Check Price on Amazon
#10 JINS & VICO Trampoline
Best Trampoline for Multiple Kids
The 10-foot Jins & Vico (check price on Amazon) serves up fun for the whole family. The galvanized steel frame consists of four U-shaped legs with eight balanced contact points and reinforced T sockets. Thanks to the 60 durable metal springs and stretchy PP (polypropylene) bounce pad, jumpers can get plenty of air on this trampoline.
With a 661-pound weight capacity, this jumping surface can easily and safely accommodate three to four children. Plus, the jumping pad is reinforced with all sorts of safety features, including EPS (expanded polystyrene) cotton pole coverings, a durable spring cover pad, a tightly woven enclosure net, and a zippered enclosure opening. It also comes with a ladder, which means mom and dad don't have to lift every kid onto the trampoline surface.
The U-shaped support poles don't budge under the pressure of multiple jumpers. The spacious jumping pad is the perfect place for aerial acrobatics and team-building games.
Overall, this is an excellent recreational trampoline for families with multiple children or frequent visitors. As with most full-sized recreational trampolines, the Jins & Vico assembly process can be a bit daunting. Of course, we assure you that this one is well worth the trouble. If you're not happy with your purchase, you can always fall back on the product's 12-month warranty.
What we love:
This round trampoline's springy jumping pad will keep your kids entertained for hours.
The safety net and padded spring cover are welcome safety features. Plus, consumers report that they hold up as expected.
With the generous 661-pound weight limit, you don't have fret every time your kids have visitors that want to bounce.
The safety net features a zipper closure for added assurance.
Watch out for:
Some consumers were taken aback by the weight of the packaged trampoline before assembly. You'll need an extra hand or two during assembly!
Check Price on Amazon
Trampoline FAQ
Are trampolines healthy?
While most children think of trampolines as toys, regular rebounding has plenty of proven benefits.3THE SCIENCE BEHIND TRAMPOLINING AND HOW IT IMPROVES HEALTH
the-science-behind-trampolining-and-how-it-improves-health/
Researchers have found that regular trampoline sessions can strengthen bone mass, increase muscle mass, and even reduce a person's risk of cancer.
Are trampolines safe for toddlers?
According to the American Academy of Orthopaedic Surgeons, children under the age of 6 should not use trampolines.4Trampolines and Trampoline Safety
the-science-behind-trampolining-and-how-it-improves-health/ If you're shopping for a child under the age of 5, you're better off getting a miniature trampoline.
Which trampolines are the bounciest?
It's the consistency of the jumping mats and springs that determine a trampoline's bounciness. However, rectangular jumping surfaces also tend to give jumpers more lift.
Can trampolines be left out during the winter?
If a trampoline is designated for outdoor use, it should be equipped to handle rain, sleet, and snow. That being said, heavy snow and ice buildup can jeopardize a jumping surface. Be sure to clear your trampoline off after a storm.
How can I be sure my trampoline is safe?
Opt for a trampoline with a tight enclosure and plenty of thick padding. Other than that, be sure to observe the manufacturer's use guidelines. Do not exceed a trampoline's suggested load capacity.
And the Winner is…
While we're quite fond of all of our selections, the Skywalker Mini Trampoline (check price on Amazon)has to be our favorite trampoline for kids. This scaled-down piece of jumping equipment offers kids the opportunity to build their leg muscles without leaving the house. Plus, it's got plenty of safety features to please weary parents. Of course, the Little Tikes 3-foot Trampoline is also a steal.