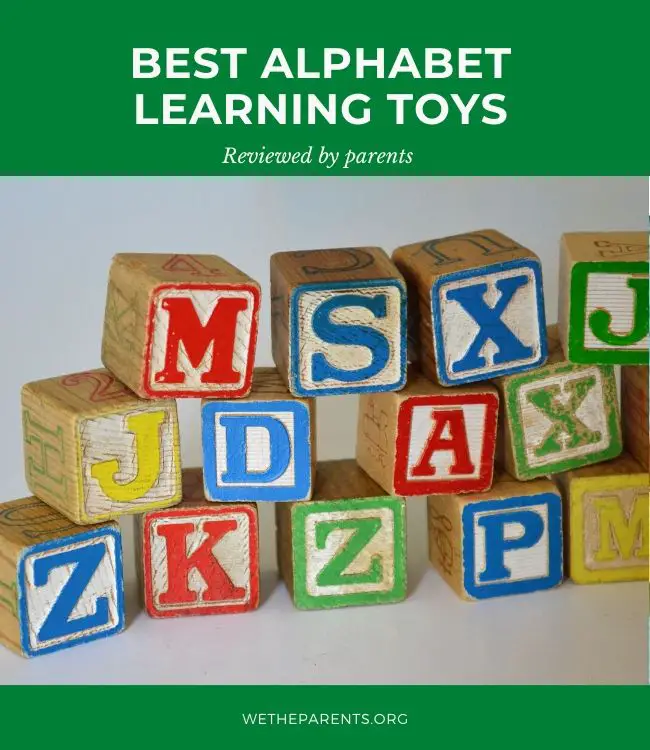 The first step in your child's journey toward reading and writing is learning their ABC's, and one of the most effective ways to teach them is with teaching toys that make playtime fun as well as educational.
The alphabet has been incorporated into all kinds of children's toys, from classic building blocks to puzzles and electronic picks, so parents have a plethora to choose from — the most beneficial toys, however, incorporate other developmental tasks as well.
If you're wondering how to pick a great toy that covers them from A to Z, don't worry! We've spelled it out for you, and reviewed some of the best alphabet learning toys for your little one. Read on!
Editor's Choice
The VTech Touch & Learn Activity Desk
A toy that can inspire kids to learn, imagine, and create is what's in store when they sit down at this deluxe activity desk.
View on Amazon
Parents Guide
How do I choose the right alphabet toys for my child?
Safety:

Whenever you're choosing toys or gear for your kids, safety should be the first consideration. As alphabet toys are usually for kids under three, it's important to avoid any toys that are choking hazards — crafty kits with alphabet beads and decorative nursery items that feature the alphabet shouldn't double as toys for little ones, as they're often simply not safe.

Durability:

Although we'd like to image that our toddlers will spend the majority of their time with their alphabet toys sitting in quiet contemplation, the truth is that they'll get banged around, tossed, shoved, stacked, and toted around just like the rest of their toy collection. That means, as always, choosing toys that can stand up to their roughhousing is important; returns and rebuys aren't fun for anyone, so get a sturdy pick the first time.

Additional developmental benefits:

As we've established, there are all kinds of toys, books, and teaching tools for alphabet learning, but some are more dynamic than others. Picks like blocks that can be used for building and stacking and which incorporate other visual elements like numbers, colors, and objects work as teaching tools on multiple levels, making them some of the best alphabet learning toys available.
At what age should my child begin learning the alphabet? What milestones should parents be on the lookout for?
Although most children begin being able to identify some letters around age two, it will take several years for them to fully master the alphabet. Typically, by age five, children can recite the alphabet from start to finish. Playing with alphabet toys and sharing reading time with adults can help children to better grasp the alphabet and prepare them for reading independently. Here are some milestones to watch for:
By age three, many children can identify some letters on sight and match the sound a letter makes to its written image
Between three and four, children generally begin writing letters with guidance, especially those associated with their name, and familiar phrases like "mommy" "daddy" and "I love you"
By age 5, most children can write all of the letters of the alphabet, but do not yet understand writing in case; they can also write some simple words, and even tell very short stories (though they may not be fully clear)
Why are alphabet toys an important developmental tool for young children?
In order to learn to read and write, children must first master the alphabet, and it's best that they start learning before they enter preschool or kindergarten. Their learning style and attention span demands toys that they can enjoy in short bursts and that captivate their attention with sensory stimulation like bright colors and satisfying textures — a pen and paper simply won't do to teach a toddler the alphabet, as it won't hold their interest.
Children need to be engaged on their level; they're in search of play, they need stimulus, their focus is limited, but they genuinely love to learn and please us with their accomplishments. When we provide alphabet toys that not only provide opportunities to learn their ABCs but to play and reap other developmental benefits, we can feel confident that they're gaining age-appropriate knowledge that will put them on track for scholastic success.
Transparency rocks! When you shop through links on this page, we may earn a small commission.
#1 The VTech Touch & Learn Activity Desk
Editors Choice
Vtech is all about combining technology with kid-friendly learning that's not overstimulating, and they check all the boxes with this Deluxe Touch & Learn Activity Desk (check price on Amazon) that goes far beyond just teaching the ABCs. The desk can transform into a chalkboard or easel, and even has a side station for storing their art supplies when they're not in use.
Kids can switch between exploring five activity pages, one of which prompts them through tracing letters, numbers, and basic shapes as well as paring letters with like-named objects like apple, book, cat, and others.
They'll learn over 100 new vocabulary words, work on more than 20 educational activities, and sing and hum along with an equal number of tunes and melodies. Parents should note that this powerhouse desk is powered by 4 AA batteries, which aren't included.
What We Love: It's an interactive toy devoted exclusively to learning, with alphabet, number, color, and shape lessons as well as new vocabulary words to master
Check Price on Amazon
#2 The LEGO DUPLO Play Set
Upgrade Choice
There's a lot to love about this alphabet-themed DUPLO set, which is an ideal pick for engaging hands-on interest in young learners. The LEGO DUPLO Play Set (check price on Amazon) encourage small motor development, spatial reasoning, problem solving, and creative play, plus they can be combined with other bricks and sets in the play system to create a whole world of fun for young builders.
This set combines a block for every letter of the alphabet with a buildable house front with two opening windows, a movable wheeled cart, and DUPLO child and cat figures that are perfect for storytelling play.
What We Love: Building their own creations while they learn is made easy by the blocks' simple connectors, and they're a perfect toy for facilitating early imaginative play
Watch Out For: All the letters are capital, except the I, which is lower case — this isn't terrible but it's definitely unusual
Check Price on Amazon
#3 The Chicka Chicka Boom Boom
Best Budget Buy
When it comes to learning the alphabet and early language concepts, not much beats regularly reading with your child as a teaching tool. Chicka Chicka Boom Boom (check price on Amazon) is a classic alphabet learning book that many parents likely recall from their own childhoods. In the Caldecott award-winning book, all of the letters of the alphabet are in a hurry to make their way up the colorfully-illustrated coconut tree.
Rhythm and rhyme captivate children as they read through the contagiously memorable text with parents, which makes recalling letters by name and in order easier with repeated reading.
What We Love: Reading with your kids is important to their language development, and this is a classic book for alphabet memorization
Check Price on Amazon
Best wooden alphabet Toy
In the 1400s, Johannes Gutenberg invented movable type, the technology that facilitated the printing press and made books accessible to the masses. A similar, though wooden, Montessori Movable Alphabet (check price on Amazon) is seen here in a classic Montessori toy that encourages children to learn consonant and vowel sounds and then assemble words with these sturdy, colorful letters. The set includes five of each consonant as well as ten of each vowel, so they can build multiple words at once. It's a good toy for hands-on learning, letting children observe each letter independently and experiment with changing words by adding and eliminating letters.
What We Love: It's a unique, well-crafted, Montessori-supported toy that focuses exclusively on alphabet learning
Watch Out For:All of the included letters are lower case, so they can't learn capital letters with this toy
Check Price on Amazon
#5 The Melissa & Doug Self-Correcting Alphabet Puzzles
We think the self-correcting Alphabet Letter Puzzle (check price on Amazon) from Melissa & Doug is a great example of a well-rounded alphabet teaching toy. It combines large, legible upper and lower case letters with same-letter objects (a for apple, b for butterfly), adding in bright solid colors for color memorization. For even more developmental benefit, each letter/color and object combo is broken into a two piece puzzle with unique connecting pegs. This means that only like pieces can be matched, giving children a clear goal to work towards. Assembling the pieces is great for their critical thinking abilities and small motor skills, and the toy is ideal for teaching tots about their ABCs, colors, and common words.
What We Love: It's a triple threat, combining ABC, color, and word learning with small motor skill development and opportunities to develop critical thinking
Check Price on Amazon
#6 The Educational Insights Alphabet Beanbags
This is an alphabet toy that thinks outside the box and gets learning in the bag. Alphabet Bean Bags (check price on Amazon) are cheerful yellow square toys made of washable felt. There's 26 bean bags, one for every letter of the alphabet, with an upper case letter on one side and its lower case partner on the reverse. Consonants and vowels are easily identifiable through the toy's color coding system, with vowels in red and consonants in blue. The bean bags can be used to play games that incorporate both physical and mental elements, and tossing and catching them is an age-appropriate exercise that's good for their gross motor skill development.
What We Love: Even though these are for alphabet learning, they're not just a toy for sitting still; they're durable enough to be tossed around, can be incorporated into physical learning games, and are machine washable
Check Price on Amazon
#7 The Learning Resources Alphabet Soup Toy
The letters in this cute little soup bowl might not be edible, but they're certainly educational, offering kids opportunities to improve their letter recognition, sorting abilities, and fine motor skills. The Learning Resources Alphabet Soup (check price on Amazon) includes a white plastic bowl rimmed with colorful polka dots, a large-handled "spoon" that's ideal for small hands, and 26 letters in red, green, pink, yellow, and blue. They can build words, sort the pieces by color, identify letters by shape, and improve their memory and recollection skills while playing with this quirky, fun toy — parents should make sure it doesn't sneak its way into the play kitchen, though, as the 1″ letters are choking hazards for kids under 3.
What We Love: It's a quirky-but-highly-functional spin on traditional alphabet toys, also offering opportunities for kids to improve their small motor skills, color identification, and sorting abilities
Watch Out For:The 1″ letters are choking hazards for kids under age 3
Check Price on Amazon
#8 The Boley Literate Dinos
These colorful, wide-eyed dinos aren't just a fun addition to creative play, they're also an alphabet puzzle that stimulates critical thinking and can function as a color-teaching and sorting tool. The Boley Literate Dinos (check price on Amazon) are a 26-piece set, with each dinosaur separating at the middle for a total of 56 pieces. The front of each dinosaur features a capital letter, while the rear features a matching lower case letter. The pieces are easy for toddlers to take apart and put together, which is great for their small motor skill development.
They'll use problem solving and color and letter identifying skills to figure out which pieces go together with this safe set, which is an ideal first alphabet learning toy — even when the dinos are separated, the pieces don't pose a choking hazard.
What We Love: The cute dinos make a fun addition to toddler pretend play, and they can practice sorting, color and letter identification, and small motor skills
Watch Out For:It's not a great pick for spelling out words, making it better as an early teaching tool
Check Price on Amazon
#9 The ProSource Alphabet & Numbers Play Mat
Soft, squishy, and colorful, foam mats create a comfortable place for kids to play — when they're designed as puzzles, like the ProSource Alphabet & Numbers Play Mat (check price on Amazon), they also stimulate problem solving skills and encourage small and gross motor development. This big foam puzzle play mat features letters from A to Z and numbers from 0 through 9 in a variety of bright colors. Each individual letter or number tile in the puzzle mat can be removed from its square, letting your toddler focus on the shape of letters and begin to build words easily. The mat also features 24 border pieces which snap easily into the perimeter of the mat's outer tiles, bringing it to a full 6′ x 6′ in use.
What We Love: It's not just a safe and comfortable play mat, it also has removable letters for teaching the alphabet, encourages gross and fine motor skill use, and promotes color and number identification in addition
Watch Out For:There are no lower case letters on the mat
Check Price on Amazon
#10 The Melissa & Doug Classic ABC Wooden Block Cart
Alphabet Blocks (check price on Amazon) are an iconic childhood toy for good reason, providing natural opportunities for teaching letters and words as well as facilitating play that benefits toddlers' fine motor skills. Parents can count on Melissa & Doug, who are known for their age-appropriate, developmentally beneficial toys that eschew overstimulation and electronic features in favor of prompting independent, creative play that promotes cognitive development, and this wheeled wooden cart and block combo fits the bill.
The blocks, which feature a colored, embossed letter on one side, are also decorated with the same outlined letter as well as familiar objects to identify. The blocks store neatly in the natural wood cart, which has pinch-free wheels and a pull string that makes it safe and easy for tots to improve their gross motor skills.
What We Love: In addition to being an excellent toy for teaching the alphabet, these blocks and their storage cart also encourage fine and gross motor skill improvements
Check Price on Amazon
#11 The Fisher-Price Stack 'n Learn Alphabet Blocks
While alphabet blocks are a good teaching tool that's also fun to play with, parents and kids are all too familiar with how easily a towering creation can come toppling to the floor. This can be frustrating for little ones, and these easy Stack 'n Learn Alphabet Blocks (check price on Amazon) from Fisher-Price tackle the quandary quite neatly, adding connector elements on the tops and bottoms of blocks to allow them to attach and detach easily and stand vertically with less vulnerability to toppling. Brightly colored in rainbow hues, the blocks each feature a letter of the alphabet and an object that begins with that letter, ranging from apple to zebra. Kids can stack, spell, sort, and learn with this set, which also features colorful divider blocks and a chunky Little People dog figurine which can attach to a block.
What We Love: Unlike regular alphabet block sets, they won't topple over quite as easily, and they can maintain a stack if they do
What We Love: The balancing that traditional alphabet blocks encourage is an aspect of small motor development, and the addition of connectors removes it from the equation
Check Price on Amazon
#12 The Melissa & Doug Alphabet Nesting and Stacking Blocks
Who says alphabet blocks have to be business as usual? This unique set of cardboard Nesting and Stacking Blocks from Melissa and Doug (check price on Amazon) features 10 blocks, ranging from large to small. They incorporate the entire alphabet as well as vivid, detailed illustrations of objects and scenes that are familiar to toddlers. They're a good pick for helping tots improve letter and word recognition, practicing sorting, and exercising their developing fine motor capabilities. All the blocks can nest inside one another to store in a cube, so they take up very little space, and their cardboard construction is durable and can withstand taking part in many tumbling towers.
What We Love: They're a great twist on traditional alphabet blocks, adding a spatial reasoning element and bright illustrations for extra learning opportunities
What We Love: There's not a block for every letter, so this set can't be used for making words
Check Price on Amazon
#13 The LeapFrog My Own Leaptop
With this pocket-sized pick, kids can improve their letter recognition, engage in creative play, and learn about new animals. The My Own Leaptop from LeapFrog (check price on Amazon) can even spell out your child's name once you've customized it to do so, letting them repeat the sequence, examine the letters, and practice the sounds. They'll hear over 15 songs and melodies, learn about animal names, and, of course, study the alphabet from A to Z on the portable toy, which has a handle that makes it easy for them to tote from place to place. They can also check and send pretend 'emails' with one of the laptop's features, making it a fun element in their imaginative play.
What We Love: They can learn the alphabet, listen to songs and music, and even see their own name spelled out once parents have customized the device
Check Price on Amazon
And Our Winner is…
A toy that can inspire kids to learn, imagine, and create is what's in store when they sit down at this Deluxe Touch and Learn Activity Desk from VTech (check price on Amazon). It is packed with developmental opportunities disguised as fun games and follow-along activities that are easy for 3 – 4 year olds to grasp. We especially love the personalization element — you can program your child's name into the device, and they can see it spelled out on demand, learning to recognize and say the letters.