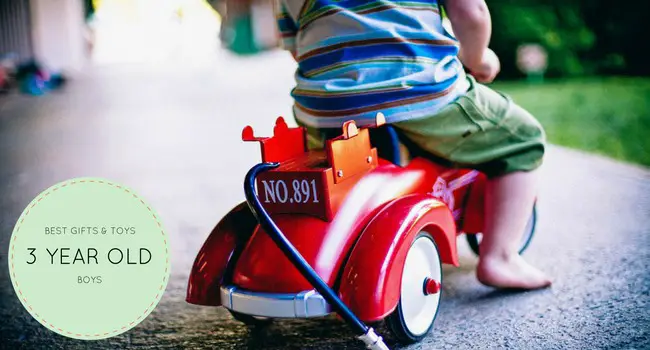 On the hunt for the most appropriate gift or toy for a 3 year old boy? You've come to the right place. We are parents that get nerdy about research and testing. We also take on board advice from the American Academy of Pediatrics and the World Health Organisation, and so we're pretty confident that the toys on our list will be just right.
Your little man is (hopefully) about to move beyond the 'terrible twos'. Phew! He is now entering a magical phase of life where fantasy and imagination take hold. Finding the best toys for 3 year olds is all about nurturing this imagination whilst providing a fun challenge for their increasingly skilled hands and fingers.
It's not just toddler girls who are into kitchens. Nope! At this age, boys haven't yet developed their aversion to housework, so he'll love this wooden toy kitchen (check price on Amazon).
Melissa & Doug have made this kitchen easy to assemble for us parents. And, once up, it's big enough for multiple kids to play at once. The kitchen includes an oven with turnable dials, stove, microwave with a spinning plate, sink, grocery checklist, refrigerator with working ice dispenser, freezer, and lots of cupboards and draws for storage… phew!
Why He'll Love It: At this age, kids love to imitate, so he'll have a blast copying mom and dad whilst cooking his make-believe meals!
Check Price on Amazon
Add to Amazon cart and decide later »
The Original AirFort by Digital Camo (check price on Amazon) lets you create an instant fort for your kids. It inflates within 30 seconds and will have your kids squealing with excitement as they watch in anticipation. The AirFort is lightweight, at only 24 ounces, and has a durable fabric, so you can take on the road when visiting Grandmas or throwing a party.
The fan is NOT included, but if you have access to a standard household fan and power, then you can erect the fort anywhere, making for hours of fun for your kids.
Why He'll Love It: No more sheets and chairs which keep falling over and causing frustration. The AirFort is an awesome playspace in seconds.
Check Price on Amazon
Add to Amazon cart and decide later »
Your kiddo can work on his fine motor skills as he loads his little cars onto this Melissa & Doug Carrier Truck (check price on Amazon). With a ramp that is easy to fold up and down, he can "drive" the vehicles into their places on the hauler and deliver them to their destinations.
This is a great toy for creative play, and can also be used to work on those color recognition skills.
Why He'll Love It: The vibrant hues will instantly attract a toddler, and the toy itself is great for free play.
Check Price on Amazon
Add to Amazon cart and decide later »
This fabulous dragon is BIG! And, don't be fooled by the older kid in the picture opposite – this dragon will be a smash hit with toddlers. Made by Melissa & Doug, this giant plush animal toy (check price on Amazon) is good quality and sturdy. It'll dominate your kid's room in a lovely, magical way. He'll never forget it and it'll probably turn into his best friend.
Why He'll Love Them: It's huge and cuddly. Heck! he can even ride on it.
Check Price on Amazon
Add to Amazon cart and decide later »
3 year olds live in a world of wonder. This fabulous wooden playhouse (check price on Amazon) is perfect for nurturing their imagination and developing their fine motor skills.
I hesitate to use the term "dolls house" because, sadly, too often, these playhouses are aimed at girls and boys miss out. This one is very different. Hape has designed it beautifully to be very gender neutral. It'll fit just as well in a boy's room as a girl's. (Not that he cares, but it means that parents can relax without worrying about Grandpa making comments about "girls toys"!)
With carefully crafted rooms and accessories, the Hape Wooden Playhouse will encourage imaginative role play. It is easily assembled and is finished with non-toxic materials.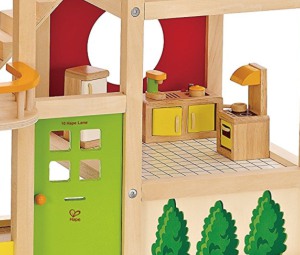 Why He'll Love It: It is built in a clever way that allows easy access to all rooms. Perfect for careful, quiet play… or for when the dinosaurs want to attack!
Check Price on Amazon
Add to Amazon cart and decide later »
The Kids First Science Laboratory Kit (check price on Amazon) will spark an interest in the sciences at an early age. It comes with carefully crafted tools and well thought-through experiments that are easy for small 3-year-olds.
Kids will enjoy 24 tools and 10 experiment cards, and parents will appreciate the full-color parent guide. All in all, this Kids Firsts science kit is the perfect hands-on introduction to STEM subjects.
Why He'll Love It: The kit boasts a variety of safe and appropriate tools that allow him to experiment and be creative.
Check Price on Amazon
Add to Amazon cart and decide later »
If you have a little boy who loves tools, he'll love this toy. By using the wrench, power drill, and screwdriver to place the colored "bolts" in the plastic frame, he'll advance his fine motor skills, hand-eye coordination, and color recognition abilities.
While it can be a bit tedious to pack up the 120 included "bolts" once playtime is over, the Design & Drill Activity Center (check price on Amazon) toy has many developmental benefits.
Why He'll Love It: Your boy will love being able to emulate his handy Mom and Dad by having his very own toolset.
Check Price on Amazon
Add to Amazon cart and decide later »
Whether your boy wants to play with this on land, in the bath, or in the pool, he can improve his motor skills and his object recognition abilities. There are several action figure accessories included and, when playtime is over, they fit neatly into the ship's storage space.
This PLAYMOBIL My Take Along Ship (check price on Amazon) does not have a built-in drain to let out the water it takes on, so be sure to clean it after use to prevent mold growth.
Why He'll Love It: With accessories like fish, people, and a whale included, your son can let his imagination run wild.
Check Price on Amazon
Add to Amazon cart and decide later »
You can give your boy his own little space with this tent (check price on Amazon). Since it hangs from the ceiling, draping to the floor, you don't have to worry about weight limits; you can even join him inside for a good old-fashioned story time! Please note that this product doesn't come with the needed hardware to hang it up.
Why He'll Love It: The padded mat provides a comfortable seat, and the tent flaps can be closed for extra privacy.
Check Price on Amazon
Add to Amazon cart and decide later »
Your little boy can look at anything through a plastic lens, which magnifies up to 8 times. There aren't any slides required; he simply has to put an object on the base and he is ready to go.
He'll get some practice with his motor skills as he adjusts the knobs for focus and will get to explore a whole new world hidden in everyday objects.
Why He'll Love It: He can pick virtually any object he wants and have a great learning experience either with you or independently.
Check Price on Amazon
Add to Amazon cart and decide later »
These creative stackable blocks (check price on Amazon) can help your boy develop his critical thinking skills, color recognition, and fine motor skills. You can use them during organized play by creating a puzzle, or let your boy enjoy a free building experience.
Since the stains are water-based and non-toxic, and the wood comes has been sustainably harvested, this toy is both kid and eco-friendly.
Why He'll Love It: Whether your boy is in the mood to build something of his own creation, or he prefers to have some puzzle-solving fun, these blocks provide an engaging creative outlet.
Check Price on Amazon
Add to Amazon cart and decide later »
I know what you're thinking… but really it's not that expensive. This miniature ride-on Porsche Macan (check price on Amazon) is remarkably true to its real-life counterpart, and provided you've got enough space for this to trundle around, then your three-year-old will love cruising around in it. With a top speed of 2.5mph, it's fast enough to keep a toddler excited whilst still being safe.
It features realistic engine noises and horn, plus it's got genuine LED headlights. Super-cool, eh!
Why He'll Love It: The best Power Wheels and electric ride-on toys are guaranteed to have toddlers mesmerized.
Check Price on Amazon
Add to Amazon cart and decide later »
This walkie talkie (check price on Amazon) has a 3-mile range and is relatively easy for young kids. We've chosen this because young boys love walkie talkies but most of the cheap toy ones simply don't work. These are different and their quality is a cut above.
Mom or Dad will need to help getting things going, but when your little one gets the hang of it, he will actually be able to communicate clearly with his buddies across the street. Hours of fun!
Why He'll Love It: It has a voice-activated speaker and a LED flashlight on the top.
Check Price on Amazon
What to Expect From Your 3 Year Old Boy?
Your little one is fast becoming his own person. This year is all about imaginative play, but you'll also see huge leaps forward in his cognitive and social abilities.
Here are a few of things your little boy will start doing between the ages of 3 and 4 (see complete list):
Body, Hand and Finger Skills
Balances on one foot;
Starts to hop, gallop and somersault (all very clumsily, mind);
Builds a tower of up to 10 bricks;
Starts drawing on his own;
Copies snipping with scissors
Emotional Development
More independent;
Begins to do what you ask (sometimes, at least);
Uses the toilet himself;
Can have imaginary friends;
May play with other children and enjoy some group games;
Starts to bargain and negotiate with grown-ups;
Sometimes shares when asked to
Cognitive Development
Numerical concept of 2 or 3;
Identifies a few colors;
Enjoys listening to short stories;
Answers simple yes or no questions;
Can pick objects that are big or little, heavy or light, hard or soft;
Talks in short sentences;
Language is getting much more advanced;
Can match a few colors;
Can answer simple 'why' questions and tell simple stories
Wrapping up
Appropriate gifts or toys for 3 year olds will fuel their imagination, provide their hands and brains with mechanical challenges, and also give the opportunity for joint play with other children. The items on this list should meet all these criteria.
Let us know how he gets along with them!