Our top picks
Best pogo stick for toddlers: My First Flybar
"Not truly a pogo stick, but still a great toddler hopping toy made by the world's biggest pogo brand, Flybar."
Best pogo stick for 5 to 9-year-olds: Flybar Maverick Pogo Stick (For Kids)
"The ideal pogo stick for young learners. It is well-engineered, jumps smoothly, and has multiple safety features."
Best for budget: Razor GoGo Pogo
"The best value pogo stick for young over 6. Reassuringly durable, this is another winner from the popular Razor brand."
Best pogo stick for 9 to 12-year-olds: Flybar Foam Master
"Possibly the best overall pogo stick for the average child. When it comes to pogo sticks, the Foam Master is a modern classic."
Best pogo stick for teens: Super Pogo 1505 Pogo Stick
"A brilliant all-rounder for young teens. The 1505 is great for beginners all the way up to expert 'tech' style pogo stickers."
Best pogo stick for extreme sports: Vurtego V4
"The only option for extreme pogo sticking. This revolutionary compressed air pogo stick has transformed the game. Insanely high jumps possible."
Pogo sticks (the all-time classic jumping toys) have well and truly been upgraded for the 21st century.
Whether it's a bouncy toddler toy or an extreme machine that launches your adrenaline junkie teen 10 feet or so into the air, childhood simply isn't complete without a pogo stick.
But wait… reality check!
The market is full of 'duds', or cheaply manufactured models that can barely bounce, won't keep your kid's interest, and will likely break in no time.
In our experience, going for trusted, well-established brands is a must.
The best pogo sticks are lightweight, durable, mechanically sound, and have a well-engineered mechanism (whether spring, bungee, or compressed air) that allows children to bounce nice and high.
After a thorough investigation, we're confident that our top picks provide performance of quality and durability that won't disappoint.
Our picks of the best pogo sticks
Best pogo stick for toddlers
Our opinion
Not truly a pogo stick, the My First Flybar (check price on Amazon) is a fun bouncing toy for very young children.
From about the age of 2 (the manufacturers say 3), most children will be able to stand on the foam footpad, hold the handles, and jump about the backyard with glee.
It's not a real pogo stick, but plenty of fun for kids not yet ready for one. 
While there are plenty of alternative brands making similar toys, this model by Flybar is already fairly inexpensive.
For us, we'd rather pay a few bucks more and go with the well-established, quality Flybar brand.
Parents frequently comment on their decent customer service.
At a glance
Age recommendation: 3+
Weight limit: 250 lbs
Mechanism: Bungee cord and squishy foam footpad
Great for: Toddlers to burn energy with a giggle
Watch out: It has a (removable) squeaker that can get irritating
Best pogo stick for 5 to 9-year-olds
Our opinion
The foam-covered metal frame, fully enclosed spring, nonslip footpegs, and slender center pole make this the perfect pogo for kids around 9 years and under who are looking for their first pogo stick.
The Flybar Maverick is a classic best-selling beginner pogo that is both rugged and ergonomic.
Its light frame offers less resistance and the compact parts fit smaller, lighter bodies.
The Maverick has several safety features that reduce the risk of minor injuries.
The spring is covered to avoid pinched skin, the main shaft is fully encased in foam, which provides a soft, resilient buffer.
The extra narrow center pole prevents scuffed knees and cramped legs.
It also features a slip-resistant rubber base cap and skid-free foot pedals to help your child achieve higher, more complex bounces.
This product comes in a wide range of colors and styles to complement any gender or style. 
At a glance
Age recommendation: 9 or under
Weight limits: 50 to 110 lbs
Mechanism: Spring (enclosed)
Great for: Young children ready for their first real pogo stick
Watch out: Rusts if left out during wet weather. Keep it stored indoors
Best for budget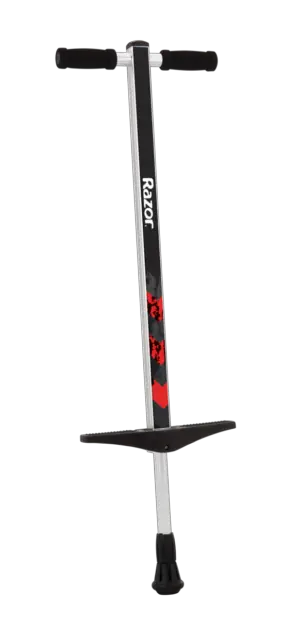 Our opinion
While the Razor GoGo (check price) may not be the best pogo, it's arguably the best value beginner pogo on the market.
It's inexpensive and well-engineered (as you'd expect from ride-on toy giant Razor).
The GoGo is made from lightweight aluminum and is one of the only pogo sticks on the market with foldable handlebars and footpegs, making it easy to transport and store.
At a glance
Age recommendation: 6+
Weight limits: Up to 143 lbs
Mechanism: Spring (enclosed)
Great for: Your budget
Watch out: Tight spring makes it feel rigid
Best pogo stick for 9 to 12-year-olds
Our opinion
The Flybar Foam Master (check price on Amazon) is a true classic.
(Did you know that Flybar was founded by George Hansburg, the inventor of the pogo stick, and remains the world's leading manufacturer of the toy?)
This flagship model is perfect for intermediate riders, like tweens who have owned a pogo previously and are now ready to take things to new heights.
The spring mechanism within the Flybar Foam Master is hidden within a protective casing.
This removes the possibility of pinched skin.
It also features a wide bounce tip for extra stability and confidence-building and is wrapped in the trademark top-to-bottom foam casing for more cushioned blunders.
Grippy footpegs and textured handlebar grips make it a secure bouncer.
The Master has a tougher spring than the younger Maverick model.
This makes it less suitable for small or lighter children but means that older, more confident children can jump higher.
With replaceable parts, this pogo will likely see your child through.
Alternatively, if they get the pogo bug and begin taking it to the extreme, then the Foam Master will provide all the confidence they need before progressing to the pro-level Vurtego.
At a glance
Age recommendation: 9 to 12
Weight limits: 80-160 pounds
Mechanism: Spring (enclosed)
Great for: Intermediate tween riders
Watch out: Firm spring isn't suited for riders lighter than 80 lbs
Best pogo stick for teens
Our opinion
The Super Pogo 1505 (check price on Amazon) has a heavy-duty steel frame that's both tough and lightweight due to its stripped-back design.
It's a modern classic to suit teenage beginners while also suitable for expert, more technical, pogo riders.
In fact, the 1505 is a favorite choice among pro riders who specialize in "tech" pogo-sticking (a style involving incredible balance and spin tricks performed at ground level).
In our opinion, the Super Pogo 1505 is a near-perfect pogo stick for the average teen looking for fun with the possibility of progressing towards 'tech' tricks and more extreme riding.
It comfortably lifts teens well off the ground, though doesn't achieve the heights achieved by compressed air models.
The SP 1505 features a sleek, retro frame with an exposed spring, skid-free nitrile rubber tip, wide foot pedals, and curved handlebars.
The compact structure is easy to store and transport, making it a versatile pogo stick for the skatepark, school, or driveway.
At a glance
Age recommendation: 14+
Weight limits: 120 to 210 lbs
Mechanism: Spring
Great for: Intermediate to expert riders. A must for 'tech' pogo sticking
Watch out: Doesn't achieve the huge heights desired by extreme 'big air' specialists
Best pogo stick for extreme sports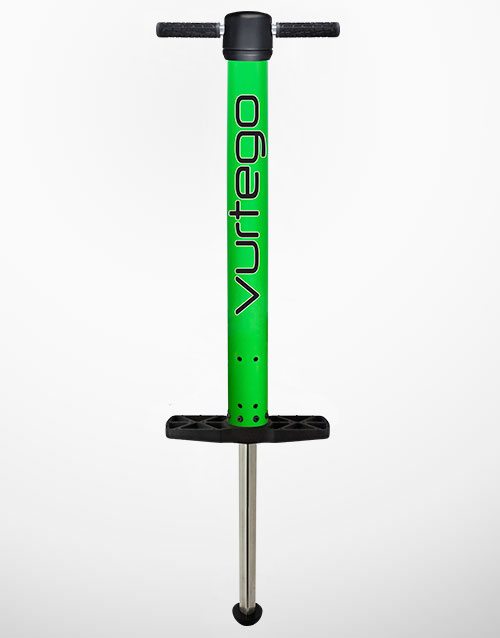 Our opinion
When it comes to extreme pogo-sticking, there is only one option: The Vurtego V4 (check price).
When it comes to big air, 'street,' extreme competition riding, (and Guinness World Records!) the V4 is ubiquitous.
Vurtego have set about transforming the humble pogo stick into something altogether different.
They created a new breed of pogo stick based around an aluminum cylinder that contains compressed air.
This patented 'air spring' technology means that, as the rider lands, the air is compressed, projecting them back upwards.
This mechanism has propelled riders over 11 feet into the air!
The V4 comes in various sizes, so make sure to visit the manufacturer's website for the model that matches your height and weight.
At a glance
Age recommendation: ? (based on weight)
Weight limits: 75 lbs or more
Mechanism: Compressed air
Great for: Extreme riders. Big airs. Cool cardio exercise.
Watch out: Expensive. Extreme sports risk injury.
Final verdict
For children 9 to 12 years old, the Flybar Foam Master (view on Amazon) is our top pick. It's an all-time classic model that's nicely engineered and includes multiple layers of protection provided by foam padding and spring encasement.
When it comes to toddlers, we recommend the My First Flybar (view on Amazon). It's a happy toy for backyard bouncing.
And lastly, for adrenaline junky teens (or those looking for a super cool cardio device), then our top pick is the legendary Vurtego V4 (view on Vurtego).
About our real family review process
Like you, we are real parents with real kids. We get that you are busy and don't want to waste money on second-rate product.
Your reviewer, Kumar Grant, is a father of three. He's also an expert product critic and copywriter who specializes in ride-on toys, like scooters, bikes, and now — pogo sticks!
Some of these pogo sticks we've sampled personally. For the rest, our strength is 'investigative reviewing', beginning with identifying and interviewing expert families.
These are real families with kids who are pogo stick enthusiasts, or even budding pros!
After gathering their input, we follow up with deep in-house research of brand reputation and genuine customer reviews.
FAQs
How old does my child need to be to ride a pogo stick?
Pogo sticks are designed to allow children to jump/bounce up and down while in the standing position.
Children must be able to step onto the footpads, grab the handlebars, and use their upper body and legs to thrust downward, engage the spring, bounce, and land.
In short, they require sophisticated physical coordination and gross motor skills.
Your child will be ready for a real pogo stick (with spring) around the age of 4. Toddler versions with foam footpads are suitable from around 3 years.
Are pogo sticks suitable for older kids or teens?
Absolutely! Over the last 20 years, pogo manufacturers, such as Flybar and Vurtego, have innovated and developed the humble pogo stick into a thrilling, gravity-defying piece of extreme sports gear.
Older kids and teens will be inspired by the likes of Xpogo, a competitive pogo sports team that entertains crowds by performing record-breaking stunts and tricks on extreme pogo sticks, and also the many YouTube pogo-stick stars.
Are pogo sticks safe?
All ride-on toys, eg., bikes, scooters, rollerblades, etc., involve a degree of risk. Pogo sticks are no different.
In a sense, they are as safe or dangerous as the rider wants them to be. If your kid is just going to hop about in the backyard, then they're relatively safe.
But if you have a teen attempting flips and big air, then, of course, the risk of injury will increase. In all cases, children should proceed with sensible caution.
Riders should always wear a CSPC Certified helmet. Learn essential safety guidance for pogo sticks.
Are pogo sticks easy to learn?
They are significantly easier to master than learning to ride a bike. For general backyard fun, most children get up and running with a pogo stick after only a few practice sessions.
However, while it may sound easy, it takes time, effort, and a quality product to manage more complicated tricks, and years of practice before challenging world records or attempting a backflip.
What to look for in a pogo stick
Match age, height, and weight
Pogos are designed to be an extension of the body and aren't one-size-fits-all. You need to match the pogo stick to your child's height and weight.
The main difference between sticks is the distance between footpegs and handlebars, and also the rider's weight capacity.
For very young children (under 3), there are special jumping devices that aren't strictly pogo sticks but are fun to bounce about on.
For older kids and teens, avoid younger toy-type pogos and opt for specialist pogos that allow for extreme stunt riding.
Always check the manufacturer's age, weight, and height recommendations.
Safety first
Keep your eye out for important safety features such as foam padding, padded handlebars, rubber tips, slip-free footpads, and fully-encased springs.
Though pogos are fun, versatile toys, they require skill and coordination.
For younger children or newbies, colorful foam encasements offer more protection and help establish confidence during early experimentation.
Materials + replaceable parts
The best pogo sticks are both lightweight and strong, with the top models tending to use aluminum frames.
They should also sport quality components, from handlebars and footpegs to the shock-absorbing rubber caps or donuts that make for a smoother ride, less noise, and improved friction.
Decent pogo sticks from the better manufacturers have replaceable parts; essential if your kid is seriously into pogo riding.
Jumping mechanism
There are three main mechanisms used to power the actual jumping: spring, bungee, or compressed air.
The first two are ideal for regular pogo sticks used by younger or casual riders.
All extreme riders tend to use models featuring air compression chambers that bring new energy to the pogo experience, lifting riders well off the ground and launching them into the air.
Trusted brands
When it comes to pogo sticks, in our experience, it's always best to go with reputable brands.
Our family made the mistake of opting for cheap pogo sticks only to have them break quickly. We now prefer to hedge our bets and go with trusted manufacturers.
They tend to make superior pogos and offer reliable customer service if something does need replacing.