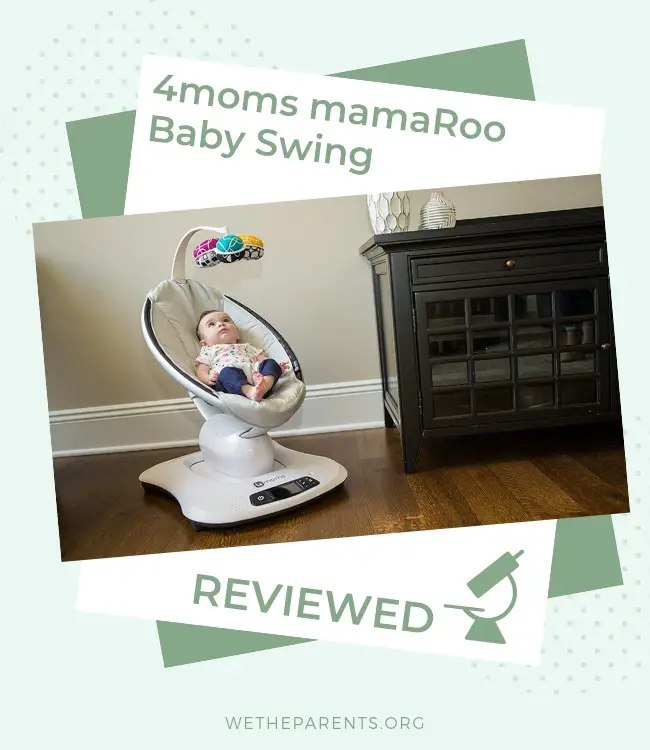 The 4moms mamaRoo Baby Swing is taking the world of baby swings into new directions, five to be exact. This high-tech swing is baby's first piece of 'playground' equipment and, as such, should be as much fun and still as safe as possible.
The swing is pricey, as one would expect with its features. In addition, the swing can only be used until baby weighs about 25 pounds, usually at about one year.
In this 4moms mamarRoo review, we'll find out if the high price is worth the investment.
Product Summary
The mammaRoo Baby Swing (check price on Amazon) from 4moms is a Bluetooth-Enabled high-tech Baby Swing. This version sports a Classic Nylon Fabric seat cover. It also has five unique motions that you can control with a Smartphone.
Baby swings have been popular with new parents for decades to both soothe a cranky infant and gentle them toward slumber. This swing doesn't bounce, vibrate, or swing. Rather, the sleek, modern-looking device mimics real-life motions, music, and three reclining settings.
In addition, the swing is Bluetooth enabled so that you can control the swing right from your Smartphone in Android or iOS. There's even an MP3 plug-in. There's more, of course.
Important note for parents: The American Academy of Pediatricians strongly advises against allowing a sleeping baby to stay in an infant swing. Review the safety rules of the AAP before you purchase or use any infant swing.
Included in kit:
Overhanging interactive toys, including rattle, crinkle, and mirror
Reversible toy balls
Seat covered in woven nylon material that is easily machine washable
AC Adaptor: No batteries required
Weight Range: Birth to 25lbs (or when baby can sit without assistance)
Item weight: 19 pounds
Item dimensions: 33" L x 19.5" W x 25.5″ H
Pros
Remote Bluetooth control of speed and motion
Wide ranges of motions to soothe any infant
5 speeds
Built-in music
MP3 plug-in for choice of music
No batteries ever needed
The mammaRoo Infant Swing is used in more than 300 hospitals. (Source)
Cons
Infants should not fall asleep in the swing
The youngest babies need to always fully recline in the chair
Key Features
The mamaRoo Baby Swing presents itself like the newest model car; it's loaded! Every possible feature one can imagine is included in this piece of baby equipment. The real shame is that it will only be suitable for a baby in its first year. It is a great piece of equipment to pass on to a relative or friend. If nothing else, it will bring top price from the local baby resale shop.
If your baby is fussy or suffers from colic, you may well find these features worth a king's ransom. For my newborn Jack, the Colic King, I would have cheerfully mortgaged the house for this momentary relief.
Multi-movement seat
The seat on the mamaRoo has five different reclining positions. 4moms and pediatricians suggest that newborns remain in the most reclined position. The reclining position can be raised as the baby gains more seating control.
Cool mesh
The cool mesh is washable and reversible cover keeps baby comfortable and makes cleaning the cover a breeze. Simply put into your washing machine and it's clean in a jiffy. The cover can be replaced with a variety of mamaRoo covers with plush and color options. If you have a newborn, you may want to consider the newborn insert to make sure the littlest one is cradled in comfort and security.
Bluetooth-enabled
The mamaRoo swing features five different motions: Car ride, Kangaroo, Free Swing, Car Ride, and Wave. These motions and five rocking speeds are controlled by the parent, either on the swing's screen or by using an app on their Smartphone. The app is compatible with most Android devices that support Bluetooth Low Energy and run Android 4.3+. The app is also compatible with IOS apps supported on all Apple devices newer than the iPhone running iOS 9+.
Sounds
The mamaRoo has optional sounds to help soothe your baby. There are four songs that are built into the swing's control panel. You also have an option to play your own lullabies with the built-in MP3 player.
Add-On Purchases That Make Sense
4moms offers supplies and equipment that make owning the swing easier and more convenient. Check these out before you place your order. The reversible newborn insert is particularly useful for the littlest ones.
4moms New Reversible and Machine Washable Newborn Insert
Soft, Plush Fabric or Cool Mesh Fabric. This insert (check price on Amazon) might even be bought in a pair. Newborns are known for spitting up and having an extra is a good idea. The quick reverse side will handle the first upchuck or blowout quite well. New covers are available in grey cloth, multi-plush, silver plush, black classic.
Bobby Noggin Nest Head Support
This special pillow (check price on Amazon) can be placed underneath your baby's noggin and can be a nice accompaniment to the mamaRoo. The cut-out design relieves pressure while keeping your baby's head safely cradled.
How the mamaRoo Compares to the Competition
The mamaRoo Baby Swing is a good product that soothes infants and helps them get to sleep. The difficulty for parents is that pediatricians warn against allowing a baby less than one-year-old to sleep in any swing. We searched for a product that would serve both these needs and found the HALO Bassinest.
The HALO Bassinest Swivel Sleeper Premiere Series Bassinet, Luna (check price on Amazon) is not a swing, but a bassinet swivel sleeper. Not only that, it fits right next to your bed, so that you can care for your baby more easily while you are recovering. This solution is co-sleeping at its best, most comfortable, and certainly safest. Okay, I admit, I would have given up the lake house to have had this equipment for Alice.
Four-point base adjusts to bed heights from 24 to 34 inches making reaching baby easier.
Breathable mesh sidewalls lower and raise, then lock into position
Bed swivels 360 degrees and rotates making getting out of bed a breeze
Soothing Center includes three soothing sounds, three lullabies, a back-to-bed safety reminder, vibration, and a 30-minute auto shutoff
Includes two storage pockets and 100 percent polyester fitted sheets
Who Should Buy mammaRoo Baby Swing?
One parent was so undone by her baby's habit of sleeping 10 minutes at a time, all day and all night, that she said she'd sell her car, if necessary, to obtain this product. She was finally able to do something other than rock, jostle, and croon. If you have a baby who is not able to soothe themselves, you might want to consider the mammaRoo swing.
If you can't get it right away, and you're still desperate, do what I did when Jack went through this phase. Learn the hold from Dr. Robert Hamilton. Old school or new, babies look to us parents for soothing. Eventually, they'll learn it on their own, but for the first few months, we're on constant duty.