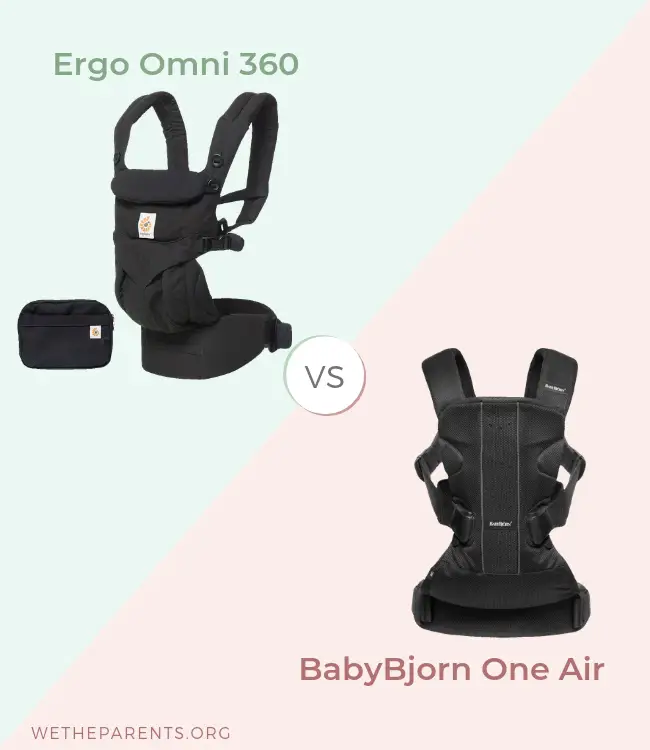 Ergobaby and BabyBjörn are both trusted brands, and many parents looking for a carrier find themselves choosing between the Ergobaby Omni 360 and the BabyBjörn One Air.
They're both great carriers, but to know which one is right for you, you need to compare their features. I've taken a closer look at both the Omni 360 and the One Air to see how they stack up.
Side by Side Comparison
To see what really separates these two market-leading carriers, let's dive in and compare their specs…
| | Ergobaby Omni 360 | BabyBjörn One Air |
| --- | --- | --- |
| Price: | Check price | Check price |
| Our Rating: | 4.75 | 4.25 |
| Weight Limit: | 7 - 45 lbs | 8 - 33 lbs |
| Color Options: | 17 | 5 |
| Privacy Hood: | ✓ | ☓ |
| Carrying Positions: | Front inward facing, front outward facing, back carry and hip carry | Front inward facing, front outward facing, back carry and hip carry |
| Material | 100% Cotton, Cool Air Mesh models feature 3D mesh | 100% polyester, except the leg position zip guard, which is 100% cotton |
| Washing Instructions: | Wash in mild detergent on gentle cycle with cold water. Dry on low heat for 20 minutes. Carrier will still be damp. | Machine wash warm in a separate load with bleach free, eco friendly gentle detergent, do not tumble dry or iron |
| Manufactured In: | China, Vietnam and India | Sweden |
Ergobaby Omni 360
(A Quick Overview)
The Ergobaby Omni 360 (check price on Amazon) is popular for a reason. The carrier is very easy to adjust and use for all positions. It feels safe and secure, allows moms to breastfeed discreetly and is comfortable for both you and your baby. The Omni 360 is available in two styles – the standard, which is 100% cotton, and a Cool Air Mesh edition made entirely of breathable mesh to keep you and baby cool on hot days.
Pros
Certified Hip Healthy carrier
Usable in 4 carrying positions
Great for use with infants, no extra insert required
Has privacy hood to allow discreet breastfeeding or undisturbed sleep
Accommodates kids up to age 4, a rarity in worn carriers
Offers exceptional lumbar support
Cons
Very small babies may require a bit of adjustment to fit comfortably and safely – wearers must take care to always observe the TICKS rules
Petite wearers may require more adjustment or find the carrier uncomfortable
The original cotton model can make the wearer and potentially the baby too hot after a while
Selected Features
Certified Hip Healthy Carrier
Babies are constantly growing, and their developing skeletons require the use of gear designed to help them grow correctly. Hip healthy carriers, endorsed by the International Hip Dysplasia Institute, encourage the continued healthy development of your baby's skeleton. Skeletal issues can lead to painful lifelong problems, so it's best to take all precautions to avoid them.
Usable in 4 Carrying Positions
As your baby grows, they'll be eager to explore the world. That's when a multi-position carrier like the Omni 360 comes in handy. It's important to note that babies under four months should always be carried with the front inward facing method. Once baby is confidently showing signs of head and neck strength, around 5 months, you can try front outward facing. Parents shouldn't try a rear-facing carry before their child is a year old, as it allows too much independence and potential danger for smaller babies.
No Infant Insert Required
A carrier with a 4 year age range is pretty amazing, and one that doesn't require you to purchase an infant insert separately is even better. A lot of wearable carriers are only usable with newborns if you buy external separate inserts that are annoying to deal with and can be misplaced. The 360 easily facilitates babies starting at 8 pounds, but parents should be very careful to make sure newborns are being carried safely by following the TICKS method.
Privacy Hood for Discreet Breastfeeding and Undisturbed Sleep
A long day of babywearing means your little one will need opportunities to eat and nap. The privacy hood on the Omni 360 allows both breastfeeding and sleep to be a discreet, undisturbed experience for you and your baby, letting you relax and enjoy outings and events. The hood is also good on very sunny days, when your baby should be protected from harsh direct sunlight.

Offers Exceptional Lumbar Support
Back support is an essential aspect of a good wearable carrier, and the 360 provides excellent lumbar support through a sturdy, wide waistband and padded shoulder straps that help to distribute your baby's weight evenly and make baby wearing comfortable throughout the day.
What Makes the Ergobaby Omni 360 Better Than the BabyBjörn One Air?
Privacy hood that makes eating and sleeping a breeze. The BabyBjörn One Air has a flap that offers some discretion, but doesn't give your baby full coverage like the one on the 360.
4 year age range means parents get more use out of the carrier. The BabyBjörn's age range of newborn to 3 years is average for products in its class, while the 4 year range on the 360 is pretty exceptional.
Excellent lumbar support that makes wearing baby for long periods no problem
BabyBjörn One Air
(A Quick Overview)
Swedish baby gear makers BabyBjorn have a competitive edge – they've been a name moms trust for years for offering quality products that keep babies safe. Their One Air model (check price on Amazon) is made of a cool and airy mesh which dries quickly and keeps mom and baby comfortable by preventing overheating. The One Air also has a fully adjustable seat width, great for making sure your baby has a perfect fit. It's also a Hip Healthy carrier, and offers adjustable head support for newborns and small babies.
Pros
Cool mesh construction dries quickly and prevents mom and baby from getting too hot
Fully adjustable seat width ensures that your baby fits safely and comfortably
Adjustable head support, good for newborns and smaller babies for whom neck support is vital
No infant insert required for use with newborns
Cons
Women of some body types may find it difficult to breastfeed while wearing this carrier
No head coverage option can make it hard for your baby to sleep undisturbed
Lower weight limit means buying an upgrade later if you want a wearable carrier to take you through the toddler years
Depending on the size of you or your baby, it may not be possible to facilitate one of the aspects of the TICKS guidelines as the baby may lower than the guidelines suggest they should(baby is not close enough to kiss)
Selected Features
Breathable, Quick Drying Mesh
A carrier that helps keep your baby cool, clean and dry is a top notch find. The mesh construction of the BabyBjorn allows the carrier to breathe, keeping both you and your baby comfortable on those hot, sweaty days. It's great for extended baby wearing for exactly that reason – baby stays happy and no one gets sweaty. The fact that it's quick to dry is great for the occasional accidental spill and takes the sting out of the fact that you can't put this carrier in the dryer.
Fully Adjustable Seat Width
Every baby and every body are different, and a carrier that allows for size variations is ideal. The seat width of this carrier can be fully adjusted to assure that your baby is sitting comfortably and is secured. This is not only part of following the safety guidelines for baby wearing, but helps to ensure that the carrier remains as hip healthy for your baby as possible.
Adjustable Head Support
Supporting your baby's head and neck is vital, particularly when they are newborns and do not yet have the strength to hold their head up. Failure to support your baby's head can result in serious injury, so it's important that you choose a carrier that provides as much neck support as your child needs. The adjustable head support on the BabyBjorn carefully cradles your baby's head, making sure that their fragile neck is protected from harm during baby wearing.
What Makes the BabyBjorn One Air Better Than the Ergobaby Omni 360?
Full breathable mesh construction on all models – the 360's Cool Air Mesh models are only partially mesh, offering less breathability
Adjustable seat width ensures that your baby is experiencing the best possible fit – it's not an option with the Omni 360
Adjustable neck support extends slightly higher than the neck support panel on the 360
Which Is Right For You?
While these are both fantastic carriers, the details make or break any purchasing decision. My pick for this round is the Ergobaby Omni 360 (check price on Amazon). The 4 year age range is amazing, I love how well it works for breastfeeding and the lumbar support features are a standout. Of course, as always, the best carrier for you is the one that has the features that you and your baby need. Now that you know the facts about the Ergo Omni 360 and the BabyBjorn One Air, you're one step closer to deciding which one is right for you.