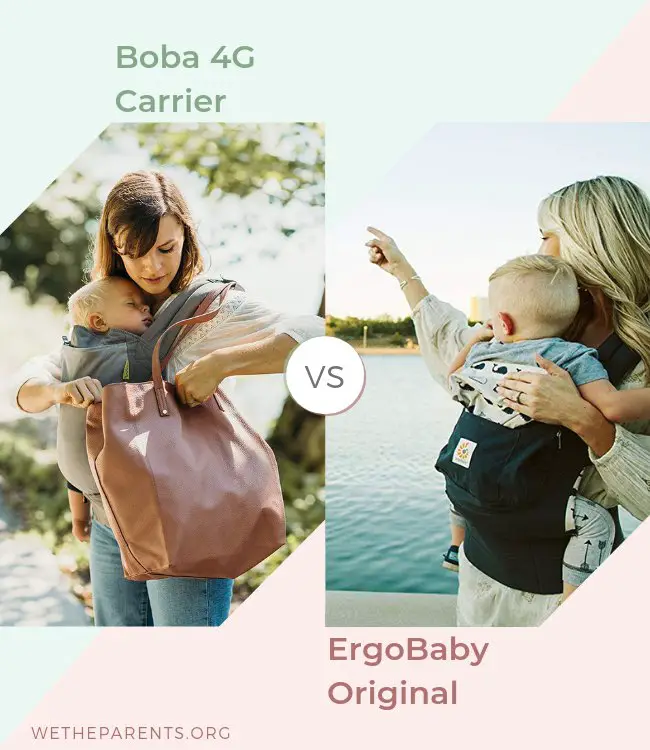 Boba and Ergobaby are two of the most trusted brands in the baby carrier game, and two of their most popular models have some very similar features – this leaves parents wondering if the Boba 4G or the Ergo Original Carrier is right for their families.
If you're trying to decide between the two, I've taken a closer look at how these two popular carriers stack up against each other.
Side by Side Comparison
| | Boba 4G Carrier | Ergobaby Original Carrier |
| --- | --- | --- |
| Price: | Check price | Check price |
| Our Rating: | 4.75 | 4.25 |
| Weight Limit: | 7 - 45 lbs | 7 - 45 lbs |
| Color Options: | 7 | 6 |
| Carrying Positions: | Front inward carry, back carry | Front inward carry, hip carry, back carry |
| Material: | 100% Cotton | 100% Cotton |
| Hip Healthy: | ✓ | ✓ |
| Washing Instructions: | Machine wash in cold water on delicate cycle with mild detergent and hang to dry | Secure all buckles and machine wash in cold water on delicate cycle with mild detergent, dry on delicate setting removing when seams are still wet |
| Manufactured In: | USA | China, Vietnam and India |
| Size Options: | 1 | 1 |
| Privacy and Sleep Hood: | ✓ | ✓ |
| Storage Pocket(s): | ✓ | ✓ |
| Infant Insert Included: | ✓ | χ |
Boba 4G Carrier
(A Mini Overview)
The Boba 4G (check price on Amazon) is a carrier moms love because it adjusts easily and fits a wide variety of wearers, is comfortable, and has features that make life a lot more convenient.
The supportive waistband gives lumbar support that's essential when you're carrying your baby for long periods of time, and a privacy hood makes it easier for baby to breastfeed and sleep without being disturbed.
Not shying away from storage, the 4G not only has multiple storage pockets but a strap to hold your purse or small bag. Babies from 7 – 45 lbs can fit safely in the carrier, and you'll really love that the insert is included – no separate purchases.
Pros
Infant insert included, saving you extra money and potential hassle
Multiple pockets and purse strap make it easy to carry all your essentials and even some extras safely
Waistband gives great back support, which is essential during long periods of baby wearing
You can breastfeed easily in this carrier
Privacy hood allows baby to breastfeed and sleep discreetly and protects from harmful sun rays
Cons
This carrier may be less comfortable for petite wearers, who may find that they have difficulty adjusting it in a way that feels fully secure
The soft cotton material can collect fuzz and lint, so keep a lint roller on hand
This carrier can be warm on hot days, so your baby should dressed accordingly to avoid overheating
Selected Features
Infant Insert Included


Where many carriers require you to purchase a separate insert to accommodate newborn babies, the Boba 4G offers the insert up to parents with their original purchase. It snaps in easily to let little riders sit comfortably and safely, and can be removed once they're 12 – 14 lbs. It is very important to be careful when wearing newborn babies in particular, and it is essential to make sure that their airways are clear at all times. Follow the TICKS checklist every time to make sure that you are wearing your baby safely.

Multiple Pockets and Purse Strap


Pockets are invaluable on a carrier, and the 4G doesn't just have one, it has several. A zippered pocket on the waistband is particularly handy for securing important items like keys and cards in a place where they won't be disturbed, and you can bring your cell phone along without an issue. It can sometimes be difficult to carry a purse while baby wearing, so it's extra helpful that the 4G offers a strap that can accommodate a small purse or bag.

Waistband Gives Great Back Support


One thing to look for in a wearable carrier is a solid, wide waistband. This helps to ensure that your baby's weight is being distributed correctly, avoiding back strain and making baby wearing a comfortable experience. The Boba 4G has a waistband that checks these boxes, offering lumbar support that makes long periods of wearing baby a breeze. Carriers that don't offer ergonomic support to wearers can cause long term back issues, so it's best to always choose a carrier that's comfortable and supportive.

Carrier Makes Breastfeeding Easy, Hood Makes It Discreet


The construction of the Boba 4G allows you to breastfeed your baby easily and discreetly, and the privacy and sleep hood that's attached to the carrier keeps baby undisturbed and your experience private. The cozy hood is good for protecting your baby's delicate skin on a sunny or rainy day, and it lets them sleep a little more soundly during nap time.
What Makes the Boba 4G Carrier Better Than the Ergobaby Original Carrier?
Multiple storage pockets so the essentials are easy to have on hand, plus a purse strap that can hold a small bag or purse – the Ergobaby only has one pocket
Infant insert is included with the 4G, while the Ergobaby requires you to purchase the insert separately
Easy for users to adjust by themselves during wear, an area where the Ergobaby Original struggles
Ergobaby Original
(A Mini Overview)
Parents look to the Ergobaby original (check price on Amazon) for its trusted name and quality features, and the Original carrier doesn't disappoint. It features an ergonomic M-shaped seat which is ideal for baby's skeletal development and it adjusts easily to accommodate wearers of a variety of sizes, keeping everybody comfortable and allowing the carrier to be shared among family members with ease.
It has a zippered storage pocket as well as a privacy hood for your convenience and your baby's comfort during breastfeeding, which this carrier easily facilitates. It allows your baby to be carried in front inward, hip and back carry positions.
Pros
Ergonomic m-shaped seat is beneficial for your baby's ongoing healthy skeletal development
Adjusts easily to accommodate wearers of a variety of sizes, making it easy to share the carrier between family members
Zippered pocket and privacy hood for your convenience allow you to store essentials and let baby eat and sleep with privacy and ease
Soft padded shoulder straps to make extended carrying more comfortable
Allows hip carry position, which is favored by some parents and babies
Cons
Although it adjusts easily when you're not wearing it, once it's on, most wearers need assistance making adjustments
The infant insert can be too bulky for some babies, and some larger babies may find the carrier uncomfortable
Adjustments can be made for a wide variety of sizes but very petite wearers may feel less secure when wearing this carrier
The carrier can feel a little bit bulky at times because of the extra padding in the straps and the waistband structure
Selected Features
Ergonomic M-Shaped Seat


Choosing baby gear that supports your child's ongoing skeletal development is very important – failing to do so can lead to lasting issues and problems like hip dysplasia. The ergonomic m-shaped seat of the Ergobaby Original is designed to keep baby in a hip healthy position, and the carrier is certified Hip Healthy by the International Hip Dysplasia Institute, as is the Boba and all reputable wearable carriers.

Adjusts Easily to Accommodate Many Wearers


Being able to share a carrier is great for obvious reasons, and this is a place where the Ergobaby Original really shines. It adjusts easily to fit a wide variety of wearers. Very small wearers should take care to make sure the carrier is fitting snugly, but most average and larger wearers will find it easy and comfortable.

Soft Padded Shoulder Straps


Shoulder straps that dig in and leave marks are uncomfortable, and the Ergobaby avoids them with the addition of thick padded straps that make wearing comfortable, even for long periods of time. The straps are pretty thick and bulky, but they're sturdy enough to distribute baby's weight evenly and comfortably without putting strain on your shoulders or hurting your skin.

Allows Hip Carry Position


Once your baby gets a little bigger, the hip carry position can be an easy one for you both. It's not possible in every carrier, but the Ergobaby offers it where the Boba doesn't, making it a stand out feature in this comparison. Hip carry position is one of the healthiest ways for you to carry your baby, as it does an excellent job of evenly distributing your baby's weight so that you experience as little strain as possible.
What Makes the Ergobaby Original Carrier Better Than the Boba 4G Carrier?
Ergonomic m-shaped seat is especially good for your baby's skeletal development, which is a feature unique to the Ergobaby
The Ergobaby has wider, more padded shoulder straps which aid in improved weight distribution and comfortable wear
The Boba 4G doesn't allow the hip carry position – a favorite of some parents, and one of the healthiest carrying positions ergonomically – but the Ergobaby Original does
Which Carrier is Right For You?
Both the Boba 4G and the Ergobaby Original have features that set them apart from others in their class. The 4G includes an infant insert and the storage is unbeatable, and the Ergobaby Original offers extra ergonomic support to baby and padded shoulder straps for you.
When it comes right down to it, the right carrier for you is always going to be the one that works best for you and your baby. When comparing these two, my personal choice is the Boba 4G (check price on Amazon). The included infant insert is a lifesaver, the multitude of pockets make keeping track of important stuff easy, and the privacy hood and great lumbar support certainly don't hurt. Now that you've got the rundown, you can make an informed choice you feel confident about.