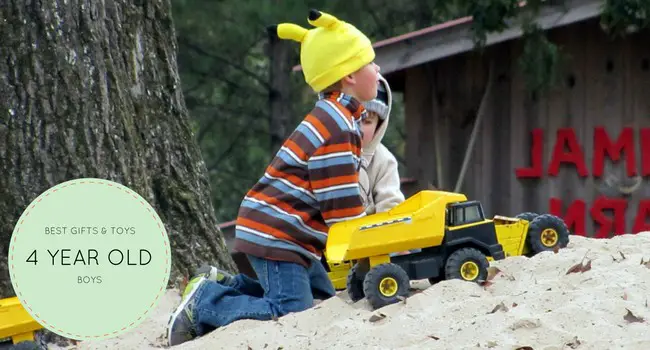 Searching for the ideal gift or toy for a 4 year old boy? We've got it covered! As parents and research nerds, we hunted for toys that would suit his social, cognitive and emotional development. We have rounded them up for you in this awesome top-10.
Your 4 year old is entering a new phase of self-discovery. Sometimes this can be expressed through defiance and downright bossiness. Don't worry though – it's natural. On the bright side, he has strong language skills, the ability to reason and solve puzzles, and he loves to play with others. So let's focus on the good stuff, and try to nurture it with some appropriate toys.
For those parents not yet in the know, BRIO, a Swedish company, has been making these beautiful, quality, easy-to-use wooden train sets for over 50 years. Accept no imitations because the true BRIO train sets are made from gorgeously crafted wood and are very high quality. In fact, I recently passed the very train set that I played with as a child down to my 4-year-old. It goes to show how long they last!
Now, this BRIO Deluxe Railway Set (check price on Amazon) isn't cheap but it is amaaaazing! It has tons of pieces which means your boy will be able to create a huge network of train tracks straight away. And it will actually save money you in the long run – normally families build up their collection over time which adds up to more in the end.
Why He'll Love It: He'll have hours of fun creating vast worlds of trains and tracks and each one will be completely different.
Check Price on Amazon
Add to Amazon cart and decide later »
This all-encompassing outdoor explorer set (check price on Amazon) is perfect for introducing your boy to the world of science. He'll be able to work on many skills, such as learning direction and reading maps.
The binoculars feature a 4X magnification, and the eyepieces are rubber lined for comfort.
When playtime is finished, everything packs away in a little knapsack for safe keeping
Why He'll Love It: Whether you are camping or exploring your own backyard, your son will have lots to investigate with these fun tools.
Check Price on Amazon
Add to Amazon cart and decide later »
The classic little red wagon (check price on Amazon) is a staple of childhood for most. While this product is on the expensive side, it has big wheels to conquer any terrain and a controlled turning radius to keep it from tipping over. The handle folds under for easy storage and the wood bumpers prevent your boy from falling out when he rides. It is built with the quality you expect from Radio Flyer.
Why He'll Love It: Your child will love going for little journeys in this wagon. He can also use it to pull things around the yard; maybe you can even get him to help with some yard work!
Check Price on Amazon
Add to Amazon cart and decide later »
With a weight limit of 110lbs, this is a great outdoor toy. Your little guy can dig holes in loose sand, snow, or dirt to his heart's content. You can choose between the stationary model or the version with wheels; both will be great at encouraging spatial awareness, hand-eye coordination, and creative play.
The Big Dig Crane (check price on Amazon) has a seat which rotates 360° and the handlebars pivot so that he can make holes and piles almost anywhere, making it an awesome ride-on toy. You just might want to put your two cents in as to where those holes are being created, though.
Why He'll Love It: Your son will love pretending to be a construction worker as he scoops, lifts, and dumps out material in this little excavator.
Check Price on Amazon
Add to Amazon cart and decide later »
The Star Wars Chewie interactive plush toy (check price on Amazon) will get your little one giggling with its sounds and motions. As a Star Wars fan, they will recognize him as an authentic Wookiee. If you talk to him in Wookiee talk, he responds back in Wookiee talk. He reacts whenever he is in motion by raising his arms and making facial expressions. He also comes with a satchel and bandolier to complete his ensemble.
Why He'll Love It: Your four-year-old will love carrying the Wookiee around and using his imagination to create his own intergalactic adventures. Your son will keep his new companion close by his side as he goes on all his escapades.
Check Price on Amazon
Add to Amazon cart and decide later »
The EzyRoller Classic (check price on Amazon) in lime green will get your boy outside for hours. It's patented mechanism doesn't use pedals but instead is propelled forward by left-to-right foot motions which can give it some serious speed as it weaves forward. (Imagine the motion of a salmon swimming!)
The seat is ergonomic and removes the strain and pressure from your kids back. This means that it will provide fun exercise without the aches and pains. The EzyRoller is great for kids from ages 4 to 14 (or those who weigh under 150 pounds), and with it's extension bars, it will grow as your child does.
Why He'll Love It: He will have a fast yet silky smooth riding experience as he traverses the sidewalk or drive. Just don't expect him to come in when you call for dinner!
Check Price on Amazon
Add to Amazon cart and decide later »
The PAW Patrol Fire Truck (check price on Amazon) has a two-foot-tall ladder and a mini fire cart. Lights and sounds will bring your boys games to life as he sends the truck on action-packed missions.
And then there is the water cannon! This can be launched from either the front or back of the truck. Other features are the openable lookout cab on top of the ladder and the extendable claw, all perfect for complex rescue attempts.
Why He'll Love It: He'll soon be dreaming of firefighting before waking up and setting up yet another rescue mission.
Check Price on Amazon
Add to Amazon cart and decide later »
You and your son can create whole worlds with these puppets. The Jim Henson Company's partnership with Manhattan Toys really shines with this product, and Fraggle Rock (check price on Amazon) is just one character in a cast of many. This toy is an excellent way to encourage imaginative thinking and bond with your little guy during playtime.
Why He'll Love It: Your son will love playing on his own and will really enjoy group play with this puppet.
Check Price on Amazon
Add to Amazon cart and decide later »
Your boy can have fun while pretending to be a pirate in search of treasure in this tent (check price on Amazon). The fabric is a cotton-polyester blend and contains no fire retardants. Some parents have found it tricky to put up, but it's made with quality materials and can withstand plenty of play. It also folds down for easy storage.
Why He'll Love It: With two portholes, your little guy will enjoy keeping watch as he pretends to sail over the deep blue sea.
Check Price on Amazon
Add to Amazon cart and decide later »
This set comes packed with little action figures and accessories. Between the dragon and the knight, your son can create a fantasy world in his own home. Plus, when you play with him, it's an excellent opportunity to teach him about history. Some of the pieces are on the small side, so supervise him well, and watch where you step.
Why He'll Love It: Anything that comes with its own armored dragon will instantly appeal to the average four-year-old. Your boy will love making up his own stories and acting them out with this kit.
Check Price on Amazon
Add to Amazon cart and decide later »
Wow, we love this awesome toy! The John Deere Tractor Engine (check price on Amazon) elevates mechanical based "fixing toys" to the next level. Your little mechanic gets an entire tractor engine to fix, based upon the real thing. It has more than 12 removable and fixable parts, including repairable headlights, replaceable glow plugs, and checkable oil.
It's worth a mention parent opinion has been divided. Most parents are raving about it but some comlained about the build quality.
Why He'll Love It: The John Deer Tractor Engine has sounds and lights and comes with a toolkit. He'll get to take the engine apart and rebuild it again. (Just make sure that Dad doesn't muscle in and try to fix it all!)
Check Price on Amazon
Add to Amazon cart and decide later »
This 167 Piece set (check price on Amazon) is a fun way to introduce your little guy to math. It comes with three double-sided activity cards, and some of the LEGO pieces have numbers printed on them. You and your son will have plenty to talk about as you transport the LEGO cargo over the track.
Why He'll Love It: Along with being great for organized learning, this is a fun free-play kit. Your boy can assemble the train track and have his LEGO men load it up.
Check Price on Amazon
Add to Amazon cart and decide later »
Ravensburger famously makes some of the highest quality puzzles around. This dinosaur jigsaw (check price on Amazon) is no exception and has durable pieces clearly intending for younger children.
A captivating picture is slowly revealed to the child as he puts this puzzle together. Whilst he works on his fine motor skills he is also enjoying the benefits of delayed gratification.
Why He'll Love It: He'll feel a real sense of achievement once he's completed this puzzle. It's a lovely picture that can be framed and hung on the wall as a reminder that patience and persistence can lead to something beautiful.
Check Price on Amazon
Add to Amazon cart and decide later »
What to Expect From Your 4 Year Old Boy
Your 4 year old boy is becoming increasingly social and ever more capable of sophisticated reasoning. Expect some surprisingly clever back-chat!
Here's an insight into some of the things you might see between the ages of 4 and 5 (source):
Body, Hand and Finger Skills
Copies and draws simple geometric shapes;
Begins to write some letters;
Gets dressed by himself;
Uses cutlery at the dinner table;
Runs fast and capably;
May start riding a bicycle;
Cuts with scissors
Emotional Development
Wants to please friends;
Tries to be like his friends;
Sings, dances and does theatrics;
Better at knowing reality from fantasy;
More independent. May even stay overnight with a friend;
Flip flops between very demanding and very helpful;
Emerging sense of humor
Cognitive Development
Asks the dreaded "why?" questions (often repeatedly);
Counting increases up to 10 or 20;
Can identify numerous colors;
Begins to learn the concept of time;
Loves longer stories;
Likes to dress up;
Starts to understand about everyday things such as money, food and vehicles
Wrapping up
Your 4 year old boy is becoming an independent person. He is much more aware of himself and complex concepts. Notice how he becomes more social, usually loving to play with others. We hope that your child loves the toys we've picked out, they are all highly appropriate for a 4 year old and have been tried, tested and approved by thousands of parents.