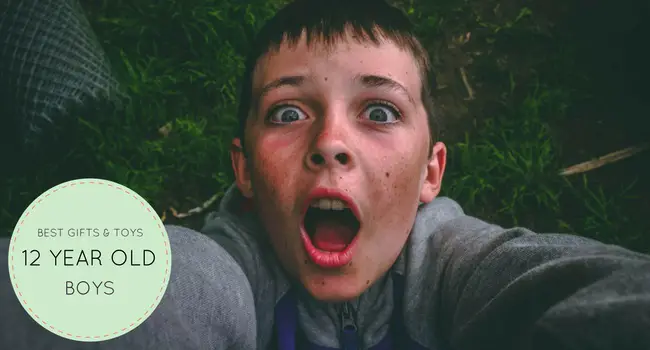 Are you clenching your teeth as you browse the internet, searching for that gift that will evoke excitement instead of eye rolls from your twelve-year-old? While we haven't officially crunched the numbers, we can safely estimate that you are one of, oh let's say, millions of adults in the same position. It turns out that shopping for a tween is just one of those universally tricky experiences. Luckily for you, we are total nerds, and great presents are some of our favorite things to research. Here are ten gift ideas for 12 year old boys that will allow you to relax your jaw and make some great memories with your special little man.
Is your boy so ready to be a famous director that he has one foot out the door to Los Angeles? Well, we might just have found a gift that will quell that wanderlust for a few more years. This Minecraft Stop-Animation Kit (check price on Amazon) includes one stage and several backdrops where he can lay his scene with the included mini-figures and props. Just remember, access to a smartphone is a must with this toy, as there is a free app he will need to download in order to film and edit his saga.
Why He'll Love It: Whether he is a Minecraft fan, a film fan, or both, he will love creating his own stories and putting them on camera.
Check Price on Amazon
Add to Amazon cart and decide later »
Anyone who lives with a twelve-year-old boy can attest to the fact that their need for speed is real. This Razor Dune Buggy (check price on Amazon) will surely give him some thrills, but don't worry; the 9 MPH speed limit isn't quite fast enough to mandate you having a cardiologist on your speed dial. It also has a bucket seat with a safety belt, a handbrake, a durable steel frame, a rear suspension system, and can support kids who weigh up to 120 lbs. All of these components make for a comfortable and safe ride, so your heart can rest easy. That said, it feels fast, and that's why it's our top pick motorized ride-on toy for kids over ten.
Why He'll Love It: This dune buggy will bring countless memories of great outdoor fun. We can pretty much guarantee that this is a gift he will one day tell his own kids about.
Check Price on Amazon
Add to Amazon cart and decide later »
Does your boy give you odd looks when you regale him with stories of photographs being actual, physical things you could display and not just images on a screen? Well, clearly it's time to clue him into the fun we used to have with our pictures! The PIC0300 (check price on Amazon) works just like the Polaroids of old, with a few modern twists. The included flash makes lower light photos possible, and there are four settings to make sure your boy gets the best shots in any lighting condition. Although the photos are only the size of business cards, he is sure to find lots of innovative ways to display them.
Why He'll Love It: Whether he is into selfies, scenic shots, or taking photos with his buddies, he will love the old-school-meets-modern-tech feel of this camera.
Check Price on Amazon
Add to Amazon cart and decide later »
In this day and age, coding is an extremely valuable skill. In fact, some people even consider learning it to be as important as learning other languages. So if your boy loves tinkering with computers, it's certainly something you want to encourage. With over sixty included projects, along with step-by-step instructions, this coding activity set (check price on Amazon) works with Windows, Mac, and Chromebook computers.
Why He'll Love It: As he works through each project, he will have the gratification of seeing his hard work manifest itself in front of his eyes. Plus, it's a pretty great skill to use to impress relatives, teachers, and friends.
Check Price on Amazon
Add to Amazon cart and decide later »
The Sphero app-controlled robot ball (check price on Amazon) is a game changer. This is definitely not an ordinary ball. He can create obstacle courses with his friends by drawing a track with the app. The ball will replicate the course design in real life. It has a Bluetooth connection up to one hundred feet. He can reinvent classic board games with the app!
Why He'll Love It: This ball has a high-tech version of hot potato that is sure to get a laugh out of friends and family.
Check Price on Amazon
Add to Amazon cart and decide later »
Are you living with next Frank Lloyd Wright? Or maybe you know a special boy who is fascinated by building models? If either of these is the case, your tween will get endless entertainment out of this LEGO NYC kit (check price on Amazon). With 598 pieces, your boy can build models of the Chrysler Building, One World Trade Center, Flatiron Building, and the Empire State Building. That's a pretty impressive skyline for him to display in his room.
Why He'll Love It: There's nothing quite as satisfying as being able to show your hard work off to the world, and LEGO is a brand that lets your tween do just that.
Check Price on Amazon
Add to Amazon cart and decide later »
The Boon Glo Night Light (check price on Amazon) proves that no one is ever too old for some extra light in life. Never!
Okay, so the picture shows a 2-year-old, but trust us, this is a perfect gift for a 12-year-old, too. When Boon made these nightlights they didn't anticipate them becoming a smash hit with tween and teens. But this is just what's happened.
The removable balls are glow with a moody multicolored light and are safe to carry from room to room. The light will gently fade 30 minutes after activated. He will never stub his toe again or break a glass when getting water.
Why He'll Love It: The night light will make it easier for him to drink out of the milk carton in the middle of the night.
Check Price on Amazon
Add to Amazon cart and decide later »
We adults all have our favorite spots to rest. A comfy recliner, a plush sofa, a warm bed with a tub of ice cream. Hey, we've all been there; parenting is tricky. But being a kid can be kind of tricky, too, so maybe it's time to find your little man his own relaxation retreat.
The UltimaX Beans in this Big Joe Bean Bag Chair (check price on Amazon) are secured with double stitching and zippers, so you won't have to worry about anything escaping its fabric confines. Available in three colors, they are soft, lightweight, and can be moved from room to room with ease. Now if only our beds were that portable…
Why He'll Love It: A supportive backrest means that he can comfortably sit while reading, playing video games, or just chilling with his buddies. Just remind him to call dibs on this cozy chair when he as company over!
Check Price on Amazon
Add to Amazon cart and decide later »
Here's a great way for your boy to have his own vehicle without needing a helmet, keys, or even a seatbelt. With a front and rear suspension system, triple motor feature, and huge tires, this remote controlled car (check price on Amazon) can conquer outdoor terrain with ease. It is easy to steer and runs on AA and AAA batteries.
Why He'll Love It: It rolls right over rugged surfaces, so he can drive it almost anywhere outside. Plus, with the tri-channel transmitter, his friends can race their cars together without the signals getting crossed. So, who's up for some Mini Nascar racing?
Check Price on Amazon
Add to Amazon cart and decide later »
Trust us; the struggle is real for your boy when he is involved in a Nerf war with his pals. If he needs to up his weaponry, this Nerf Elite Hyperfire Blaster (check price on Amazon) present will win you some serious points with your tween. When your kiddo needs to make a precision shot, he can pull the trigger to loose a single dart. If he is in a situation that calls for a little more firepower, he can hold down the trigger and rapid-fire five darts every second. With a 90 foot range, he is sure to emerge the champion of any battle.
Why He'll Love It: To the victor go the spoils, and with this Nerf blaster, your boy will be certainly be collecting his share.
Check Price on Amazon
Add to Amazon cart and decide later »
If your young man loves games, especially those that involve a little luck and a lot of strategy, Catan is something that just might help keep Family Game Night alive. As an award-winning product, you can bank on the fact that Catan (check price on Amazon) has tons of replay value and engages people of all ages. This game is perfect for sleepovers, rainy days, holiday gatherings, or even camping trips.
Why He'll Love It: The rounds are short, around sixty minutes, so he won't ever lose interest and walk away mid-play. Plus, each time he breaks out Catan, there is a different experience to be had.
Check Price on Amazon
Add to Amazon cart and decide later »
Your tween doesn't have to be an expert in engineering to enjoy this activity; it's perfect for beginners looking to learn. There is plenty of open-ended play to be had, but the Tinkering Labs Electric Motors Stem Kit (check price on Amazon) also comes with Challenge Cards. These cards offer suggestions, such as 'Invent a tool that can cut paper', without giving step-by-step directions. Everything needed for your boy to conquer the cards' objects, as well as to make his own unique inventions, comes included with this set.
Why He'll Love It: Whether he is creating on his own or with a group, he will be able to construct virtually anything he wants. Well, almost anything; little siblings can rest easy knowing that, despite what he may say, he cannot build their replacement.
Check Price on Amazon
Add to Amazon cart and decide later »
Extreme Jenga (check price on Amazon) is an amazing way to play a board game and be active. This will make an epic family game night. Who will have the advantage? The shorter stable players or the tall strategic players. This giant hardwood Jenga game starts at 2 feet and can soar over 5 feet. It comes with sports tournament charts to make these epic competitive battles. Come one, come all to the giant Jenga challenge!
Why He'll Love It: They are huge blocks and he can create other fun and challenging games with his friends.
Check Price on Amazon
What to Expect From Your 12 Year Old Boy
If puberty hasn't already begun to rear its acne prone face, it is with great regret that we inform you that it is coming very soon. As such, you might notice your boy being a little moodier and becoming a little more distant. It is the beginning of a period of his life where he may scoff at the idea of family time, instead preferring to hang out with his buddies.
Just remember, puberty will pass and your boy still loves you, even when he pushes you away.
While every child grows at different rates, here are some milestones to keep an eye out for:
Body, Hand and Finger Skills
Eyes mature, both sizewise and in functionality;
Intermittent growth spurts may cause temporary clumsiness;
Small muscles continue development
Emotional Development
Often thinks in black and white terms;
Difficulty accepting praise from authority figures;
May have self-esteem issues due to the physical effects of puberty;
Growing interest in girls
Cognitive Development
Engages in more abstract thinking;
Planning ahead becomes easier;
Has a need to be considered an adult;
Needs to sleep for longer periods of time to recharge
Wrapping up
Never will gift giving be as hard as it is during the next few years. As your boy begins to round the corner into adulthood, he wants to feel respected as the unique person he is while still needing to express himself and expand his mind through play. Finding activities and toys for 12 year old boys that meet these needs can often seem like an uphill battle. Just remember to look for things that speak to his interests, games that can be done in groups, and gifts that make learning fun.
And always remember that, even as he strives to become a dignified, responsible man, no one ever has to outgrow their love of a little playtime.