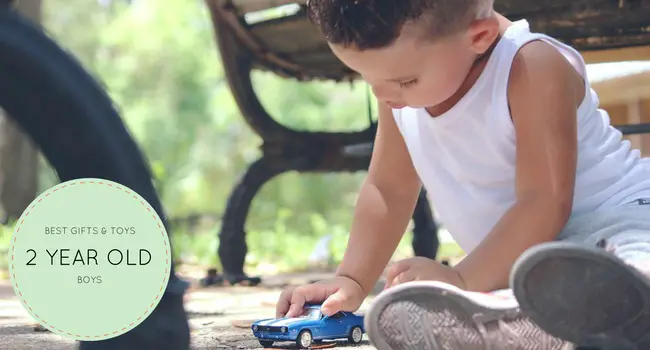 Your little boy is no longer a baby. He's reached toddlerhood. It's an exciting and sometimes challenging time as he exerts his new found independence – sometimes with fierce defiance. Choosing the most appropriate toy for a 2 year old boy can be tricky to get right. It should be something that will match his motor skills and emotional and cognitive abilities. Get this right and you'll keep his focus and determination healthily engaged (for at least 15 minutes!)
In compiling this list, we've used our experience as parents and taken advice from the American Academy of Pediatrics and the World Health Organisation. We're confident that each toy will be a hit with your 2 year old toddler. They've been chosen to fit his developmental stage, and nurture his learning through play and exploration. They each come highly recommended by other parents.
Top 10 Best Toys for 2 Year Old Boys
Your little guy will have a blast riding on this electric Thomas (check price on Amazon). It can be set up with tracks or without. This means you can either keep him contained indoors (you'll have 18-foot of tracks to work with, so you can get creative with different shaped tracks) or let him roam free outdoors (with a top speed of 2mph, you'll be able to catch him if he makes a break for freedom!).
Thomas has a 6V rechargeable battery and an easy on/off button. Note that you'll need to grab some extra AA batteries for the train sound effects.
Why He'll Love It: He'll get to ride his favorite train in real-life.
Check Price on Amazon
Add to Amazon cart and decide later »
This lovely wooden balance bike by Prince Lionheart (check price on Amazon) is made from birch wood which is sourced from an FSC approved forest. It comes with 12-inch, air-filled rubber tires and the seat is adjustable so that the bike can grow with your child. The handlebars have handle grips for a secure hold and a rubber bumper to protect your tot's hands should they bump into anything on their sides.
Balance bikes are an excellent way to introduce children to bicycles. They are pushed along by foot whilst allowing them to learn how to balance. Once they've got this down, transferring to a real peddle bike becomes far easier.
Check Price on Amazon
Add to Amazon cart and decide later »
This is an adorable, interactive, and smart stuffed animal tiger. When your little guy roars or makes noises, Roarin' Tyler (check price on Amazon) will roar right back. With over 100 different sounds and movements, this cute tiger will keep kids engaged and wanting to pick him up and play. He even responds when he's given his favorite plaything.
Why He'll Love It: As well as being clever, he's super cuddly.
Check Price on Amazon
Add to Amazon cart and decide later »
It might be a while before your little guy climbs behind a real wheel, but that doesn't mean he can't have some fun with cars in the meantime. This Cartoon RC Car (check price on Amazon) can go backward, forward, and turn by pressing one of two buttons. Your boy will have a blast while gaining motor and spatial awareness skills. It's a win-win!
Why He'll Love It: As if being a remote control car wasn't enough, this toy makes honking noises and performs music. Your little guy will also be able to play with the action figure, which he can take out of the car.
Check Price on Amazon
Add to Amazon cart and decide later »
Toddlers love imaginative role play and this kitchen (check price on Amazon) offers the perfect tools for him to do this. As ever, Hape has crafted this kitchen beautifully with wood – a refreshing and environmental alternative to those garish plastic ones.
If you're going for this, then we recommend you pick up the wooden kitchen accessories and wooden food set too. Made by Hape, these are also great quality.
Why He'll Love It: Big red knobs, a movable tap, and opening doors provide a rich kinesthetic learning experience. Plus, it's big enough to grow with him and allow for group play when he's ready to let other toddlers join in.
Watch for: Hape recommend this kitchen for ages 3+, but if your little man is anything like ours, he'll be ready for this sooner.
Check Price on Amazon
Add to Amazon cart and decide later »
It can be hard burning off that little boy energy on a rainy day, but this Little Tikes trampoline (check price on Amazon) can make it easier.
With a handlebar for safety and rubber tipped legs to keep it in place, it is surprisingly quiet as your little guy plays. Just remember, it's made only for indoor use, has a 55lb weight limit, and does require some assembly.
Why He'll Love It: It's a trampoline. In the house. Need we say more?
Check Price on Amazon
Add to Amazon cart and decide later »
Your child will improve his fine motor and spatial skills, as well as his color recognition abilities, with this little game (check price on Amazon).
The object is to guide the magnetic balls into the nests and baskets located at the end of the trails. To add an extra level of challenge your little one can be encouraged to match the colors to certain places, such as the white balls can go to the bird's nest as eggs. And don't worry; the marbles are securely encased in the maze.
The rope on the magnetic pen used to move the marbles is a bit short, but this game is known to engage many tots.
Why He'll Love It: Although this game is simple enough to play, if your little guy loves solving puzzles, he'll get a kick out of this toy.
Check Price on Amazon
Add to Amazon cart and decide later »
Green Toys is a company that makes its toys in the USA with 100% recycled plastics that contain no BPA, phthalates, or PVC. So it's a guilt-free buy for us parents.
This farm playset (check price on Amazon) is simple but contains all the classic elements to engage your little man in imaginative games for hours.
Why He'll Love It: It has little fences so he can round up the two sheep and two pigs that come with it.
Check Price on Amazon
Add to Amazon cart and decide later »
Hey, fake drums are still better than the pots and pans, right? This little set packs plenty of educational value, teaching letters, music, and more, as well as providing unique sounds to encourage auditory sensory development. The VTech KidiBeats Drum Set (check price on Amazon) has four modes and includes a set of drumsticks.
Oh, and you can lower its volume if you want. Bet your pots and pans can't do that.
Why He'll Love It: This drum set will engage your tot with organized play while allowing for free play at the push of a button. It includes enough features, bright lights, and fun sounds to keep any toddler occupied for a good long while.
Check Price on Amazon
Add to Amazon cart and decide later »
This toy comes with a two-foot tall base down which your boy can send the included Wheelies cars. The variety of loops and twists can help teach cause and effect thinking, while positioning the cars on the ramps will aid in the development of fine motor skills.
Why He'll Love It: Between the lights and the sounds of this toy, your little boy will find himself entertained. But when he watches his cars make a 360° loop on their own, he'll be enthralled.
Check Price on Amazon
Add to Amazon cart and decide later »
What to Expect From Your 2 Year Old Boy?
Think back to when your child was one. It was all about touch. Everything would be grabbed and shoved into his mouth. Now, his language skills and cognitive ability are really starting to blossom; he is beginning to problem solve and notice the principle of cause and effect. This, along with rapidly advancing motor skills, means that he is about to get into a whole new world of play.
Here's a list of some of the things you can expect between the ages of 2 and 3. (You can see a complete list if you're interested.)
Body, Hand and Finger Skills
Can jump on the spot;
Walks up and down stairs;
Runs headlong;
Holds a pencil;
Puts on items of clothing;
Completes very simple puzzles
Emotional Development
Doesn't share (it's normal, so don't feel pressured to teach or force him);
Knows identity in family;
Watches other kids and begins to play with them;
Expresses new emotions such as sympathy and pity;
Starts to sing nursery songs;
Likes praise;
Loves to dawdle (and won't be rushed!)
Cognitive Development
Can point to a few body parts;
Let's you know he needs the toilet;
Words and language exploding (he'll learn up to 1000 words this year!);
Can give full name when asked;
Starts asking questions such as, "what's this?"
Wrapping up
Over the next year, your little boy will transform. By the end of his third year, the baby you remember fondly will be replaced by tiny vibrant human being, full of personality, words and questions. It's simply astounding, the rate of development at this age. We hope that your little boy loves the toys on this list. You should find that they are perfect for engaging his problem-solving mind and his love for physical play.