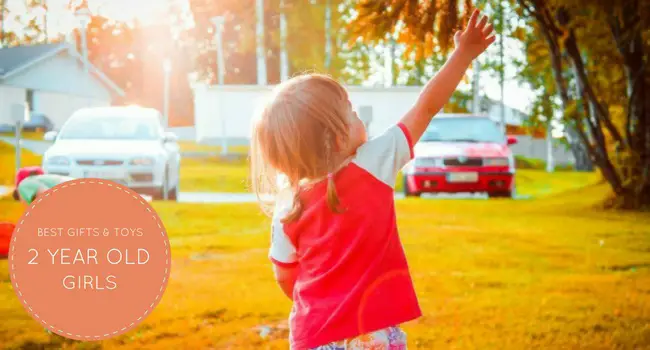 Your little angel is no longer a baby. She's officially a toddler! It's an incredible time as she develops at an astounding rate. It is usually, however, a challenging time as she flexes her willpower, often defiantly.
The best toys for a 2 year old girl will match her hand and finger skills and her cognitive abilities. We've carefully researched and created a list of awesome toys that do just that. Plus, they come highly recommended by other parents.
Top 10 Best Toys for 2 Year Old Girls
Balance bikes are small peddle-less bicycles that allow toddlers to develop their balance and have fun before they are ready for a regular bike. She'll use her feet to push and when she's mastered it she'll be able to whizz along at quite some speed.
This gorgeous wooden balance bike by Prince Lionheart (check price on Amazon) is a favorite of ours. It has a carefully crafted frame made out of birch. This simply looks and feels stunning. The handlebars have handle grips for a secure hold and a rubber bumper to protect your tot's hands should they bump into anything on their sides.
Check Price on Amazon
Add to Amazon cart and decide later »
If your daughter is a fan of the Stella doll, this is the perfect accessory to gift to her.
Any doll from the Stella line will fit into this stroller (check price on Amazon), as well as other brand dolls in her collection.
It is lightweight and easy to push, but don't expect it to double as a walker for your tot; it's not quite sturdy enough for that task.
Why She'll Love It: Whether she's practicing how to be a big sister, or just loves playing Mommy, this accessory will add plenty of joy to her free play.
Check Price on Amazon
Add to Amazon cart and decide later »
This is a beautifully crafted wooden toy kitchen by Hape (check price on Amazon) which will aid your little girl in her imaginative play for years to come. It has lovely red dials, a moveable tap and an oven door that opens and closes. It also has plenty of storage for all the kitchen accessories you'll need to accompany it (we recommend Hape's wooden kitchen accessories and wooden food set.)
Why She'll Love It: This kitchen has everything your daughter will need to make delicious food for you and her friends to enjoy.
Watch for: Hape recommend this kitchen for ages 3+, however, our kids were ready for it sooner.
Check Price on Amazon
Add to Amazon cart and decide later »
Is your daughter looking to add some flair to her tea-parties? These little cakes by Haba (check price on Amazon) can add color and class to any get together your tot has arranged for her dolls.
Realistically detailed and well made, these cakes are small but can provide the finishing touch to an afternoon teddy bear brunch.
Why She'll Love It: If your little girl loves being the perfect host, she'll love setting out these stuffed desserts for her guests.
Check Price on Amazon
Add to Amazon cart and decide later »
This is a toy that is great for developing hand-eye coordination and creative thinking skills. For even more building options, these Grimm's Rainbow Stackers (check price on Amazon) pair fantastically with other block sets. However, they are great fun even when used by themselves. You can also work with your child on identifying colors with this award-winning toy.
Why She'll Love It: If your kiddo loves building things, or enjoys knocking things over, there's plenty of fun to be had with these stackers.
Check Price on Amazon
Add to Amazon cart and decide later »
If you're looking for that special something to engage your daughter and give her a head start on schooling, this Vtech Activity Desk (check price on Amazon) might just be the toy for her. It includes a five-page learning activity book, transforms into an art station and chalkboard for doodling, and you can buy expansion packs for even more fun lessons on math, reading and more.
Why She'll Love It: The diversity of this toy means that she won't easily be bored. She'll also love having her very own workstation for drawing.
Check Price on Amazon
Add to Amazon cart and decide later »
Your daughter can work on her fine motor skills and problem-solving skills as she figures out how to unlatch the doors and windows on this board. Once opened, they reveal the hidden illustrations that are both colorful and adorable. Together, you can work on counting skills, as well as animal and color recognition. The Melissa & Doug Latch Board (check price on Amazon) is high quality and sanded, so no need to worry about sharp corners.
Why She'll Love It: Your tot will love uncovering the scenes hidden behind the wooden panels, and will feel a real sense of accomplishment as she figures out how the different latches work.
Check Price on Amazon
Add to Amazon cart and decide later »
Another member of the award-winning Stella doll line, this toy is perfect for encouraging caregiving skills. It comes with a magnetic binky, a removable onesie, and a doll-sized diaper.
The 15-inch Baby Stell Doll (check price on Amazon) is soft, snuggle-worthy and has adorable detailing. There are plenty of accessories you can purchase for the Stella dolls, including a stroller and extra outfits.
Why She'll Love It: It's a wonderful toy for free play and will provide constant companionship for your baby girl.
Check Price on Amazon
Add to Amazon cart and decide later »
Roarin' Tyler (check price on Amazon) is an engaging, interactive and adorable toy that your little girl will fall head over heels in love with. He has over 100 different movements and sounds, plus he responds when he's given his favorite toy.
Why He'll Love It: A clever, super cuddly and adorable toy. Your little girl won't want to put him down!
Check Price on Amazon
Add to Amazon cart and decide later »
This is the little red wagon (check price on Amazon) with a modern twist. It features a removable canopy for sun protection, two seat belts for its passengers, and smooth plastic wheels that provide a quiet ride.
The assembly is easy, the materials are durable, and the wagon can support up to 75 pounds.
It's a great way to get your kiddo outdoors and is easy to pull around while you take her for a spin around the yard.
Why She'll Love It: She will love going on rides with her friend or sibling sitting next to her.
Check Price on Amazon
Add to Amazon cart and decide later »

This nifty Melissa & Doug wooden (check price on Amazon) creation will give your new little walker more confidence in those early standing stages. This colorful vacuum comes with a cleaning checklist and little wooden pieces that the vacuum will pick up as it is pushed over them. You can interact with your little precious and toss the pieces on the floor and watch in admiration as she tries to pick them up.
Why She'll Love It: Mimicking adult behavior is so much fun for little ones! Doesn't mean that they are training to be professionals, right?
Check Price on Amazon
Add to Amazon cart and decide later »
Here's a fun, little interactive game you can play with your little sweetheart. Peaceable Kingdom Where's Bear (check price on Amazon) is a perfect way to introduce her to board games while helping her develop her fine-motor skills. You can enthrall her while telling her tales of monkeys and showing her the different parts of the animals. She'll also be able to learn tossing and catching with her little hands as well as maneuvering the colorful cards that will get you both up and moving as you follow their instructions.
Why She'll Love It: She loves spending time with you! It's a great way to help her with learning skills while enjoying quality time with her.
Check Price on Amazon
Add to Amazon cart and decide later »
What to Expect From Your 2 Year Old Girl?
Your little girl has moved on from a phase which was all about touching and tasting. Now, her cognitive abilities are blossoming and she will begin to problem solve and realize the principle of cause and effect. In turn, her play will take on a new, more advanced level of sophistication.
Here's what to expect between the ages of 2 and 3 (Source):
Body, Hand and Finger Skills
Jumps whilst standing;
Starts to run;
Able to grip pens;
Can walk up and down stairs;
Can do simple jigsaws
Emotional Development
Doesn't share (which is to be expected so don't feel you need to teach or force her);
Sings nursery songs;
Watches other kids and begins to play with them;
Expresses new emotions such as sympathy and pity;
Enjoys praise;
Knows her place within family;
Takes her time and won't be rushed!
Cognitive Development
Can identify several body parts;
Learn up to 1000 words this year!
Informs you that she needs the toilet;
States her name when asked;
Begins to enquire, "what's this?"
Wrapping up
This year, your little girl will begin having some pretty decent and incredibly adorable conversations with you. Her cognitive abilities, and especially her language, is coming along in leaps and bounds.
We've chosen toys that will fit nicely with her growth, both physically and mentally. They ought to be perfect for engaging her problem-solving mind and keeping her body and hands busy.