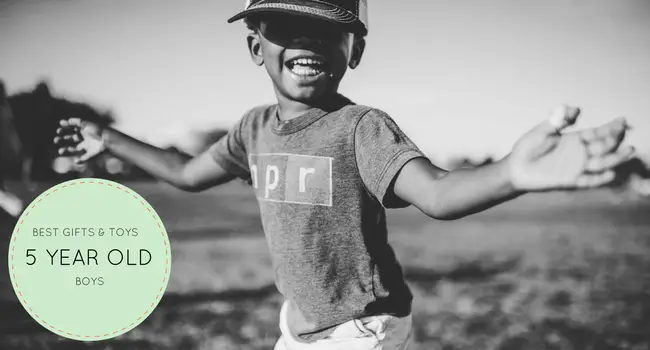 If you've been looking for the ideal toy or gift for a 5 year old boy, then we've got the perfect list for you.
Whilst he may be growing up fast, it's important to remember that play remains the primary way in which he learns and develops his social, emotional and cognitive skills. With this in mind, we've hand picked the best toys for 5 year old boys. They are perfect for his complex role play and fantasy games, and harness his increased ability to concentrate and solve puzzles.
Top 10 Best Toys for 5 Year Old Boys
Your son can have a blast zipping around in this peddle-driven go-cart. The seat is comfortable and high-backed, and a handbrake makes it easy for your boy to control his speed and to stop.
There is a fair amount of assembly involved, and the Nerf Blaster guns do not come included. That said, this is a great toy to encourage coordination and physical activity.
Why He'll Love It: Not only will he have his own vehicle, he'll be able to use his beloved Nerf Blasters while he drives.
View on Amazon
Add to Amazon cart and decide later »
In our opinion, BRIO (a Swedish company) make the best wooden train sets for children, hands-down! They have been at it for over 50 years, so accept no imitations: true BRIO = quality.
Kids can create endless and epic arrangements of train tracks, and because the pieces are well made, they fit together easily and very rarely break. (It's likely you'll own it for decades.)
Often families buy BRIO a few pieces at a time but this deluxe edition comes with tons of pieces straight away. Whilst this costs more upfront, your kiddo will be able to create a huge rail network from the get-go, and over time, it will actually save you money.
Why He'll Love It: Hours of fun creating vast worlds of trains and tracks, each time completely different.
View on Amazon
Add to Amazon cart and decide later »
The technology in this drone allows for a stable flight that is easier to control than many other models. It supports video and imaging on IOS and Android phones and can be controlled from up to 50 meters away.
While it doesn't have the same quality as the more expensive and advanced models on the market, it's a great way for you and your child to enter into the world of drones.
Why He'll Love It: Although it's a bit too advanced for your little guy to operate on his own, he will love watching the real-time pictures and video as you fly it around. And with parental support, he'll begin to master flying it by himself.
View on Amazon
Add to Amazon cart and decide later »
Know your little man wants a scooter but not sure which to go for? Check out our kids scooter guide. The legendary Micro Sprite Kick Scooter (pictured here) is our top pick for a 5-year-old boy. That is unless he is into pro scooting.
The adjustable handlebars can extend up to 34 inches meaning that it can "grow" with your child, or it can be interchanged between different kids. In addition, the scooter can be folded and stored away with the push of a button.
If you are looking for a great all-rounder for one or more children, then the quality build and adjustable handlebars make this classic scooter a great choice.
View on Amazon
Add to Amazon cart and decide later »
Minecraft might baffle most adults, but for boys these days, it's basically a staple of pop culture. With this toy, you can bring part of the video game into the real world and encourage some great creative play.
Although the batteries and mounting hardware don't come included, this toy really lights up and can be hung on the wall.
Why He'll Love It: Your son will enjoy bringing his favorite console game to life as he plays with this torch. Even if he isn't into the video game, these make for some pretty fun room decorations.
View on Amazon
Add to Amazon cart and decide later »
This 239 piece set will keep your little guy entertained for hours, especially if he loves trucks. Not only is this a fun kit for encouraging imaginative play, it will also help him improve his fine motor skill abilities and direction following skills.
Why He'll Love It: Your boy will love assembling the pieces to make the vehicles and trailers, and he will delight in producing his own stories for the two included LEGO figures.
View on Amazon
Add to Amazon cart and decide later »
The makers of this toy took into account how children play by making their large pieces especially durable. Jigsaws are great at promoting cognitive growth, fine motor skill development, and allowing a child to learn the benefits of delayed gratification.
Why He'll Love It: Your boy will feel a real sense of accomplishment as he puts this puzzle together. When it's done, you can frame it and hang it on his wall to remind him that persistence leads to something beautiful.
View on Amazon
Add to Amazon cart and decide later »
What better way to begin explaining fire safety to your son than with a fun box of toys? Not only can this product be used to teach valuable, potentially life-saving lessons, it will also help your little guy expand on his fine motor skills and grow his imagination. It's also ideal for group play, so invite those friends on over!
Why He'll Love It: The firetruck comes equipped with lights and noises, as well as a ladder that extends. Your boy can also bend the figures into sitting and standing positions, as well as turn their heads, so the action looks that much more real.
View on Amazon
Add to Amazon cart and decide later »
These wooden blocks are colored with non-toxic stains and are so well crafted that they may well be passed down the family for years to come. They are perfect for working on those fine-motor skills while your son enjoys either stacking them up or making the puzzle in the box. It's educational too and will get you talking about the four elements – earth, fire, water and air – and the vibrant colors associated with them.
Why He'll Love Them: With so many possibilities from this simple design, your boy will be kept busy for hours playing with this imaginative puzzle.
View on Amazon
Add to Amazon cart and decide later »
This is a wild sit-down segway that any five-year-old will love. With a top speed of 5mph and the ability to spin on the spot, he'll soon be racing around the garden like Mad Max.
The Wild Thing is operated by two joysticks which are intuitive to use. Just make sure that it isn't used on the street without adult supervision as it's very low and not easy for cars to see. That said, it's rugged tires make it great for going off-road in parks and gardens.
Why He'll Love It: 5mph actually feels pretty fast, especially when you can turn so quickly.
View on Amazon
Add to Amazon cart and decide later »
What to Expect From Your 5 Year Old Boy
Your 5 year old boy is mastering complex language and reasoning skills. In fact, he's often a bit too clever for his own boots! He is also developing new physical skills and will often love showing them off.
Watch out for some of these developmental milestones (source):
Body, Hand and Finger Skills
Enjoys skills such as riding a bike;
Balances on tiptoes or one foot;
Can color carefully within lines;
Enjoys skipping;
Capable of craft skills, such as cutting with scissors, threading and tying knots
Emotional Development
Able to express emotions, even complex ones such as jealousy;
Shows more concentration. Enjoys listening to longer stories;
Getting into competitive sports and physical games;
More in tune with body, eg, knows when he's hungry;
Often prefers to play with friends rather than alone;
Respects friends property and better at sharing
Cognitive Development
Knows more than 5,000 words;
Begins to listen to what others are saying;
Understands past, present and future;
Writes first words;
Recognizes some numbers on clock;
Can state age, name and family members;
Learns right from left;
Can discuss the definition of words
Toys & Gifts by Age
Looking for another toy or gift? Have another child in mind?
Check out our carefully curated lists of games, puzzles and toys for different ages and stages. The items on each have been chosen to match your kid's physical, emotional and cognitive abilities.
Browse for toys and gifts by age:
Conclusion
Your 5 year old is maturing into a sophisticated little person. But, wait, hold on! Though he acts older, he is still a child who loves nothing more than to have silly fun. This list of toys will harness his newfound skills and abilities whilst providing hours of fun.